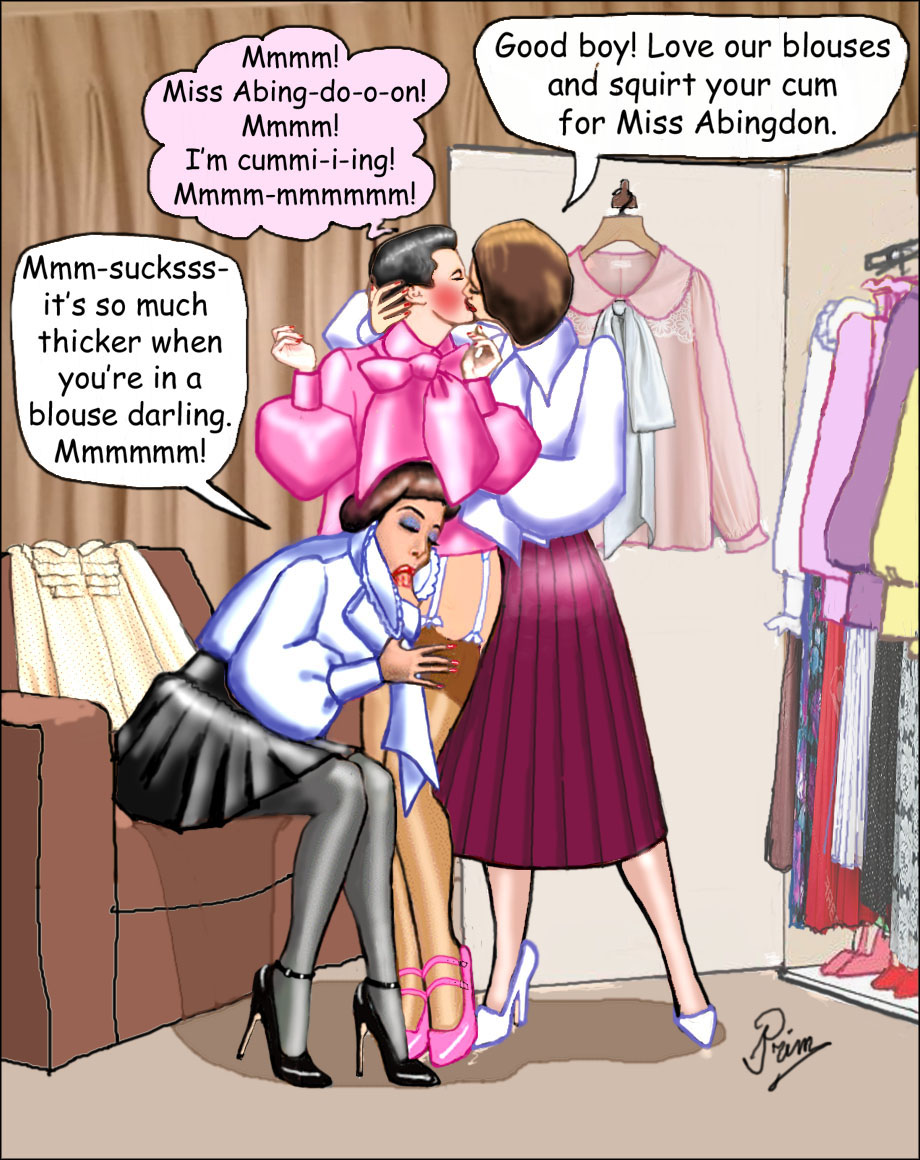 "Hello, Hilda? It's Sharon. We're desperate, dear. Please tell me you've found a nice boy for us."

Sharon Collins's accommodation agent chuckled into her mobile. "Darling I was about to call you - after fixing up a nice little lodger for you who ticks all your boxes - and some."

"Oh tell me, tell me! For God's sake is he a cross-dresser then?"

Hilda took a deep breath and breathed a frustratingly long sigh down the phone. "Alright: listen. His name is Daniel Hamilton and he's nineteen years of age. Get this: he's a marriage consultant, with no relationship himself - obviously because he's already married to his lovely slips and girdles and stockings and things. Yes, his mother used to put him into her suspenders and fully-fashioned stockings, and I know from his phone and emails that he particularly likes pretty panties, and mummy-style blouses and skirts."

It was while Sharon and her lesbian sweetheart Judith were still sky high in their excitement that their new lodger rang the door-bell and they got to see his dark hair and peachy complexion for themselves. They were both wearing their best blouses and the sort of pleated skirts they knew would make his unsuspecting heart patter away like the wide-eyed innocence of the lamb on its way to the inevitable.

"This is your room, dear," said Judith, allowing him to slot through what was left of the doorway past the breasts of her blue satin blouse. "There are extra closets in here because my friend and I like to dress nicely and there's only just room for our fashions in this small house of ours. Do you like my skirt dear? What about my blouse?"

"Oh they're - " and his eyes drank in the shining black pleats of her knee length taffeta skirt - "they're beautiful."

"I'm so glad you like them," and she shaped her blouse bow with both hands, then slid her fingers down the length of her blouse ribbons. Her face sat attractively in a circle of her upturned blouse collar, surrounding her with a bewitching lacey trim.

His private interests had led him to learn a thing or two about women's attire. "M-My mother used to wear bow blouses - with bishop sleeves - before she passed away."

"Oh Daniel, I'm so sorry."

He looked down to find his hands held in his landlady's, and his heart pounded at the deliciously full shape of her billowing sleeves. If she were to wear this blouse just once a month, he would look forward to that day and the chance to watch her sitting in it and moving about, a vision of pulse-quickening blousiness.

"My name is Judith, but you may call me Miss Abingdon."

"And call me Miss Collins," said Sharon, joining them from making an excited phone call to Hilda at the lodging agency - "Thank you dear, he's perfect."

They give their new lodger a tour of upstairs, opening each wardrobe and each chest of drawers, revealing to him the richness of their slips and folded panties, their feminine coats and women's mackintoshes. In each room his eyes fell immediately on the expansive closets, waiting breathlessly for one or other of his landladies to open it and reveal the treasures within. He wouldn't have to wait a month for Miss Abingdon to wear a mouth-watering blouse: she and her companion had dozens of them, a fresh one for every day. Nor did he have to wait until the closet opened to breathe in that adorable smell of women's clothing departments in the stores in town, for the air of every room hung with the fragrance of nothing else - enriched with the most arousing perfumes that had ever enchanted his nostrils.

And Judith knew it. "My blouses smell nice, don't they?" she said, in front of a row of thirty of them in every colour and material. "Smell dear," and she turned him into the cold fabric of smooth sleeves so that the two women could hold his obedient head between blouses for a looooong time - pressing his body between theirs.

It was a case of dreamy overload for Daniel. He fainted with a rushing flood of desire, moaning incoherently as they spread his limp body on the satin bedspread to be undressed. When he came to his senses his legs were in heaven: to be exact, in fully fashioned stockings pulling on white suspender straps and with the prettiest high heels in patent pink with darling feminine straps buckled sweetly across his insteps.

"Daniel I hope you don't mind us dressing you like this," cooed Sharon close to his ear as her sweetheart drew a pair of her silk chiffon panties over his knees and to the top of his stockings.

"Er n-n-no - not at all," he blubbered, more concerned about the way his erected dick was betraying his inner desires.

"Only we could see how you liked seeing the contents of our drawers."

"And we felt so sorry for you, wanting to wear our satin-lined skirts," added Judith. "And our lovely blouses." She paused as the two of them watched his lips trembling with cross-dressing confusion. "Would you like me to dress you in one of my blouses, dear?"

Conveniently they had a selection spread on the bed, the other side of Sharon, so that she could slide a blouse in pink and white stripes into his view with deliciously crisp sleeves every bit as wide as the ones they were wearing. There was a blouse of white silk too, and a rose pink satin blouse with such wide ribbons that trailed to the hem of the blouse and beyond. His moan betrayed every ounce of his eagerness to be engulfed in its femininity.

When his brassiere had been fully hooked down his back, they threaded his arms into its copious sleeves while he whimpered with sexless desire. The pink sides of his blouse lay parted down his breast, showing him the cleavage of his snow white brassiere as the ladies sat on either side of him and buttoned each of his long cuffs down to his hands. They sat him up, and leaned his almost lifeless body back into Judith's blouse for Sharon to draw his blouse together and arrange it with tender feminine touches, before delicately fastening its buttons. Then she folded his ribbons together, threading them through, rustling them into loops and sliding them into a wide pussycat bow - over the swell of his bra and down to his blissfully aching dickie.

It was that dickie that preoccupied these remorseless women. It was all they wanted: a male organ that would feel so impotent and yet so thick in their fingers and in their mouths, so aroused and yet so obedient - and so completely under their control.

Poor Daniel Hamilton was under their control alright. He had no intention of resisting the caresses of these loving feminine hands and the kisses of these attractive lips as he succumbed to their wet, open-mouthed tenderness. The dabbing kisses on his knob opened into the warm, wet suction of seductive, female lips, before they descended tightly down his shaft. That combination of deep kissing at his lips and deep sucking at his cock brought loud, desperate bleatings from his smothered throat, the usual prelude to their victim's legs sliding wider apart to allow full access to his captured dickie. Why would he fight it when his blouse and his whole body was being pressed and slithered and hissed and sizzled by the busts and sleeves and ribbons and bows of two deeply bloused women?

And Sharon and Judith knew how to play him to the full, so that his pleasure was nothing by comparison to theirs. A little release from her lips could allow Sharon to whisper sweet fetish nothings into his ear. "Don't you love wearing my blouse, Daniel pet? Come closer into my sleeves. Let me smother you in the silk of my pussycat bow, my girly little blousikins."

And Judith, or whoever's turn it was to enjoy that adorable sissy dickie, was an expert at sensing the ebb and flow of his dress-boy's passions. Bringing his eagerness higher and higher was easy when your lips suck sweetly up and down in a slide of lipstick, saliva and precum; but pausing is so important to make it all last. Holding onto that throbbing cock in the hug of your tightly curled tongue is so sweet, until his plateau drops those few panting breaths into eager desiring again. Then your long, slucking sucks can resume and the bleating sissy's passion rises ever higher again beneath the bosom of his sissy blouse.

Sharon and Judith can keep a sissy at the highest level for twenty-five or thirty minutes, before powering him into the most erotic ejaculation of his life, not losing a drop of it as they swallow his whole, long load, with only the smallest, inevitable dribbles of hot, creamy cum bubbling down their chins and maybe onto the bows of their blouses while they lovingly slide their lips loosely up and down his spent dickie as it feels the cool of the bedroom air again. They know that what he has just enjoyed will make him want more, right now, as soon as they have petted and powdered his private places. They must stand their captive lodger at one of their open closets again while they choose a really sweet blouse for his next lesson in dickie surrender. Maybe they could put him into a satin-lined skirt this time, so that they can turn his pleats right up and see how stiff that adorable dickie looks as its panties are drawn down for it to stand to obedient attention, waiting for the wet suck of his landlady's ruby lips.


***
There are more than 600 Prim stories of forced feminization in Prim's website at http://www.primspetticoatwendyhouse.com/feminization.htm
Members get them all.