&nbsp "It's nearly time for your dress worship," said Miss Stays as she was brushing Dean's hair at his dressing table mirror. "Today it will be your lingerie, and I have selected some of your favourite and most precious sissy-frills. You will be able to show them how much you love them."

Dean's heart pitter-pattered like a lambkin jumping around its mommy, and it was at that very moment that his darling Mommy opened the door and came towards him, wearing her green rayon cocktail dress with the lovely pointed lapels on her bosom. As always he thought she looked wonderful, and she was going to help Miss Stays with his morning lesson in dress adoration.

"What a darling little girl you are this morning, Denny my sweet," cooed Victoria as she joined her son's governess and leaned over his shoulder to give him a warm, long kiss on his lips. Miss Stays held him upright so that Missus Carruthers could kiss her son for as long as she wanted without him fainting with emotion. "Darling, you look simply like a princess in your spotted dress. I do love your pretty white collar with its dainty little red ribbon at your throat. I think you will soon be the little girl I want you to be."

A shiver of pleasure rippled through Dean as he sat looking at the smiling faces above him in the mirror. "Oh I do so want to be as girlish and feminine as you want me to be, Mommy. Can we start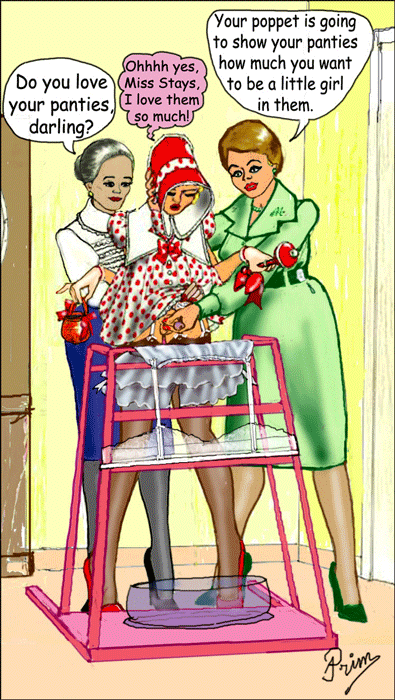 my dress worship; I want to learn how I need to wear my lovely feminine frills."

Victoria laughed and drew him to his feet, so that she and Miss Stays between them could lead him by the hand down the stairs and into the sitting room. Dean's heart all but flew upwards to the ceiling, for there stood the new dress-worshipping stand which had been set up for the first time. The shining pink bars filled him with desire, and he could see the special place where he would stand to have his little clittie presented to one lovely girlish under garment after another.

"Denny darling," said his mother, "I am pleased to see how your lingerie makes you swoon with girlishness, and that's why I bought you this wonderful way of helping you show your panties and petticoats how much you love them. Marjorie, can you set up my darling's lingerie pretties, ready for us to show his clittie to them?"

Miss Stays knew how to use the dress-stand, and stretched one of Dean's suspender belts round the bars, with suspenders pulled upwards to hold each garment in position over the juicing frame. She selected a pair of her little sissy's favourite panties, in silk chiffon with deep ruffles and pretty white satin ribbons, and it was soon spread for worship at the height of his waist. Next she took his bonnet, the sissy-girl poke bonnet that matched his shepherdess dress, and he bowed his head for her to dress him over his curls, with its silk ribbons wrapping into a lovely bow under his chin. "Do I look lovely like a little girl, Mommy?" he asked hopefully.

Victoria smiled her delight, and between them, the women led Dean up to the stand feeling very delicate and vulnerable. They positioned his high heels between the pink floor bars so that his thighs faced onto the delicious white gossamer of his panties. His panties were drawn down his legs and taken off, and Miss Stays spread her blouse sleeves round his waist so that she could lift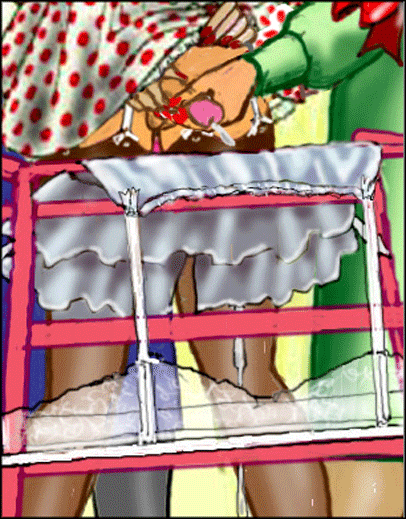 the front of his dress. There was nothing between his clittie and his panties ready for worship, except six or eight inches of soft feminine air. He held his breath, feeling as if he was a girl in paradise, then Miss Stays' fingers caught his clittie and held it while it lengthened, as she does frequently during the day to remind it how feminine it is. Then she presented it to his mother, who helped her to finger it into a state of girly sweetness.

The sissy's feelings ached with desire, and he had to tell all. "Mommy - Miss Stays - I adore these girls' panties - the frills, the chiffon, the girlishness. I want to wear them so that I can be as girlish as they are." As he confessed his longing, the women's fingers added to his thrills with long, slow squeezes along the stem of his stiffened clitoris. "Oh Mommy, I dream of wearing these panties, and becoming a girl inside their gusset. I want them so close to me, closing me inside their girlish sweetness."

The panties shone up at him, it seemed, with eager sweetness, so pretty, so inviting, as if they wanted to encase his girlish little bits. The thought played a delightful little trick in his heart, converting his wishes into his willingness to adore those darling ruffles and ribbons. As his Mommy's and Miss Stays' fingers pushed and squeezed along his stem, the rosiness of his poppet filled with panty-love. It seeped little spots of juice and soon gave way to squirts and floods of sissy jism, leaping onto his panties, showing them his worship and desire. Oh how he thrilled with pleasure for his Mommy as he showed the panties all his love. As he squirted again and again, he knew he would be able to wear them soon, and they would turn him into the girl his Mommy wanted him to be.


***
&nbsp