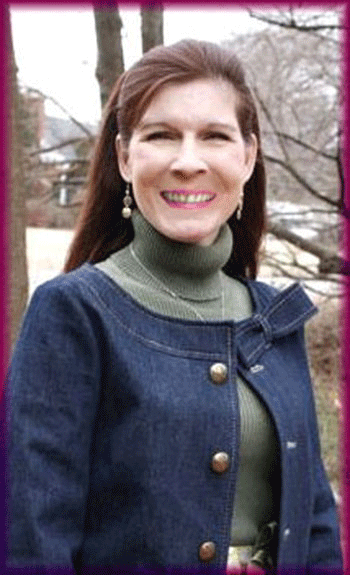 Hello darling. It's been too long since my last Newsletter. You must have thought I wasn't thinking about you in all that time, but an Aunt's days are very full, my precious, and still I manage to think about you and look forward to the next time we can meet up close while reading my Newsletter together. I've got some important and very nice things to tell you about this time, but to make a change I'm leaving the newsy bits to the final paragraph, because I know you want to see our girls in their photos and read what they wrote to me. I hope you also want to know what their Aunt Frocks said to them in reply.

Quite a few of our readers are adult baby girls - nowhere like half, to be honest, but I should say I love my babies dearly. They have a special place in my maternal breast, so I'm starting this time with a letter and photos from a sissy-little who regularly writes to his Auntie and would love you to see how babyish he is.

A cuddle from Aunt Frocks x









MY STAR LETTER - photos from Little Fanny Mattie


My Dear Aunt,

So sorry for the delay (something urgent had come up) and I do understand if my reply is too late for the following piccies to make the new newsletter. If not, please consider any and all of the follow below (they were all from last summer's 2nd visit with Mommy Ellen). Also know that I have many more to sort through but I feel that I look particularly juvenile and sweet in the ones I've selected.

If you wouldn't mind, can you "pretty-pleasse" reference my Flickr page (you may need to log in):



Little Fanny Mattie's Flickr photostream


as well as my complete social media links page:



social media links page


A big babygirl kiss!

Little Fanny Mattie

PS - The first one I did a side-by-side with a Vancy image to show where I got the inspiration for a dress I am wearing (I always dreamed of being one of Vancy's petticoated femboys). I have yet to share any of the below images elsewhere since I wanted to give you and Prim and the other Wendyhouse readers a "special access" to them first.



Fanny Mattie Flickr group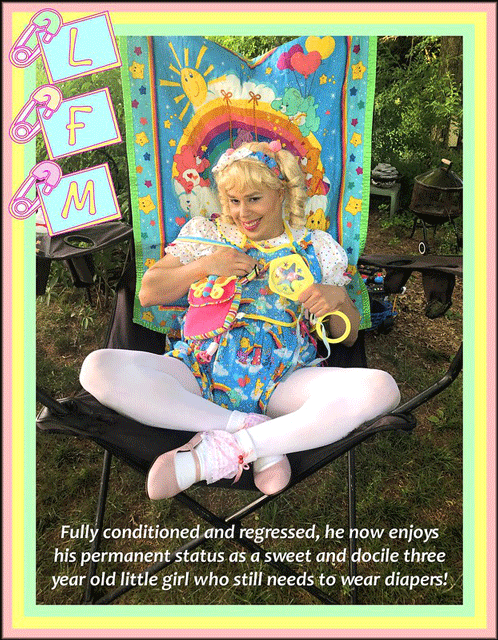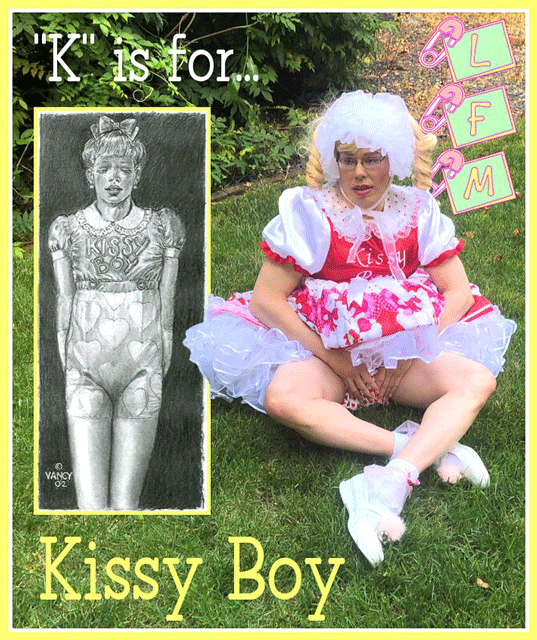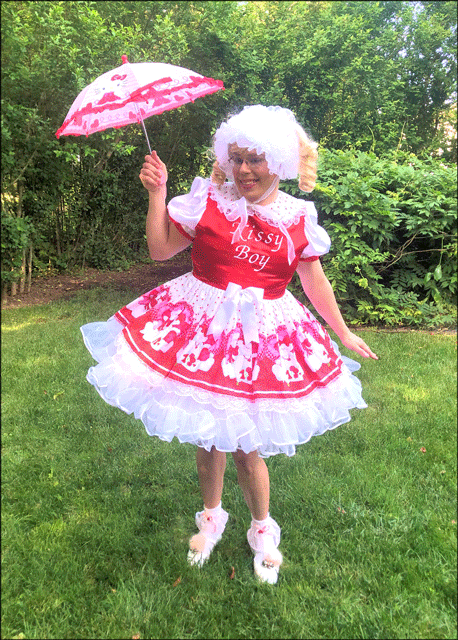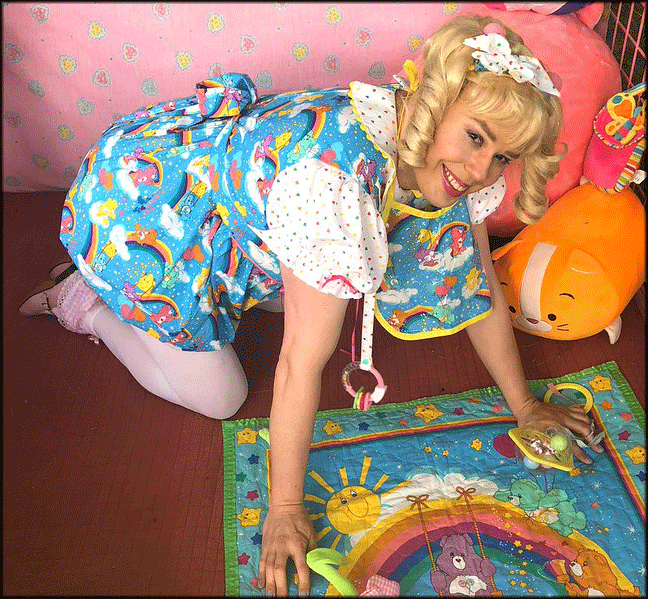 Hello Little Fanny Mattie.

What a cute baby doll you are in your plastic backed cotton rompers. So smiley and obviously enjoying being dressed and cuddled by Mommy Ellen. I'm not surprised, because we all know you are such a pathetic and effeminate sissy baby girl.

Your photos are not too late to be included in my Newsletter, as you will see in a few days' time. Thank you so much, sweetheart, for sending them to me to show the girls.

I'm not surprised you dream of being a 'Vancy Sweetie'. Doesn't that sexless cutie know how to show sex-changing weakness in the sissy costumes he creates in his art. He keeps Prim supplied with his exciting pictures so that he can keep showing them to you in issues of Prim's Petticoat Pansies. Many Vancy piccies score so well because they show the 'sissy little boy' side of forced feminization, in which he features babyish little suits and rompers. I love that in a sissy, especially if a sissy has to wear diapers and a big pair of Mommy's panties underneath.

I'm only too happy, darling, to share links to your other sissy accounts. That's what my Newsletter is all about.

Auntiful cuddles into my blouse, sweetheart,

Aunt Frocks xxx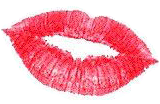 ---

Letter 2 - Please help me to be sissified

Dear Aunt Frocks.

Would you please help me be the ultimate sissy that I can be for you? I am a submissive sissy, and I just found your website and information there.

Would you please let me know how I may subscribe to get your updates, to help me be a good sissy for you?

Thank you for your consideration to help me with this.

Best.

Sissy Annette


My dear Sissy Annette,

It was nice to hear from you and I understand your wish to be 'mothered'? or perhaps dominated and trained? Either way that would take a serious commitment on my part which I am unfortunately not in a position to give. There are opportunities on the internet for sissies like yourself who want to learn sissy ways at the hands of a personal Mistress, but the commonly followed route is for sissies and tgs to meet up in friendship circles and discover that you can help each other by dominating or serving according to your intimate desires. I know of a few pairs of cds who love this kind of relationship.

On the other hand I could advise you to learn directly about sissification from the Petticoat Wendyhouse. That is what we are all about. By reading my Newsletters you can dip yourself into feminization, women, submissive sissies and cross-dressers or transgenders. But for high speed sissification I recommend joining the Wendyhouse, so that you have full access to all issues of Prim's Petticoat Pansies from #1 to #34. These sissification e-blogs aim to help girls like you, sweetheart: you will quickly get a feel for what it is to be a sissy in a dominant women's world.

I hope you are not disappointed if it is primarily a relationship that you wanted, but if it is sissification you want, Prim's Petticoat Wendyhouse is the way to go.

Kisses, pet.

Aunt Frocks xxx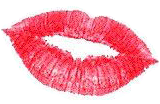 ---

Here's a new girl in the Wendyhouse who has shared her photos with us, both here in my Newsletter and in the Rose Room. This is Isabel Satin.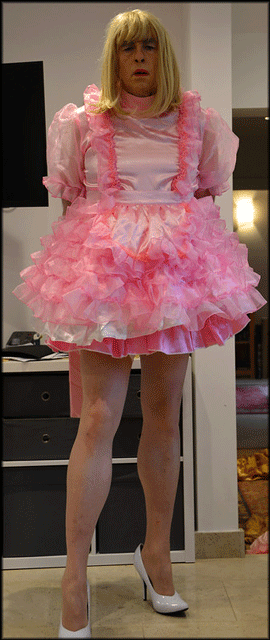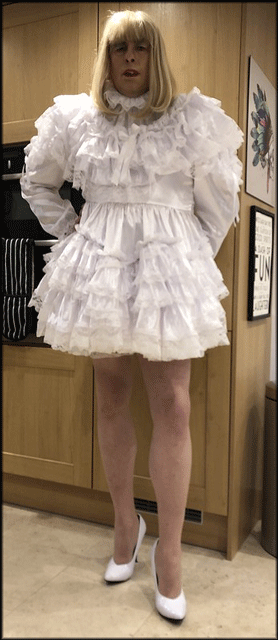 Whether she's a big girl or a little girl, doesn't she dress nicely! Thank you, Isabel, for joining us in my Newsletter.


---

Letter 3 - Tell me more

Hello,

Please tell me how I may sign up for your newsletter. Thank you!

Does your membership cost ever go lower? What other clubs are available if any? Do you have any samples you could send to my email address?

I just found your site and am happy I did so!

Thomm


Hello Thomm. It's nice to hear from you. Let me answer your questions in a way that will bring you what you are looking for.

So you've found Prim's Petticoat Wendyhouse and you like what you see. And you want more, is that it?

First my Newsletter. This feature used to be monthly but things are a lot busier than they used to be and now I find it better to bring out my latest collection of girly mails and photos once every three months. Prim will publish my next one for me, Newsletter no.30, this month. You don't buy it or sign in, it's there for you to enjoy on the Home Page. Point of information: it doesn't form part of the Wendyhouse. It's on the 'front end' of our website: the whole contents of the Petticoat Wendyhouse is enjoyed by all those girls who subscribe to the Wendyhouse, for which you go to the JOIN the Wendyhouse page. Go have a look to get the idea and see what you do to join.

You can see a preview of what's in there in two ways: FREEVIEW shows you a cross-section of the sort of thing in Prim's world. FULL INDEX shows you lists of icons which open when you click on them and show you how much there is inside the Wendyhouse for all the girls who live in there. If you want to feel girly, you love dressing, and you like to submit to dominant women, you'll love it.

The cost is high, but some girls say that reflects the quality. Girls are their own best judges of that, because they can compare what you get in other sissy sites, some of which are very good I agree, compared with what Prim and I can offer you. One thing you get here which you don't get elsewhere is QUANTITY. No-one, bar none, can give you as much as you get as a live-in member of the Wendyhouse. Step outside of my Newsletter for a moment onto the Home Page, where you will see the blue panel near the top of the page. It lists the advantages of joining the Wendyhouse. All of it is thrilling, and the girls who live in here are not disappointed. Mind you they can leave whenever they like, and come back for more later.

Other Wendyhouse clubs? Not on our site, but here's where you can find more art from Prim, and don't forget: EVERY toon drawn by Prim also has it's Prim text story to fill out the pleasurable experience. A Prim pic without its story is way less than half the fun, I can assure you.

-Go to www.Petticoated.com where there is a Prim story every month: Aunt Helga's archive contains many of them.



Petticoated.com


-Look into www.Sissykiss.com where my nephew has submitted up to twenty stories over time: find them in his space under his Sissy-Kiss name Abby Sweetness:



Prim's stuff at Sissy Kiss


-Login to Flickr Yahoo to see Prim's photostream and favourites under his Flickr name 'Silkblousey'. You may need to log in:



Prim's Flickr page (Silkblousey)


-Prim is in Fetlife too with the profile name 'Primonline'. You will need to log in:



Prim's page in Fetlife


-and finally visit Pinterest, a fabulous site if you love women's apparel and sissy crossdressing or being an adult baby. See 'Primonline' - All boards. You will need to log in to see all 96 boards:



Prim's boards at Pinterest


So I've nothing to send you with this, my sweet: you have to do the walking to go find Prim. Like you said: I think you'll be happy you did.

Then come back here and JOIN the Wendyhouse, lol.

Big hugs, sweetheart.

Aunt Frocks xxx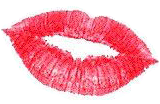 ---

Here's a popular girl who I always love to include in my Newsletter. Wanda's fine taste in fashion makes her a model of Prim style.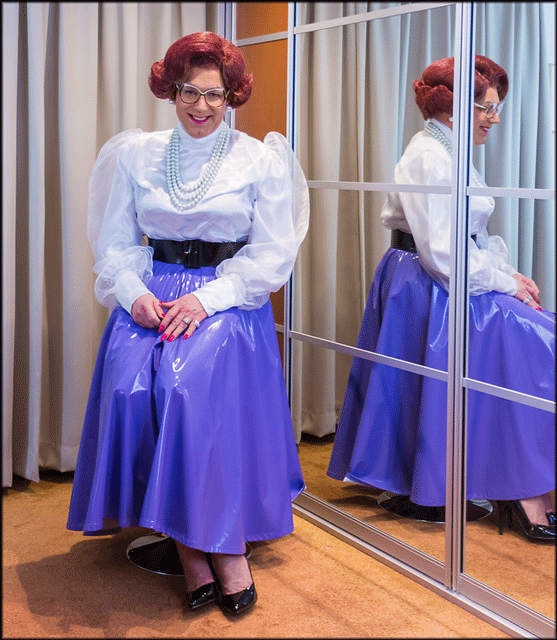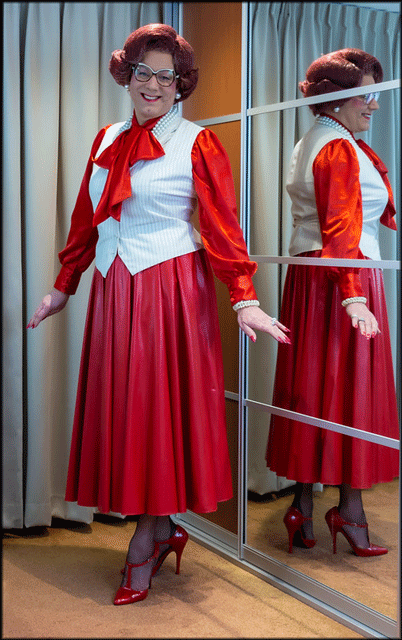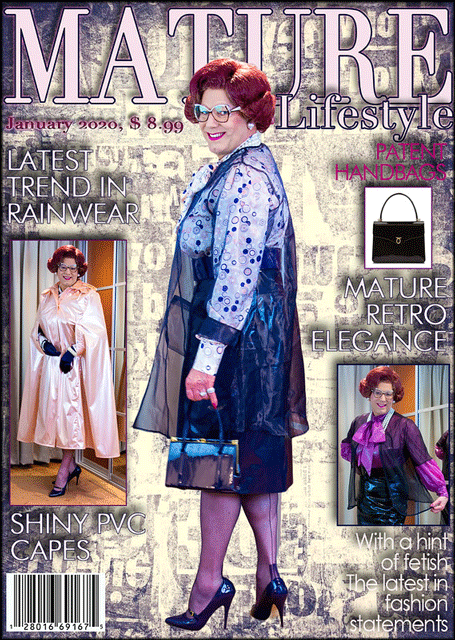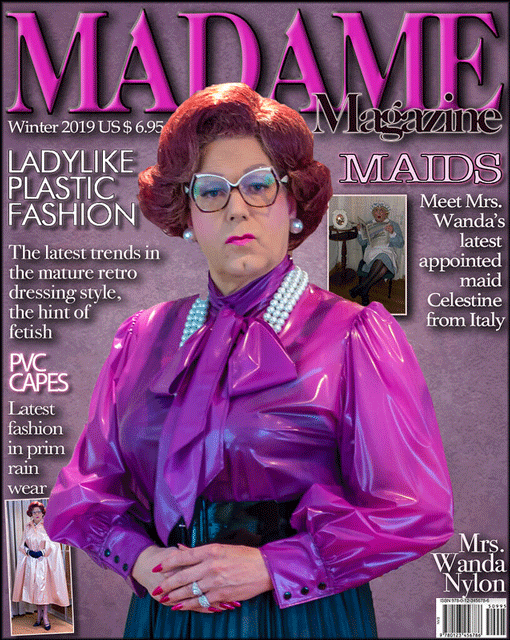 Such dominant blouses and skirts, including when worn with women's rainwear, makes her just the sort of superior woman you would like to obey.


---

Letter 4: My Mother made me a girly girl

Dear Aunt Frocks,

Many thanks for your reply, delighted to hear from you, I had tried twice unsuccessfully to e-mail you but perseverence has paid off.

My mother always dressed me in pink knickers and every morning told me 'Come and put your knickers on that's a good girl'

With affection, nurture, encouragement and enjoyment I became a very girly girl and have remained that girly girl in pink knickers ever since to my enjoyment and pleasure.

As a girly girl, I am intelligent, bright, clever and positive and any girly girl can be the same.

Really lovely to hear from you.

Hugs,

Fiona.


Hello Fiona.

I love it when girls write to tell me how they began their 'new life' as a girl. How lucky you were that your mother wanted a daughter, or that's how it seems. I suspect that she knew you wanted to wear pink knickers: she might have seen tell-tale signs. She might even have found that you had 'borrowed' a pink pair of her knickers, or perhaps your sister's. Such beginnings in being feminine are always sweeter if they come from your own mother.

But darling, of course you are intelligent and positive. I know there is a fashion for some girls being sissy bimbos, who may not be bright and clever, but that is their choice. Nearly ALL girls are intelligent and very sharp. Just try to pull a trick on a girl and you will quickly find she is equal to your own intelligence. That is what makes our Petticoat Wendyhouse exciting, hon, because when it comes to forced feminization, sissies turn out to be weaker and more submissive than the women and girls who order them about.

Enjoy reading our stories, darling, and don't forget, it's YOU in every story.

With love from Aunt Frocks xxx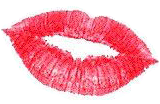 ---

Another girl we don't feature enouogh in my Newsletters is Nancy. You can see her full gallery in the Rose Room, but here she is looking very sweet for us.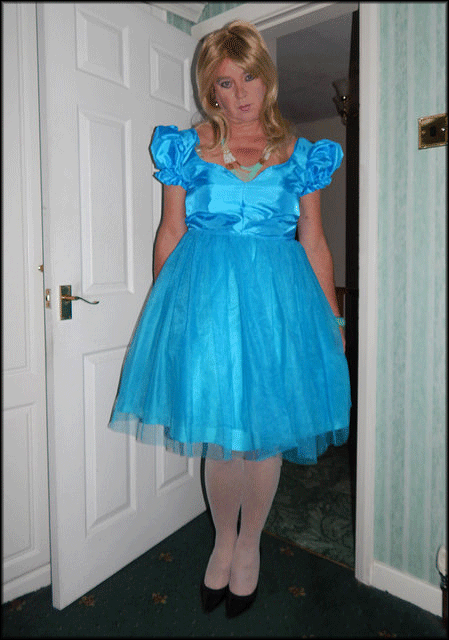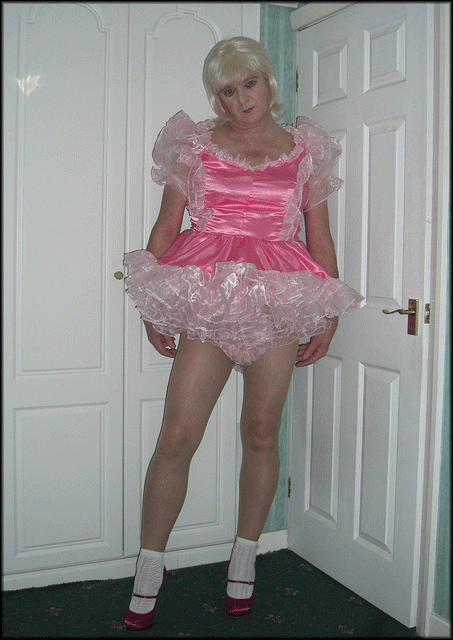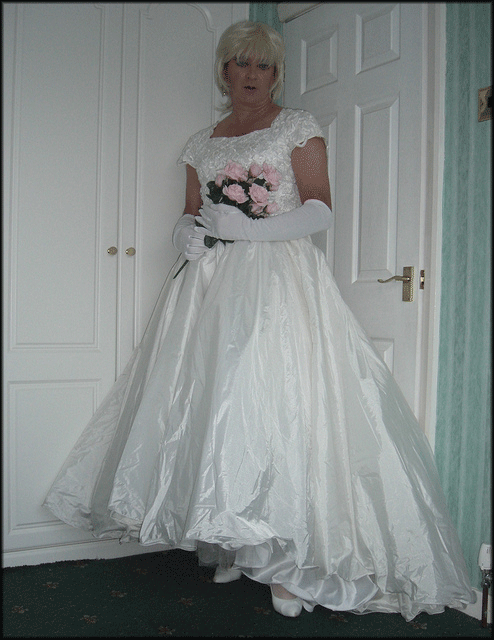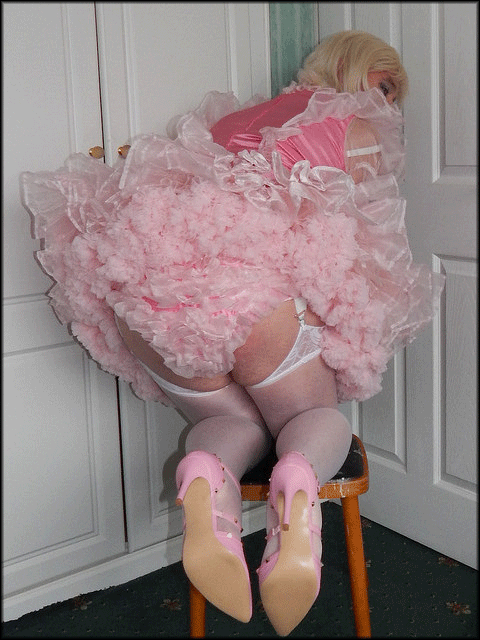 Lovely, Nancy. You choose such adorable and girly dresses to wear.


---

Letter 5 - deleted (please read my reply)

A sissy girl wrote to me, then changed her mind and asked me to delete it.

So INSTEAD OF THE NEXT LETTER: Here was my reply

Of course I'll delete it, darling, if that is what you want.

But (X) darling, if you don't want me to share what you send to me, I don't want you to send it to me. I am not offering a Professional Lady service where clients can phone or email for a sexy chat. The Wendyhouse operates as a forum for sharing cd and tg photos and mails. You will have seen the level of sharing, with respect and even a sense of decency when you looked into my Newsletter on the Home Page.

So please think carefully before you write to me again. It doesn't have to be for publication (as nearly every mail is what girls send to me), but if not, I want to be able to reply to you without a grimace of disgust at what you are talking to me about.

I suggest you read through what you have written to me before you send it. But on the other hand, I'd love reading a nice sissy letter from you.

I should also explain that I'm not cross with you for writing to me about anything: just think, and be sensitive to what people may feel. You can always write to Prim: my nephew looks after the technical side, like if you can't login or things like that: but anything you don't want me to publish could go to him.

Warm hugs darling.

From your Aunt Frocks x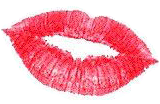 ---

One of the best things to happen in the Wendyhouse for a while has been the opening of the Lacy Lingerie Room. You know why? Because we get to feature lovely sex-pots like Lauren here: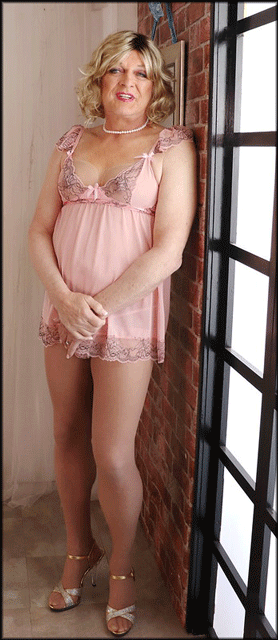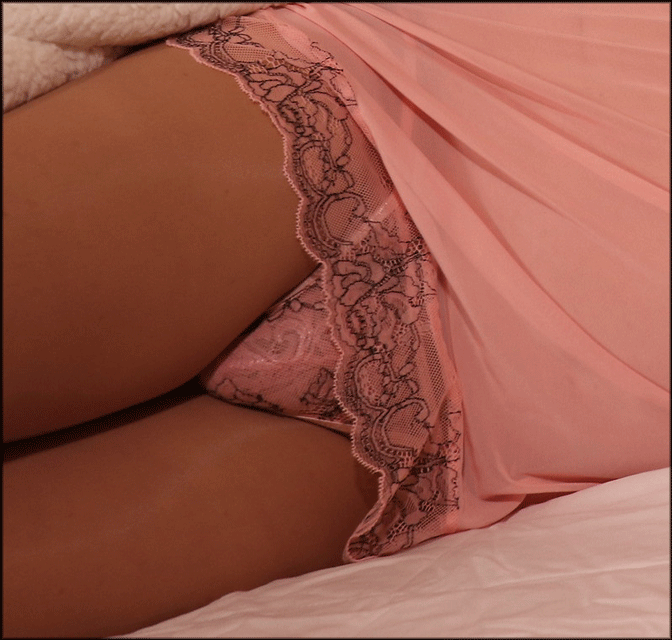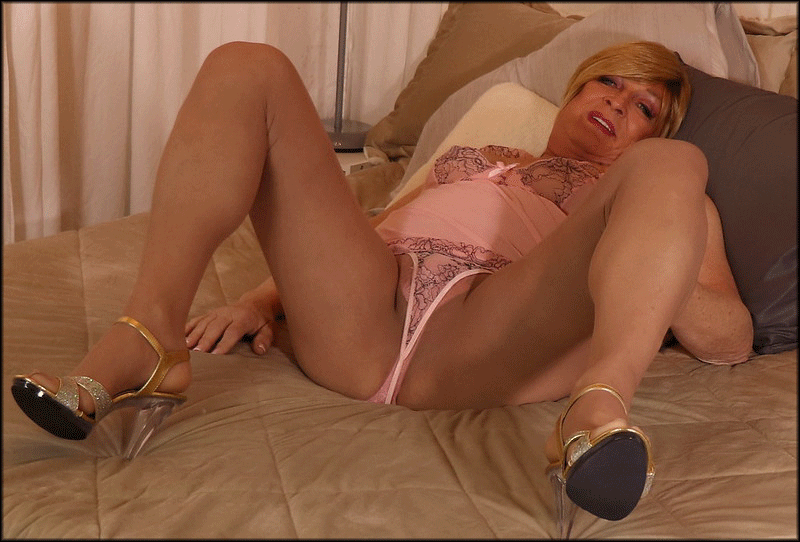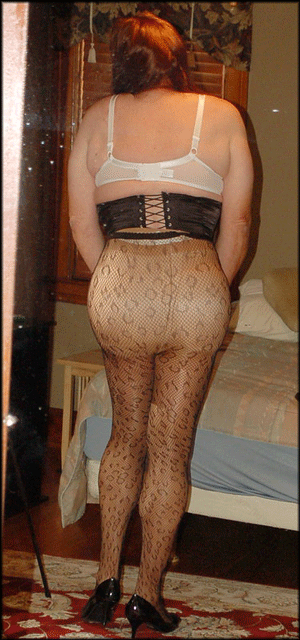 Doesn't she suit feminine lingerie? Thank you Lauren for stepping into our new Lacy Room.


---

Letter 6 - Glad to pay something back to the Wendyhouse

Dear Aunt Frocks,

I was so flattered to be connected directly by yourself, and to have received access to your wonderful site in which you would also like me to appear. I am honestly shocked you would consider me for such an honour.

I have been in talks with Prim just before Christmas and did also promise I would send some photos in for your consideration for a future Newsletter. I would like to take some new ones Exclusively for the Wendyhouse in the hope they will indeed inspire new and up-coming girls to our wonderful community. Please leave with me for now and I will try to put a selection of my best photo's together before the 20th January for your consideration.

PS, I do intent to start supporting you where I can. You have given us girls such joy and warmth knowing we are not alone. So a heart felt THANK YOU!

Perfume fuelled hugs,

Joanna


Dear Joanna,

What a wonderful letter, which I enjoyed reading very much.

How thrilling, that you plan to have photos taken purposely for our Wendyhouse. They sound like they will be very grand, but there is no need to aim particularly high, darling. The photos in your photostream are just perfect. Maybe you have more, you sound as though you are going to do a search for me and that is very nice of you. Yes sweetheart, as early as possible. I love it when girls are just 'themselves' in their photos, while looking so feminine and beautiful, as you do.

How nice of you to think of 'paying us back' for what we do for girls. Let me cuddle you in a warm hug, my precious. It's always nice to be appreciated.

I look forward then to receiving your photos. Use my mailbox at auntfrocks@mail.com

Love from Aunt Frocks xxx

And here are Joanna's pictures, dropping into my mailbox at the eleventh hour. Mmm, definitely worth waiting for, Joanna.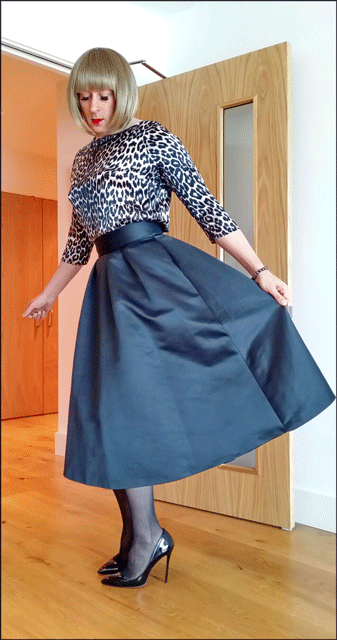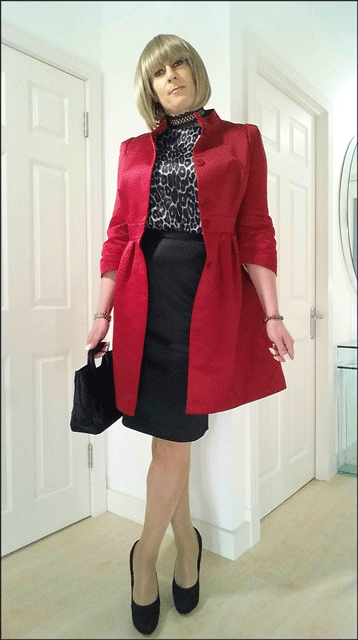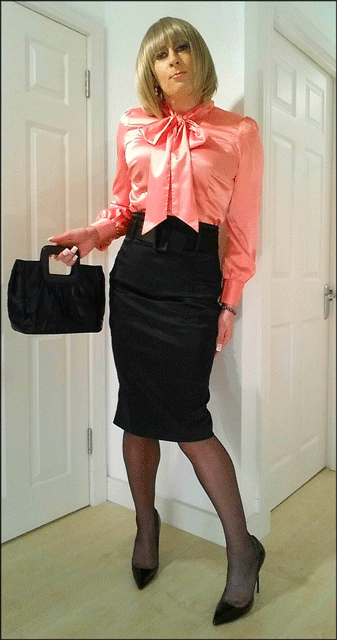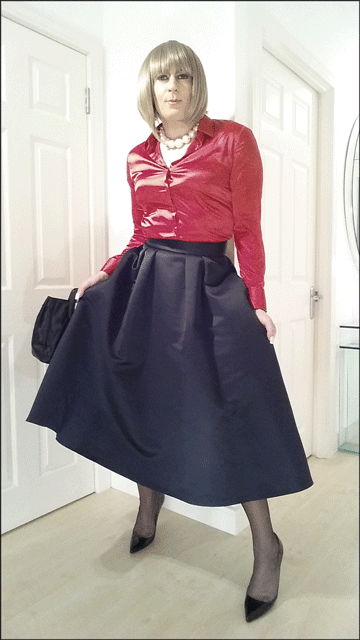 I think our Wendyhouse girls will recognise a definite Prim style about Joanna's taste in narrow skirts and classic blouses. This girl belongs in Prim's Petticoat Wendyhouse.


---


Letter 7 - I like that sparkle in your eyes

When I was 18 I lost my mother, father and sister in a car accident. My mother and sister had lots of expensive clothes which I found were an exact fit for me.

And for the next 40 years I have lived as a female. I am not homosexual, preferring to masturbate.

I get turnd on frequently, probably because of my cross-dressing.

I turn my life experiences into short stories. I'm a sexually satisfied person.

You have a facial glow and a twinkle in your eyes suggesting you are sexually satisfied. I also note you are well dressed and look forward to exchanging erotic private pictures of ourslves.

Love to know what creates your sparkle.

Love you aunty

Paula Dumnbar Pen name

PS I now live in Queensland Australia


Hello Paula. How nice to hear from a new girl. I wonder if you are in the Wendyhouse or guesting? In either case you are welcome.

What a dreadful accident so early in your life, my poor darling. I hope your loss has converted into happy memories of your dear loved ones.

I am sure your initial 'wardrobe' has since then become more diverse. I wonder what your style is now? I'm sorry to say, Paula, that I don't exchange pictures of myself further than the ones I show on the Wendyhouse website. On the other hand, as everyone knows, we LOVE receiving photos of girls who want to share their feminine charms with many like-minded girls. We are deliberately wide-ranging in our appeal, because all girls, we hope, are free to express their feminine desires in their own favourite ways. Take a look at my latest Newsletter for some girls who have shared their fashion photos. If you want a feast of femininity you can pop into the Rose Room but you have to be a member because that room forms part of the Petticoat Wendyhouse. Then you could also check out the Emma Room, where all 29 of my past Newsletters are there for you to enjoy.

As I tell anyone who writes to me, darling, if you write to me you presume I will publish your letter, or may do depending on how much room we've got in my Newsletters or on the Tell Aunt Frocks pages of each issue of Prim's Petticoat Pansies. So unless you stop me by reply, I will include your mail below in my upcoming Newsletter early in February.

What creates my sparkle? The sheer enjoyment of talking to girls like yourself, honey, and spreading the feminine feelings of so many girls through the cross-dressing and trans-gender community. Such fun. Such a privilege.

You can write to me about any aspect of your dressing and sexuality, Paula. I'm all ears. But be assured I'll pass it on for the enjoyment of everyone else.

Warm hugs, sweetheart.

Aunt Frocks x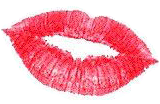 ---

Let me introduce a lovely French girl: Anne-Marie Lambert, showing us her beautiful taste in ladylike finery.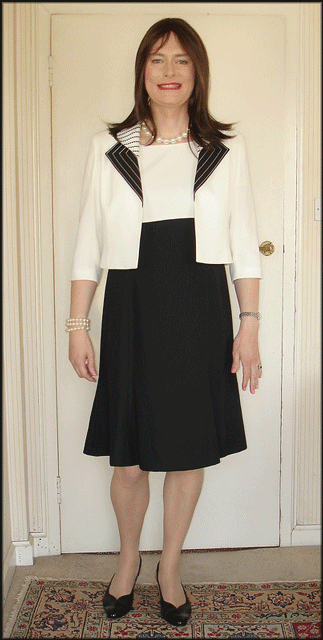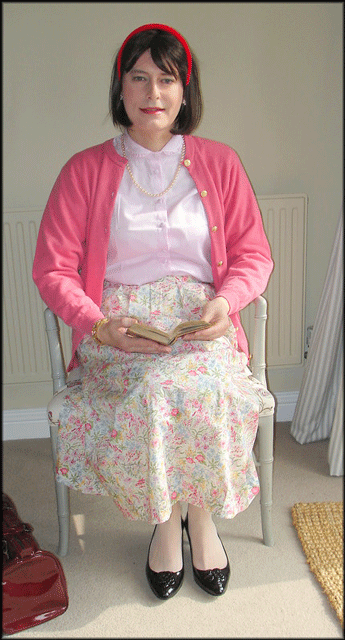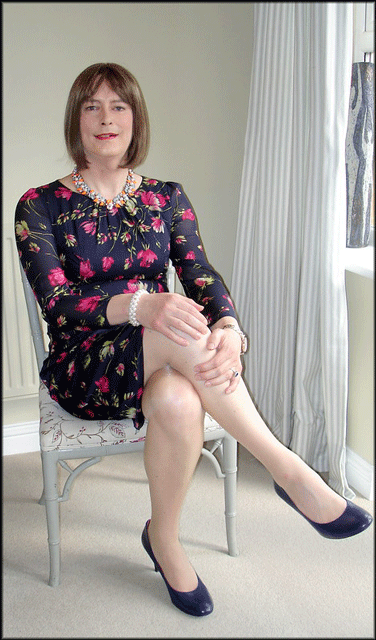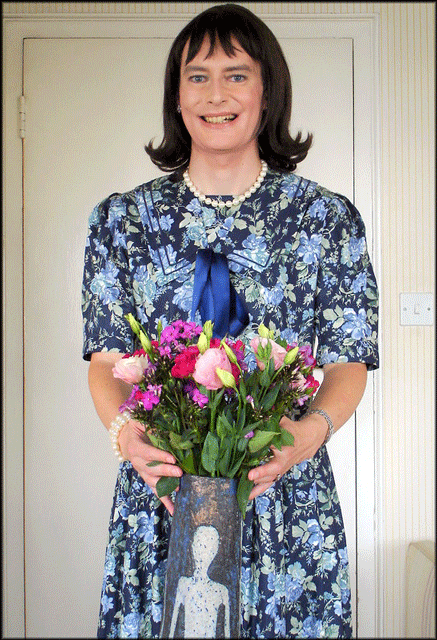 Thank you, Anne-Marie. You are most welcome to the Rose Room, and of course to appear in my February Newsletter.


---

Letter 8 - my photos for the Lacy Lingerie Room

Auntie,

Prim contacted me and asked to send over lingerie photos for the new Lacy Lingerie Room. Thank you for this opportunity! I have attached several photos via this email and will send the rest in a second email. I've also written up a short paragraph as well if it helps. Hope all is well and look forward to seeing the new section debut.

Here is the copy:

"Jessica loves nothing more than dressing up in the frilliest, most womanly, and sometimes racy, lingerie. She has a love for 40s - 60s vintage styles -- the more lace, chiffon and sheer elegance, the better! In the future she plans on exploring more ideas using satin. And her dream is to one day get married in the most ultra-feminine wedding dress imaginable and wear bridal lingerie in the honeymoon suite."

Kisses,

~ Jessica



Jessica Presley on twitter:



Hello Jessica.

Many thanks for getting some of your wonderful lingerie photos to me. What a gorgeous gallery you will make, fitting in deliciously amongst the other girls. Yes I asked Prim to contact girls who were already in the Rose Room. It's wonderful that you were able to step up.

What lovely lingerie you have, darling. I could eat you in your aqua blue nightie and negligee set. Then your pink set with fluffy edgings is oh-so-femmy, but my real preference is your Fifties nylon bedtime set: that frilled white teddy and panty with negligee, catching with touchable frisson on your stockings. We all want to clutch you in a tight hug in that, Jessica sweetheart.

Keep an eye on the Lacy Room then, darling: any day now your photos will be on view for all the girls to enjoy.

Warm hugs, pet.

Aunt Frocks xxx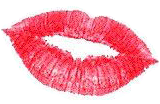 Jessica's gallery in the Lacy Lingerie Room
---

Letter 9 - Photos from Marie-Kolette

Dear Aunt.

So I'm sending you some pictures since you so kindly offered to post them in your gallery.

Let me tell you that the photos without masks are those of my wife, who, like me, likes to dress like this!

She is my Goddess, my Mistress!

In a first email, I send you the photos of my beautiful wife. In the following message, the photos of Her submissive!

I hope you will receive everything without problem?

Best regards,Marie-Kolette.

P.S: Forgive me for my weak English!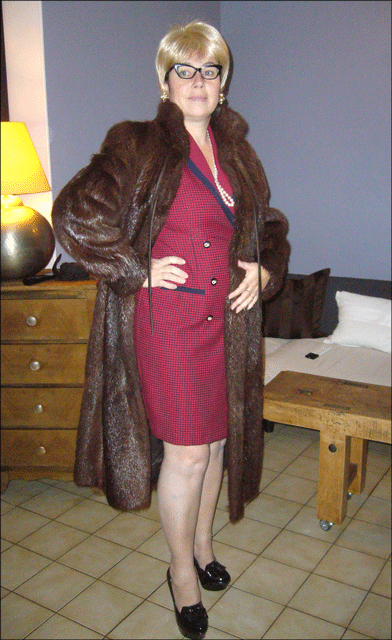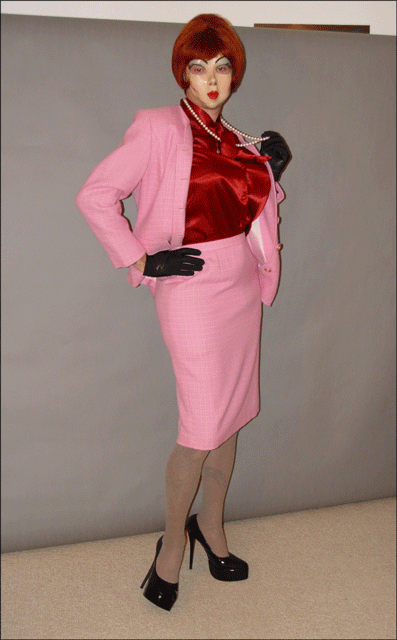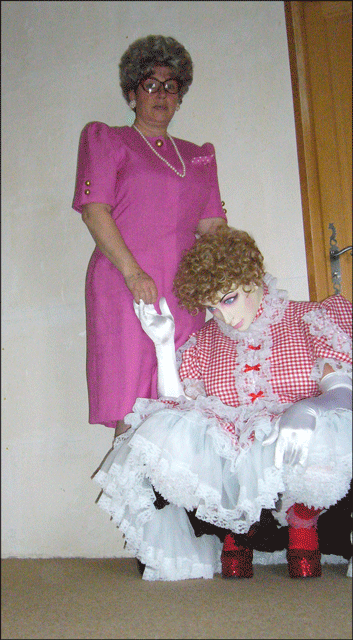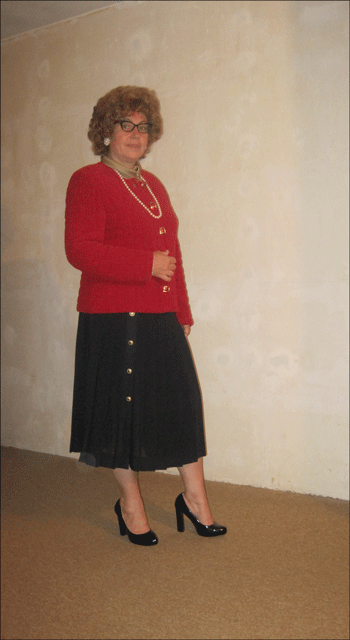 Our thanks to Elisabeth too for joining us with her bcbg husband in my Newsletter.

Marie-Kolette darling,

Your photos are gorgeous, and the photos of your lovely wife and Mistress are awesome too. I can see that you model your female side on her, as is perfectly natural. I wonder if you have separate wardrobes, or do you happily wear each other's clothes? Perhaps sizes is a problem, but it would be so sissily perfect if your wife dressed you in her things. You look perfect in the narrow skirted suits you like to wear. If you could send me another 6 photos or so, I would be able to feature you in both my Newsletter and in your Rose Room gallery.

I'm not certain if you intend me to show photo of your wife? You didn't tell me her name. It would be nice to show her alongside photos of you in my Newsletter.

For the Rose Room you might think about writing a short pen profile for me. See the Rose Room in the Wendyhouse to decide on the sort of thing to say, but it's completely your choice.

Thank you darling. I look forward to hearing from you again.

Hugs from Aunt Frocks xxx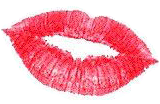 ---

I've mentioned the new room in the Wendyhouse, darling: a special place where our girls can be as girly as can be in their lacy frillies. Here are the early girls in the Lacy Lingerie Room: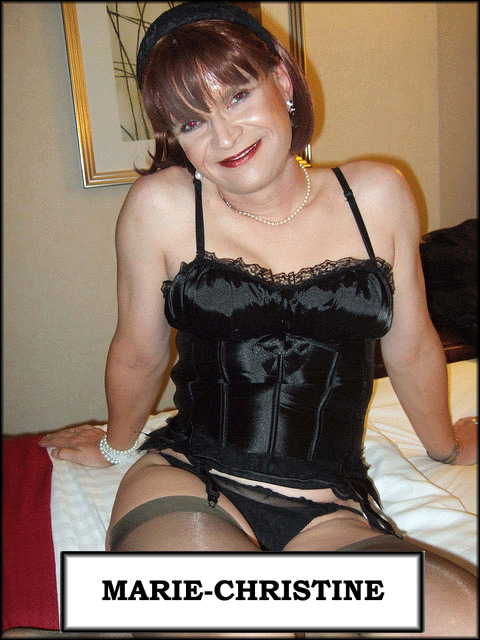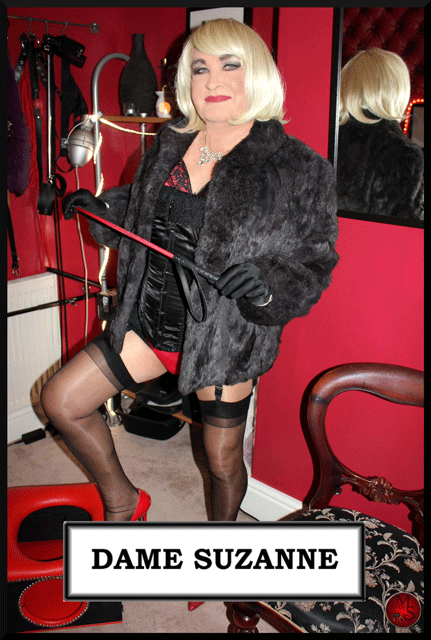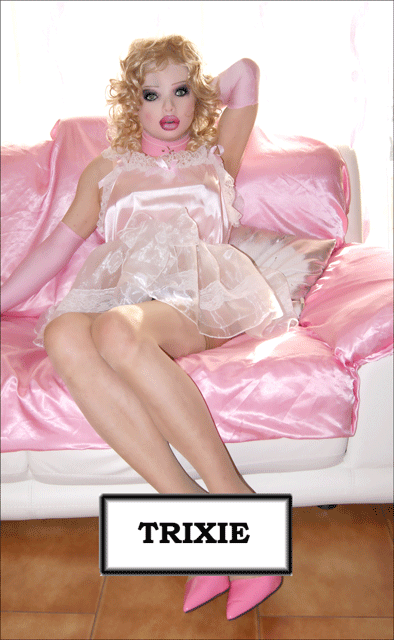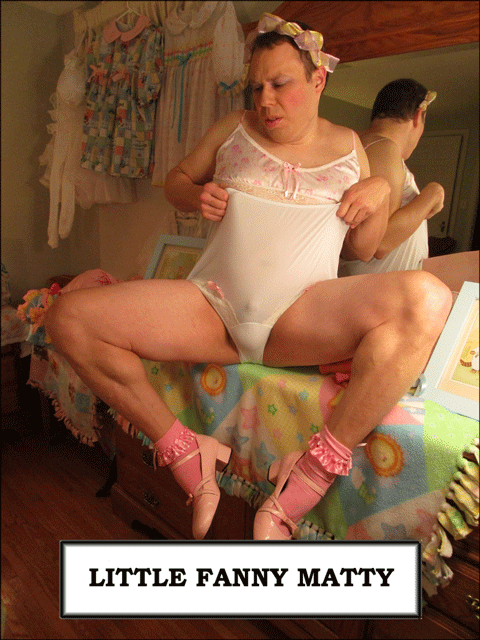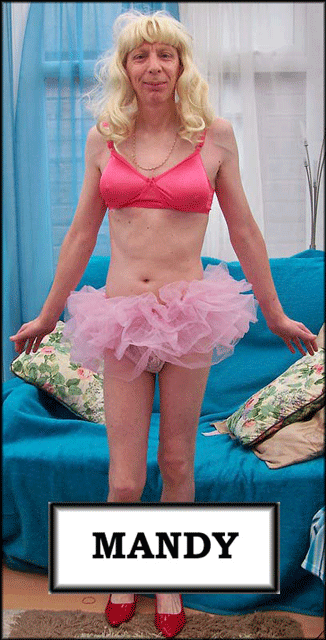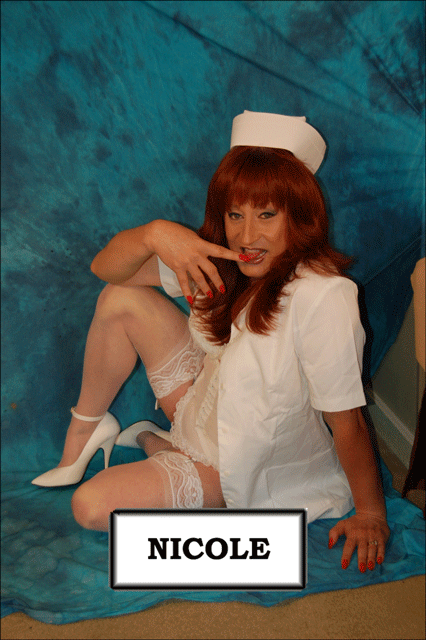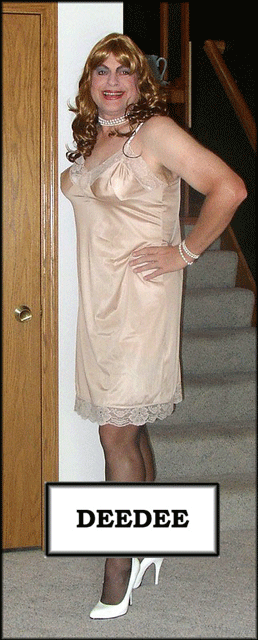 Do you see what I mean about a place for girls to look their loveliest. So feminine. So sexy. You can join them, pet, if you send me your photos too.

I'm coming to the end of my Newsletter now, dear, so lets enjoy a story or two from Prim. Starting with



Loving His Lingerie


That story is lifted from the Molly Room inside the Wendyhouse. Next a different kind of Prim story, this time from Aunt Helga's feminization site at Petticoated.com



The Pyjama Party


How lovely it is to feel feminine. Lastly a darling story also from the Wendyhouse, this time from PPP#23, also in the Molly Room



At the Sugar'n'Spice Clinic


Don't forget, if you join the Wendyhouse you get all the stories in all 34 editions of Prim's Petticoat Pansies, and a tons more Prim stories besides.

Now sweetheart, it's time for me to tell you a few things you should know in and around the Wendyhouse.

Firstly, as you've already seen higher up, the new Lacy Lingerie Room is open and girls are stepping into it as we speak. You could too, darling. As guidelines for what photos to send, see the girls higher up in my Newsletter today. Panty bulge is fine, but I don't want to see cocks sticking out. Send me 7 of your lingerie photos. As an option you might like to send me a little text about you and lingerie and how you both go together so well: it would take the place of your seventh photo.

Don't forget there's also the Rose Room, darling. There are so many girls in there, and our numbers are still growing. How we love to see you in your feminine fashions.

Coming in February will be the next combined issue of pictures by Prissy and their accompanying stories by Prim: Feminized In Frillies volume 4, or FF-4. These don't form part of Prim's Petticoat Wendyhouse so they won't be added to the members area: you will need to purchase them on our Home Page. All past issues, FF-1, 2 and 3 will always remain available.

Then in March look out for the Next issue of Prim's Petticoat Pansies #36 which will be a special MOTHER-IN-LAW edition. Yes, those mercilessly jealous dommes take every opportunity to dig their nails into innocent, weakened and sexless husbands, knowing well how femnization at their hands is a sure way of keeping them helpless and under their control.

Finally you can still enjoy Walt Wisconsin Part 8. It is now inside the Wendyhouse, but not everyone is happy joining a membership site. As with all individual orders, when you pay for it, your access codes give you thirty days of access, and during that period you can download it and keep it if you want to.

Darling, I've loved having you with me while we walked through my Newsletter together. Stay with me a while longer and we'll read parts of it again if you like, or pop over to the FULL INDEX page and click on the icons to browse all the lists of contents. Visit the JOIN the Wendyhouse page to see about joining us, because that is where the real sissy pleasure trip begins.

Just time for one last lovely photo: here is the adorable Sarah: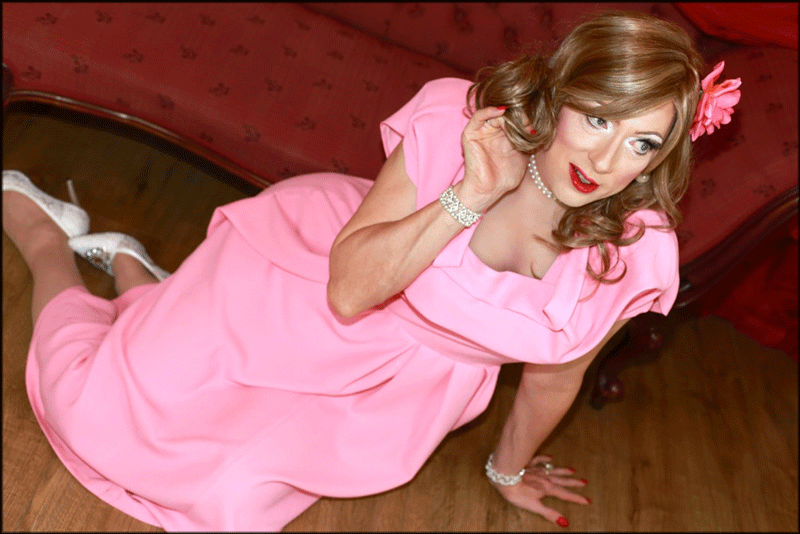 Looking as beautifully retro as ever. See more of her in the Rose Room.

I want to express my very warm thanks to every girl who contributed to my Newsletter this time, whether it was by writing to me or by sending me their photos. Unless they did that I would have nothing to share with you, darling. but let me thank you too for dropping into my bedroom and sharing some time as we read and enjoyed all their contributions together.

A hug and kiss you with all my heart, pet. Thank you so much for being with me.

Your loving Aunt Frocks xxx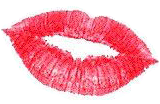 BACK
Back to the Wendyhouse