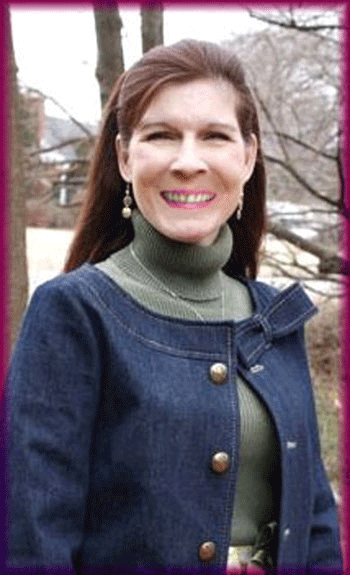 Hello my darling. I'm delighted you are reading my Newsletter with me. It's been a long time since my last one in May, but hopefully you'll love the selection of letters and photos the girls have sent to me this time. I want to keep you up to date with the Wendyhouse too, and Prim's plans for the next couple of months so that you don't miss anything.

Coming in the next few days will be Feminized In Frillies volume 6, where Prim and Prissy combine to bring you eight new pics and stories for your delight. Prim is working on a new illustrated story which will appear in Lustomic.com. It's called Rodney Rustle, in which an innocent sissy male teacher becomes the butt of female persecution from staff and girls alike in his new school. It will appear in October, and in November we'll release Prim's Petticoat Pansies #38, a PUBLIC HUMILIATION special.

But as well as these, there will be Prim pics and stories appearing in Aunt Helga's Petticoat Discipline Quarterly at the start of each month and in Fictionmania and Sissy Kiss. Also there will be Prim art and stories appearing in Hunny B's exciting site, Forced Crossdressing Fantasies, and in Nimrod's female domination site at the Oridomain Studio. So there'll be plenty going on.

If you ordered your copy of Prim's Petticoat Pansies #37, the SISSY SCHOOL special issue, you will have seen that we are blessed with two new guest artists, as I've just mentioned. You will love Hunny B's art, which is sexier than mine: full of forceful dommes and drama for wretched sissies. Go here to visit his website (but come straight back again, lol.)



Forced Crossdresser Fantasies


Our second new guest artist is Nimrod. This artist believes in dominant women who control men by means of forced discipline dressing, in leather, rubber and much more. Go here to see how merciless thse mistresses are:



Studio Oridomain


While we are thrilled to welcome the work of these great artists to the Wendyhouse, we are saddened to say that Vancy, who has long shared his sissification art with us, battled against a terminal form of leukemia but passed away in July.


---



* * * A tribute to Vancy * * *


Vince was an architect living in Oakland California, with a second home on New Orleans. He was passionate about the New Orleans Mardi Gras and a servant of the Gay Pride community. Whenever I asked him for some art he was quick to respond, ever generous in his life, a master craftsman and a really nice person. Here are two examples of Vince's art work.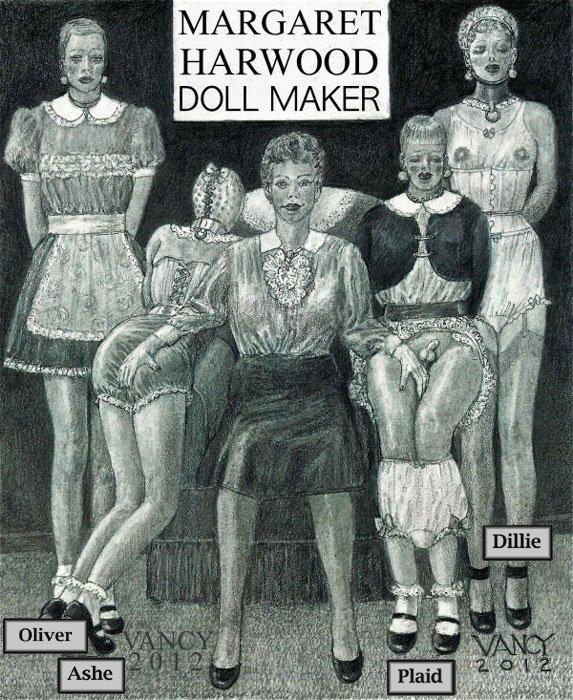 We agree with what one of his friends said about him:
"Mardi Gras will never be the same without Miss Vicky. You were always a breath of fresh air and an amazing costumer. The image of the Morton Salt Lady will stay with me forever. RIP Miss Vicky."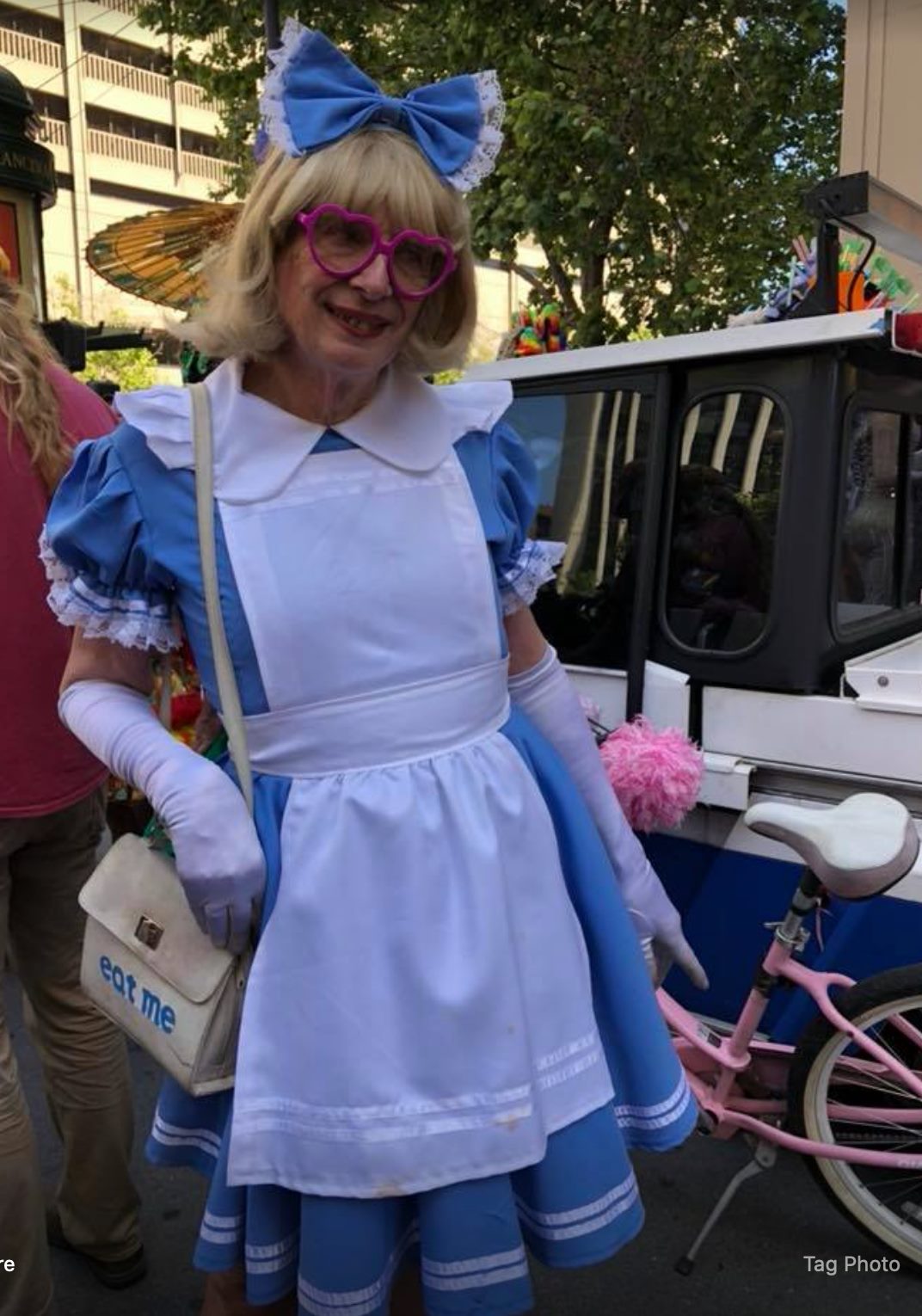 "I will see everyone soon" - Vinc LeVinc. 1952 - 2020
---
I know that Vince would want us to remember him by enjoying the transgender sharing I've got for you today in my Newsletter, so let's take a look, shall we, at what the girls have sent me this time. Hold my hand, darling, and we'll read on together. Your Aunt Frocks xxx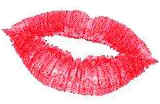 ---

Letter 1 --- New to Petticoat Pansies and already seduced into blouses

Dearest Auntie,

I have been seduced by your wonderfully sissy website. I read a few stories and I was so aroused I just couldn't resist subscribing to find more delightful stories. I do so love panties, I would love to be one of those sissies in your stories .

I started wearing panties when I was boy. I discover my mummy's vintage nylon and lace panties when exploring her lingerie drawer whilst she was out. My first panties were orange with lots delicious black lace trim, and so sensuous my hairless member was immediately rigid with excitement as I tugged them from the drawer. I remove my trousers and pants and gently ran the delicate silky panties over my exposed member, even then I moaned with pleasure. Stepping into them and slowly sliding them up my legs was divine. I was hooked. I then selected a nylon petticoat, stripped completely and almost swooned with pleasure from the it's silky caresses as I slipped it over my head and let it's silky folds fall down my slim hairless body. Needless to say I repeated this experience again and again, I tried on almost of mummy's silky undies and nighties. Until I got caught that is, that didn't go well, nothing like your wonderful stories. From then on it was window shopping and rare moments of slipping something from the laundry basket on.

Then I left home for college and discovered second hand charity shops - a basket label lingerie caught my eye. I immediately came stiff, my jeans must have been bulging but I was helpless. I bent over this treasure trove of worn ladies undies, almost breathless with anticipation. I pull out the first pair of panties of many I was to buy - tan coloured with delicate lace trim around the legs. I was so enraptured I notice not the other shopper and took them to the cashier to pay. From that day on I was regular visitor to charity shops. Nighties and negligees were my favourites - I would search for them in the racks and take them to the assistant and say they were for me for a fancy dress party, could I see if they fit, what did they think I don't know, but always allowed me to.

Now I buy online, from ebay. My wife who knows I have a panties and lingerie fetish(if only she new how so much more than that it is) recently discovered one of my bras, said nothing and I discovered it hanging on the washing line with the other washing. I obviously had to say something and confessed that I was cross dressing. She just wears cotton panties but has some silky ones and nightie and negligee she doesn't wear, so I dared to ask if I could have them now she knew. I was delighted when she immediately rummaged through her drawers and tossed various items onto the bed. It was a wonderful moment. So I can now buy bits of lingerie openly and store them openly in my drawers.

Coming across your website and opening the Pandora boxes of delights by subscribing has lead me to to such aroused states, so intoxicating, squirming in my silky panties, caressing my nipples through another pair silky delights as I read delicious stories of dominant ladies seducing their sissy partners into complete panties submission. The pictures of helpless sissies in their panties being masturbated and humiliated by various ladies (I love the step mother and mother in law domination) is so exciting to read I can barely stop myself from orgasm. After reading about Walt, late into last night, my panties were soaked and now I just have to buy some ultra feminine blouses (and some more panties!) and feel their cool sexy caress. You have me besotted with Delma, how I would love to be in Walt's place - submissive pantied bliss.

If you have any suggestions of how I can increase my own delight and decent onto pantie heaven I would love to hear it.

Yours truly, forever submissive

Daisy (Andy)

Hello Daisy.

Well - well, you are certainly enjoying your new find: the Petticoat Wendyhouse. Mind you, darling, for a sissy who shops for his own lingerie, putting yourself at the mercy of women shop assistants as you buy panties and petticoat slips, and even ask to try them on, you are going to find you are in exactly the right country of shame and humiliation in Prim's Wendyhouse stories.

There is something awesome about buying ladies wear new. Prim says it makes him feel like a lady, both in the store, and back home as he puts on the new item: be it a blouse, a dress, a skirt or lingerie. Maybe it's that perfection in elegance that women like and which the sissy is able to share with a newly bought dress or panties. But as you touch on in your lovely mail to me, there is another dimension to buying clothing in a charity shop, or thrift store. These garments have been worm by a woman. They are still hers, in your head, and now here they are in your hands. So when you try them on in the fitting room, you can imagine her there too, watching and saying: you are wearing my panties, you sexless pervert. It's what you deserve if you are buying her panties. It's what the Petticoat Wendyhouse is all about.

Another point about the Wendyhouse, which you also like because you said so, is that the women are by no means understanding or nice. The very opposite. They are the equivalent of the assistant in the charity shop who takes the panties from you as you attemtp to purchase them, and holds them high in the air to announce in a loud voice: This guy is wanting to buy these used panties, ladies and gentlemen. Look at them, all nylon and lace. This must be the sort of sex he's got, which isn't male, that's for sure. He can wear them all right, but a sissy like this should wear his panties over his head," and as two strong women nearby grab your arms and hold you helplessly at the counter, she pulls the pretty panties down over your hair and face, as everyone laughs at you in your humiliation.

That is the Wenydhouse, darling. You are not alone feeling you want women to walk all over you like this. Every other girl in the Wendyhouse is the same as you and would love to buy panties and slips, and be made to wear them in public to the scoffing amusement of dozens of women all round.

I need to get that off my chest, sweetheart, so thank you for such a lovely letter. Another thing about the Wendyhouse, as perhaps you are finding, is that if you like one of the stories, you will like them all, because they are all more or less the same: sissy hates being dressed, but IS dressed by his stepmother or Mother-In-Law, and suffers oceans of embarrassment, because once she gets the taste for humiliation, she can't get enough.

Incidentally, I can tell you that that is true about women in general. So delicate, sensitive males, look out. They would love to make you suffer.

I've got a feeling you're going to love the Wendyhouse, darling. With my blessing.

Your loving Aunt Frocks xxx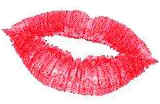 ---

We are lucky to have six new girls in the Rose Room this month. One of our new Roses is Trixy, who enjoys a lovely range of fashion styles.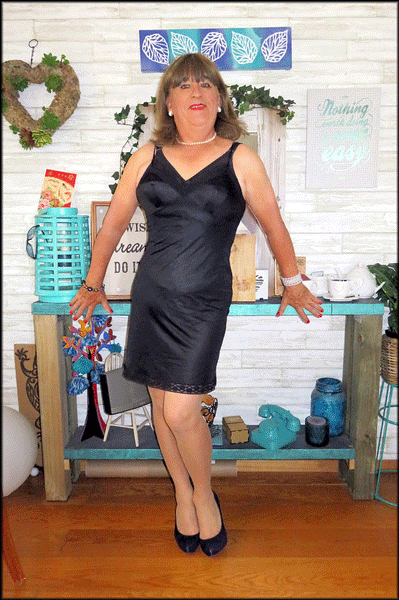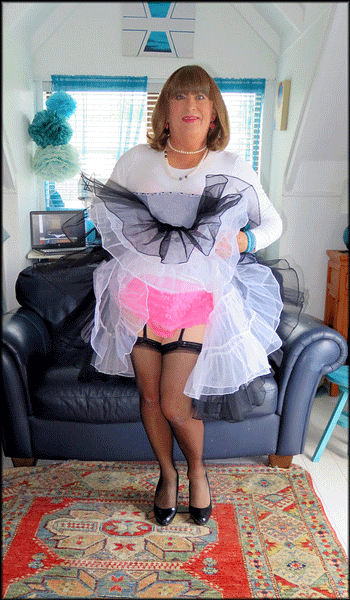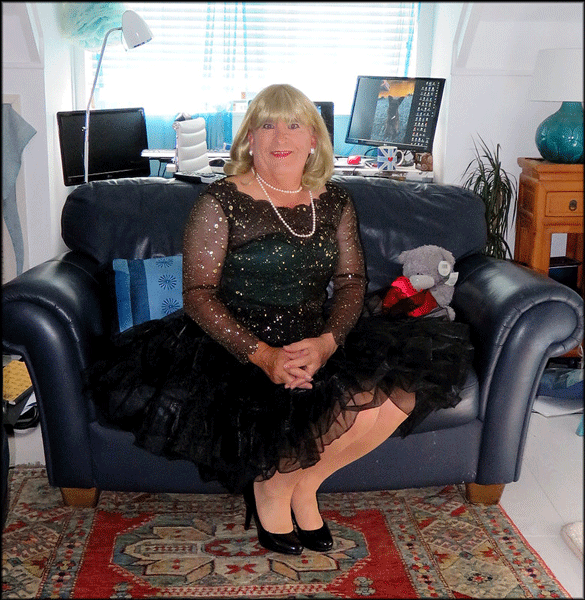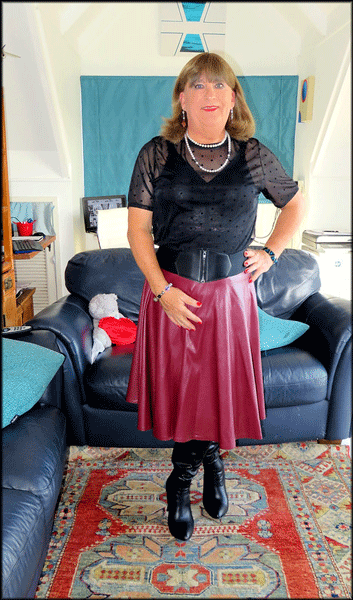 Not only is she elegant and tasteful, but she is deliciously feminine too, as you can see.


---

Letter 2 - Wet dreams and privacy

Hello Susan,

Lovely to receive your email. I understand you do not wish to exchange photographs and perhaps wish to retain some privacy.. The only problem now is I am not sure you are male, female, or what? Not that it is a problem,unles you want to embarras me with a 24inch dick, or a 3inch clit?

Yes, I have seen a lot of dress design changes, but have preferred to stay out of the lime light and not draw attention to the fact I am a CD.

Perhaps you can help me? How do I get rid of a panty/dress bulge? I have trred most suggestions,, but most were uncomfortable. Living in sub-tropical Queensland clothing is mainly light weight cotton and if I travel commando "Richard" flops about in front like ferit trying to get out of a sack. and even worse when sticking straight out in front like a flag pole. One thing a lady never does is handle it with care in public.

Last night I was in the middle of a deep sleep when I had a series of violent cramps in thepubic area. I was quickly awake, but not before I had ejaculated all over the sheets. I do not sleep in pyjamas or a nightie so the sheets coped the lot. After changing the sheets I rerturned to sleep. In the morning I noticed I had a twinkle in my eyes and wondered where I had seen this before?

I have not had a wet dream for years and can not find a reason for the one last night. Perhaps I need to tke things in hand mor frequently?

Can I dare to ask what kind of underwear you prefer. I have you wearing silkk in a matching colour to your dress or skirt..Something tells me you are not a commando?

I love ya honey and all in the Wendy House.

Paula

Hello Paula.

It's nice to hear from you again. I don't know whether there's a hint of complaint in your mail. I don't want to exhange photos, stop. I've got some photos up in the Wendyhouse website and that's it until I decide to change them. As to whether I am 'male, female or what', I'm choosing not to enlarge there either, just like you prefer not to go out in your dresses. But you're a good sissy, darling: you know not to push on these things.

I'm not much help either on dealing with panty bulge. So I did the usual thing: I googled the question. The best answer (the one that wasn't a childish joke) said: gaff panties for TG women. Try Google images for 'gaff panties', and your dream might come true.

Ah, dreams and wet dreams. A fascinating subject, one which I suspect we mere humans will never fully understand. Prim tells me he used to try and force himself into erotic dreams. He would fill his silly head with the things he wanted to dream about: being in a ladieswear store and the women being most helpful, that kind of thing. But he had little success. He says dreams are in some way original, by-passing his own conscious story-writing - in the same way song-writers look for new angles from drug hallucination. I wouldn't be surprised if they're all rooted in our subconscious and spring from our emotions. So happy emotions lead to happy dreams and fears and anxiety lead to dreams of the nightmare type. But I'm making this up as I go along, sweetheart.

One thing I feel compelled to say, Paula: you tease me by saying you had a wet dream, but you don't tell me what happened to get you so aroused, mean girl! I suppose you're exercising your right to keep it to yourself, like me with details about my sex. Hmm. Touchee.

My underwear? You name it, I've got it in my lingerie drawers, which are like a bombsite. So you can let your imagination go wild and you would be right about my underwear.

Feel feminine darling and take care.

Love from Aunt Frocks x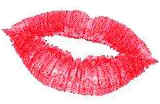 ---

Wendyhouse members are familiar with all our Rose Room Roses, as well as the Lingerie Lovelies in the Lacy Room, like Debbie:



Debbie in the Lacy Lingerie Room


Which Goddess of the Silver Screen was it who said: "If you have a lovely pair of legs, don't wear a skirt"? Or if they didn't, they should have.


---

Letter 3 - Silk Sissigan

Hi Blouses,

I have found the most gorgeous sissy cardigan I have ever seen! Of course, I'm ordering it in every colour!

This is really what I call a SISSIGAN - a sissy cardigan to end all sissy cardigans (for now).

And they have it in my size.

Can't wait to fill my wardrobe with these delights. And the best part is: my wonderful poly-girlfriend will spank me in this outfit for being so unabashedly pretty.

Hope you don't mind me sharing this with you.

Love & hugs,

Silk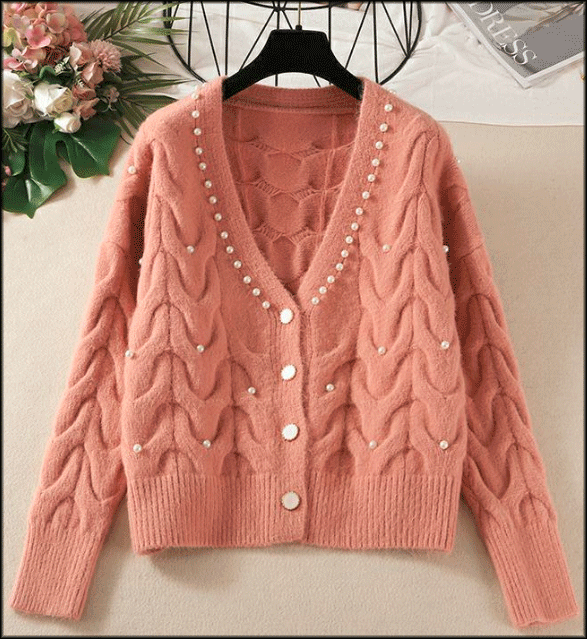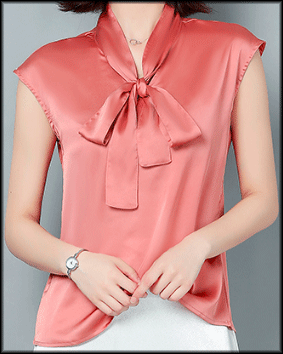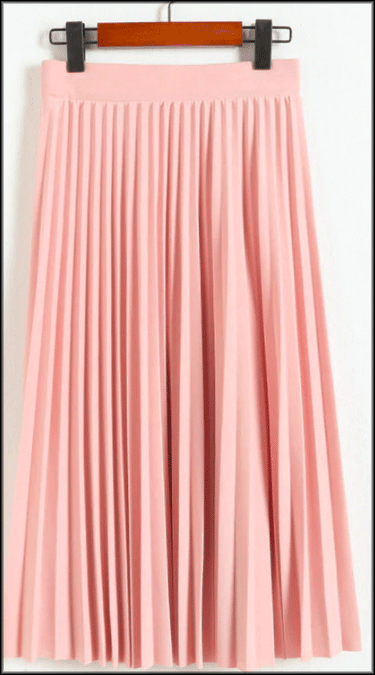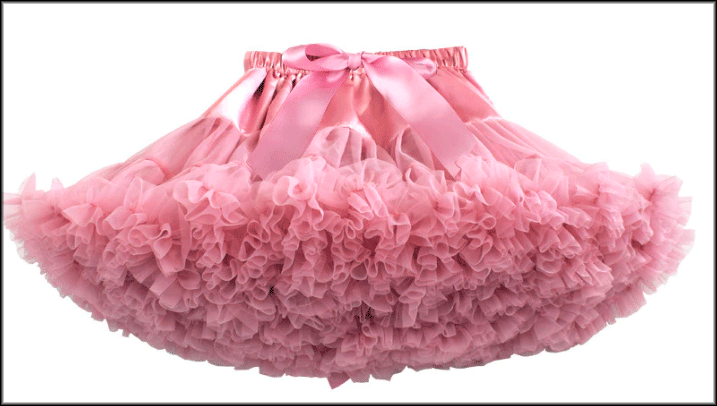 Hi Silk.

Holy Cardigans! These 'sissigans' are gorgeous, and knowing where your fetish longing lies, you must be MEGA excited about them. And the pearls, femmy blouses, petticoat and pleated skirt. Just like in your old drawings. When you say wearing them with a loving super-indulgent partner is as good or even better than in your fantasies, I'll have to believe you - because it wouldn't surprise me. I guess when you wear your lovelies in her bedroom (I'm sure she would be clad in the frothiest of nylon nightdresses, split down the middle to let you in), she would have to lift your layers of nylon petticoat frills as you descend between her legs, missionary style, so that you are lying on a spread of pink pleats across her as you 'find her sanctuary'. I've no doubt she would be thrilled at the hardness of your submissive vagina-plug. It would be so HARD as it pays its internal homage - just the way she likes it. No wonder she's glad to have you dressing up, Sweetness.

Yes, you'll have some pretty nice catching up to do in the contents of the Wendyhouse. I've added a lot since you used to contribute. The only pity is you won't find any of your unique stories in there, and your pictures. And they were the very ones which matched your fetish desires - for max pleasure. Sorry darling.

Cuddles, honey-girl.

Prim x


---

I dare say some girls look 'All-Woman' without trying, like Tina here: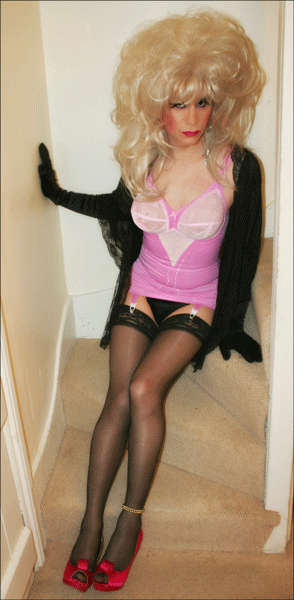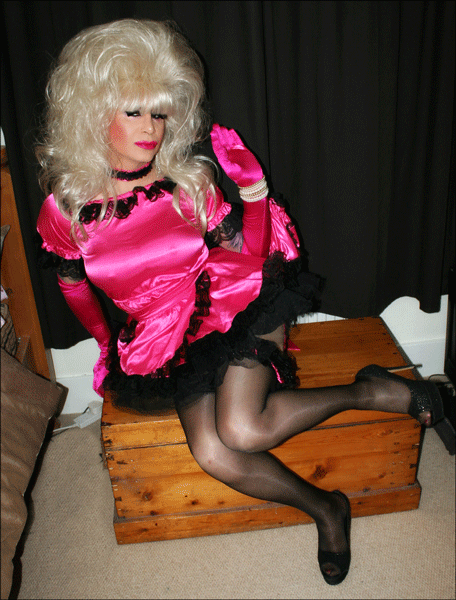 but that would be doing her a dis-service, because she knows, like all girls do, that to look your best you have to put in the time and practice. She has obviously been putting in lots of both.


---

Letter 4 - Rich Bitch power dressing

Dear Prim & Aunt Frocks,

For many years now, I have been collecting images of suitable expensive attire for the discerning super-rich dominatrix and goddess-like matron.

The images I collect are mainly of rich arrogant lady supermodels and fashionistas, who can afford to wear the most exquisitely extravagant "haute couture" made of the finest silk and satin, who dress to intimidate and provoke sissy male maids/trainees/babies.

I am very happy to share some of my favourite mega "rich bitch" images with you.

You are very welcome to share and re-post and comment on any of the images I am sending to you.

Here is the first batch of 20 images. But I have 1000's in my database.

Kind regards

Sissy Lexi

Dear Lexi,

How nice to hear from you, and to receive your fashion rich photos. I've passed them on to Prim. He's grateful and says I can use them in my next Newsletter, which I will. You've got an eye for those bitchy styles that are picked by that kind of woman on purpose to put the frighteners on wimpy males, perhaps like yourself, if you forgive me for saying, dear.

If you have lots more, I dare say you know where to look: Prim says he likes looking for Escada fashions in catalogues. He also suggests typing "1950s power dressing" into Google images, then progress through "1960s", "1970s" and so on.

In the meantime, darling, just be careful when you meet such women. They are merciless. Men and money mean nothing to them as their costumes suggest.

Warm hugs, pet.

Aunt Frocks x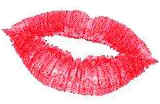 ---

Here's a small selection of Lexi's photos, showing supermodels in delicious designs.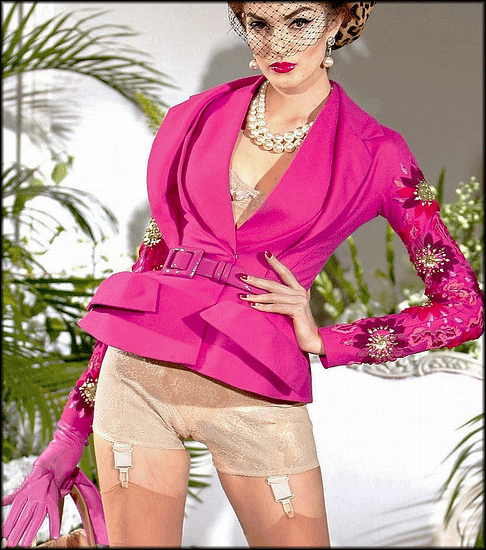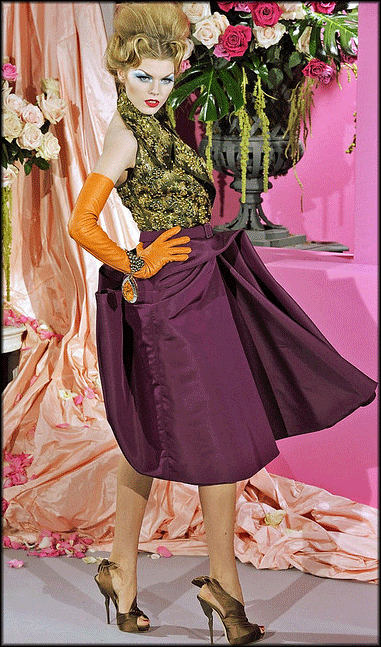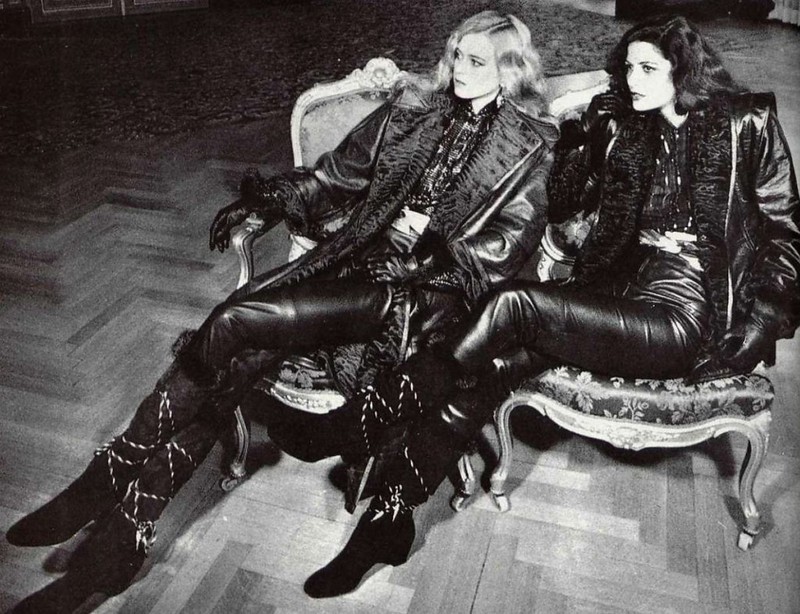 They appear to know what THEY WANT, including crushing weak males who are ready to submit.


---

Letter 5 - Prim's stories, especially How to Sissify a Husband in PPP#29

Oh, Wow! I've just read chapter 1 of Prim's "How to sissify a husband" and I am ever so excited. He writes with style and grace. When the words flow as they do it makes it so easy to be in the scene. I just love it. You read other stuff on other websites, and they just don't know how to write proper English.. but Prim does.. It makes a big difference.

As to the story. Wow again. SO stimulating. I can see myself in that story right now.

If only I could find a lady to treat me like that. Hmmmm.

I am new to all this, but reading the stories has awakened something in me that I didn't know existed. I don't know if I dare sneak into my wife's drawer and find some really tight pants and try them on? What if she finds out? Some difficult explaining to do, but the idea of being tightly constrained and at the same time sexually excited is something that appeals to me, especially if some women as depicted in Prim's stories were 'in charge'.

I don't have a mother in law any more, but I'd love one like Fenella or Millicent Overton, Panacea Derbyshire, or best of all, Desiree from PPP18.

Where can you find these superb women? Especially those who know and understand Prim's stories? Is there some club where they all get together?

You can put yourself in the story but when you meet your date it doesn't always work out. High hopes, Low expectations.

Anyway, Prim, I like the way you write. So clever. Such an imagination. And Aunt Frocks, you are a beguiling mystery. I'd love to meet you and have an intelligent conversation, even just over a coffee.

If you want to publish this, feel free to edit as appropriate.

Hey Ho.

High Hopes, Low Expections.

Peter

Dear Peter, Well, well, well, you may have been surprised when you experimented by joining the Wendyhouse, but it looks to me like you are just finding your real self. And that real Peter is rather more sissy than you thought.

If you find such pleasure in Prim's stories - and let's face it, they are nearly all the same as each other: sissy bossed and tormented by domineering women - then I'm sorry to say, darling, that you are secretly the sort of weak and un-male wimp who these women pick on. You may not be aware of it, but yes, you could easily slot into any of these stories. So when Charles Singer cringes under the interrogation of four contemptuous women - in How to Sissify a Husband in PPP#29 - you too would suit their scorn. They could dress you the same - or worse - and you would not disappoint in your squirming, sissy sexlessness.

Do you doubt me? Of course you don't, because you would love to find such women and almost apologetically ask them to treat you like dirt - and dress you in their lingerie.

Pathetic, Peter. Welcome to the world of sissies.

A kiss from Aunt Frocks x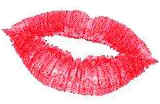 ---

Felicity has graced the Rose Room since 2018, I'm glad to say.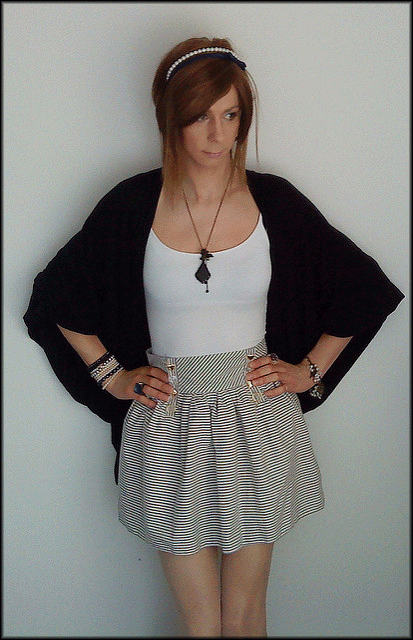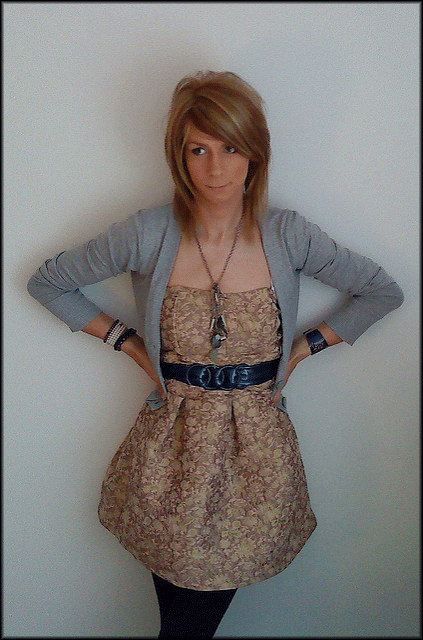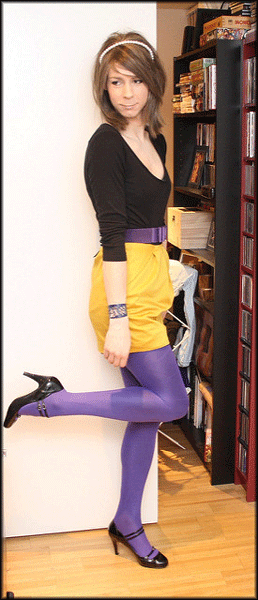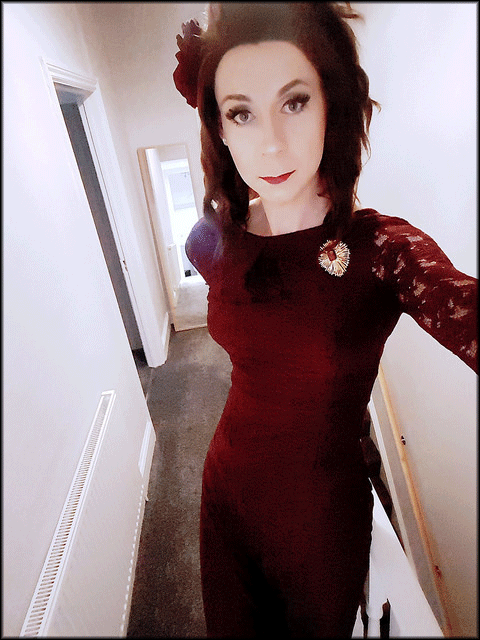 Like so many Roses, she is awesomely stylish and sexy, isn't she?


---

Letter 6 - My Divine Riding Mistress

Dear Aunt Frocks,

I recently joined the Wendyhouse and, like so many others, am thrilled with the delightful new world that I've discovered. I admit to being terribly curious about the Wendyhouse but did not actually join until my Mistress, Dame Selina, insisted that I required more intimate schooling in sissyfication and forced feminization. Although Dame Selina has many sissies wishing to serve Her as maids I have been chosen to serve as Her fave saddle girl and groom. I don't think I've seen this type of service mentioned in the Wendyhouse before - and please correct me if I'm in error.

Dame Selina is passionate about all things Equestrienne and required a devoted sissy dedicated to her supreme pleasure in the saddle. You should know I am only allowed to refer to her as Divine Equestrian Goddess Selina and then only when spoken to. I am expected to always be perfectly turned out in a proper girls riding outfit appropriate for the occasion.

Although like every sissy I adore wearing frilly dresses and blouses, slipping into a pair of tight ladies riding breeches and sliding them over my panties makes for a delicious moment of maximum sissy pleasure. Tall black rubber riding boots, a nice frilly blouse and bra, gloves and riding hat complete my outfit. I so want to wear ladies leather riding boots (like my Mistress) but DEGS feels I require yet more sissy training before I'm allowed to wear real leather boots.

DEGS always inspects my outfit and if I'm so very fortunate She will mention how much She approves of my very visible panty line: She always says that a VPL is the mark of a true sissy. Her sissy's makeup and hair is also very important to DEGS. Quite frequently I will appear before Her and She will sit me down and make the most divine enhancements to my makeup until She is completely satisfied with my complete sissification.

As a saddle girl sissy I also take care of DEGS's saddles and all of Her leather tack. Besides the wonderful scent of all that leather it's such a thrill to be cleaning a saddle that has recently been so very intimate with my Goddess's divine Seat and creamy Thighs. I am also allowed to assist DEGS with Her bath and dressing for Her saddle. I make sure Her riding boots are perfectly polished and set out with the proper spurs and riding crop She has selected.

As a sissy when you see a exceptionally beautiful woman like DEGS you SO want to be Her! But you know you can't so it's enough to simply worship Her panties and bra and lay them out ever so carefully before She dresses. I wonder if She knows Her sissy secretly licks and kisses Her intimates as well as Her leather boots and riding breeches?

DEGS has so many creative ways of training and schooling a sissy - especially a saddle girl sissy like me. One example: when She tells me not to wear too much makeup I hope that She has a face sitting lesson in store for me. When She asks me to lay out either Her super thin fabric riding breeches or the pair with the leather seat, well then I know for sure.

Aunt Frocks, I'm so grateful to be a member of the Wendyhouse! Thank you.

Sissy Saddle Girl Lucilla

Dear Lucilla, or should I say, dear sissy saddle girl Lucilla, to give you your full name,

I am astounded that you have the nerve to reduce - and I use the word on purpose - to reduce your Mistress to DEGS instead of Divine Equestrian Goddess Selina. I wonder what your divine riding Mistress made of that? Face riding would be far too pleasant a punishment for you.

You are right, my dear. Equestrian crossdressing scarcely appears in the Wendyhouse, but let's make a nice start, shall we? I know that women's riding costume is well liked by many crossdressers, perhaps those who are familiar with the constricting clasp of those smart blouses and thigh hugging pants, those black or brown boots and - as you say - the sweet smell of leather tackle.

Mistress Dame Selina sounds admirable. You are clearly a lucky sissy to be her submissive slave. You know you have a Mistress to serve with all your heart and soul when she not only treats you with disdain but also takes care of you in between times and makes her sissy want her more and more. Make the most of it, dear boy, and avoid silly over-familiarity like DEGS.

Feel feminine in the Wendyhouse.

Love from Aunt Frocks x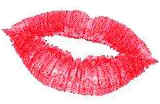 ---

Some girls have the gift of looking cute and sexy in sissy frills. Look at Dolly, for example.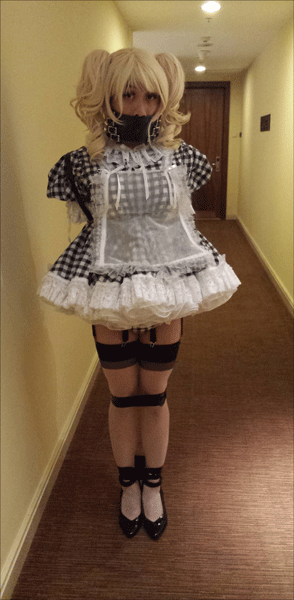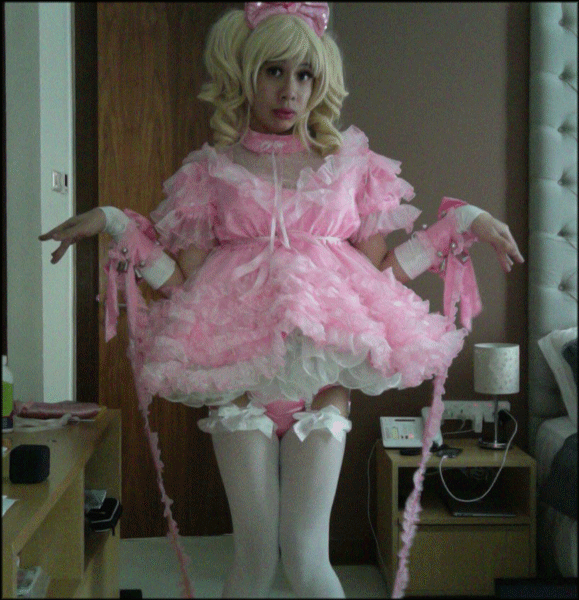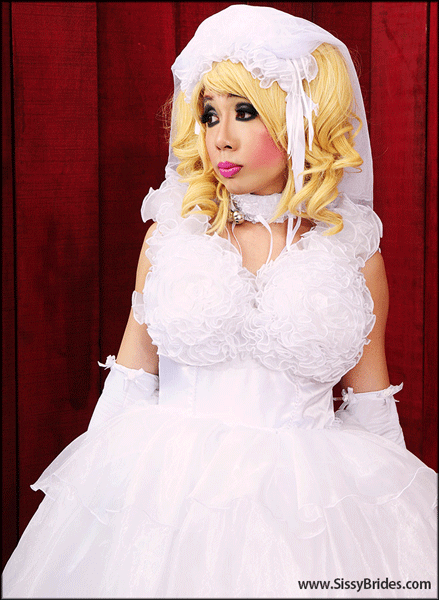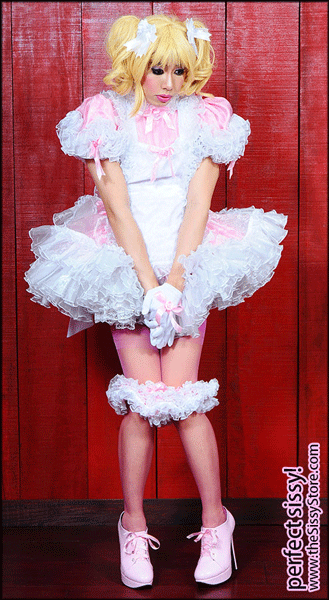 Do you see what I mean? All sissy ruffles like the little girl she is.


---

Letter 7 - The Petticoat Wendyhouse

Hiya Prim,

Just thought i should send you oddles more praise and thanks now that i've really dived head on into all your amazing stories and images, i am helplessly addicted!

i know that some of your things seep onto other sites (i hope by your permission of course) but there are so many that i've not seen or read before and those that i have are so much better in context, you are amazingly talented (mega jealous). i adore the way you describe all the beautiful silken lovelies and blouses and skirts....want, lots.

My personal fav' scenarios are when the beautiful little pansy bois are helplessly wrapped in layers and layers of silken gorgoeusness, enveloping their every sense. i adore that and kinda try and re-create it myself a lot...i have a bit thing for silk wrapped little sissy dolls...of which i am very much one. Anyways, thank you again my my endless amazing daydreams i'm now having.

And i'm still very extra willing to shre or have you use anything of mine that may be of interest etc etc

Have an amaaaazing day

jess xxx

Dear Jess,

It gives me pleasure to write to a girl who is so generous in wanting to help other girls and make them more confident in their feminine pleasures. I'm particularly grateful that you allowed Prim - and me his Aunt - to 'help ourselves' to your photos.

That's what I've done, sweetheart, but to be honest, you have so many - so many gorgeous ones - that I reached page 10 of your flickr photostream and stopped. Apart from one or two picks from earlier pages to take advantage of that delicious magenta hair-style.

You wear fabulous clothes darling and you wear them well, with ease and with style at the same time. As you say, that's with practice. Your photographer friend clearly likes taking your photos a LOT. It's a good idea taking a sequence of shots all in the same costume/look: that way you end up with at least 3 very good ones from a shoot of 10 or 12. Then you please yourself as to which you can miss out as less than perfect.

But what am I going to do with them? Thank goodness you're happy to show your panties and flash a garter belt. That means you'll be in the Lacy Lingerie Room. I liked your 'maid bending to pick up some specks of dirt' pics. You've got lovely legs and occasionally we see that you're not quite the girl you appear to be. Just right. But most of your photos are ideal for me to include in my Newsletter, or in Tell Aunt Frocks in Prim's Petticoat Pansies, and of course, my pet, I want you in the Rose Room.

But all these will have to wait until late August, darling. Sorry about that: there's such a lot to do.

Meanwhile enjoy the Wendyhouse. I'm delighted you're enjoying it so much: you'll have to tell your friends.

Keep feeling feminine, Jess. Somehow I think there's no danger of you stopping doing that.

Cuddly hugs from Aunt Frocks xxx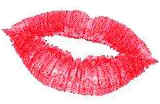 ---

Jess is in the Rose Room now, and looking so lovely in her panties I think she's going to be in the Lacy Lingerie Room too.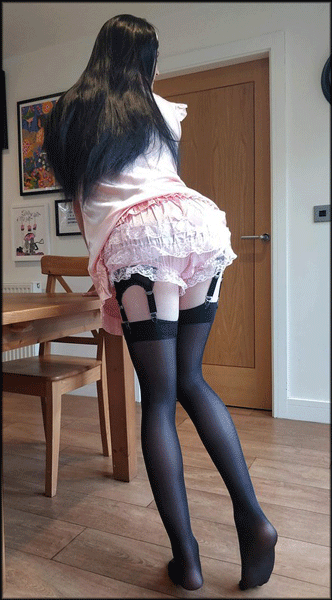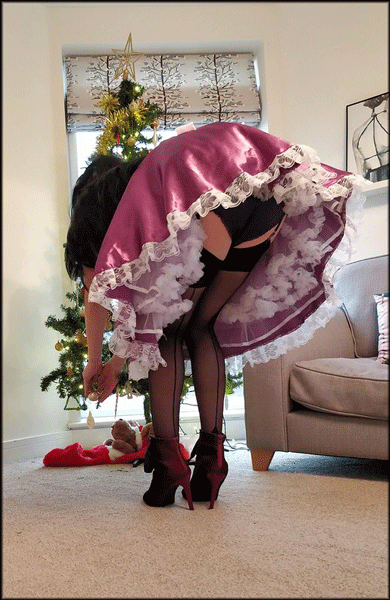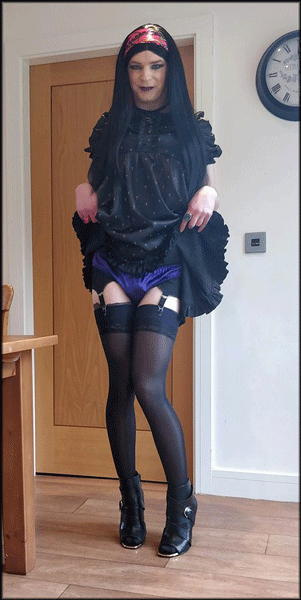 An added advantage of showing your panties is that we get to see how adorable your legs are too. Thank you, Jess sweetheart.


---

Letter 8 - Babe E Kins story of Baby Submission

Hello Aunt Frocks, I have another story which I hope you might like for a future publication.

Babe E Kins

Dear Robert, my little baby,

What a clever sissy baby you are, to have thought of your Aunt and all her girls and to write a beautiful story for us. And it is a beautiful story. How apt, to have babykins found with a sticky nappy, despite warnings from Aunty Jane and Nanny. The inevitable punishment is chastity. Oh dear, how harsh but how just, the silly sissy baby girl.

It's wonderful, darling. I shall use it in my upcoming Newsletter, which I think will appear on the Home Page at the start of August. Meanwhile I hope you are being as effeminate and as babyish as can be in your nursery. Be sure to kick your legs as you lie on your rubber covered cushions, and wear a bonnet that surrounds your face with feminine frills for Nanny.

A big hug, my pet.

Aunt Frocks xxx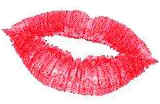 Babe's story is just a bit lower down my Newsletter, darling.


---

We've mentioned the Rose Room enough times, it's about time we stopped to admire the new girls. So here they are. Aren't they gorgeous?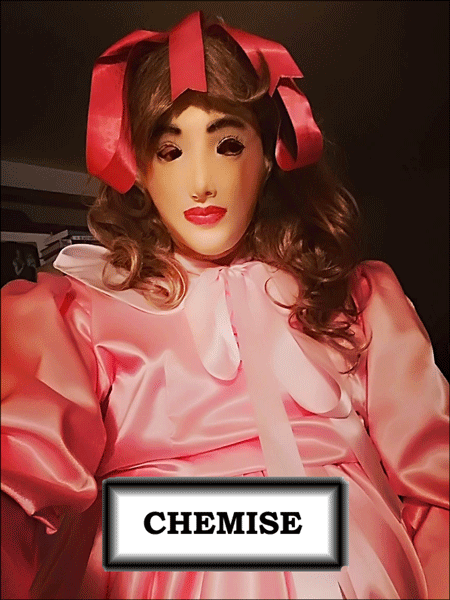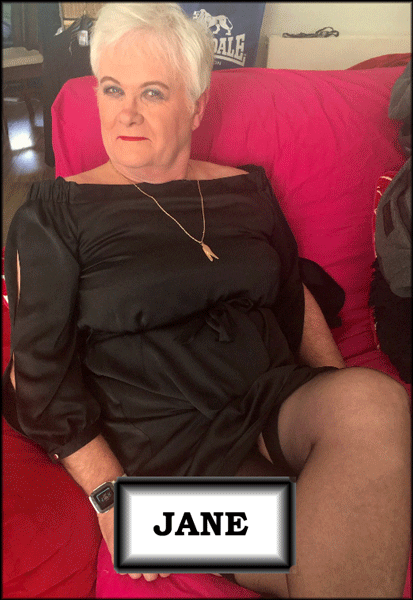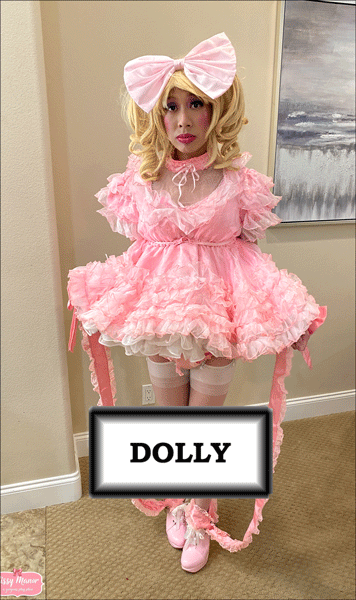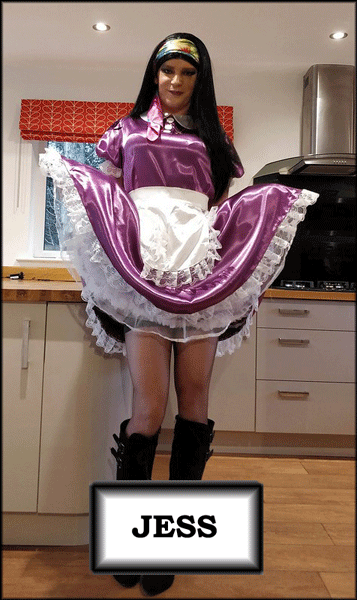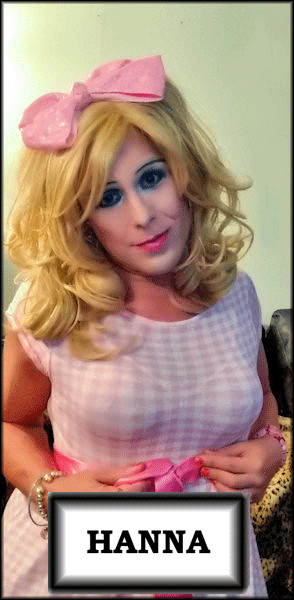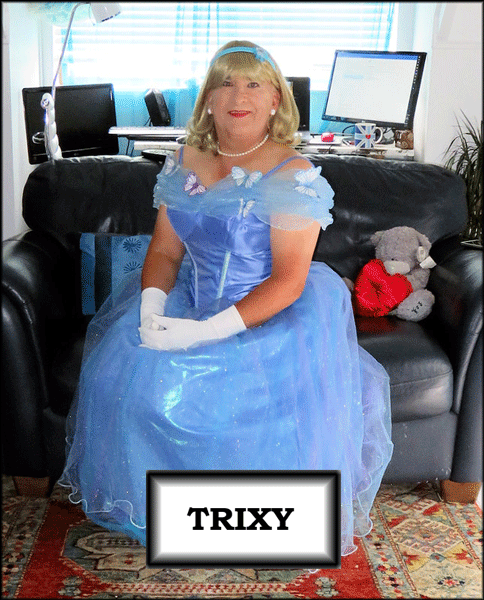 These lovely girls all took the same step for us at the Wendyhouse: they said we could feature them in their photos. Let's give them all a hug.


---

It's time for some stories, darling. Here is the story that Babe e Kins sent me.



A Baby Trainer for Babykins


All our Little readers will feel snug and babyish after that. During the years Vancy sent me his art work to share with you I would add a short storyette to each one. This was one that he liked:



Graham's Maiding Audition


Here are two Prim stories with his own pictures for you to enjoy.



Committed to Sissy-Me


That story is taken from Prim's Petticoat Pansies #35, the special PETTICOAT PUNISHMENT issue.



A Very Sissy Teenager


That story is taken from Prim's Petticoat Pansies #31, our special WOMEN-WHO-USE-SISSIES issue.

One last photo for you, sweetheart - a lovely one, featuring that Princess of feminization art, Donna E Mobley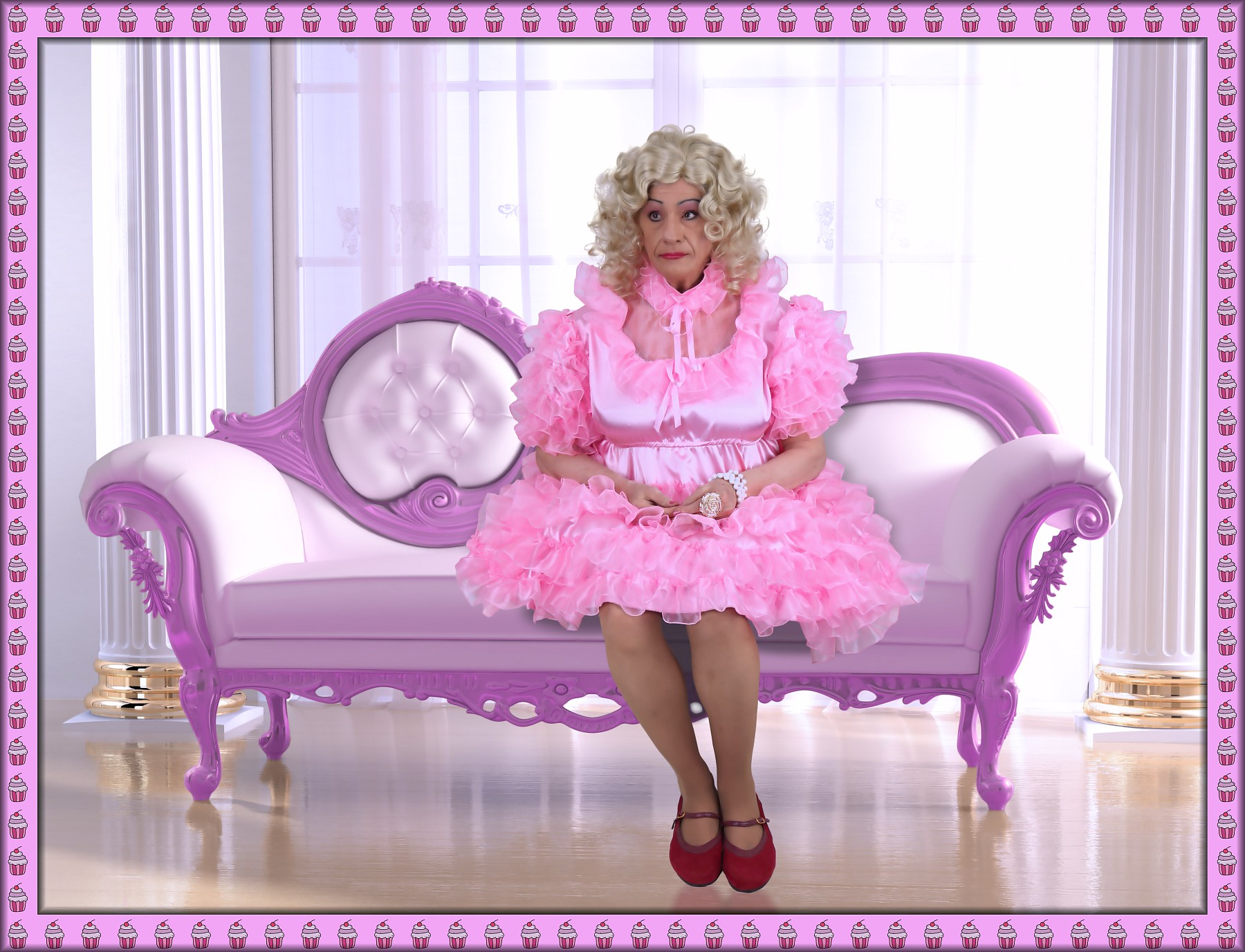 As you can imagine, it's not easy to do these photos. She spends a lot of time on each one, as well as getting to feel very girly!

Precious, it's been divine sitting with you on my knee, reading what the girls had to say and drooling over their photos. I hope you enjoyed my Newsletter, but remember, it depends on girls like you writing to me and offering to share your photos. There are lots of girls longing to see what you send me.

It's good-bye for now, but remember to look out for Feminized in Frillies volume 6 at the end of the month and Rodney Rustle at The Lady Cane School for Dominant Girls in October. It will appear in Lustomic.com

A loving kiss from Aunt Frocks xxx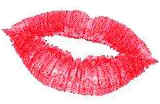 BACK
Back to the Wendyhouse