&nbsp

It was Saturday, and the Silky Satin Sissy Club was drooling with sissies who just couldn't hide how effeminate and deeply sexual they were. "Come along, Maxie darling," said Miss Rustleton, leading Max by the hand, "Brendan's mommy has selected you to lie sweetly with him for Cuddling-Hour."
The boy's face went bright red, but would have looked much more crimson if he had not been brought to Sissy Club in his Mummy's white lace, frilly blouse so that the pure whiteness seemed to shine under his chin like the yellow of buttercups. He wore his blouse with a delightful pair of pink capri pants in stiffened satin with a white vinyl belt. His lip trembled as he saw Brendan being drawn in his direction by Miss Danvers.
They arrived in a part of Silky Satin that neither sissy had been introduced to: the pink and ultra frilly Cuddles Corner. There were pretty white straight-backed buffets for the ladies and soft lighting from above, while the window was draped with white chiffon to reduce the daylight by half. But most important of all, the boys were faced with the large, soft looking bed of pink ruffles.
Max tried to swallow, but gagged on his taut, helpless nerves. He tried to avoid looking at Brendan, but found himself adoring his powder blue ruffled bloomers and his flared chiffon top in hot pink. He had no time to admire more for his attention was seized by Miss Rustleton undressing him.
"Your mothers have you looking lovely, my sweeties," she said, "but we must replace your pretty things with what you will need in Cuddles Corner." She held a tiered petticoat in soft white silk by its slender shoulder ribbons, then gathered it onto her arms and threaded it over Maxie's head, allowing it to drop to his hips in a single slide. It was followed by another two identical petties, and they was followed by pretty bloomered panties in pink satin with white lace at the legs.
A gasp of emotions drew Maxie's eyes to Brendan, who was equally draped in soft petticoat lace, leaving his smooth arms and shapely legs uncovered. Oh surely he wasn't to sit with another boy. A very feminine looking boy, admittedly, but... Then he saw Brendan presented with his dress by Miss Danvers. Max watched as the dress fell over him, surrounding him with pink silk open at the back, with an enormous square collar of white doubled silk sweetly embroidered with flower motifs, making its occupant shiver with prettiness and cup the bobs of his hair in his hands just like a girl.
Max turned away. How effeminate that boy was. Practically a girl, he thought. He wasn't going to allow himself to lie in those dainty, girlish arms. He had to get out of Silky Satin. He had to run away.
Miss Rustleton must have read the signs: the trembles, the quick breathing, the way Max pulled his dress more closely round him as if about to try and run. She quickly slipped her arms around his waist and clasped him firmly into her skirt.
"I hope my little sissy isn't going to pull away and run," she said, "or he will get a firm sissy spanking for non-cooperation." She enjoyed a mental picture of Max laid across her knee, the wide white collar of his dress flopping forward as he was spanked, and hoped he would give her the excuse to make it a reality, but the little weakling took fright and stood submissively with his knees pressed together as she fastened his dress for him down to his waist. Moments later, the pair of sissies were ready for petting, their dresses buttoned and their sashes bowed, and their hair looking immaculate.
There were tears of course, and sniffling and sobbing from both of them, as was normal for the first few times sissies are brought together on the cuddling bed. But their panties showed their true feelings, standing firmly to attention with two very stiffened clitties indeed.
"It's time for our petting sissies to have their panties taken away, Miss Rustleton," said Miss Danvers, "so that they can show each other their clitties bursting with female desire."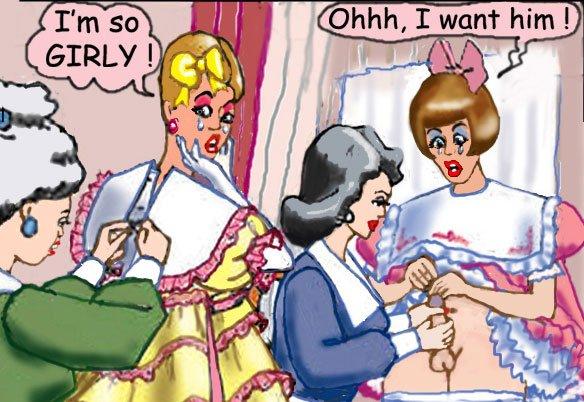 The ladies ignored the interfering hands that tried to hold onto their lingerie, but the boys were forcibly bared below the waist, and their cocks were held and fondled into a state of even stiffer, feminine excitement. Oh what a lovely glow of sweetness they felt, growing in their sissy cocks, especially when the ladies brought the boys close together so that they couldn't help but look into each other's eyes, and fall in love with each other's expressions of girlish sweetness.
Then they were put onto the pink chiffon bed and slid into positions of bodily intimacy. The ladies knew exactly what would happen, of course, but the sissies were astounded to find each other's cocks in their hands, followed by a gentle sharing of their lips, and in no time, they were moaning in each other's arms and sliding deeper and deeper into an open-legged embrace.
"On your back, Brendan," directed Miss Danvers as the sighs and moans mingled on the pink chiffon bed. "Let Maxie slide on top of you. There, now let me just help you to find his little cleft." All the other members of Silky Satin Club came over to see the fun until the bed was surrounded by clapping, excited women .
"Oh yes", sighed Miss Rustleton as Maxie began thrusting, "there you go, darlings. Enjoy and enjoy and enjoy, our pretty sissy-boys, while you are being watched by so many ladies."

***
&nbsp