&nbsp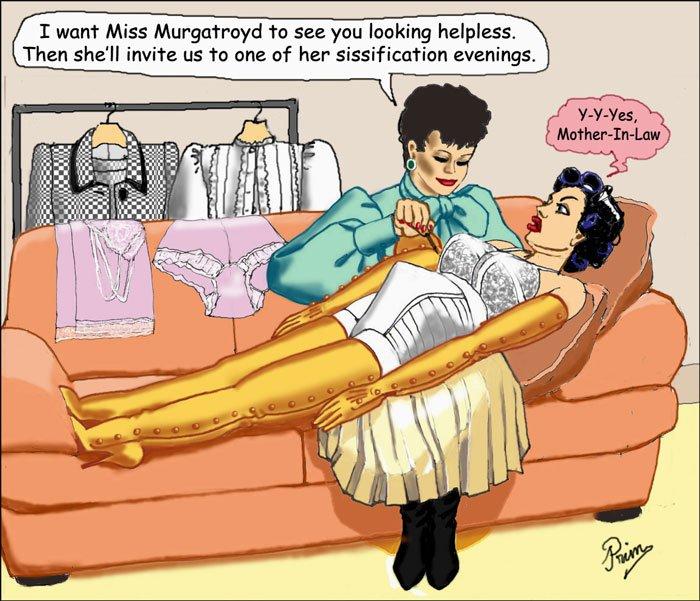 Alma Maddigan approached the side of her bed and sat on it, glowing with pleasure. In the middle of the bedspread heaved the moaning shape of her Canadian beaver coat, producing sizzles of every feminine fabric in her closets. What pride, what satisfaction it brought her, having her daughter's husband so utterly dependent on her merciless, matronly control. It was time to get him ready and she drew back the deep fur, uncovering the smothered shape in her long, pleated skirt and multiple slips: "Well, well, well, what have we here?" she cried, and Lesley Waterson jumped at the realisation that his morning's dress worship was being brought to an end. Alma slid the pencil skirt of peach taffeta off his head and hauled him blinking into a sitting position. "Well, son-in-law, what do you have to say to me after being allowed to worship my lovely, pleated summer dresses?"
The wretched twenty-three-year-old sat in a swamp of shame in the middle of two pretty cocktail dresses laid across the bed, his legs held closely together in half a dozen of his mother-in-law's pretty nylon slips. "Th-Thank you, dear Mother-In-Law. Oh thank you. I am so lucky. Thank you. I love you, Alma. I love you. Thank you so mu..."
"Yes, yes, you little imbecile," she cried, pulling him off the bed in a slither of slips so that he stumbled onto bottom and feet together.
"Show clitoris!" she barked.
The poor young male hauled himself to his feet and lifted the lacey hems of one nylon slip after another, showing increasing wetness, until the last one revealed the sticky mess that hung from his rampant cock. Alma wasn't surprised, but gave him the disgusted tutting he had come to expect as she thrust a handful of her panties into his groin and pulled him into position for his well-deserved spanking.
"It's no wonder Sara saw through you in the space of one night, sissy-pants," she growled, pulling his slips up his back to give herself plenty of ass to pummel. "Mommy's slips and dresses are all you want, aren't they? Not like a real man who would appreciate a gorgeous red-blooded new bride." Her strong hand delivered a quick tattoo of spanks across his naked globes, bringing muffled squeals of pain as he buried his face into the blue and green dresses beneath him. "I'm taking you in my clothes to my tea club this afternoon, so I want to get you cleaned up and ready."
After enough spanking on her bedroom settee to show him his place, and then getting him cleaned up, Alma stood him in front of her in just her bra.
"Oh please don't humiliate me in front of your friends mother-in-law," he whinged. So this was why she had done his hair that morning. She sat him on her knee to put him into her pantyhose.
"If I want to show you up in front of women, I damn well will, sissy Lesley. And I'm not having you showing me up with disgusting penis dribbles in front of Edie Murgatroyd." She dumped his ass on the settee and opened one of her drawers of elaborate foundation garments. "You're going into my corselet, my boy, to keep that pathetic thing under control."
Lesley Waterson grizzled with dismay as she fitted the legs of her pantie-corselet over his feet and pulled it up to his knees before working its tightness higher and higher up his thighs. Eventually she could hook it over his shoulders before fastening the hooks and eyes down the middle of his back. She zipped him up with finality from under his crotch to his shoulder blades. It made him stiffly erected as he sat on the couch for Alma to gather his outfit for him. A few minutes later, she sat beside him with the most appalling long boots and gloves draped over one arm. They all bristled with kid buttons, and he knew at once he was destined to be fastened inescapably into these instruments of bondage.
Alma wore a sadistic grin on her face. "I've been reserving these for an occasion like today's," she told him, indicating across her pleated skirt where he was to lie and be dressed. "These are my button boots from years ago," she said, fitting his pantyhosed foot into an opened instep of tan leather, "forceful, smooth, still breathing their scent as if brand new." She arranged the two sides of the open boot around his leg, took her button hook, and began to fasten him up from the top of his foot, onto his ankle, and on up his calf.
The young husband couldn't believe how tight his boot became on the bulb of his lower leg, squeezing him into submission, exacting a female brand of control higher and higher up his leg. He felt his pulse beating along the length of its inner leather case as his final boot button was secured at the top of his thigh, making his knee incapable of the slightest flex.
"Please, Alma, please leave my legs free," he whimpered, knowing in advance his pleas would make not the slightest impression on his flint-hearted Mother-In-Law.
She gave him a snort of ridicule as his second boot was buttoned beyond his knee, ensuring that both legs were straightened and stiffened mercilessly. He begged again. "Mother-In-Law, dearest, I promise to wear your dress nicely if I can only be allowed to stand freely in your pantyhose and high heels."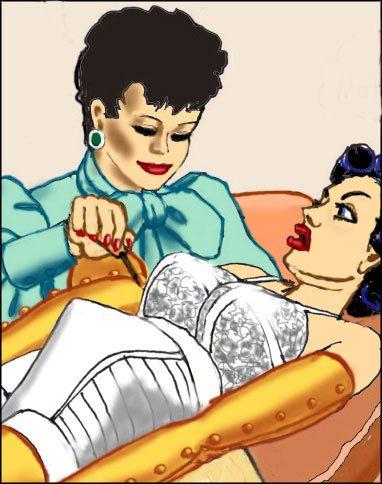 "Dress?" she scoffed. "You're going in a pretty lace blouse and smart skirt suit," cried Alma, "but most importantly, you're going as my submissive pet. Get used to it." She forced his fingernails deep into each glove finger and his wrist buttons were done up, then the other hand, leaving both gloves fanned open as she took up her hook again. Then Lesley Waterson was buttoned up his arms. He found himself stiffened in arms and legs, in a fiendishly firm corselet which showed the inevitable bulge in the gusset where he adored being dominated by his ruthless Mother-In-Law.
"Ha, I love it," she cried. "You're a mannequin, Lesley. My helpless little pet!" She stood him upright and dressed him in her blouse as his arms pointed to the floor beside his boots. It was followed by her skirt and jacket, with a silk scarf fastened from one wrist to the other behind his ass, followed by a chiffon scarf at his neck and a picture hat of Alma's to complete his 'mother-in-law' persona. As she marched him to the door like a robot, his gloved hand in hers, his pumping creamy tribute to her domination began to squelch and ooze into the satin lining of her elasteine corselet, which would lead at their destination to a red hot tirade of contempt, followed by a severe thrashing across his unprotected globes before putting him into several pairs of her panties in front of the laughing Tea Club ladies.

***
&nbsp