Marianne Courtoise had too much to do (on her social media) to pay attention to her twins now that they were growing up. Luckily at their age they could be left to their own devices. The result, of course, was that the stronger twin organised things to suit herself, and in Angelica's case this meant completely dominating her much weaker brother.
Sheldon was a quiet boy who had always played the games chosen by his sister, which explained his familiarity with dolls and their dresses, so although he expressed surprise and a little alarm when Angelica insisted a return to doll play at the age of eighteen, he merely blushed and went along with it.
She picked every opportunity to deepen his dependence on her decisions, to exaggerate his weakness for girl play, and to add to her personal control over everything he did.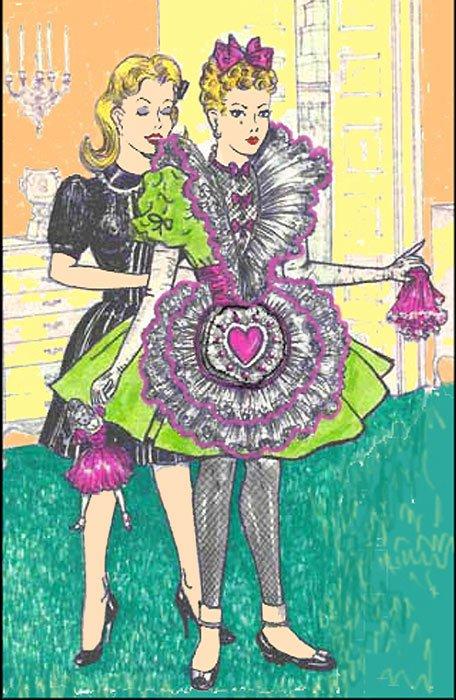 She would get him up in the mornings and supervise his bathing and dressing. His program for the day was laid out in her head, and he found himself moved from one doll-play activity to another. She hit upon putting him in pretty pinafores for when the two of them were in the doll room, then he went into nylon housecoats, the sort that flare nicely from a belted waist with shiny, girlish buttons, then into pantyhose and finally into frilly girls' panties.
Her brother was frequently ashamed, especially when she was changing him and came across his stiffened genitals, but Angelica realised that it wasn't just his shame that she could use to advantage - it was the pleasure she forced out of him too.
She obliged him to attend her in her room of an evening, while Mom was engrossed in her Facebook account. He would line up some of his favourite dolls against his sister's pillows, then she would sit him in front of them as if they were an audience watching his performance, and she would put him into her lingerie and panties for little masturbation sessions. Initially this was for just a few minutes every day, but it developed a deep desire in Sheldon for more and more feminine pleasure being forcibly inflicted on him by a group of girls. He became putty in his sister's hands as she advanced into dressing him in everything she had in her closets.
Their mother was surprised when Angelica presented him to her one evening in a party dress of shimmering satin and frills, but her little boy didn't seem to object, so she left her grown up children to get on with amusing themselves.
As days passed into months, Sheldon became Angelica's sister, Shirley, living for her dresses and panty frills, begging her to give him what he desired, what he now so desperately needed- to be a sweet dainty little girl.
And so she did, using her dressmaker skills and her ingenuity to create delicious, irresistible dresses that kept the dream of girlishness always in the mind of her feeble brother. His masturbation rewards were frequent now but her own pleasure was no less, enjoying complete control of the brother who should have been her male equal but had been turned into her very obedient female twin.



***