Mumsy's Baby Rosie In Lace (Good sissy babies get their reward)



Ross Nickering whinged and whined at a higher and higher pitch as Elizabeth pulled his pink satin bonnet with the deep white lace round his head and ribboned him up in it at his throat. This always happened when Isabel came to the house, as you would expect when a sissy baby's wife put in one of her rare appearances.
"That's enough noise," declared Elizabeth, pulling him higher on her brown woollen skirt. "Pacifier in. Isabel is giving my little Rosie a very special treat by coming here today, because I told her you have been such a good little girl for Mumsy-In-Law."
"Yes," said his wife, taking her place on the settee beside her mother. "I'm going to give you a little suck on my tits, Rosie" - and she added scorn to the sissy-girl name her mother used for her babyfied husband - "to show you what a baby I think you are. Just a short suck on each tit, mind!"
Her words sent Ross Nickering into a frenzy of baby kicking. He sucked madly on his teat, frantic for his wife-mommy's tits, and tried everything in his power to turn in all his petticoats so that he could devour her beautiful face again after his months and months of deprivation.
"I can't take long, mother," explained his wife, opening her blouse. "Dan is picking me up at 2.30. We're off to Paris for a naughty weekend. And he was hinting we might make it a full week. At the Lafayette!" She looked down at her sexless husband. "Most of it in bed I expect".
"Come on, Rosie darling," said her mother, turning her whingeing son-in-law in his clusters of silk and lace. "Let's get my little girl in front of Isabel's nice, warm tits, because I know that's what you want, isn't it?"
She had him in a beautifully wide baby dress for the occasion of his wife's visit. It surrounded him in lemon silk, edged all round the full circle skirt with ruffles of white lace, with similar lace round his pretty collar and where his puffed sleeves met his upper arms. The baby bloomers she had chosen for him were in layer upon layer of pink ruffled lace, wide enough to contain three pairs of white baby panties in white silk chiffon, designed to excite his baby clitoris while his wife was giving him her maternal attention.
The baby's pink satin mittens and bootees were secured to Spread Poles, one that Isabel fixed behind his head and the other Elizabeth arranged behind her waist. Quite helpless now his kicks and wriggles became pathetic and impotent as his wife unbuttoned her blouse and lifted her large breasts from her bra. "Here babykins" she said inserting a breast inside his bonnet. Her husband spluttered and gagged on his pacifier.
"Look at the fool," she said with a snort of contempt, "begging for baby sucks." Her mother reached across to pull the pacifier from his lips and with her other hand she presented a tit to his open mouth. With a groan his face lunged and grabbed, and the whole of her nipple and aureole were consumed. He pressed into the soft mommy flesh, his lips and tongue working frantically.
"Good little girly," urged Elizabeth, and she opened his baby bloomers, fished out his rigid penis and spread a juicing bib around its root. It was rock solid in her fingers.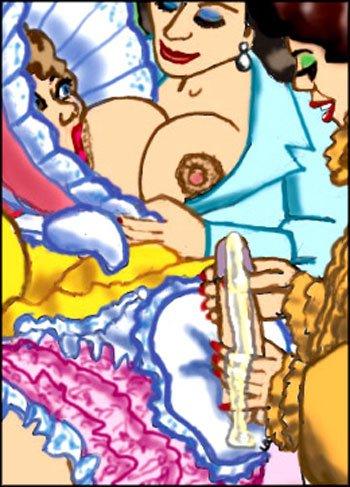 "For god's sake, don't suck so hard!" cried his wife, rolling her eyes to her mother.
"He can't help it. It's what Rosie's been looking forward to for so long dear," smiled her mother as she began to masturbate him in the cool softness of her hands.
"See what nice things happen to you, sweetikins, when my little girl is a very good baby." There were gutteral gurgles amongst the rhythmic sucking that continued without interruption. "Isabel will come and give my little sweetie another nice tit suckies next weekend, if I tell her my baby has been drooling and dribbling for my lady visitors every day, like good sissy babies do."
Her words were greeted by a marked stiffening in his organ and glistening drops of precum on its velvet knob. "Yes, Baby Rosie can suck Isabel's titties again soon if my friends enjoy lots of baby play time with my darling little sissy-baby-girlie."
Before the final words were uttered, her fingers felt the warm flow of sissy juices bubbling from his baby clitoris, and a long, throaty groan of pleasure came out on Isabel's tit in dribbles of deeply babified satisfaction.
***
---