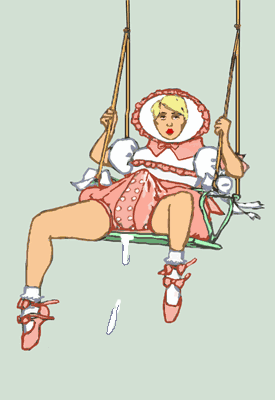 Sissy Swing &nbsp (from a drawing by Prim)
Michael's Mummywife Margaret likes to put her Sissy baby husband on his garden swing when her friend Bill comes to visit.
Today she has dressed him in blouse, bootees, bonnet and pink satin rompers over his soft silk chiffon creaming panties. As baby swings too and fro the chiffon and satin slide and slither over his hard, excited dolly and the ladies of the neighborhood watch from their windows as helpless baby Michael spurts his sissy cream over and over.