&nbsp "I can't wait," cried Elaine Furwood, using her non-glass hand to touch her chestnut bun behind her drawn back hair. She sat forward on the edge of the settee, pulled back her shoulders in her rust woollen dress with a tight skirt and arched her back in a stretch of female authority at the prospect of what they were all going to see and enjoy for the rest of the afternoon. "Diane told me she had her husband embarked on a new chapter in his life, and I can tell you, from intelligent guess-work, he'll probably be in tears when we slap eyes on him."

"Well you know Diane," said Cassandra beside her, also in a tight skirt above the knee which she wore with a white lacy top. Her hair was in a blond up-do, very retro. "She was always bossy with any of her boy-friends at Delwood High." She burst into a long giggle, saying: "she loves seeing men made to suffer humiliation in front of women - she's got videos!" The two older women sitting opposite, friends of Diane's mother, Carmen, gasped with delight. This was adding a new layer of expectation to what was about to unfold in their friend's sitting room.

Isabel was 56, very chic in a black and white figure hugging dress with bolero, her hair in a flaring blond perm. "That sounds amazing," she said in her dark voice, "but one thing I do know: Carmen is in control of her son-in-law's 'education'."

"You're absolutely right," said Marilyn beside her. She had been at college years before with Isabel and Carmen and they shared a love of making men feel small in front of them. Her immaculately coiffured mousey hair fell onto the collar of her cream blouse and opal beads, which she wore with a long brown pleated skirt. "Like you, darling, I can't wait to see how Carmen has him dressed."

Elaine topped up their glasses where needed and the four women giggled like schoolgirls as they 'topped up' their make-up too, as if to make themselves as fearfully female and superior as they could for the unfortunate husband they were about to devour like starving lionesses. Elaine's phone went.

"Yes - Oh good - Yes, we're ready. Can you tell us what he's wearing? - Oh Diane Silkwell, you're a meanie!" She put down her phone and declared the news: "They're bringing him through."

Her words brought a burst of excitement, as she fanned her face and pulled the neck of her dress forward to blow down her tits.

"What's he wearing then?" exclaimed Isabel, who was also glowing.

"She said we can wait twenty seconds, can't we?" cried Elaine, and they all reached into their purses for deodorant. The result was that when the double doors opened seconds later,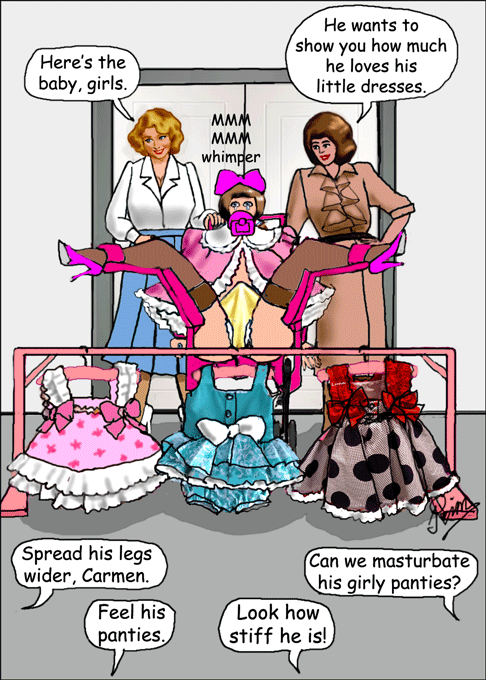 the air of the sitting room breathed a feminine fog of perfumes and colognes. Into it was wheeled the prized husband in question, a wretched male among six predatory females.

Diane was in a white blouse and blue skirt and her mother wore a beige maxi dress, but in front of them, neatly fastened into a child's buggy with his knees together and his hands secured behind his ass, was Ainsley Silkwell, dressed for all the world like a baby girl in a fancy pageant.

His face was surrounded with short auburn bangs with a fringe above his eyes and topped with a large butterfly bow, while his lower face was masked in a huge plastic pacifier in shocking pink. The effect was to shrink his face into a shy smallness as if this grown male was cringing into a tiny shape within an overwhelming spread of girlish silk. Carmen and Diane had him in a little girls' dress with a wide Peter Pan collar, all trimmed with lace, with little sleeves that puffed at his shoulders, while he held his knees and legs pressed together in a pair of stockings. He was in bright pink high heels to match his hair bow, and it looked as if his ankles were fastened together to keep him safely in his buggy.

"Oh isn't he gor-geous!" cried Marilyn.

"Good enough to eat," sqeeked Isabel. "Hold me back or I'll bite into that lovely party dress he's wearing for us."

"He's the picture of a little toddler, isn't he?" said Cassandra, her lips hanging open, glistening with saliva.

"Oh Diane, Carmen, I love his white lace frills all round his dress and up the front. Can we fuss his dress for him?"

The husband wriggled from side to side in his dress, trying unsuccessfully to bury his pacified face into the front of his dress. Diane giggled with delight, prettying the collar of her husband's dress from above him. "Yes of course you can, but not until later. Admire the sissy in his dress for a moment, but you'll have to excuse me while I get things ready." She made her way to the side door and disappeared, leaving the 'toddler' with her mother, who reached over his hair bow to arrange his dress in detail.

"Ainsley is so pleased you've come to visit him," she said, a sarcastic smile on her face. "He wants to show you something, and he needs very superior ladies like yourselves to appreciate how deeply he wants to share his feelings and desires with strong, powerful women. Isn't that right, my little sweetie?" and she kissed his hair all round his bow as Diane returned with an armful of tubes and fittings which rattled onto the carpet.

"Oh Diane, what on earth are you going to do to him?" wondered Elaine, as her friend began fitting tube into tube across the floor.

"You can help me if you like. This is a demonstration rail - yes, that goes into that, like at this end, and then it stands up like this." The bright pink rail took shape and the women's excitement grew all the more. "Now all we need is what hangs on the rail for my sissy husband to see. Excuse me, girls," and she popped out again into the side room.

Her husband's wriggling became more urgent, as if he was dipping and grinding his body in his sizzling pink dress. "He's getting excited, higher and higher," announced Carmen above him, and she cupped his bangs in both hands as if clutching him in an affectionate embrace. "Because what Ainsley can't wait to show you, girls, is how desperately and deeply he loves his little girls' dresses. Ah here they come now."

All eyes devoured the prettily coloured armfuls of silk, satin and nylon that Diane brought back with her, and one by one, she hung three exquisitely feminine little sun-dresses along the pink rail so that each of them hung sweetly and in full display.

"Oh what gorgeous dresses," cried Marilyn. "Ainsley, pet, no wonder you love them."

"I love the blue one, darling. You must feel so babyish when you're wearing it," said Isabel.

"I like your pink dress, Ainsley," said Elaine, her lips wide in a teasing smile. "I want to see you dressed in it for us."

"And in your gorgeous polka dot dress, Ainsley," cooed Cassandra, mimicking Diane's mothering voice. "You'll look so sweet in such a darling little girls' dress."

Diane in the meantime was bending behind her son-in-law's buggy and shifting the controls, In front of everyone's astonished eyes, the buggy slowly changed its shape, the footrests lifting with a hum to a higher position, up - up in front of its occupant, hiding the front of his dress from their eyes. A pause and a click brought another hum and the movement switched laterally, so that his pink high heels parted, revealing his stockings to be fastened onto trough-shaped supports in the same bright pink as the rest of his buggy.

Elaine gasped and grabbed her mouth, Cassandra squealed and the two older women whooped and laughed as the buggy's occupant unwillingly showed them his panties in cream silk, pointing to the ceiling. His crying burst through his pacifier as a whining wail, punctuated with helpless, shuddering sobs that shook his whole buggy and sent flurries of silk fluttering through his dress. The dress opened, petticoats and all, from beneath his throat and slid away from his breast to reveal his naked body.

"Look at his legs!" cried Cassandra, her voice a shrill squeak. "We love seeing him like this, spread-eagled to reveal his girls' panties!"

"Oh yes, I love it!" cried Marilyn, clutching her beads into the bosom of her blouse. "He's such a pathetic, helpless figure in front of us."

"He's desperate to wear his little girl dresses," cried her friend beside her, shifting her elegant ass back on the settee so that she could cross her legs for relief. "Look at the stiffness of that cock, Marilyn."

"Carmen," called Isabel, her lips set in determination to make the most of this thrilling power over a male, "hold his cock for us. Show him who's in charge of his frilly little sex inside those panties."

"Well, sissy," declared the captive's mother-in-law as she stooped over his shoulder, so that her dress flounces swept his hair and all but smothered his face, "you heard what the Ladies said: we are in control of your sex and we'll play with it until it confesses it's obedient submission to us all. Diane," she said as her fingers clasped the knob-shaped point of his little girl's panties, "wheel him forward to the first of his dresses, so that we can see what a pathetic girl of a husband he is."

The buggy inched forward, with Ainsley Silkwell's legs as wide apart as they would stretch, and presented his panties and thighs to the dress of pink satin and white broderie anglaise at one end of the rail. His whimpers were heart-rending as his eyes dared to glimpse the women's faces ranged in front of him - gleeful, laughing, dabbing tears from their make-up.

The women's eyes were interested in one thing only - that cream silk knob in Carmen's fingers as she plucked and stroked, plucked and stroked at her helpless son-in-law, making him struggle to control his urges, with no hope at all, until the panties throbbed and thrust visibly into her grip and showed signs of darkening, glistening, then seeping with his helpless, girlish squirts of hot cum. It was the first of many as their sissy showed them how deeply he wanted to be dressed in one lovely girls' sun-dress after another.

***