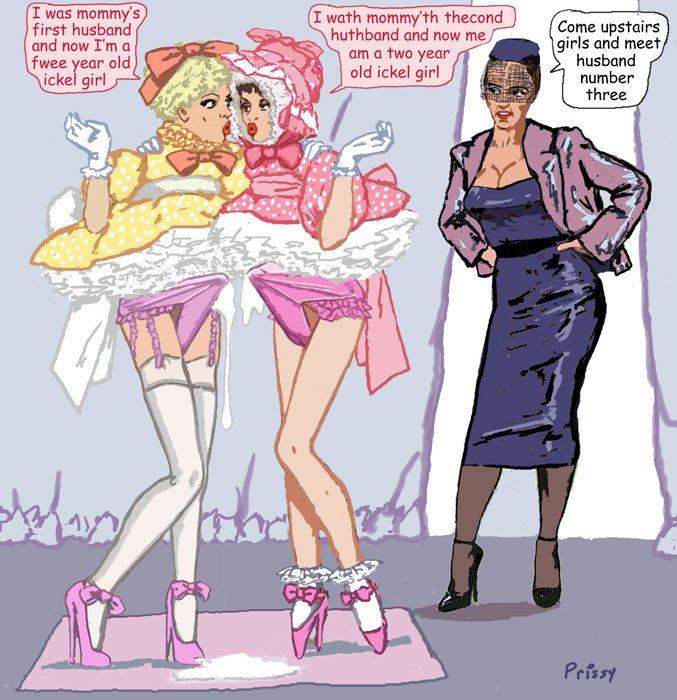 &nbsp Matthew Fillingwood cried and cried, even though his cheeks ballooned wide over his jumbo-teated pacifier, as his former wife held him helplessly under the back of his petticoats, while with her other hand she masturbated him in no uncertain terms up and down the rigid gusset of his lilac panties.
"That's it, Sissikins, cry and cry for Mommy Gertrude. Lots of baby tears and lots of sissy girly creamies to show to my new husband in a few minutes. What a big day for Baby Matty-Penelope," and she planted a wet kiss on his reddened cheek, "to be presented to Mommy's new husband. No wonder Babykins is excited and stiff in his pretty silk panties."
She stopped within a few seconds of his blissful release, and let go of the twenty-three-year-old, to spring from her hands and boing, boing, boing in his baby- bouncer, hanging in the doorway between the sitting room and the pink nursery.
"Bounce nicely and feel sweet and helpless, Matty-Penny, until Mommy comes back in a minute with the sissified wimp in the other room."
Gertrude Fillingwood chuckled with the satisfaction of the woman who has the men in her life exactly where she wants them, and in her case, that meant in very lacy petticoats and baby bloomers with one pretty baby dress after another, which she ran off by the dozen on her sewing machine. She paused at the door of the peach nursery and listened to the moans and whimpers on the other side. She chuckled again and went inside.
In front of her, the peach-pink chiffon curtains of her second husband's baby crib wafted in and out with rhythmic movements. She lifted them apart and fastened them back to watch her infantilized husband at play with her taffeta and satin skirts around him. His pretty black curls turned a look of shameful pleasure towards her as he continued his slithering and sliding movements inside the smooth silk lining of her skirts, over half a dozen of her satin blouses, which were the padded objects of his worshipful adoration that morning.
"Is Baby Roger falling deeply in love with Mommy Gertrude's blouses, my little petal?" she cooed, reaching down to his hair and caressing the blonde curls of his head.
"What a good little girlie, trying to show Mommy how much you love her blouses, pet, but - oh dear - can't my little babykins quite come to a proper sissy creamies with that nasty tight ring round his little girls' clittie? Hmmm?"
Her husband tried and tried, pressing on with his wriggles and slithers under his ex-wife's supervision, but it was no use. He was never going to get there.
"Never mind, darling, because today is the day you and that other sissy wimp are going to meet my new husband. You know how I let you two sissies squirt all your creamies together when I'm showing you off to my lady friends as helpless idiots in your dresses and panties. It's time to get up and out of my skirts. Come with me to have some kissy-sucks before I take you along to my new husband."
A few minutes later, Gertrude Fillingwood was leading two very nervous ex-husbands along the hallway in their very short baby dresses. She giggled at the frilliness of their sissy mincing and listening to them warbling through their pacifiers, then stopped them at a freshly painted door at the back of the house, on which appeared the words: Gordon's Primrose Nursery. She looked her babified ex-husbands in the eye, one after the other, and laughed at their look of foolish astonishment. "Shall we go in and meet Gordon?" she asked them, at which they blinked and sucked with expressions of utter baby helplessness.
Inside the decor was all satin and frills, with the smell of perfumed diaper sacs and baby powder. And there, dangling from the middle of the ceiling, was a bundle of misery dressed in pink satin, with a deep white diaper peering from the circle of petticoat frills. The lace round the pink bonnet framed a face of silent horror - silent because of the fixtures round its occupant's neck and cheeks that attached the hanging, upturned baby-bottle to his mouth. The new arrivals stepped towards this wretched picture in petticoat sizzles of their own, and stood wide-eyed as Gertrude let go of their hands to make one or two adjustments to the flow of liquid from the bottle. A gurgle of bubbles ran up through the clear liquid as another mouthful was swallowed.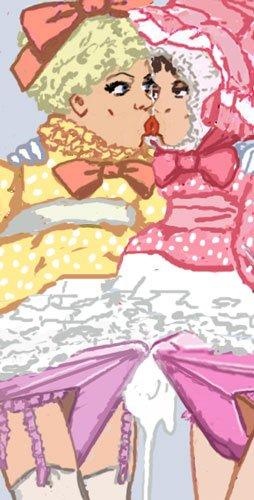 "Say hello to Gordon, girls. He's my new husband, since last Saturday," and she shaped and fussed the frills of the twenty-three year old's deep bonnet, "and he's starting today on his special babyfying drinks, aren't you honeykins?"
Her husband gave a prodigious bounce in the rubber frame he was hanging in, but all he managed to do was ensure that two or three more mouthfuls of the babyfying liquid gurgled down his throat. His satin mittens were fixed inescapably to his thighs and his pretty bootees were ribboned tightly to the base of his rubber frame.
"I've brought Mattykins and Roger to see you darling," cooed Gertrude with a smile of poisonous carmine, as her fingers undid the sides of his diaper and dropped it out between his legs to leave him unprotected.
"They're going to be your sweethearts, starting today and every day." Gordon's eyes opened twice as wide as he stopped trying to bounce.
Gertrude turned to her former husbands. "Well, my darlings, do you want to play with your new sissy sweetheart, or not?"
It took only five seconds for her exes to see the possibilities, and just another five for Matthew to drop to his knees at the stiffly available penis and smooth his lips over the head, and Roger's fingers to find and test the depth of the cleft up between the new husband's buttock cheeks.
How pleased Gertrude was with her creations, as she showed by smoothing their lovely dresses over their backs as they sucked and pumped with their new sissy sweetheart in the nicely perfumed atmosphere of the Primrose Nursery.
A lot more bubbles of air escaped helplessly up the tube and bubbled up into the bottle, and before many minutes of baby ecstasy had passed, she had to replace that bottle with a new one for the hours of shameful pleasure that lay ahead. Marriage to Gertrude was certainly a whole new life.


***