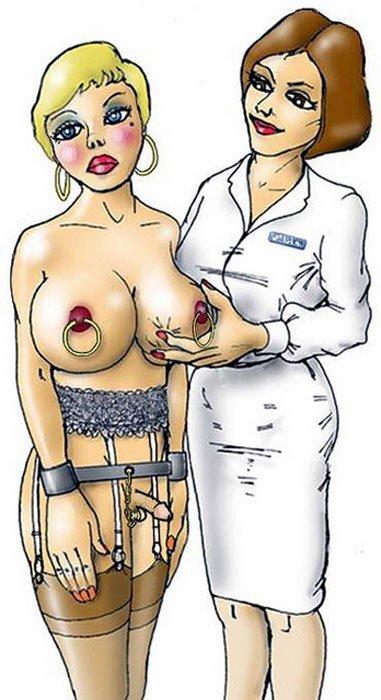 Raphael Dalton left his mother-In-Law in no doubt of his hatred with the volume of his yelling. "Take me back home now, you stupid, ignorant woman. Get the skirt off me, d'ya hear. For Pete's sake, where are you taking me in this damn corselet? You cow! You ignoramus! Martina, tell your mother to turn the car round now and get me home."
"Sure, sure. Be patient, my love." Martina Dalton turned her head casually to address her desperate husband strapped into the rear seats, then turned away again. "Nearly there and we'll pass you over to the nice nurses at the clinic."
The fiercely reinforced corselet in white satin-elastic, and the pencil tight pink skirt that buttoned almost to his ankles, were selected from the unfortunate husband's stash of vintage women's wear - discovered only two days earlier by his Mother-In-Law, Joyce Carter. So he was a closet transvestite, cheating relentlessly on his wife, with dozens and dozens of expensive gowns, not to mention the lingerie and fierce foundations.
"It must have cost a fortune," declared Joyce to Doctor Femming, her jaw set with female fury bent on retribution. "It's a full, forced sex-change he wants, which will work out a lot cheaper in the long run, because after that he'll be wearing my clothing. What he already has in those closets of his will be going into my own.
"Don't be an idiot. Sex change! You're mad!" Raphael struggled on the spot between them, his arms clasped inside the double layered corselet, over which went the tightly belted skirt at his waist and elbows. "Listen doctor or whoever you are, just undo me and we'll all be reasonable abou - wha!"
"Just breathe, Mister Dalton," ordered the doctor as she held the folded satin panty over his nose and mouth.
"Mmm, that's definitely the smell of woman," said Martina, catching the pungent aroma from the satin pad smothering his nose and mouth. Her mother recognised it too.
"Parisian panty worn by a sexually active woman wearing Rive Gauche, by Yves Saint Laurent," said the doctor with a smile. Her nurses were on hand to pick him up as he collapsed. A second panty was drawn over his face, and a third, all rich with Rive Gauche, to keep his smothering pad in place. "Leave him with me, Missus Carter, and come to see how he's turning out in a month."
When wife and mother-in-law returned a month later, they found Raphael's hair styled into a bob, his breasts plumped nicely into those of a teen girl, his body soft and curvy, and perhaps best of all, his manner calm and respectful. The women played with his nipples and brought him to a state of high excitement, which he couldn't do much to prevent because he was confined to a large version of an infant's high chair, padded in satinised rubber, his hands immobilised and his legs fastened apart. Joyce especially was pleased with his progress so far.
When his course was over, two months later, the new Fiona was collected, with breasts to die for and a feminized penis. He stood still and allowed his wife to lift his little skirt and petticoat so that they could see the front of his panties. They were erect all right, but with a sweet little penis inside which literally kissed his panty gusset in a cute, girlish push.
"Can I wear rayon lingerie, mommy?" he asked as Joyce settled him beside her in the back of the car. "Or satin at least?" He leaned his head onto the shoulder of Joyce's blouse, feeling deeply in love with her.
"I don't know," she replied, grinning to her daughter via the rear view mirror. "I was thinking of tight corselets and satin face panties with Parisian perfumes, but we'll see."
"


***

BACK