The story so far:
Two young men, Tim and Richie, arrive in town and are attracted by the pretty, large sized dresses and bonnets in the window of a babywear store. As they enjoy looking, the girl proprietresses capture them and fasten them into male-to-female babifying machines that develop their breasts and increase their need for baby treatment. They are put into hormonal diapers which make them feel like girls, while ruffled babifying bonnets intensify their urge to become babies. They learn that the nursery center exists to provide a supply of sissy babies that girls can play with.

Chapter 7 - Richie and Tim are dummied with jumbo pacifiers.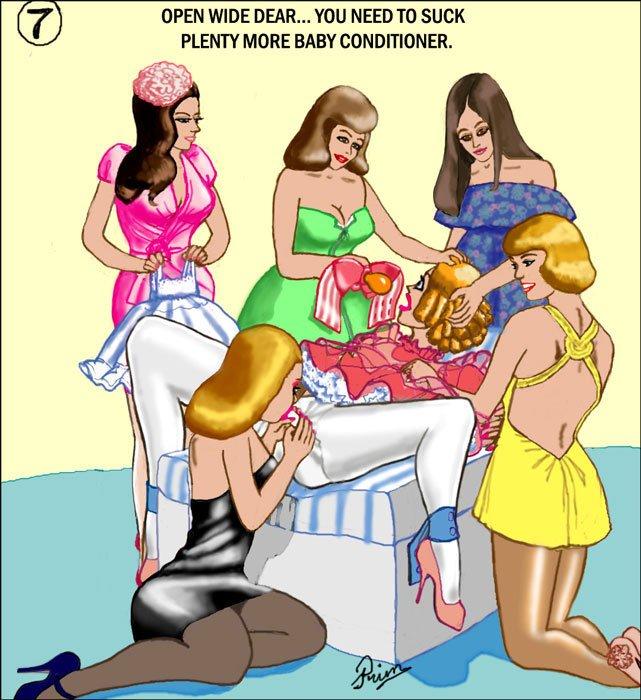 It was hard for Tim and Richie to see Jen, sitting straight in front of them, never mind the rest of the room with its rows of baby dresses. Not only were their ruffle bonnets fastened up at their chins so that they had only a lacy slot to look through, but their eyes were streaming with tears as they bewailed their dreadful situation

"Sit nicely, Timmy," said Tabitha close to his satin bonnet, "while Jen invites the girls to come and play with you tonight." She spread out the sides of his primrose organza baby dress so that it flared around him on level with his hips. Then she took one of his hands, still fastened to the side of his dangle chair with a little silver chain, and held it in hers while her fingertips tickled the palm of his hand.

Next to him on his right sat Richie, whose diapered cock sank blissfully into the bottom of his dangle panty while his legs kicked with pleasure in their patterned white pantyhose.

"There's a good little girl, Richie," said Isabel, "wriggling your legs helplessly. You're going to be able to have lots of wriggles when everyone gets here for tonight's party. But you're too noisy, little pet. I'm going to give my little girl a smack on her baby pantyhose for not listening to Auntie Jen," and she delivered a sharp slap to the boy's leg.

"Owww! Wichie want da girlth to come and pway wif me," babbled the befuddled youth. "Me wanna kith the girlieth an be their lickel dollie."

Isabel laughed and pulled his bonnet into the latex apron over her breasts, then kissed him on the bonnet over and over. "I know you do, little sweetikins, but we must listen while Auntie Jen invites the girls to come round."

"Hi, Han. It's Jen, and guess what: we've got two new sissies who are just begging us to dress them up nicely in the sweetest of baby dresses."

Tabitha turned Tim's head towards her so that she could speak to him through the white satin and lace on the inside of his bonnet. "Timmy darling, you'll love Hannah. She wants babies to look ever so pretty, so she chooses the frilliest dresses to put them in." Tim's legs kicked and slid uncontrollably as he bounced in his dangle chair, and Jen leaned towards him with the phone to her ear.

"Good girl, Han. We'll expect you at seven-thirty to come and play with the sissy-babies. Bye-eee." She got off her stool and approached Tim and Tabitha. "And Hannah insists you have to lie across her lap as she puts your handies into your sleeves so's she can fasten the back of your baby dress for you, you little sissy sweetie." Her fingers found the faint contour of his stiffened penis deep within his diaper and panties and tickled it for a minute while the girls giggled at his whimpers of helpless pleasure.

"I think I'll call Ismea next," she said, sitting on her stool so that the babies could listen to her while she phoned. "She likes cuddling and kissing sissy-babies as if she's their mommy," and she laughed out loud as she keyed her friend's number. "Hey, Izzy darling, doin' anything tonight? Well here's something you can do. How d'ya fancy being mommy to our two new sissy babies, both aged eighteen and so-o-o-ooo sissy, you wouldn't believe."

Timmy's legs began cycling under him again, and he grunted and moaned inside his bonnet.

"Oh darling, Timmy so wants to be a girl for you," went on Jen with a giggle. "He wants you to mommy him right now. Bring plenty of those pretty panties you use on weak and feeble babies, and we'll make him beg to be diapered and pantied." She rang off and started keying a new number. "Ismea can't wait to snuggle you close to her mommy's breasts, darling, but now I'm going to call one of my best friends, Kerry."

Both Tabitha and Isabel "Oooohhh-ed" with warning beside their babies. "Richie pet," said Isabel, turning her sissy's bonnet towards her to make sure he was listening, "Kerry just loves to make babies cry. She will keep reminding you how you used to be boys, but you're not boys now." Jen spoke again on the phone.

"Kerry, the party starts at 7.30, and you won't want to miss a minute. We've got two new sissies who are real baby girls. They just love having sissy pantyhose up their legs." She listened for a moment to the excited voice on the other end, then looked at Rich. "Kerry wants to know if you're feminine enough or whether you need more drugs and conditioning."

Isabel tickled her baby under the arms and he squealed like a little girl and kicked out his legs to swing helplessly in spasms of pleasure. "Tell her Richie wants her to play with his new girly titties. He can't wait."

Jen laughed and spoke into the phone. "His tits are like grapefruits, honey, and he wants you to twiddle his little pink grape on each one."

The girls enjoyed more laughs as Jen continued her calls. "Chandra honey, are you coming to our baby party tonight? We found two very willing sissies ogling our store window, and now they've turned into little baby girls for us." The boys cried a little more as this shocking truth sank in through their bonnets, then Jen popped a question.

"Chandra wants to know if she can change the babies so's she can suck their willie-pops."

The boys bounced and dangled, looking very girlish in their hands and sounding babyish in their guggled cries of desire. Jen spoke into the phone again. "The babies can't wait for you to change their diapers and play with their girly clitties, hon. See you at 7.30."

While Jen was gathering momentum with her calls, the door pushed open and Abby wheeled in another rail swinging with flouncy baby dresses in pastel colours. "Girls, I could do with some help. We've got enough dresses to change them into tonight, but we need twice as many petties and panties for the baby party. The girls are going to want to change these two big babies non-stop until they wet themselves crying."

Perhaps it was the impatient voice she used, or maybe Tim and Richie would have loved to date Abby in another life, but now they could see how utterly impossible that would ever be. The two babies set up a wail of crying so loud that Jen had to stop phoning.

"I can't call the rest of the girls with all that rumpus. They'll have to be pacified."

Tabitha jumped up and clapped her hands. "Abby, can we put them into their jumbo pacifiers? Oh please, please, pretty please?" Isabel wanted the same and Abby had to make a decision.

"It's too early for their Jumbos, girls. They can suck on them when the girls are here and we don't want to spoil it by giving them their big pacifiers too early. What you can do is give the sissies their pre-party hormonal drinkies, so that they cry a lot for us and amuse the girls.

"Ooooohhh, yeah, let's feed them their juice!" cried Isabel, and she and Tabitha dashed off to the kitchen leaving Jen with two squealing sissies and no chance of doing more calls. In a few minutes, though, the girls were back and lifted the crying babies out of their dangle chairs like floppy rag dolls so that they could have them across their knees for feeding. They were fitted with pink plastic feeding bibs to keep their dresses nice and clean, and no sooner were the bottles presented to their mouths than Tim and Richie grabbed at the teats with hungry lips. Jen carried on her calls to the sound of slurping, sucking and gulping, as the two babies were caressed by their smiling mommies.

The pleasure enjoyed by Tim and Richie could be heard in their contented guggles and seen in their placid guggling and swallowing. Both boys held onto the girls' hands with an eager grip to ensure they didn't withdraw the bottles they were emptying so blissfully, adding to the feminising influences that had already deprived them of their original masculine nature. Tabitha reminded Tim of what lay in store for him and his friend.

"Good girl, drinking up all your juice," she said, using a free hand to part the satin edges of his bonnet so that she could look into his eyes as well as making sure he was drinking nicely inside his baby girl face-wear. "Now that you have both become so feminine and so girly, you are nearly ready to become display babies, available for lots of lovely girl-play." It may have been the hormones in the drink he was guzzling, or it may have been the picture of helplessness as he was surrounded by girls, but Tim wanted to pronounce some kind of loud emotion while he had a teat locked in his mouth. He grunted and "Mmmmmm-ed" in her arms and he brought his pantyhosed knees and feet up so that they were close to pushing into his bonnet.

"Oh Timmy," cried Tabitha, holding him more firmly and tipping his bottle more steeply, "your sissy feelings are growing so nicely. But you have to drink all your girling juice until it has all gone. We don't want babies at the party who aren't totally feminised and completely sissified."

"Oooops, that's it," cried Isabel from her chair, where she was promising Richie he would be humiliated at the party, "all gone, and I think we have two very girlish little babies for tonight. What they need now is to be put to bed for an hour or two, so that they'll be wide awake for the girls to play with until late in the night."

When Tim had finished his drink, and after the two of them had belched for their mommies, they were carried into the nursery bedroom, where their dresses were undone and their petticoats were slipped off. Tim was put into a baby-doll nightie of pale lemon organza with bloomered panties to match and a wide bed bonnet with elastic from his forehead to under his chin, and Isabel put Richie into similar baby night-wear, only in pale blue. The babies gurgled with pleasure as they were given long and sensuous good-night kisses by their mommies, and after all their drinking, they were soon fast asleep with the light out.

When they were woken up by Abby, it was time to get them ready for their party guests. "Come on you two, there are eight girls coming to see you tonight, and they want to see two very pretty little girls, so we've chosen some lovely dresses for you and fresh diaper covers and pantyhose for our new little babies."

Neither of the boys knew exactly where they were as they found themselves being lifted from their cribs by strong girls smelling of delicious perfume. Mmmm, every face they saw wore lovely eye make-up and pink lip gloss. The girls had exchanged their nursing uniforms for the most tempting of party dresses, leaving very little to the imagination in the way of bare shoulders, blossoming breasts and female thighs. But for Tim and Richie, a new feeling swept them off their feet.

"Mommy!" cried Tim as Abby held him in an embrace of iron and carried him to one of the baby changing tables. "Titty-drinkies, Mommy," he cried, his face turning into the blue chiffon of her bodice.

"Oh for God's sake, you're not having titty-suckies until the party has started," cried Abby, planting him on the pink satin of his table and sitting him up to divest him of his nightie. "Tabitha, pass me his petticoats and we'll get the little sissy ready to be fastened onto his play table."

It was then that Richie caught sight of Tim and Tim caught sight of Richie. "Aaaahhhhh! Wha-aaahhh!" cried Richie, and Tim's reaction was exactly the same. Tim's hair had been done into a perm, with curls all over his head, while Richie's ragged blond hair had been immaculately fashioned into a little girl's ringlets. "Well! Aren't you a couple of delicious little sweeties?" said Abby, her lips pressed into a superior smile of triumph. "You're not quite girls yet, but you're getting very close."

All the girls laughed as she shook out a pair of white nylon pantyhose with a prettily decorated panty and rolled up the legs to present the feet to her baby's toes. "Sissy Timmy just loves to have girly legs, doesn't he?" she said, her luscious lips smiling with glistening lipstick as he watched her roll his legs into white baby pantyhose. "Mmmmm, isn't that a lovely sissy-girl feeling," she said, seeing his penis stiffen as the nylon slowly encased his flesh, "with your baby legs surrounded and tightened inside a girl's pantyhose, darling?"

Tim would have agreed if he could, but his baby clittie was feeling so excited inside its new white panty that he didn't quite know how to express himself. His eyes closed and he dribbled down his chin, and made gurgly, helpless noises that seemed to suit how wonderful he was feeling.

"Into your petticoat, baby," said Tabitha, dropping it over his head and pulling one hand, then the other, through his little puffed sleeves of white silk organza. "Ohhhh, don't you look helpless, and so pathetic?"

Abby allowed herself a smile. "He's pathetic all right. They both are. But we've got just fifteen minutes before the girls arrive, and we still have to put their make-up on."

The sissies started grizzling at the mention of make-up, and wriggled with despair for the girls, especially when Tabitha and Isabel slipped make-up capes around their shoulders to protect their petticoats, but the boys soon realised there was nothing they could do as the girls sat in front of them with eye-liners, blusher brushes, mascara and lip gloss. "It's all right, Baby Timmy, you can cry as much as you like," said Tabitha, applying blue eye-shadow to his eye-lids. "Here in the Silky Nursery Center, we use only the very best non-run eye make-up." "Look up to the ceiling, Richie darling," said Isabel, "and I'll make my little baby girl an absolute angel for all the girls to love and cuddle."

Jen had a sweet party dress for Tim, in white silk organza, with a simple short bodice and a skirt which flared attractively from a high waist. It had a sweet pink ribbon sash which she did into a big bow at his back. "Mmmm," agreed all the girls, "everyone's going to love cuddling you in your pretty dress, especially once you are in your diapers and panties."

Richie was dressed in a much prettier dress, with long sleeves and a wide skirt all in pink silk, with a white chiffon pinafore fastened over it. He wept tears of joy mingled with stabs of agonising humiliation as he saw the pretty floral pockets on his pinafore and the gorgeous frills that stood high on his shoulders.

They were just in time. As Richie's dress was being buttoned shut at the back of his baby collar, the doorbell rang. "Ooohhh, they're here! The girls are here!" cried Tabitha and Isabel, and Jen leapt to her feet and went to welcome the guests as the others put the babies into their eye make-up, with blue shadow for Tim and fuchsia pink for Richie. His lips were glossed in pink too, while Tim was given a bright red to sweeten his lips. The sounds of excited girls reached them from another room in the nursery, and everything was just getting to be too much for the babies. They burst out crying together at their hopeless situation, and at the same time lost all control of their bladders so that the girls had to catch their cocks in their hands as they weed, to stop it going all over the place. Abby winced at their noise, and said it was time to pacify them.

"Oh Timmy, petal," cried Tabitha, opening a pink box on the table beside her as Tim sat on her knee: "it's time for Jumbo. Just look, darling, and it's filled with nice girly medicine." She produced a giant butterfly pacifier in lemon yellow plastic, with a ring at the front and a flesh coloured teat that would fill his mouth completely. "Open wide for Mommy Tabitha, darling. Wider. Come on, it has to go right inside for babykins to suck. Oh, good girl. There we are. Now my baby can suck and suck all that feminising nice medicine," and she kissed his nose which showed between the two wings of lemon plastic. The ends of the wings were fitted with flaps of doubled white satin, which she pulled together behind him and buttoned up at the back of his neck.

Richie's jumbo was in pink plastic and was fitted with a chin rest which cupped his chin as the teat was forced inside his mouth. His tongue was pressed down, immovably, so that all he could do was "Nnnnnnngghhhhh!" as Isabel wrapped him in his pink and white striped flaps and fastened him up into his pacifier. Then Jen popped her head in from the door.

"I've got a dozen girls here who can't wait to hold baby cocks in their hands and want to make them cry," she said. "How long before the little girls'll be ready?"

Abby looked at Tim in his white baby dress and Richie in his pretty pink dress, and broke into a wide grin. "I think these two are perfectly ready to be presented. Let's carry them in, girls?"

Everyone agreed, laughing with excitement and turned to the wide-eyed horror of their two, deeply pacified captives. Abby and Tabitha lifted Tim, chairing him round his back with one arm and under a leg with the other, while Jen and Isabel carried Richie in the same way, and took them to meet the girls who couldn't wait to play with them.




***



Chapter 8 - Tim and Richie Meet the Girls They Will Be Living With.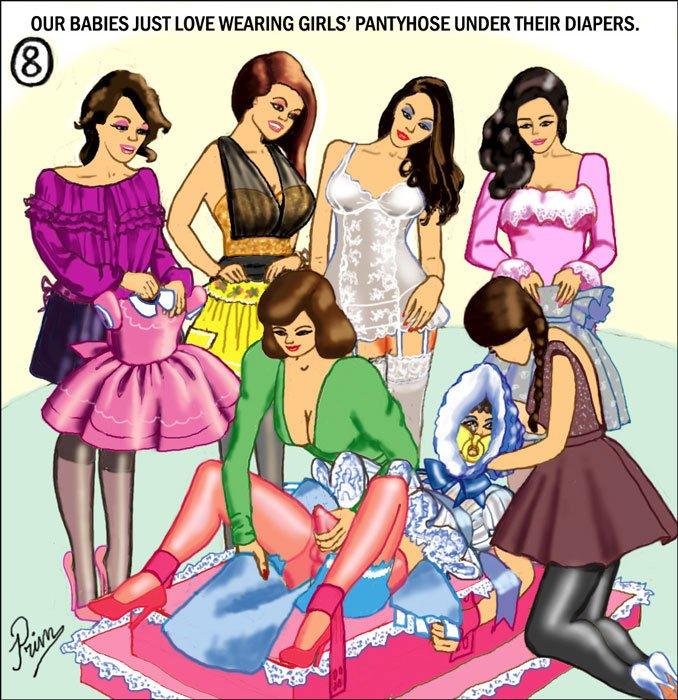 Even though they were buttoned into their pacifiers, Tim and Richie nearly died of fright as fingers parted the front of their bonnets and six or seven new faces peered in at them as they were being secured onto pink, rubber-surfaced baby mats. A flood of delicious perfumes sent their noses reeling, while everyone smiled at them with beautifully made-up eyes and candy pink lipstick.

"Oh aren't they a pair of darling little princesses!" cried Holly. "Can I dress baby Timmy, please? I want to put him into this lovely yellow float dress."

"Oh me too, me too," cried Selena, whose tits were nearly falling out of a loose pink top which she had paired with a navy skirt. "And when I've dressed him, I want to give him one of my tits to suck instead of a boring old plastic pacifier."

Abby and Tabitha fixed Tim to his mat with rubber strips that buttoned his wrists and his ankles onto the sides of his cushions. "We can't have him sucking anyone's tits until he's emptied his jumbo," Abby said. "I know you like babies who are very, very childish and impotent, so right now he's sucking in the medication that'll make him just that." She looked up and grinned. "Then you can give him both your breasts and he'll suck on you as if to save his sissy life."

The girls wanted to see their little-girl hair-do's, so Jen unfastened Richie's bonnet to show them. "Oh my God! Baby girl ringlets!" squealed Rose-Marie, and she stood behind him and ran her fingers deep into the poor boy's hair, shaping his face in handfuls of the sweetest curls. "What a luverley, cutesy baby girl you are, Richie honey, and she bent over him in her off-the-shoulder floral dress and hugged his captive face into her cleavage.

The girls had Richie dressed in a flaring baby dress of pink corrugated silk with integrated silk petticoats. It was sleeveless and had lovely smocking across the yoke under its pretty Peter Pan collar. His diaper panty was in white satin, embroidered with little girl faces all round, and with white lace at each elastic leg cuff. His pantyhose was white, and inside his big-girl diaper, his cock was extremely stiff and helpless. His legs and arms did their best to defend himself, but he too was fastened onto his cushions and could do nothing about girls' hands that slid up under his pettis and found his newly developed, girl's titties.

"What have we found here, darling?" said Holly with a grin, her dark ginger hair falling onto his dress from her shoulders. "Well, well, well, these baby nipples are growing ever so stiff, girls, and I'm only fondling them ever so nicely, aren't I, sweetiepops?"

Richie "Mmmmmm-ed!" and wriggled on his rubber cushions but could do nothing to avoid her teasing. On his other side, Isabel leaned his neck forward and undid the buttons at the back of his pacifier, slipping it out of his mouth. "There, sweetheart, now you can thank Holly for making you feel so girly in your baby breasts."

But Richie wasn't feeling grateful. "I on't wanna be a baby gu-u-u-url!" he whined as Jen's fingers joined Holly's and felt how stiff his other breast was. The wretched boy moaned out loud with unfamiliar pleasure in his breasts, but his moans degenerated into whingeing and then outright crying as the girls took complete control of him and began undoing his ankles so that Chandra could take off his panties and undo his diaper.

"What every sissy baby girl should get is a nice clittie-suckies," she said, grinning up at him from between his thighs. The tip of her tongue appeared and licked its way round her lips, adding shiny moisture to the hot pink of her lipstick. Then Richie's penis came into view. "Ohhhh, loo-ook at it!" she cried, open mouthed, and planted a soft, wet kiss on its helmet. "Mmm-hm-hm-hmmmm!" she laughed, her mouth round his knoblet and her tongue caressing his glans with little flutters. "Who's going to dress little Rich," she said, releasing him for a second, "in his next girly dress while I'm sucking at his dainty, very stiff clittie?"

"I am," cried Ismea. "And I'm going to put our baby back into her girly babifying bonnet," said Isabel, "but first, baby needs to go sucky-suckies on her luverley big Jumbo again, so that she swallows all her girly juice."

The perfumes and lipstick and lovely girls' hair became all too much for the baby in the middle. He turned and twisted his head as if this was his last chance, and did everything he could to avoid his pacifier. His cock tried to wriggle in Chandra's mouth, so that she had to hold it more firmly with her tongue, while Isabel clutched his golden ringlets.

"Rose-Marie is going to hold baby's head still for me," she said, smiling into Richie's frightened eyes, and the poor boy felt feminine hands clasping him firmly round his hair as Isabel presented the orange teat to his teeth. A shake of his hair by both girls, and he parted them, accepted the jumbo teat, and had to close his mouth and tongue around it as the butterfly wings closed on his cheeks and the girls pulled the prettily striped silk ribbons round his neck to button him up into his pacifier.

"There's a helpless baby," sang Jen, reaching behind her. "And just to make sure baby doesn't ever try to resist his mommies, let's put our little girl into another big, satin ruffled babying bonnet." This one was in coral pink satin, with petticoat ruffles of white chiffon between each layer of ruffles, so that the bonnet was extra thick and extra wide. Almost as soon as she did up his pink ribbons into a big bow under his chin, Chandra gurgled and grunted at his cock, and spluttered with mouthfuls of helpless baby cum, sucking up and down, up and down on his shaft to encourage him to give her more and more.

"Aaaahhh, who's a good girly, having a baby orgasm in her clittie," cried the girls, and they cuddled him all over, on his breasts, round his bonnet and on his softly wriggling thighs. As they enjoyed his helpless surrender, a peal of laughter came from behind them, where Abby and Tabitha were giving Tim a rest after emptying the teat of his jumbo. The wretched youth chose that moment to make a faint-voiced plea for mercy.

"Pweathe can widdel me go home now?" he begged, with big, brown eyes pleading with Hannah above him. He looked imploringly up at her in her pink party dress with white lace at her wrists and across her bust.

"Oh no, pet," she smiled, bending low to kiss him on his forehead and again on his nicely permed hair. "I haven't had a chance to put you into this nice dress I'm keeping for you. You so want to be a pretty baby, don't you?"

"And Timmy wants to be a girl wearing girly diapers and baby pants, don't you, darling?" said Abby, sliding a set of blue and white baby-girl diapers under his bottom. She had changed into a lime green, silk jersey, party dress for the evening and was wearing Teen D&G perfume. Kerry was standing behind her in a white lace corselet, and stooped down so that her dark brown hair cascaded around Tim's face and shoulders.

"I know you don't want to lose all your silly male sex, darling," she purred, "but you belong to all the girls now. And we want you to stay here with us and be a little baby girlie, all dainty and helpless. You and little Richie. We want you to become girls, aged less than one year old."

Tim's lower lip trembled with horror as her deep blue eyes gazed into his.

"It can be hard to accept it, sweetie, I know," she continued, stroking his cheek with the end of one finger, "losing all your sex, and turning feminine, and being so weak and pathetic for the rest of your life. But you will both be so sweet, you see. And all the girls will be able to play with you in turn."

Whimpers of despair escaped Tim's throat as Abby taped his diaper shut around him and slid a pair of pink satin panties up his legs. He screwed up his face and wailed his despair: "B-B-But I jus wanna go wome!" he cried, and tears streamed from the sides of his eyes, bringing another burst of laughter from the girls. Tabitha leaned over him and slipped one arm under his neck, presenting his opened butterfly pacifier to his mouth.

"Yes, darling, you will be living here from now on, except when any of the girls want you to come to their house for some special teasing and baby playtimes. Open wide for Mommy Tabitha."

Tim fell silent, looking from one grinning face to another, and weakly opened his mouth to accept his jumbo pacifier as its teat squeezed his tongue to the bottom of his mouth. She wrapped him in its tabs and buttoned him up at the back of his neck. Hands spread over his arms and dress, petting him, and lips kissed any flesh the girls could find as Tabitha got his bonnet ready.

"And we mustn't forget, of course," said Abby, watching his face disappear in its white satin lining, "our babies just love wearing girls' pantyhose."

Holly and Hannah exchanged looks, then turned back to Timmy and parted the front of his bonnet. "Oh well we're all wearing pantyhose, sweetie!" and the girls lifted their dresses to show him. "In fact we can draw down our panties for you, and show you our pantyhose private places." They moved close and knelt down, taking Abby and Tabitha's places, and pulling their panties down to their knees. Then they surrounded Tim with real girls' pantyhose, kneeling on the edges of his cushions, and softly pressing and smoothing their pantyhose all over Tim's bonnet.

The other girls watched, feeling very excited, knowing how stiff their baby would be in his diaper from the bleating sounds of surrender that came from the ruffled baby-girl bonnet. "Mmmm," said Abby, fondling the inside thigh of his pantyhose as Tabitha did the same for his other leg, "I know a baby girl who is feeling really lovely, and is probably doing girly juicing inside her diapers and pantyhose right now."



***


In the next issue, Prim starts a new illustrated story of horrific humiliation in dress bondage: The Society of Matrons.