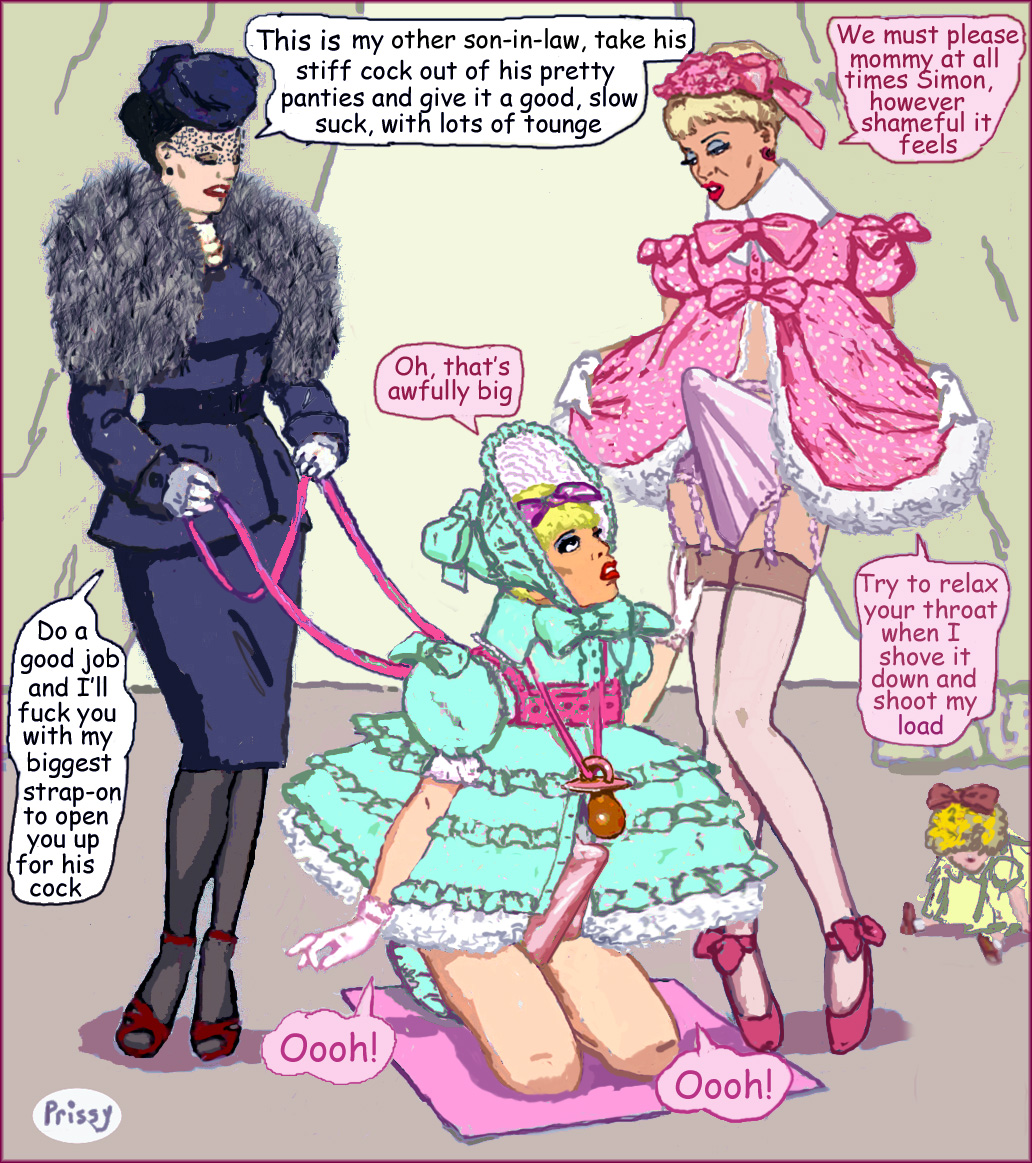 Sonja Shaming was a woman of bitter grudges against the two despicable males who had dared to trespass on her family happiness by trying to take her girls away from her. They would regret such impertinence for the rest of their lives.

It was unfortunate for them that her daughters, Penelope and Katerina, were dominant women themselves. The result was that husband Arnold found himself caught inescapably in the net of a hellish marriage in which his wife totally ignored him as she threw herself on a herd of male paramours, leaving her distraught husband to the cruelty of her mother.

And Sonja? What was her pleasure of choice? Why cocks, of course. Sissy cocks or male cocks it didn't matter, as long as her two sons-in-law were obediently sucking on them for her sexual amusement.

Husband Arnold, for example, she re-named Rosie-Lou Pantysilk, and his day-to-day life involved an emphasis on cock-sucking to convince the conceited little prick that his place was nowhere near her daughter, unless he was being fucked up the ass by his Mother-In-Law's dildo to demonstrate her dominion over him. And if the cunt was set the task of sucking off one of Katerina's men, he had learnt how he would suffer the caning of his life if he dared to fail in his self-feminization.

But now there were two sons-in-law, because Penelope had found herself a cute little dick to marry, securing his fortune, and gaining a second little cock-sucker in pink to keep Rosie-Lou company.

This was Ellie Twinkle, another feeble-minded blonde who would look just right in Lolita dresses and blouses with oodles of flounces and frills and his face framed in a pretty bonnet all day long.

"You're going to meet my other son-in-law this afternoon," she told the new girl as she pulled his pink satin panties into place over his astonishingly erect cock. "And guess what, you're going to use his sissy cock to learn how to suck cock right into your throat. Because that's how Penny's boyfriends like their cocks to be sucked. They want their knobs to be down your throat when they cum, with no chance of you not swallowing every last drop of their load. Now open your mouth and let's get you shut up like you should be!" Unless Ellie Twinkle was required to speak, or to open wide and suck, his mouth was to be rested and preserved by keeping it filled with a rubber ball, held immovably in place with elasticated straps round his neck.


-------------
Order Feminized In Frillies volume 8
to see how Sonja Shaming
dresses and humiliates both her sons-in-law
into shameful states of girlishness.
***