HOME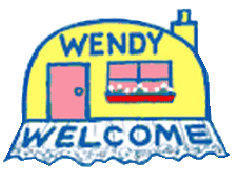 PAGE


--------------------
PRIM'S PETTICOAT PANSIES #38
--- a special PUBLIC HUMILIATION issue ---
is now available - Friday 30th April
ORDER HERE NOW@ 17.50 USD (=14 GBP)
CLICK HERE TO SEE MORE


This issue will not go into the Wendyhouse until October 2021.
------------------

My latest Newsletter is now
lower down this page
Tuesday MARCH 23rd.



--------------
2nd March 2021: PPP#37
our SISSY SCHOOL special,
is now in the Wendyhouse.
Members get all 37 issues of
Prim's Petticoat Pansies.
See the NEW FULL INDEX for all details.
-------------------------------------------
FEMINIZED IN FRILLIES Volume 7
ORDER HERE NOW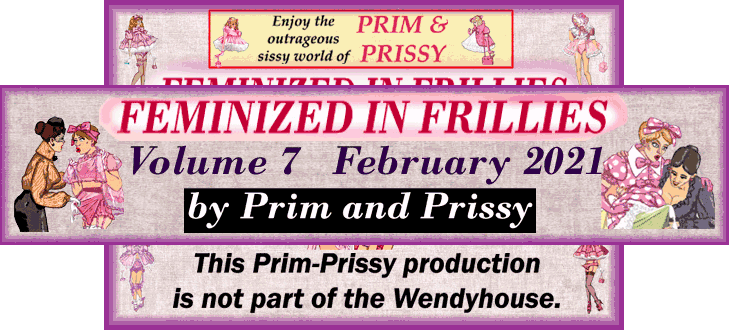 is now available
CLICK the panel to see the contents.
The Feminized In Frillies series
by Prim and Prissy
will not be going into the Wendyhouse.

---------------
---------------

Sissification on every page.

There are 631 Prim stories and 424 Prim pics for members in the Wendyhouse.
Take a look at them in the NEW FULL INDEX.
It's 12.00 USD per month for membership (about 9 pounds in UK) --- and you get THE WHOLE LOT!
---

---------------

A Prim picture without its Prim story is like
a wedding without the bride.

Members enjoy all 619 Prim stories
in Prim's Petticoat Wendyhouse.



Coming across your website and opening the Pandora boxes of delights by subscribing has lead me to such aroused states, so intoxicating, squirming in my silky panties.
Daisy --- 11th August 2020




Lovely stories Prim, an old favourite is: Invited For a Blousey Weekend at his Mother-In-Law's, I have spurted so much cum reading this story over and over. Yes it was a very large eruption and all thanks to your lusty titillating potent words about satin sleeve masturbation...Wonderful.
Satinlush --- Fetlife, 29th December 2020

UK membership costs 9.00 GBP a month (= 30 pence a day). Or as they say: that's 10 days' pleasure for less than the price of a cup of coffee.



-----------------------


We appeal to our readers






All our societies across the globe are facing a crisis
that will take the lives of many of us.
We know we all have a part to play
in keeping that tragic number as low as possible.
The most basic part we can play is to stay at home.
Then we personally will take no part in spreading this virus,
especially spreading it to our health carers
and our weakest members of society.

When you are released from Lockdown,
DO TAKE CARE.

-----------------




CLICK HERE to visit the Order Page for any of these:
Click each banner to see their contents.









------------------------------------------------------------------
Hello, Sweetheart
and welcome.

I am Prim's Aunt, Susan Frocks,
and I'd love to be your Aunt and Mommy.
Feel frilly and girly with me, darling, and
controlled by dominant women
when I take you into
Prim's Petticoat Wendyhouse.

Inside the Wendyhouse enjoy
ALL the issues of
Prim's Petticoat Pansies
and all the NEW art and stories
he adds each month.

EVERY IMAGE by Prim
and his guest artists
is enriched with a story by Prim.
A Prim picture without its story
is like a wedding without the Bride.
All the stories are right here
in the Petticoat Wendyhouse.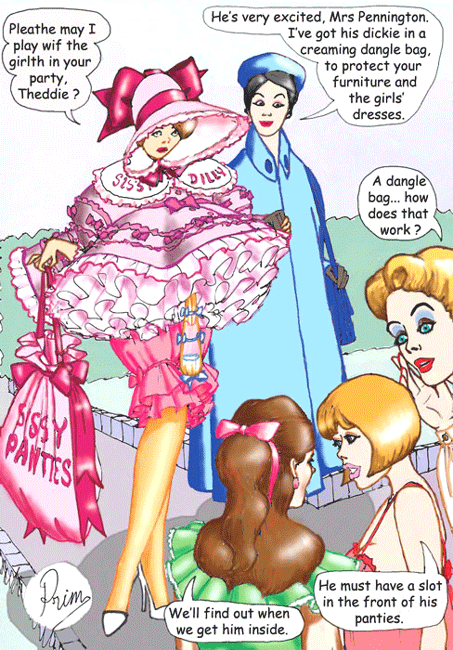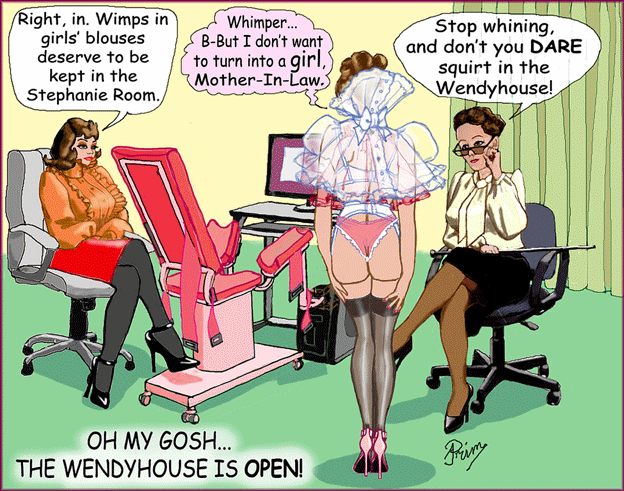 Dillon Goes to Seddie's Party

No wonder Dillon is excited: he is invited to Seddie's all-girls party, and he will be going as another girl. His Mommy gets him ready with a new pair of silk chiffon panties, and three layers of extra frilly petticoats under his party dress. But will he be able to contain himself, surrounded by so much femininity?

The full story is in Prim's Petticoat Pansies #14 in the
Jessica Room.




The Wendyhouse Is Open
This picture has never appeared in the Wendyhouse. It was uploaded into Flickr to advertise the launch of Prim's Petticoat Wendyhouse in January 2016.
Monika Satin on Flickr
In the Girls' Legs Suspending Room

Hell, you don't want to be here, in the Fem Ultima clinic, especially under this lunatic, Frau Doktor Strapz. What are these girls doing swinging from the ceiling. Hey wait a minute. They're not girls - they've got cocks of their own. Oh my God! It looks like I'll be next!

The full story of Walt Wisconsin and Michael Shoemaker, in 40 chapters, is in the Hannah Room.


His New Sissy Uniform

Ellis Fairchilde has been overwhelmingly elected school sissy. So Miss Archworthy, the chief secretary of the High School, delivers the package of his new uniform to his mother, to prepare him for his first presentation assembly the following day.

This story is in Prim's Petticoat Pansies #14 in the Jessica Room.



TOP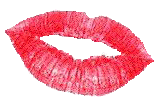 ---