HOME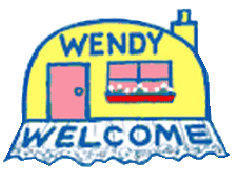 PAGE


------------------------------------------------
"Thank you, Prim, for letting me enter the Wendyhouse. I read the first story and creamed my panties, ooooh!"
Elaine (Pinterest) 13th January 2023
"The Penelope Room images make this sissy swoon!! And other things...Mmmmmm!
That this sissy "thrills" and "delights"
is gross understatement. "
Sissy Riki (Fetlife) 14th January 2023
---
Ten new Prim pictures
will be in the Penelope Room for Wendyhouse members
in the first week of February
starting today, February 1st
Click this panel
to see the contents.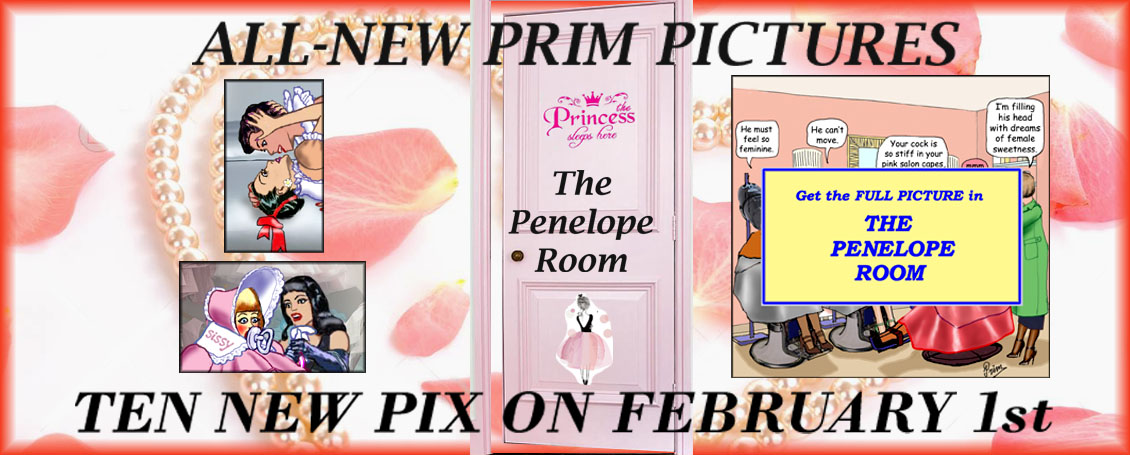 -----------------
Petticoat Discipline Corner - Parts 1 and 2
have now gone into the Wendyhouse.
Wednesday 1st February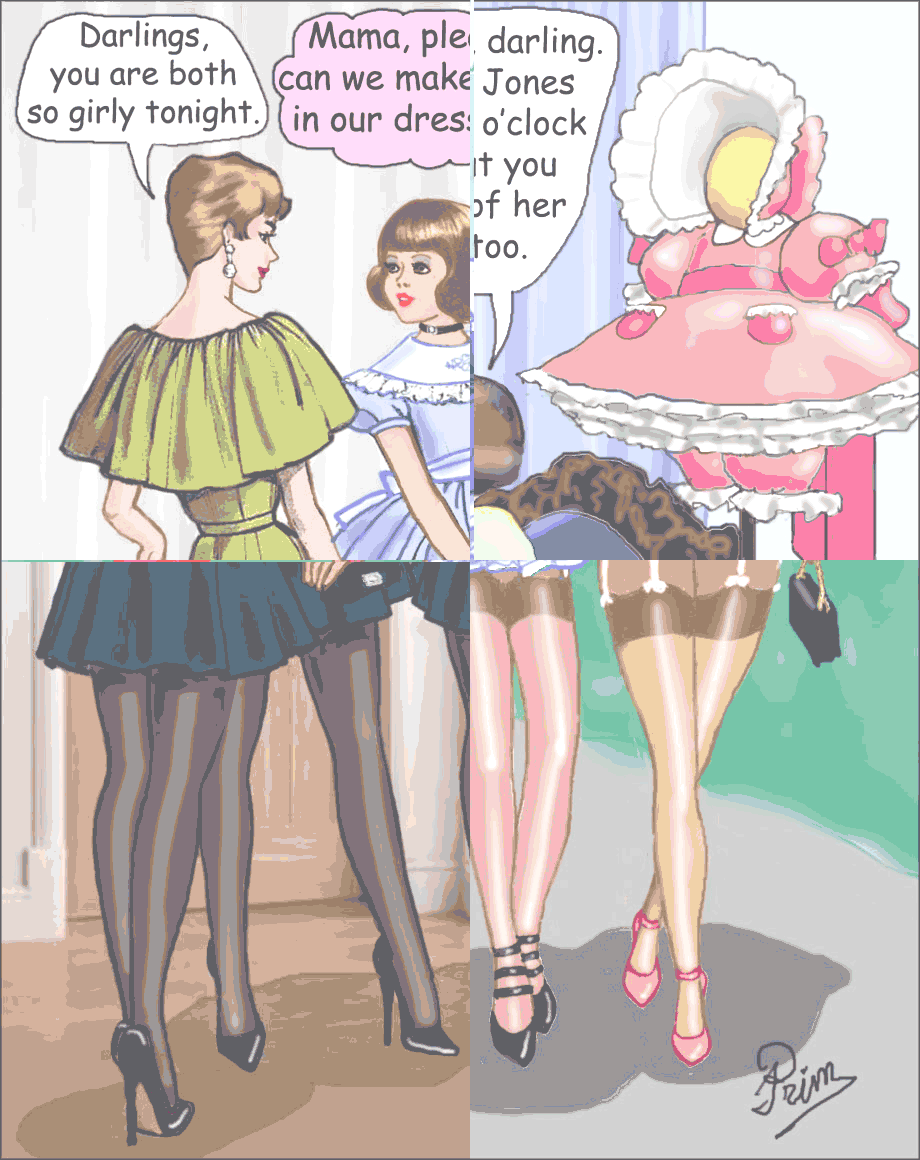 Click here
to see the contents.
-----------------------
Part 3 will join the members' Wendyhouse
in March
---------------
Prissy's Sissies #84
is now available to order @ 10.00 USD
from Sunday 15th January
ORDER PRISSY HERE
@ 10.00 USD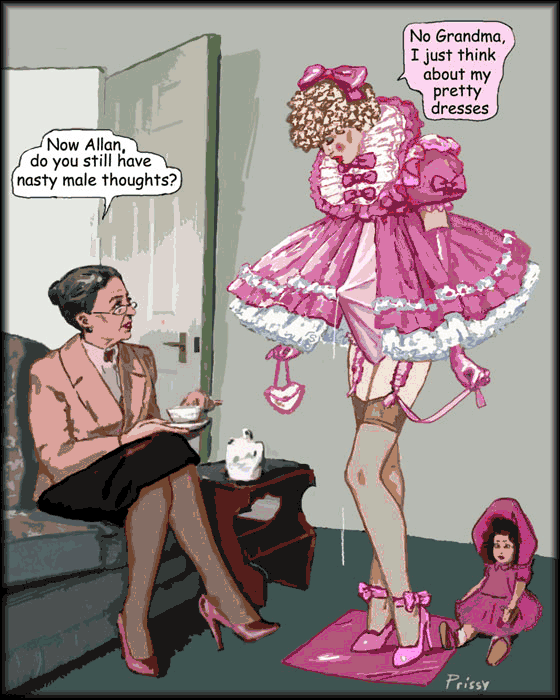 Click here to see the contents.
------------------
------------------

Part 6 of Prim's
Petticoat Discipline Corner
is available to order
from 23rd December @ 10.00 USD
ORDER PDC-6 HERE
Part 6 of PDC will not go into the members' Wendyhouse
until June 2023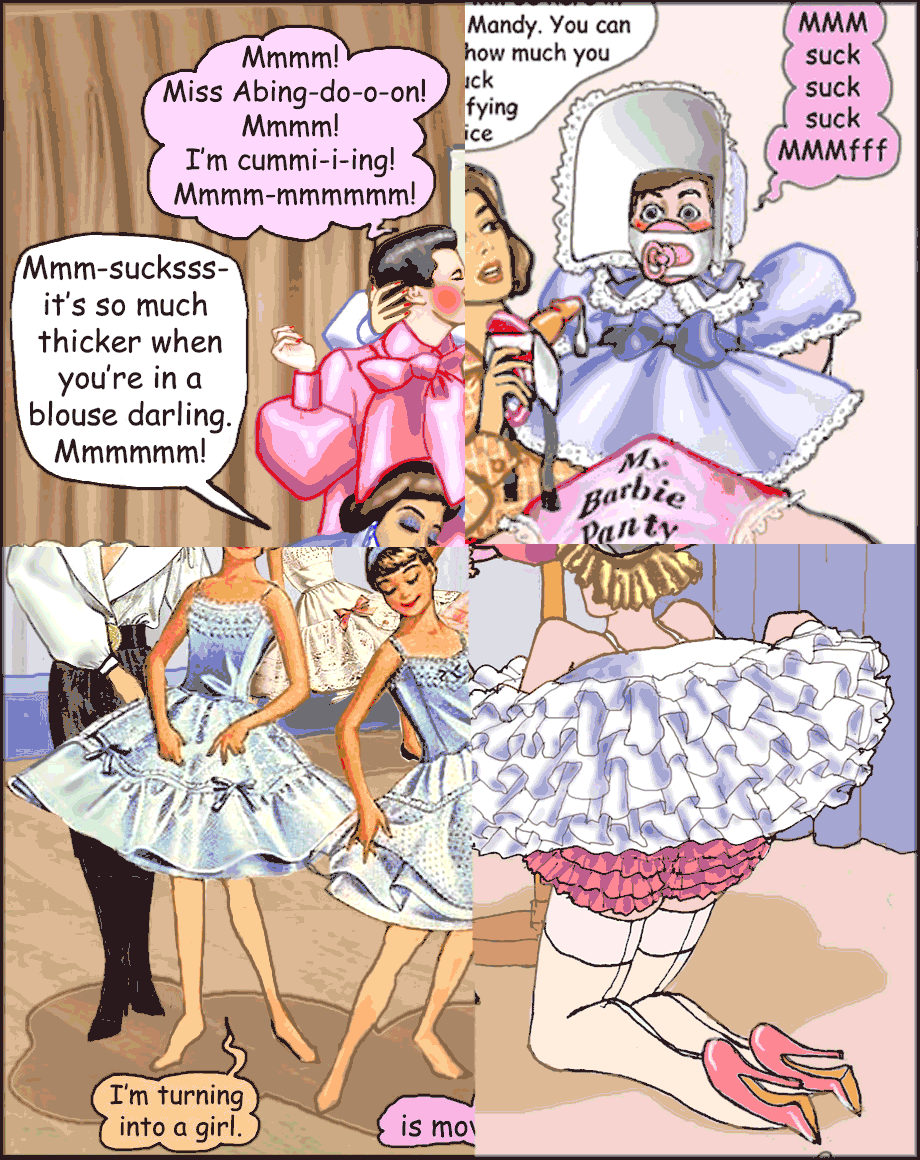 Click here
to see the contents.
-----------------------
-----------------------
All FEMINIZED IN FRILLIES prices
now reduced to 12.00 USD
Wednesday 19th October





ORDER FEMINIZED-IN-FRILLIES HERE

@ 12.00 USD
------------------

Aunt Frocks' August Newsletter No.38



is now on this page.
Saturday 27th August.
See the panel down right.
------------------
There are now 130 new Prim pictures
for Wendyhouse members
in the Penelope Room
that you have never seen before.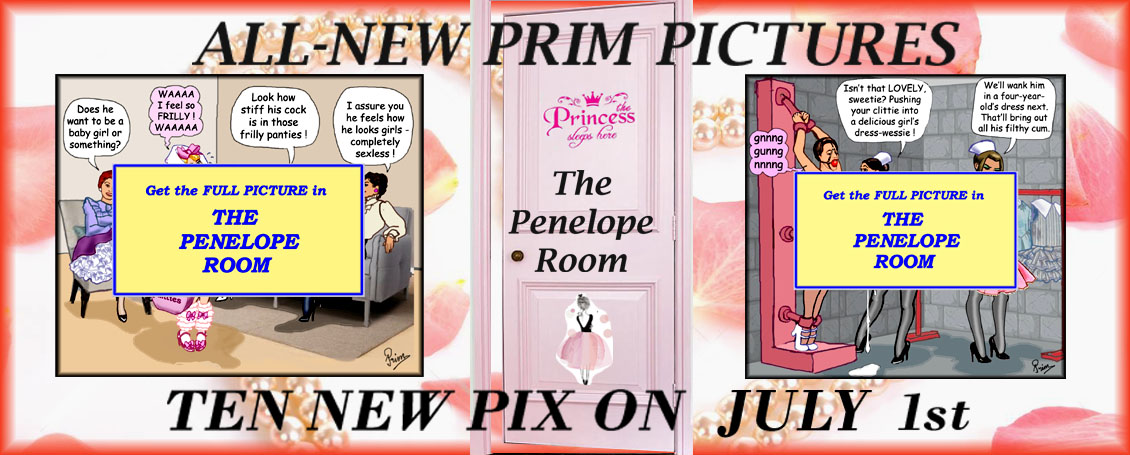 Click here to see the July additions.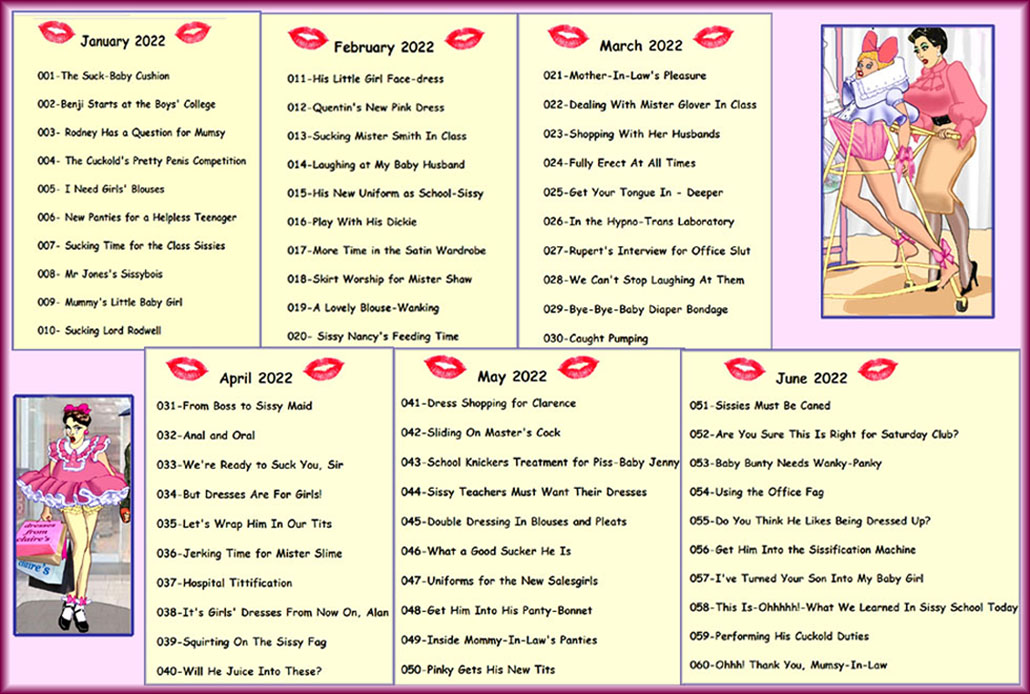 -----------------
There will be 10 more Prim pics
on the 1st of every month.
-----------------



--------------------
Prim's Petticoat Pansies #39,
--- Our special 'DEEP HUMILIATION' issue! ---
is now in the Wendyhouse
Friday 1st April.
CLICK HERE



TO SEE THE CONTENTS.
-----------------
FEMINIZED-IN-FRILLIES Volume 9
IS NOW AVAILABLE
ORDER FF-9 HERE
@ 15.00 USD (=11.00 GBP)

CLICK HERE TO SEE MORE
------------------
SO WHAT DO YOU GET
FOR YOUR 12 DOLLARS (11 POUNDS) IN THE WENDYHOUSE?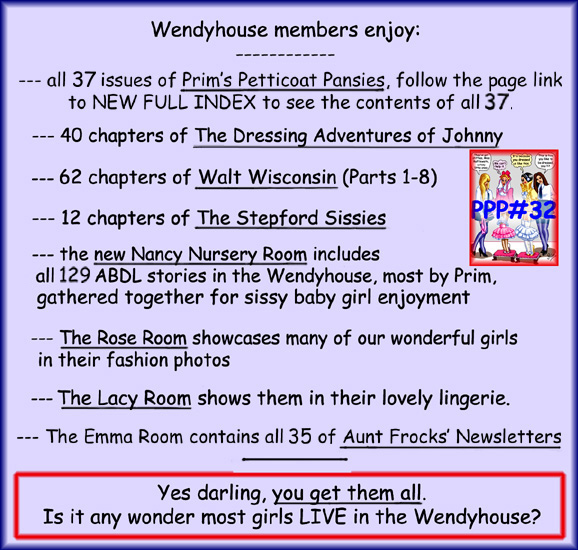 (You can unsubscribe and rejoin at any time)
There are
668 Prim stories and 540 Prim pics
for members in the Wendyhouse,
and you get
ALL of them
!
---------------
A Prim picture without its Prim story is like
a wedding without the bride.
Members enjoy all 668 Prim stories and


540 Prim pics

inside Prim's Petticoat Wendyhouse.



"Thank you thank you for continuing the hard work on your site. I try to support you by purchasing everything you offer. I'm a life-long sissy in love with lace, ruffles, petticoats extreme prissy dresses and the strict aunt look. Not into the baby stuff or extreme bondage but love the bisexuality of the site. Especially sissy on sissy sex."

Bridget [email] --- 22nd October 2022




"Really enjoying Wendyhouse. Finally a place for people like me. I can't believe I hadn't checked it out sooner. Thank you"
Frilly Sissy (Fetlife) 23rd October 2022

"I love SO many of your pics and definitely get very excited when I can succumb to Mother-in-law as of Wendyhouse."
Spill the beans [flickr] - 11th October 2022



UK membership costs 11.00 GBP a month (= 40 pence a day). Or as they say: that's 10 days' pleasure for the price of a cup of coffee.



------------------------------------------------------------------
Hello, Sweetheart
and welcome.

I am Prim's Aunt, Susan Frocks,
and I'd love to be your Aunt and Mommy.
Feel frilly and girly with me, darling, and
controlled by dominant women
when I take you into
Prim's Petticoat Wendyhouse.

Inside the Wendyhouse enjoy
ALL the issues of
Prim's Petticoat Pansies
and all the NEW art and stories
he adds each month.

EVERY IMAGE by Prim
and his guest artists
is enriched with a story by Prim.
A Prim picture without its story
is like a wedding without the Bride.
All the stories are right here
in the Petticoat Wendyhouse.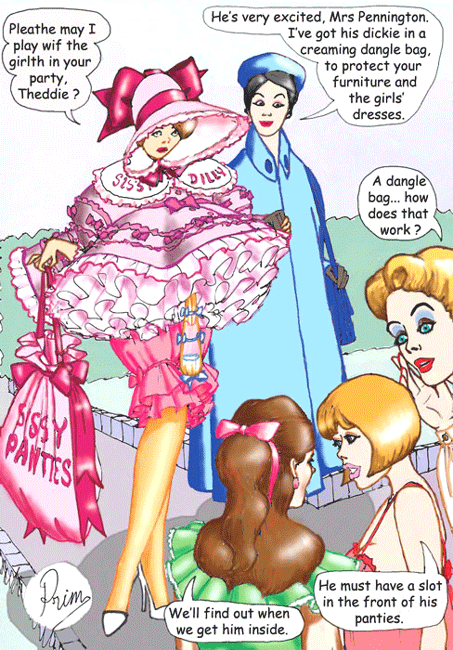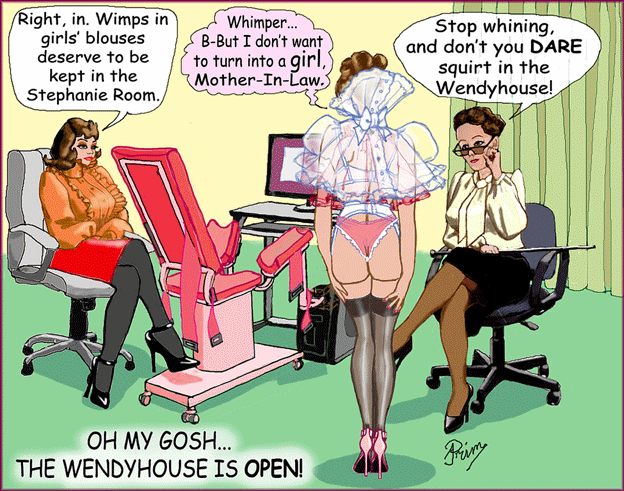 Dillon Goes to Seddie's Party

No wonder Dillon is excited: he is invited to Seddie's all-girls party, and he will be going as another girl. His Mommy gets him ready with a new pair of silk chiffon panties, and three layers of extra frilly petticoats under his party dress. But will he be able to contain himself, surrounded by so much femininity?

The full story is in Prim's Petticoat Pansies #14 in the
Jessica Room.




The Wendyhouse Is Open
This picture has never appeared in the Wendyhouse. It was uploaded into Flickr to advertise the launch of Prim's Petticoat Wendyhouse in January 2016.
Monika Satin on Flickr
In the Girls' Legs Suspending Room

Hell, you don't want to be here, in the Fem Ultima clinic, especially under this lunatic, Frau Doktor Strapz. What are these girls doing swinging from the ceiling. Hey wait a minute. They're not girls - they've got cocks of their own. Oh my God! It looks like I'll be next!

The full story of Walt Wisconsin and Michael Shoemaker, in 40 chapters, is in the Hannah Room.


His New Sissy Uniform

Ellis Fairchilde has been overwhelmingly elected school sissy. So Miss Archworthy, the chief secretary of the High School, delivers the package of his new uniform to his mother, to prepare him for his first presentation assembly the following day.

This story is in Prim's Petticoat Pansies #14 in the Jessica Room.



TOP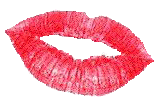 ---