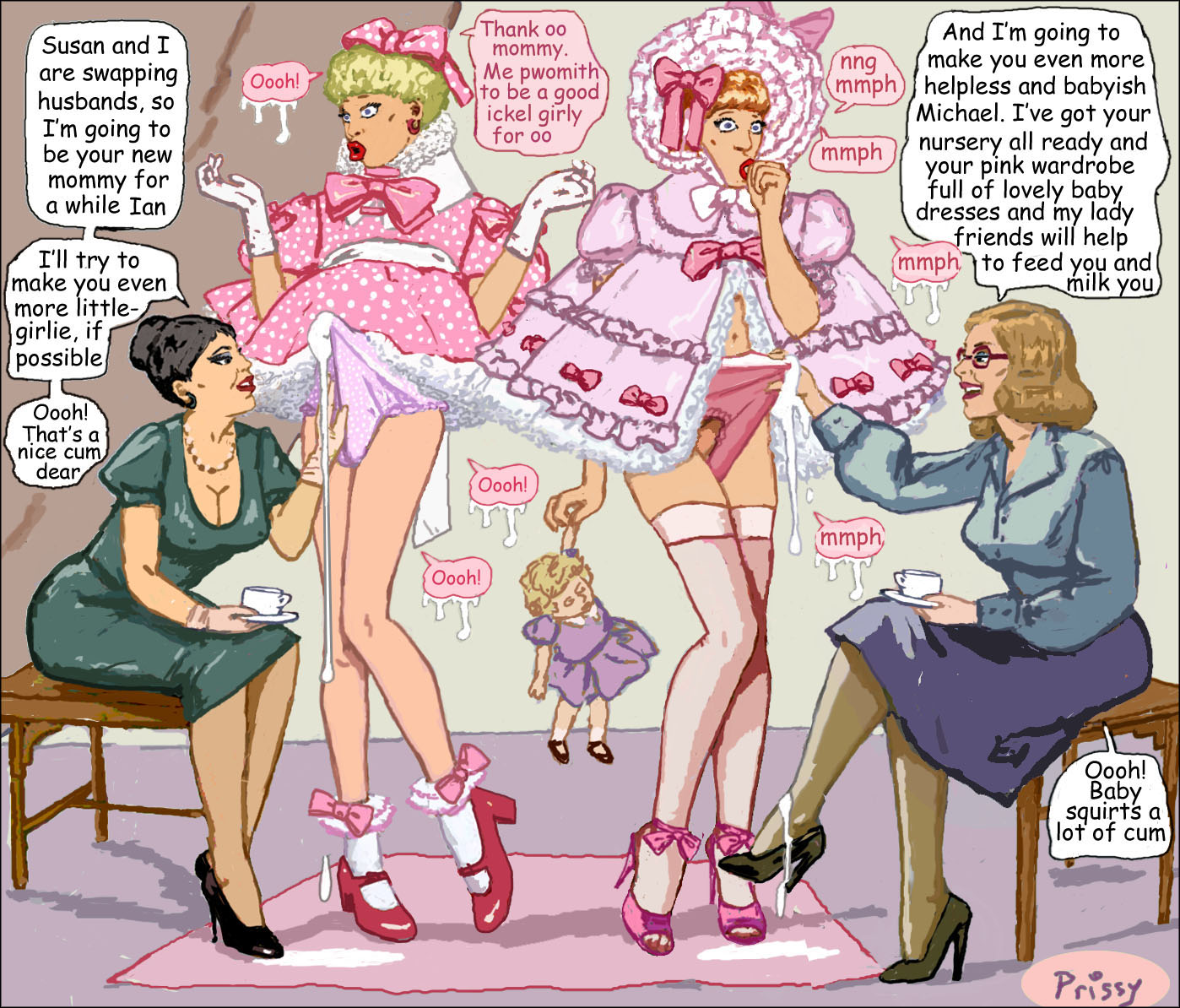 I invited Susan over with her truly pathetic husband. She had totally sissified the wimp. He was such a ridiculous demonstration of girlish sexlessness that I literally couldn't keep my hands off him.

"Can I hold him, Susan dear? What a gorgeously emasculating dress you've put him in."

"I know," said Susan, leading him straight up to me. "Whenever I dress him in pink he goes weak at the knees and his elbows just go like a fairy."

"Take my fool over there, Susan, and make him dribble. He'll probably wet himself, if he's looked after by a woman as attractive as you."

Susan's husband Ian was wearing a little girl party dress scattered all over with white polka dots. It didn't even cover the panties Susan had got him in, so his legs were adorably long and defenceless. "Hello sweetie," I cooed, taking one of his white satin gloves and drawing him close to my skirt with my other arm round his legs. "Tell Mummy Josie how you are feeling in your luvverly dwess?"

A quiver of girlyness ran through his dress and down into his bare legs, and somehow he surrendered himself to me.

"Oh Mummy Josie, I - I feel dainty and fwilly in my pwetty new dwess and petticoat," and he used his free fingers to fuss the lacy edges of the dress frills around his jaw and cheeks. "Look, it'th got pwetty pink bowth!" and he gasped to recover his breath from the pleasure of fluffing the satin ribbons on his puffed sleeves and at his throat.


-------------
Order Feminized In Frillies volume 9
to see how Susan and Josie find new inspirations
for humiliating males when they get their hands
on someone else's son-in-law.
***