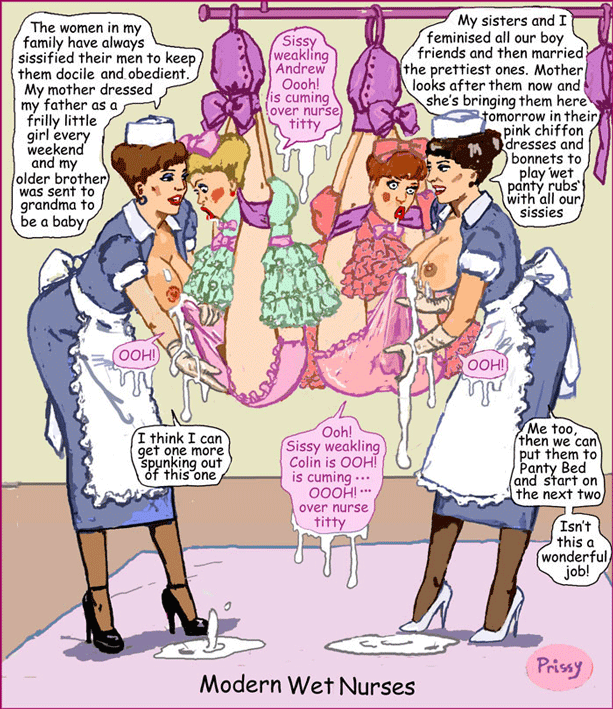 Oh my God, what have I done to deserve this? Why me? These nurses are pitiless. Will I ever get to breathe the free air of the street again outside this infernal clinic of misery and humiliation? Ohhh! Urrrgghhh! No wonder these shivers of shame shoot through me, especially when I'm fastened into one of these frames with my legs secured above me to the back of my sissy buggy. And my hands, fastened down below my ass. How humiliating to have the point of my panty gusset available in front of me for any passing nurse - or female visitor - to grab it and -

Ohhh, please no. please don't! One of the nurses is pulling on my cock, sliding the silk gusset of my panties up and down my shaft. Please have pity on me. I'm - I'm ejaculating! - I can't take any more of this. Pleeeease! Ohhh! Oooohhhhhh! I'm coming! I'm coming into your latex glove! I'm co-o-o-omingggggg!

Oh thank God - she's let go of me. "That will teach you to be less than male, you little sexless creep." I hang my head in shame under her scolding, because she's right. I've been reduced by the women in my life to a nothing, a cock-sucker and a faggot. And now I have to be reminded of my infantile, unsexed life with a week in the Fanny and Tit Clinic to remind me of my subservient role towards all women. Oh the agony in my aching cock. No wonder it points up in a shameful confession of my surrender to my own feminization.

Oh no! there are at least six nurses in the powdering and playroom. Nurse Fullsurge wheels me in in my up and over baby-buggy, my arms fastened to the pink plastic side and my legs up in front of me. Suck, suck, sucks. I suck desperately on my pacifier. My eyes flick from one divine latex bib to another as they slide relentlessly from side to side across the nurses' almost bare tits. They send me into a fever of desire. I've got to have tits. I need to kiss and lick and suck, just like my face has to be smothered by a mercilessly flattening, sitting woman as I disappear under her fleshy ass, her cunt spreading wetly over my nose and my mouth.

-----------
Order Feminized In Frillies volume 3
to see how the nurses use their tits
to humiliate and train their sissies.
***