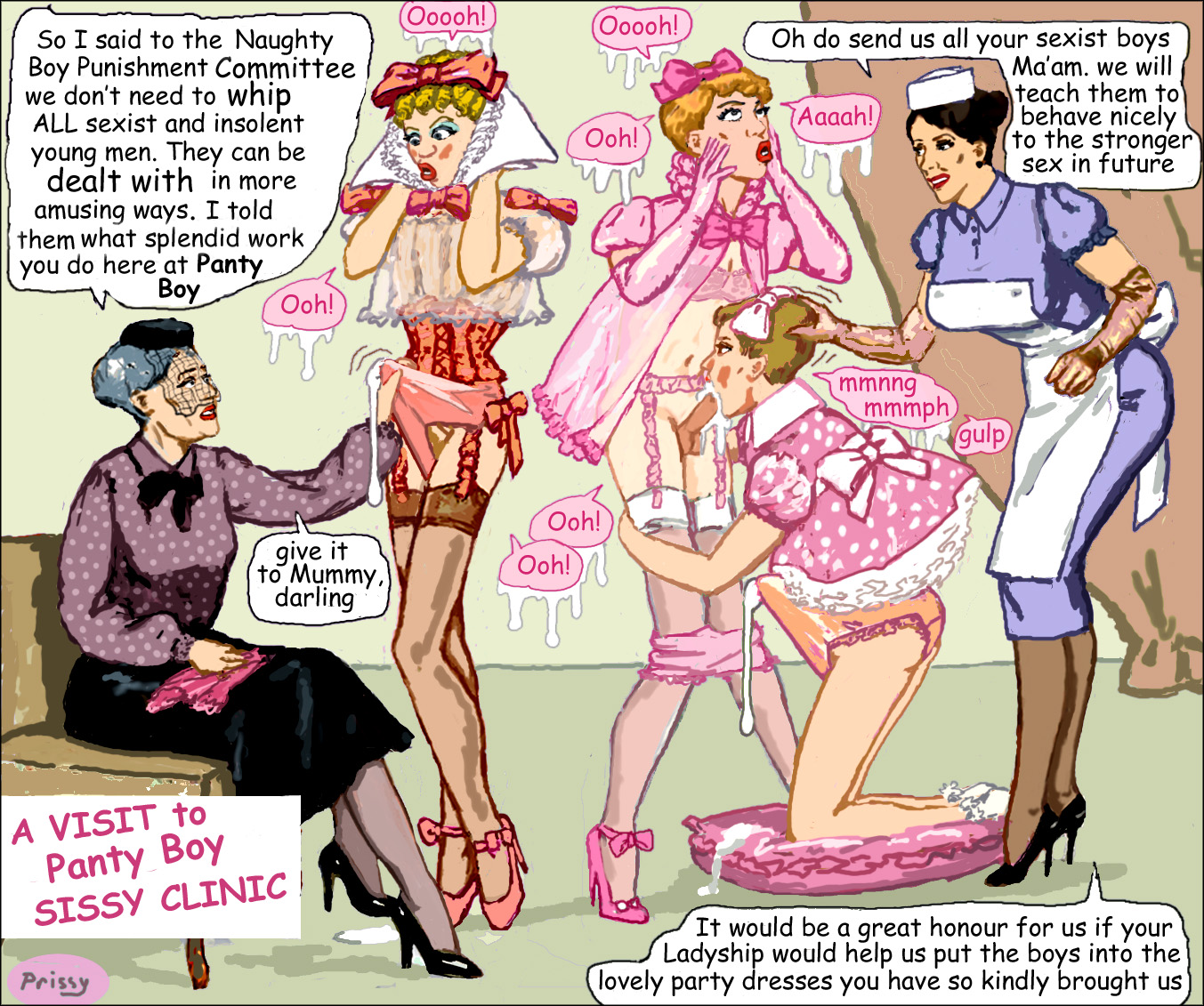 "Hello - the Panty Boy Sissy Clinic. Matron Tightlace speaking."

"Good morning Matron. Lady Miriam Swanking here. I wonder if I can arrange to leave some very naughty boys with you for severe dressing treatment?"

"Oh dear, Lady Swanking. Are there more of those awful males who abuse women and girls and think themselves so wonderful and superior?"

"Yes indeed there are. How ridiculous of them, not to recognise the strength and virtue of women. It quite makes me sick."

"How many nasty males do you want to bring along, ma'am?"

"I've got three of them. One, who I call Terence, used to own a business and refused to employ any women. The second one, Gabriel, claims with his loud mouth that he can do the job of two or three women, and the third, Gareth, forced himself on a poor girl and kissed her when she didn't want kissing. Can you imagine that?"

"Shocking! Well, Lady Swanking, we are here to correct these dreadful attitudes in such men as those. I presume you have them suitably dressed for conditioning?"

"They are feeling very sorry for themselves in little dresses and girls' lingerie, secured in the sissy transport and ready for Panty Boy. I'll have them at the clinic in half an hour. Good bye."

When they arrived at the clinic, Nurse Latex took immediate charge of the criminals and marched them into the conditioning laboratory. Lady Swanking was keen to take a full part in their re-directional training and sat down to watch and lend a hand whenever she could. "I've given them their first doses of oestrogen and dopamine," she said, "as you can see from how weepy and delicate they are. I like to see hateful males start to surrender their aggression and turn to graceful sweetness instead."

"That's excellent, Lady Swanking," said the nurse. "Even so, they will need their Fembase90 to make sure they start feeling feminine as soon as possible. Open wide, Terence - gooood boy!" The syringe reached the back of the young man's throat and in no time he had swallowed all 300 grams of the powerful syrup. It was a crucial step, as both the nurse and Lady Swanking knew, because the influence of this feminizing drug could not be reversed.

"There's a good sweetie, Terence darling," cooed Lady Swanking, taking his hand and drawing him close to her skirt. She wrapped his legs in the soft silk of her blouse sleeves for a seductive cuddle. "You're such a good darling for swallowing your nice medicine I'm going to put you into this lovely see-thru blouse with peach pink ribbon bows at the shoulders, and a pretty collar to surround your cheeks and hair. Oh yes, you look lovely, my pet. Now, let Gareth hold the top of your leg here in his hands - while I play with your nice panties. There now, isn't that a lovely feeling, dear? Hmm? - Of course it is: that is how GIRLS feel, darling, and I want you to get used to it."

Nurse Latex in the meantime administered Fembase90 to Gabriel, holding him in her arms with his face buried in the latex bib of her nursing apron until he began to squirm with dainty feelings and bleat with worry at how soft and sissy he was feeling. "Good boy, Gabriel," she cooed in his ear, "I want you to know how lovely girls feel in their dresses and lingerie. So I'm going to lower your panties - like this - and reveal how erect your lovely penis is. And do you know why?"

"N-No Nurse," came the weak response.

"Because sissy girls like to feel other sissy girls fondling their cock, my pet. Gareth dear - " and the boy in the pink silk polka dot dress turned obediently and came up close to hear what he must do, "I want you to kneel on the sissy-suck cushion and take your sweetheart's cock in your hands - and play with it so that Gabriel feels ever so girly. Will you do that for me?"

"Oh yeth - yeth pleathe." The boy sank to his knees and clasped the stiffened member in his fingers, gazing at it as if he held a priceless treasure. As if by instinct his lips parted and he dabbed a soft kiss on its helmet with his opened mouth, before closing his lips and sinking over the whole knob, holding it there in a delicate, wet, sucking kiss.

"Ohhhhh!" gasped Gabriel as Nurse Latex held him from behind to save him from collapsing at the knees. "Ohhh that's so --- oh it feels so girly when you kiss my dickie, darling!" he cried, and his hands found their way round the back of Gareth's hair to pull him onto his cock.

Lady Swanking was frolling her fingers up and down the pantied cock of the boy in her arms and bringing swooning moans of pleasure from his throat. "Ohhh thank you, ma'am - thank you, that's so sweet - so lovely. I love my pretty blouse - I feel so cute in it, and so femmy."

"Good boy, Terence dear. Now, what you need most is for Nurse to make you feel really girly by putting you into a nice dress. Would you like that, sweetheart?"

The sissy squirmed this way and that as feelings of weakness and daintiness swept through him. They hated the sense of loss and failure that weighed on them when they could see that dresses were getting closer, as if being put into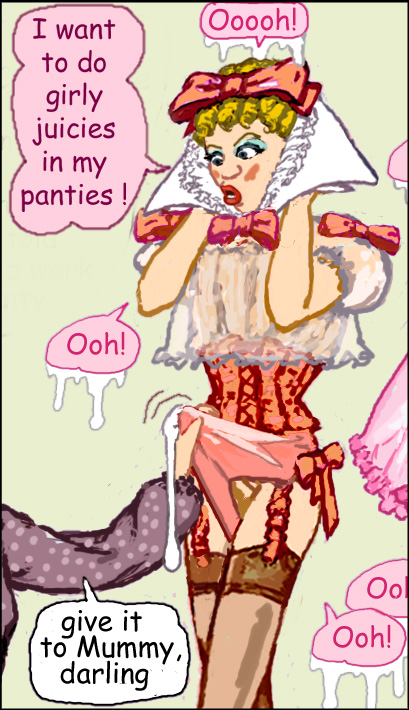 a dress - a really pretty dress - signalled a definite change from being male into becoming female. "I - I don't know," he whispered, his voice trembling and his knees squeezing into each other.

The other two sissies reacted in the same way and clutched onto each other as if being together might protect them from the worst effects that dresses might mean for them.

But Nurse Latex stepped firmly across the conditioning lab and opened the large closet against the far wall. A wail of dismay escaped all three sissies as they saw the shocking spread and sway of countless delicate dresses in pastel colours and glossy, rustling fabrics. They were all so GIRLY!

From then on the boys had very little control over the sounds that escaped their throats. Nurse Latex pulled a handful of dresses out of the line and hung them on the front of the closet. Then she singled out one of them and brought it to Lady Swanking.

"I think this sweet dress will have the desired effect on sissy Terence, ma'am," she said. "What do you think?"

It was a pale blue satin dress buttoning at the back with rounded collar and puffed sleeves. "I like it," said the visitor. "I think its sash will do into a bow so girlishly over his dress buttons at the back of his waist, and it has its own petticoats to fill out the skirt so girlishly. Yes, please dress him in it."

Terence willowed and whimpered endlessly as the nurse gathered the dress in her hands and dropped it over his head. The swish and rush of dress materials filled his head as all the femininity of his dress slid from his face onto his shoulders and down his chest until it settled around him and the nurse could arrange it sweetly on all sides. She fastened his dress buttons behind him and gathered the sash ribbons, folding them into a large bow. He looked all round himself, his mouth open with wonder, and started to play with its skirt. It was lovely the way it swayed and swung on his petticoats. Lady Swanking pulled him closer so that she could do as much fussing and arranging as he was doing for himself.

For Gabriel, Nurse Latex chose a girls' sun-dress of green and white gingham with a little white blouse with Peter Pan collar and puffed sleeves at his shoulders. He was beside himself with the feelings of femininity they filled him with, especially with the whiteness of the pretty blouse across his shoulders and chest.

"I'm so girly," he whooped, wanting to tell everyone how sweet he was in his blouse and sundress. "Ohhh I love it! I want to be a sweet girl forever!" Beneath the hem of his dress, the lace edging of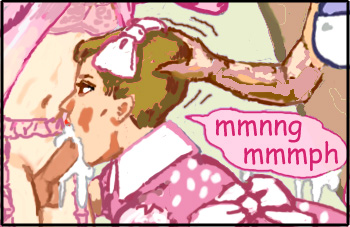 his petticoat revealed the pulling stretch of his panties. Being dressed in a girls' dress like this was more than his cock could take and it began to seep dribbles of unwanted sissy cum through its tightly stretched panty-point.

Lady Swanking held Terence round the waist so that she could hold his stiffened panties. She wanted Gabriel to kneel at his feet, hold him round the legs, and kiss and play with his silk panty bulge. The little imp in his blouse and sun-dress was thrilled to close his lips over the stiff shape of Terence's cock inside those beautiful pink panties, and it came so naturally to him to sink his lips right down the silk-covered shape of the boy's penis - bringing a deep moan of ecstasy from the defenceless sissy in her arms.

Meanwhile, a few feet away, Nurse Latex was undressing Gareth, his pink polka dot dress slipping to the floor for him to step out of. Instead she had a special treat for him: a girls' party frock, brought along by Lady Swanking so that his little cock could become so stiff and aching while the ladies were turning him into a little girl. She put him into petticoats, one, two and three, so that they frothed around him so widely up to the level of his waist. Then she held the dress above him and softly lowered it so that his face disappeared inside the glossy pink satin of his classic party frock, with a white panel of lace edged satin at the front of his bodice, over which was a wide Peter Pan collar in white satin, trimmed all round with half an inch of the sweetest lace.

His puffed sleeves were so large they seemed to surround his blushing face as he gazed at one, then turned to gaze at the other. They were cuffed in white satin with the same lace trimming. All round the spreading skirt of his dress was a row of darling ribbon bows, each in contrasting white satin and making him feel so girly under his petticoats, where he knew his cock was so stiff and so filled with blissful girlishness. It was only a matter of moments before he stood, his legs squeezed together, and spent a wonderful, throbbing, squirting orgasm into his panties which ran in dribbles down both his legs.

"Thank you Nurse for dressing our naughty boys as they deserve for being so beastly towards women and girls," declared Lady Swanking as she pulled Gabriel's head up and down on Terence's pantied cock.

"Not at all, Lady Swanking," replied the nurse. "We are most grateful here at the Panty Boy Sissy Clinic that you search out these terrible examples of misogyny and bullying and bring them to us for our feminization conditioning. We are only too pleased to change the balance in today's society from macho men to girly sissies - and these three will grow more and more frilly as each day goes by and they discover the overwhelming sweetness of being put into the prettiest of girls' dresses."


-----------
Order Feminized In Frillies volume 1
to read the other seven stories in this issue.
***