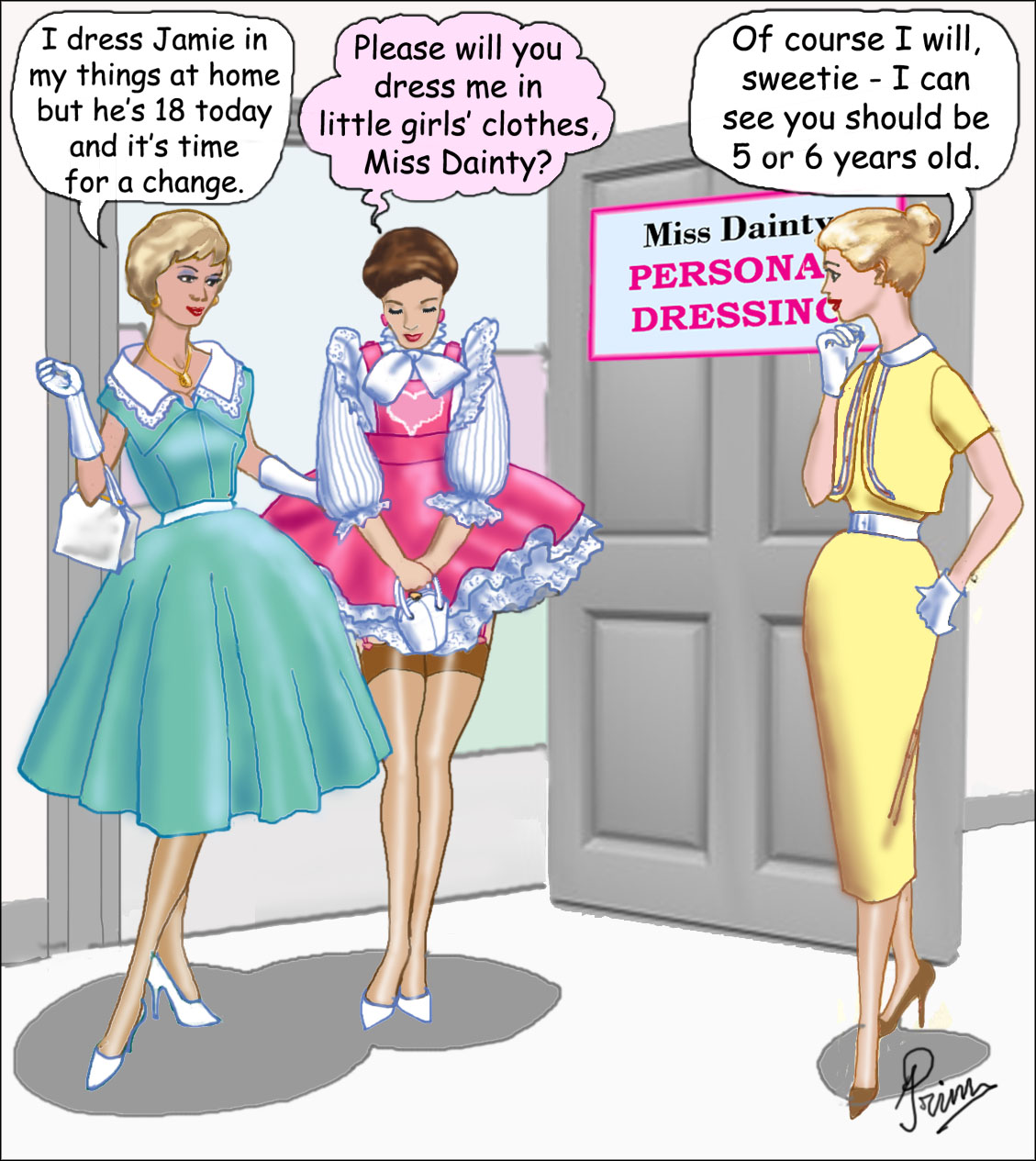 It is Jamie Rufflewaite's birthday and his life is about to start a new episode. That is why his heart is racing as his stepmother leads him into her bedroom with his bottle of warm juice in her other hand. She sits in her armchair facing the mirror, as she does every morning, spreads the skirt of her dress in eggshell blue taffeta, and beckons her naked stepson to sit in her lap. She likes him to watch her feeding him his special juice; it makes him dependent on his mommy to make him so blissfully happy.

Jamie sinks his bare ass into the satin of her skirt and lies on her arm. He feels a hint of unease this morning, stirring at the back of his mind. "Mommy, do I still have my morning juice? I am eighteen years old now, not a baby any more."

Janet looks into the mirror where her own blond bangs surround her face above her stepson's fine, straight hair of dark brown. She holds the plastic juice bottle in front of his bare chest, its white contents waiting to be drunk, its beige plastic teat standing three inches up to his chin, the same height as the bottle itself. If he takes his juice in strong pulls it will be emptied in four or five gulps but she likes him to suck it softly, like a baby, to make it last a full minute. By that time the Fem-Aggra content kindles those warm, eager longings in him from head to toe: his wish to be dressed, his longing for nylon, silk and satin. She lifts the teat to her scarlet lips and closes her mouth over it, coating it in her female saliva and bringing it out with a wet drool hanging from her lower lip to the plastic tip.

"Yes, darling, Mommy's little pet is eighteen years old today and he is no longer her baby." She turns the teat towards him and presses it between his lips so that he softens them for her to push it deep inside. "Now he becomes her little girl, so sweet, so pretty, so feminine." She watches his lips draw on the bottle, his delicate chin bobbing as if tasting his excitement as he sucks her adorable Mommy saliva, followed by the first squirts of his girling juice.

Jamie looks up at her oval face in her soft, blond hair: her thin nose, her brown limpid eyes and her shiny full lips with her smile hovering above him. He lowers his gaze onto the halter collar of her sundress in turquoise silk with its over-collar of white organza and lace framing her hair like a princess portrait, the dress she had dressed him in two days previously so that he could sit beside her on the settee as they watched fashion TV. He feels a stirring of excitement warming his girl's mound and clitoris, then the draining of his juice tells them both that his bottle is empty. Janet puts the bottle to one side and looks down on her sissy, gently clasping the finger-tips of one hand round his cheek and stroking them under his chin, then cupping the side of his face to make him look into her eyes.

"My darling, I want to dress you in these for your birthday." She lifts into view her exquisite pair of oyster pink French knickers, and also her lacy cup bra of the same set, with matching suspenders. She sets them down and shows him the sellophane pack of Fully Fashioned nylon stockings.

A gasp of ecstasy escapes her stepson and the warmth of his arousal spreads through his whole body as she sits him up in her lap to dress him in the heavenly lingerie. Her bare arms are round him as she rolls a stocking onto one of her hands, presents it to his toe and spreads it over his foot and ankle, drawing the fine hose up the length of his shapely leg. The second stocking, soft and dainty, brings him as much excitement again until its welt lies loosely half way up his thigh. How lovely he feels to have her lean him forward and pass her suspender belt round his waist before clipping its hooks and eyes together at the back. Her fingers stretch each of the four narrow, plain suspenders to thread its clip onto the nylon welt so that it pulls hard and grips his whole leg in its sheath of feminine hose. Her brassiere ripples through its stiffened cups, pastel pink outside and in. Jamie loves wearing his stepmother's brassieres: they make him feel as if he is in her body, wearing her most feminine apparel, dressing his girlish breasts. She clips him into it with three dainty hooks and eyes and runs her fingers forward and back under the straps that snap on top of his shoulders. The panties, filling Jamie with desire, are wide in each leg, trimmed with deep lace, gleaming from the window as the satin flows like liquid up his calves, over his knees and up his thighs. The ruched waist is generous in its satin gathers but narrow in its elastic, fitting snugly into the valley above each hip, while his clitoris settles like a contented kitten into the soft smooth gusset that kisses Janet's tussie whenever she wears them. She has one of her white pairs of high heeled pumps to slip onto his feet. "Up," she declares, and he is standing as tall as his Mommy with his legs stretched into perfectly girly curves. "It's time for my little girl's birthday present, now that she is ready to wear it."

Jamie's bra swells with a deep gasp. His stepmother has something for him to wear for his birthday, obviously something very feminine to go over such classic lingerie. Maybe she'll put him into her pink and white striped cotton day dress with its crisp, wide, 50s style skirt. She knows how lovely he feels when she dresses him in that. Or maybe her white, transparent plastic mac. He gets so excited when she buttons and belts him up in it and lifts the hood to enclose his head in crackling, feminine fabric. He watches her open her closet and reach inside - to see her bring out a long plastic wrapping, which she sweeps off over the top and reveals - ohhhhhhhhhhhhh! - a fabulously pretty little skirt. Not one of hers! It must be for him! It's so small, in strawberry pink silky material, hanging by shiny shoulder straps from its hanger and with a girly love heart in the middle of a lovely bib - and white petticoats underneath, blossoming all round and sticking the skirt out like it's for a little girl.

But she hasn't finished. She reaches back into the closet and brings out the sweetest white blouse with rows of ruffles down the bodice and over the shoulders, pretty cuffs on long, full sleeves and a ribbon bow at the neck. Jamie stands in front of the cheval mirror to be dressed, his eyes devouring his pink lingerie, as Janet holds the blouse for him to feed his arms into its sleeves. What bliss as he she fastens him into it down his back. She takes the skirt, bouncing on its integrated petticoats, and unthreads it from its hanger in a sizzle of dark pink satin. It too buttons down the back of the skirt, so he feeds his hands through the straps for the skirt to embrace him in its petti frills of soft, white silk.

"Mommy," he gasps, looking at himself and holding the edges of his petticoats, "I feel so femmy in my blouse and skirt. My clothes are so young - for little girls: this is just how I dream of being dressed."

"I know dear," says Janet. "I asked the dressmaker to make it as if for a little girl of six or seven." She laughs when Jamie's hand goes to his mouth with childish delight. "This is the first half of your birthday present, darling. For the second half we have to go out."

Jamie's heart patters beneath his blouse and bib as his stepmother leads him back downstairs and straight to the front door. "M-Mommy, where are you taking me?" he asks as she picks up her purse that was waiting ready at the door.

"That's going to be a birthday surprise, darling. Hold me hand and feel pretty in your new blouse and skirt."

It's a lovely sunny day, warm and fresh and just right for feminine feelings. As soon as they pass through the gate, though, Jamie's heartbeats begin racing, for there is Miss Maplethorpe from Number 24. "My word, Jamie, you do look pretty today," she says, looking him up and down with a smile and a chuckle.

"Thank you ma'am." She isn't showing any shock or giving him disapproving looks: quite the opposite, so he feels she might not mind if he tells her about his lovely feelings. "I'm wearing Mommy's oyster pink lingerie next to my skin," and he holds his skirt out gracefully to the sides in a spasm of girlishness.

"Well you will feel very lovely, especially at the tops of your legs." Her words make him shiver with ecstasy as they bid her goodbye. A minute or so later they turn into a street they have never been along before, lined with red brick detached houses with neat gardens. Janet opens a gate with a notice saying: 'Miss Dainty', and their heels click clack along a neat path towards the house. To Jamie this house is so attractive, he can't tell why, and on the shiny grey door is a notice which reads: 'Personal Dressing'. He was feeling lovely before but he is even more excited now, and when the door opens they see an attractive blond woman the same age as Janet, wearing a pale cream sheath dress and a bolero top.

"Please come in," she says and closes the door behind them before turning to look at her visitors. "You must be Jamie," she says with a ruby-lipped smile that he falls in love with straight away. "I've heard that you love to be dressed in little girls' things."

"Oh yes - yes I do."

"Well I dress boys who are very sissy in the sort of clothes that make them feel more and more feminine."

"Oohhhhhhhhhhh!" and he turns to his stepmother holding his fingers to his cheeks with speechless delight.

"Miss Dainty is the second part of your birthday present, darling," she says. "You will be visiting her house every Saturday from ten til two."

Jamie gasps, his face turning open-mouthed to Miss Dainty whose face is beaming with pleasure.

"For the next six months," she tells him. "Would you like me to dress you in very feminine things for a little girl today?"

There are tears in Jamie's eyes and he can scarcely form any words as he nods his head to her. This is all too wonderful. He turns to his stepmother and her smile tells him everything. How much she must love him to give him such a wonderful birthday present. He has to hug her. He wants to clutch her in his arms and his blouse surrounds her as he presses his face between the breasts of her sundress. She holds him to her bosom so that he shakes with her giggles.

"I'm going to leave you with Miss Dainty now, my pet. I'll come back for you at two o'clock, when I think you will be feeling very like a little girl."

Jamie isn't aware of Janet letting go of him, of the door opening and closing again behind her. He is thinking only of how Miss Dainty might dress him as a little girl. Perhaps in little petticoat frills and short dresses as she takes him by the hand and leads him into her sitting room. In the middle is a suite of shiny chestnut settees and armchairs, while every wall has its tall closet with mirrors from top to bottom, and room in front of them to stand or twirl in your costume.

"Little girls wear little girl panties and petticoats, darling," she explains as she undresses Jamie and lays his dress and petticoats over the back of the settee, soon to be followed by his blouse and all his undies. The only garments he keeps are his fresh seamed stockings, because the first thing Miss Dainty dresses him in is a pretty corselet with suspenders. It is pale pink in the bodice with lace overlay for the cups and straps over his shoulders. It clips together with five clips down the front, each one disguised as a pink rosebud, while an inch of white lace runs round the edge of each leg where it curves over his hip. He looks little girly in the mirror because of the shortness and sweetness of his corselet.

His panty is ruffled all round, like a ruffle butt swimming costume but lighter and more dainty in pale pink satin and organza. It fills him with growing feelings of sweetness, a feeling he recognises from the many times Janet dresses him so nicely that he just can't stop his pleasure overtaking him with girlish feelings. He soon discovers that Miss Dainty has a pink satin and organza petticoat to match it, flaring from its hanger as she withdraws it from her closet. "I think my little girl will love wearing this petticoat," she says, spreading it over Jamie's hair and letting it cascade down his slender body. It ripples and flutters with delicacy all round his panties, with a double tier of ruffles spreading it wider round the hem below the level of his hips. Then she leads him to one of the settees where a row of lovely girly shoes is waiting for her to test them on his dainty feet. His petticoat settles round him as he sits, and his feelings grow stronger and more delicious.

"You love to wear stockings like your stepmother, Jamie," she says, "and that is why you shall wear them while I am dressing you - but I want you also to wear these pretty white frilly anklets that little girls wear to add prettiness to their legs." She spreads the pair of white cotton ankle socks across her skirt and flutters her fingers through the delicate chiffon and lace frills that burst from the top of each sock. They are so suitable for a little girl that Jamie can't wait to thread his stocking feet into each one as she holds them for him. "And of course you want to wear high heels like Mommy, but for a little girl, darling, we have to come down a little, and add these lovely narrow straps across the instep - two for each foot, to keep your Mary Jaynes snugly on your feet while you walk from mirror to mirror for me."

Jamie does as he is told, and walks around Miss Dainty's sitting room, seeing himself in his pretty lingerie in one mirror after another and feeling his petticoat swaying around his panties with warm feelings rising even higher in his gusset. It is only when he has gone all round the room and returns to Miss Dainty that she reaches into the closet and brings out his gorgeous birthday party dress, in pink satin edged with ample rows of white organza and lace.

"Ohhhh, Miss Dainty!" he cries, pressing his legs together, "what a lov-vvv-erly dress!" He clutches his hands into delicate fists against each of his cheeks in an effort of self control, but it's no use. As Miss Dainty undoes the back of the dress and slips it from its hanger, Jamie's popsy has to give in, pointing into his panties, hidden beneath his petticoat frills, and he spends all his dress-loving pleasure into his satin lingerie. Miss Dainty helps him to feel even nicer, standing right in front of her sissy and showing him the pink satin of its bodice, its puffed sleeves and its white satin collar trimmed with lace. When he goes beyond his climax and feels his girlishness settling him down again, he holds up his arms and she lowers the dress over his hair to draw it down onto his petticoat. Jamie is ecstatic as she arranges it, plucking it into a full shape, and fastening his dress buttons down the back. His sash is so wide, so girly, so that it slithers with satiny sweetness while she does it into a big bow behind his waist. His panties are wet, but still pointed, as he is led to the mirrors and turned this way and that for his pleasure to continue.

When Mommy comes back, later in the day, she is thrilled to see how blissfully happy her little angel is. He has been dressed in six different dresses, each with its own change of girly lingerie. This time he is in a pale blue dress of chiffon ruffles, just as much a birthday party dress as each of the others have been. "Your darling has been a little angel, Miss Rufflewaite," declares Miss Dainty as Jamie sits between the two ladies, "and has deserved a nice big slice of birthday cake." She reaches under the coffee table and brings up a beautiful pink and white cake with five candles round the sugary top.

"Oh Mommy, am I five?" cries Jamie, his ruffles fluttering with his ecstasy.

"If Miss Dainty thinks so, I guess you must be, sweetheart," and Jamie's personal dressing lady joins his stepmother in fussing his petticoats and dress between them, bringing him after a minute or two to another sheer climax of little-girlish pleasure.