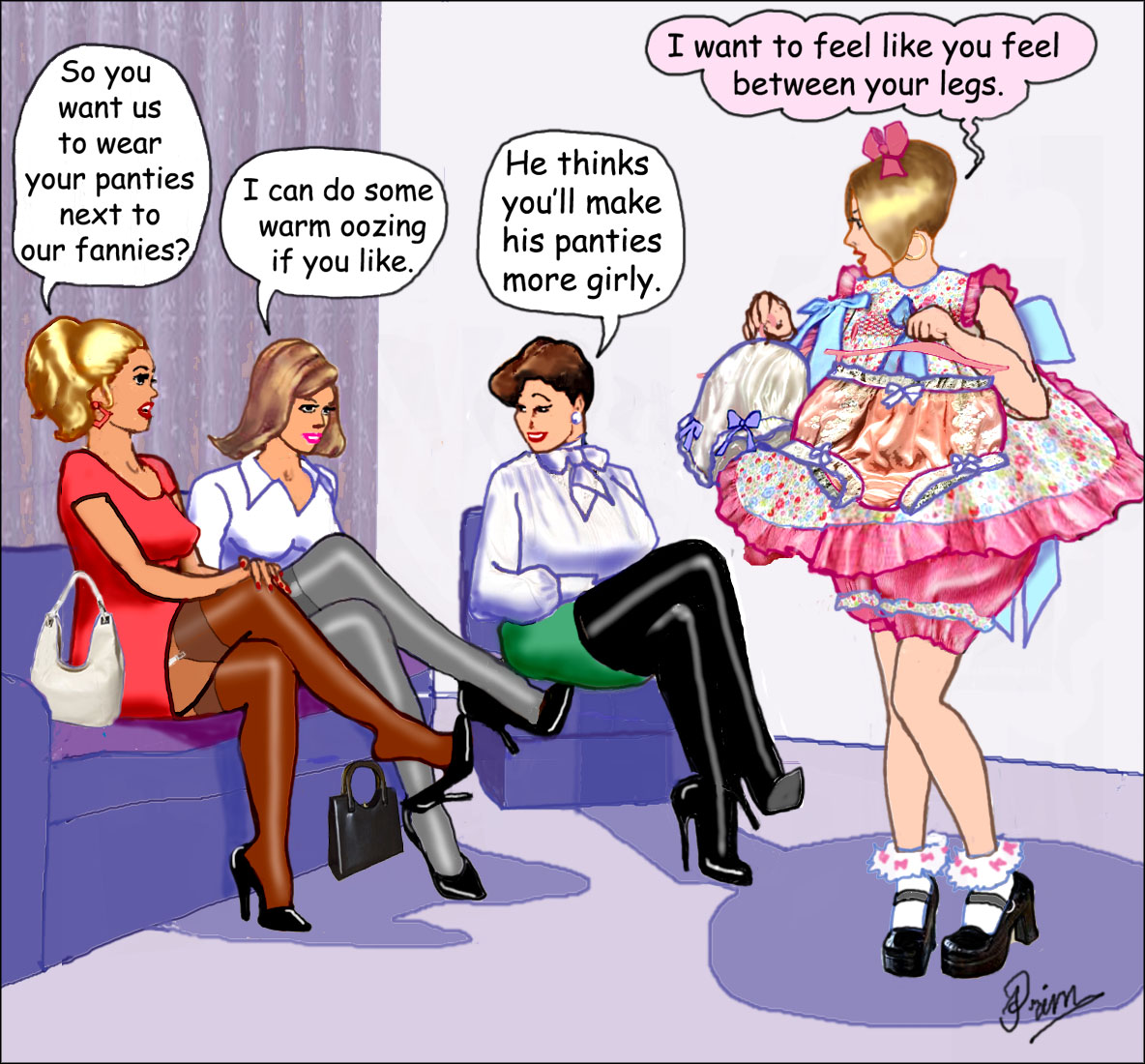 My shame makes me cringe in front of Deirdre as I stand in the Leavers' Studio having my final photos taken. She's here to take me home from Petti-Panty Husbands. Nurse Balmain fusses out the full shape of my petticoat with its three layers of white chiffon. I steal a glance at my Mother-In-Law to see what she thinks of me. Ohhh the shame: she's grinning from one white disc earring to the other. I can't help keeping my eyes on her a little while longer: she's wearing a new suit, buttoning across her bust from shoulder to waist, with a knee length narrow skirt, all in maroon woollen mix. It was her fabulous cat-walk clothes which had brought all this on me: they were far too tempting and I was weak: I just had to keep trying them on at every chance I got, until inevitably I was caught. The rest was her iron determination to belittle me as her submissive little son-in-law. And now, I crave her lovely suit. It will be lined with satin: she will dress me in it before long, to prove her total control.

"The aim of Petti-Panty Husbands," continued the nurse, "is to shape the heart and mind of the male into the feminine sweetness you want in him: Reginald will want to be a girl, deep in his inner being. To that end, as it explains on the catalogue, he must be dressed for the part."

She produced the dress I was going to go home in. Oh my poor heart! I loved it, and I hated it. I had grown to love the little girly dresses they kept me in at the clinic, but who was going to see me in it? Everyone! Ohhh, its lovely blue silk, printed with adorable clusters of pink roses and sprays of leaves. They spread around me in such prettiness over my petticoat. My pouffy sleeves beside my tingling face, my lovely white Peter Pan collar spreading from my neck and my cheeks, with the most girly frilly blue and white trimming all round its edges.

"He'll bring a giggle to the lips of so many of my friends," declared Deirdre, standing up and spreading the pink see-thru plastic mackintosh she had brought to take me home in. "Is he wearing his delectable panties yet?"

Nurse Balmain stooped at my feet and I couldn't restrain the wail of desire I let out. She had the loveliest pale blue satin panties to put me in: briefs, but so richly pouffy in their glossy sweetness, with ruched leg elastics decorated with pink ribbon bows at the front of each leg. I wailed and moaned every inch of the way as they slid up my legs. They were out of sight when I was in Deirdre's mackintosh, but with every step I took on the way out of Petty-Panty Husbands I was conscious of my panty-clad private places, aching, glowing, swirling with feminine sexiness. I was a girl inside my panties, I knew it.

Back home at Deirdre's there was only one thing on my Mother-In-Law's mind as she slid off my pink plactic mac. "Hello? Annunciata? We're back. Just give me ten minutes to change him into his dress and baby bloomers, then the two of you can come round." She looked at me as she was talking. "Yes he can't wait: he would LOVE to have the girls next door coming round to see how he has turned into a girl, ha-ha-haaaa!"

All sense of control over my body drained from me, limb after limb and from my head to my feet. She had to prop me up against her open wardrobe door as she sifted through the row of dresses she had collected for me. I wanted her to put me into each and every one of them: in pink chiffon, white satin, pretty printed cottons and silks, girly gingham frocks. She picked out a floral white dress with pink frills, opening at the back, with lovely powder blue sash ribbons. Oh no, she was going to show me to the girls in this. And when she unhooked it and laid it on the bed, it had a matching pair of babyish bloomers on the hanger, wide enough to contain the biggest and deepest of adult baby diapers encased in rubber panties.

She didn't put me into diapers. I wondered why as she led me down the stairs and the doorbell went. My heart dropped through the floor, I'm sure. The sheer fright of being put on display. I went dizzy as she opened it and they both saw me at once.

Annunciata was in a red dress and she covered her mouth with both hands to stop the laugh. "Oh Missus Frilling, isn't he GOR-geous!" she cried, her blond hair dancing with disbelief behind her head.

Verity came straight for me. "Reggie darling, you're a girl. What a lovely dress you're wearing for us, with pretty baby bloomers," and she stooped from the waist to look under my petticoat and dress to see how my legs were enclosed almost to my quivering knees in pink silk with crisp, sizzly elastics.

In the sitting room Deirdre made me confess everything to the girls. "Tell Annunciata and Verity what you really want from them," she said. "You know you'll have to ask them in the end, so there's no point trying to keep things hidden.

They were sitting in front of me on the settee. Their eyes bored into me, looking straight at me, searching my own eyes for my inner soul, my despair or maybe my eagerness to be girly like them. I knew Deirdre was right. I came straight out with it.

"Annunciata - and Verity - I - I want to wear your p-p-precious p-panties please."

Immediately I felt my face burning with shame as it turned red in front of them, then I added: "the panties you have worn - next to - ohhh, next to your very girly places! Pleeeease!"

Astonishingly they didn't laugh. They looked taken aback, like What did you say? They looked at each other, their brows high up near their hair. Then they looked back at me to check that I was real.

Verity wriggled the tops of her legs in her skirt to make sure her panties were still there. "But why, Reggie? I'd really like to know."

I didn't need to think, I just blurted it from my heart. "Because your panties are your most female garments, next to your skin - caressing (I breathed the word) your fanny. So feminine. So girly."

Annunciata tipped her head a little to the side. "But honeykins, I'm not wearing very exciting panties this morning. Just white bikini bottoms, honestly."

My heart was totally in charge: "But they push into your most personal crack. Your female secret purse. And I've got some favourite panties I want you to wear for me. So that you can make them your own personal panties - with private touching - and - " My excitement got too high for me and my hands came up and clasped over my mouth and nose, bringing my puffed dress sleeves into my view on either side of me.

The girls were taking it in, looking at me seriously. There was no laughing now.

"He wants you to wear his own frilly satin panties for him," said Deirdre. "He thinks that will make him a girl."

Annunciata tipped her head again. "You mean, we wear your panties, Reggie - then we wriggle and squirm our 'personal places' into the satin gusset?"

"Oh yes please!" I stepped across to the foot stool and opened it, then returned to in front of them holding the pairs of panties I had got ready for their visit.

Verity gasped, her mouth wide open. "So when we've made his panties nice and warm," she said to Deirdre, "we put them onto him, as our panty boy?

"Panty boy," came the reply, "or panty slave."

I stood in a throbbing silence, my dress rustling round me as I held my pairs of panties wide for the girls to have a good look at them. They were very sissy: one in white bridal satin, the other in candy pink slipper satin, with lace dripping from their sweet leg cuffs. What would they - ?"

"Sure," said Annunciata. "I'll wear your satin panties for you."

"Me too," said her sister, and they both sat bolt upright, then stood up together and pushed their hands up their skirts to seize their panties and pull them down into sight, right to the floor and stepped out of them.

My heart was racing like a drag kart as Annunciata took my pink panties from me, slipped them off their hanger and looked at them. She kissed them while she was looking at me eye to eye, then stooped and slotted her feet into them. Verity did exactly the same with my white panties, except that she also kissed the tip of one finger and placed it on my lips for me. Then she drew the lovely panties up her legs and out of sight. Annunciata's dress was a tight fit, and Verity wore a tight mini.

They both sat down again, settling their asses in their skirts, and looked at me, their lips closed, their faces serious, and their backs as straight as a gate post. My lips parted, trembling, as I watched them jiggle from one ass cheek to the other, then grind their fannies into the settee. Their lips parted too, curled with emotion and physical intensity as they bored their asses this way and that, then changed their positions, both of them, so that they sat forward on the edge of their seat and lay back, their skirts riding up to their hips, to show me their full panties between their legs. Ohhhh, they fingered their panties, working their fingertips all over their gussets, backwards and forwards along their personal slots, their mouths opening wider and little bleats of pleasure escaping from their throats.

"Well," said Deirdre looking up at me with her brown eyes, "aren't you going to say anything?"

I just had to. "Oh thank you. Thank you Verity, thank you Annunciata. Ohhhhhh, THANK you!"

They had their fingertips poised where the satin shaped their labia, pressing the gussets into their cunts, then squeezing them inside, pushing the doubled satin into their bodies with their fingers disappearing up to their first joints, up to their knuckles, pushing in and out, their high heels dangling close on either side at the welts of their stockings. "Oh God! My fan-n-n-nyyyyy!" cried Verity. Annunciata alongside her had her lips open but tightened and her teeth gritted together as she groaned, her eyes lidding then opening, then lidding again. Her groans turned into a moan of pleasure, almost a shout, and her sister was just as excited, pumping her fingers across her clitoris, letting out a wail that turned into a rhythm of girly grunts.

I held my cheeks in my hands again and pressed my knees together like mad. I didn't know WHAT I was doing but I knew what they were: They were coming. They were coming into my panties with their personal feelings as their fingers pumped and pressed, all the while looking into my eyes as I looked from them to their panty gussets, from one sister to the other. Then it turned to squelchy sounds in their fingers. Both pairs of panties were wet, with a dark patch spreading over the full gusset and up onto the legs. My cock couldn't contain itself any longer, it grew to its fullest aching pleasure, and it juiced in dribbles until it spurted all its gratitude and girlyness into the gusset of my own baby bloomers. "Thank you, oh thank you, girls!" I wailed, crying down my cheeks, holding out my dress and its petticoat as if to keep them dry and clean. I watched as they passed their climaxes, each of them a few seconds apart, and allowed themselves to subside. Finally they got themselves to their feet.

"I'm sorry, Missus Frilling," said Annunciata, sliding her wet panties down her stockings and leaving runs of girls' cum down her legs. "Once I knew I was going to make your son-in-law a girl there was no holding me back."

"Me too," said Verity, taking the white satin from her feet, carefully as if handling egg-shells, and handed the sodden panties to my Mother-In-Law before standing in front of me, reaching up under my dress and drawing my bloomers down my legs until she had me stepping out of them. "The thing is, now we've got feminized sissy panties to dress him in. we can make him more and more of a girl right now, on the settee."

My heart missed a number of beats together. They led me between them and turned me round, drawing me down between their thighs as they sat and lifting my dress and my petticoat up in a bunch in front of me. My legs were exposed - so bare - so defenceless. They got the pink panties Annunciata had worn - worn and wet for me - and fed them over my Mary Janes and anklets.

I felt the still warm wetness touching my leg as the shiny pink satin slid closer and closer to reaching my genitals, to closing over my clittie. They both had an arm round me as if protecting me, making me their favourite girl, as they presented the panty to my cock. I looked at it, watched Annunciata lift its waist elastic over my erected knob, and swelled with flooding pleasure as they fitted my panties around me by tucking and arranging each inch of elastic on my flesh. How they stood in a point! A point the girls couldn't resist.

Verity held my cock on its shaft: her sister held it by its knob, all inside the wet, barely warm gusset that encased me. "We know how you want to be a girl, honey," murmured Annunciata into my ear. "Just like us, sweetheart," whispered Verity on my other side. "We'll have to wear your panties for you again sometime, to make you feel more girlish." She turned away as if to ask Deirdre.

I reached forward to see Mother-In-Law's reaction. She smiled and was nodding. "Next Saturday," she agreed. "In fact, EVERY Saturday, if you girls have got the time."

They hugged me closer and their hands fondled me more expertly in my lovely panties. "We want to make you our girl, darling," said Annunciata, "with all our panties from the whole week."

Her words thrilled me, right through my testes and penis.

"We'll make you our favourite girlfriend, sweetie," said Verity, and Deirdre watched as my girlishness reached for their clasping fingers. First in little spurts, then in a helpless rise, until I showed them how much I wanted to be their girlfriend in squirt after squirt of girly love into my squidgy satin panty gusset.

***