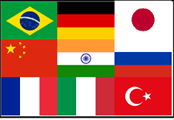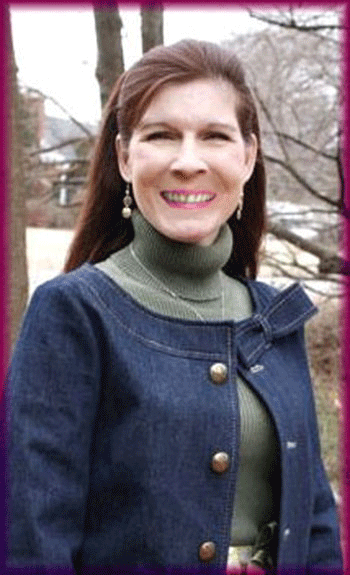 &nbsp Welcome to my September Newsletter my darling, with some great letters from our sissy sisters and beautiful photos showing us just how feminine and attractive they are. This is a newsletter with a difference because I don't usually include more than one letter from the same sissy correspondent. This time, however, I am making an exception, and I think you will see that Sissy Petal's mails to me have been rather special, including as they do the outcome of her sex-changing surgery.

That's a big change for Sissy-Baby Petal, and there are changes in the Wendyhouse website too. You will have noticed how different the Home Page is, including the introduction of translating software right through the Petticoat Wendyhouse. It's not perfect, partly because, as pointed out to me by a friend in France, the notion of sissies and petticoat discipline is a peculiarly English and American idea. Yes it exists in other countries, but much of it, including the words used for it, is borrowed, so it doesn't translate easily. On the other hand, it means we can all now read each other's stories, so can I warmly invite our non-English-speaking sissy friends to send me their letters or their stories, and we will be able to follow them at the click of a menu. The new middle panel in the Hone Page gives due credit to our wonderful contributing artists, and includes visual thumbnail reminders of what Prim has stored up for you in the Wendyhouse.

But sweetheart, I'm stopping you from reading what the girls have sent me, and enjoying their super photos, so let's settle down comfortably, shall we, and get started?

Love and a cuddle,

Aunt Frocks x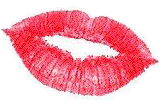 ---

Letter 1 - Wanting to be a sissy baby girl, teased by ladies

Deep curtsy to my Auntie

sissy-girl petal

Aunty Frocks:

Mommy's girlfriends love holding me and feeding me from a baby bottle. They know it won't be long before I pee in my diaper and then cry to be changed. They love to watch Mommy change my diaper.

As she was changing my diaper, earlier today, the ladies were talking about changing my room to a nursery with a crib, changing table, high chair and more. I was really surprised when Ms Dawn started to take up a collection for the nursery. They all gave her money. Then Mommy said that if they change my room to a nursery it would only make sense for me to be a baby girl for a much longer time. I was crawling on the floor when she said that. I started to cry. I was so scared. The ladies heard me cry and said just what you wrote. That it is so natural for me to be a baby girl. They talked all about how quickly I took to being a baby. That was so humiliating but I feel like they are right. I really am a baby girl.

Mommy read me "Aunty Frocks Baby Room" in PPP 25. That's almost exactly what is happening to me. All the ladies laughing as I am crying and being babyfied.

Mistres Stephanie gave me these 3 pics. She said the first 2 will be me soon. The other one is a book she will be reading to me.

I also sent 2 hours today kissing ladies asses. That must makes me so much weaker.

I love you, Auntie Frocks

Curtsy

sissy-girl baby Petal

Dear Sissy-girl Petal,

You are very lucky being surrounded by Mommy's lady friends. Many sissies would love, love, love that, and they are so kind and caring towards Mistress Stephanie's baby girl. You may be close to tears from time to time, but I think you are going to be a very happy baby girl.

But darling, how are you going to serve Miss Dawn in her business and be a sissy baby girl at the same time? Maybe Mistress Stephanie has things arranged for you.

Thank you for the nice pictures, darling. All three of them are very nice. When you talk about 'Laughing at the babies' from PPP#25, I think you must be in sissy heaven if you feel excited about the Ladies teasing and humiliating you as theri baby girl. That story shows how unrelenting the torment can be when ladies set their minds to making a sissy baby suffer.

But I think that is what you want, isn't it darling?

Big hugs and cuddles, Petal.

Aunt Frocks xxx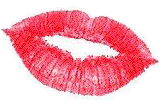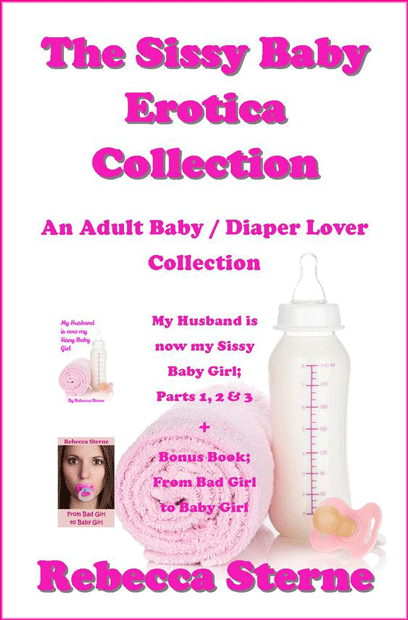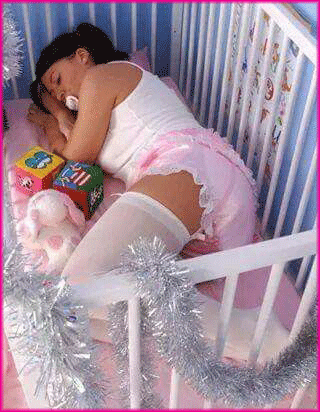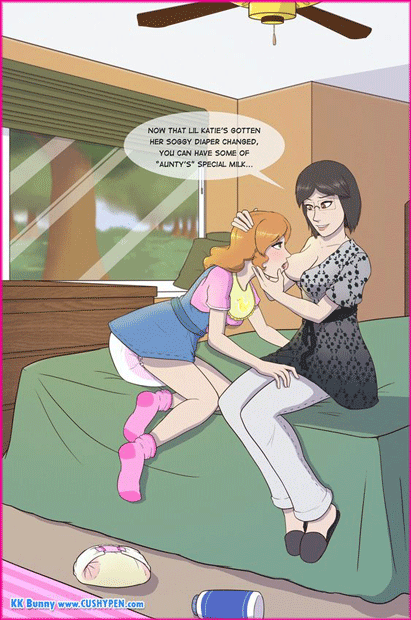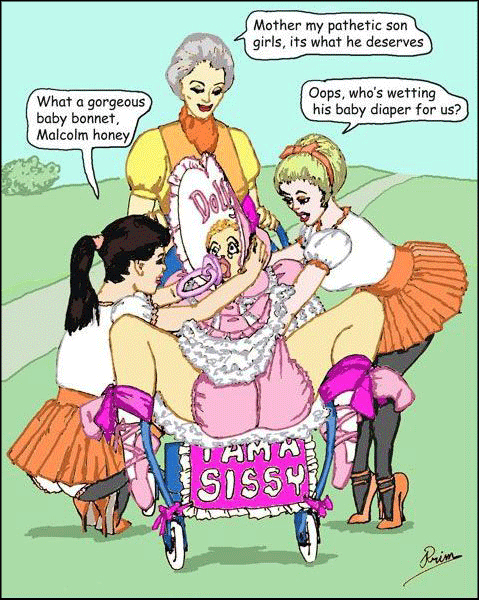 We'll return to this Prim picture that Petal sent to me in a minute. Meanwhile I want you to see what Petal said to me in her next letter.
Letter 2 - breast fed by Ms Betsy

deep curtsy to my Auntie

sissy-girl petal

Auntie Frocks:

Mommy told me to go write to you about something that happened yesterday. I was crawling and playing with my baby toys on the floor when someone was knocking at the door, It was Mommy's girlfriend Ms Betsy with her new baby. Ms Betsy asked Mommy if it was ok for her to nurse her baby girl. Mommy said it was fine and told Ms Betsy it was time to feed her baby girl (me) too.

Mommy went to warm up a baby bottle for me. Ms Betsy laughed and suggested that she nurse me after she was done feeding her baby and put her baby down to rest. Mommy loved the idea.

I was excited but not quite sure what was going to happen. Mommy told me I could play for a little while more. Mommy and Ms Betsy talked about their babies for awhile. If felt strange to be compared to an infant.

Mommy said I had the intelligence of an infant because I came out to her as a pansy and begged her to sissify me. That I could not think far enough ahead to realize what she would do to me.

Ms Betsy laid her baby girl down on the bed and put a blanket over her. Mommy then told me to get up and lay my head on Ms Betsy's lap. Ms Betsy took my head in her arms and brought me close to her left breast.

Mommy told me to be a good baby and suck. She warned me not to bite. Then Ms Betsy pulled out her tit and put her nipple in my mouth. I began to suck.

I don't know how to describe my emotions. I felt so cared for and loved being in Ms Betsy's arms. Her milk was warm and sort of tasteless. But it made me tingle and get goosebumps all over. Suckling made me understand that I REALLY am a baby girl. I'm not sure I ever felt so happy and peaceful. Being a baby girl was so wonderful. I could have suckled forever. Then Ms Betsy pulled me away. I started to cry. Then cry harder. I did not want her to stop nursing me.

Mommy took me in her arms. looked me in the eyes, and asked me if I enjoyed being nursed. She could tell from my eyes. She told me to answer her next questions with words.

"Were you crying because you wanted to nurse more, baby Petal?"

"Yes, Mommy". I was still whimpering.

"You really are a baby girl and want to be a baby girl forever. Don't you Petal?"

"Yes, Mommy. Very very much"

"Good baby, Petal. Ms Dawn is going to help make you a baby nursery with a crib, changing table, high chair and lots of pretty baby toys. She is going to make sure you are a perfect baby girl. Aren't you happy now baby petal?"

"Yes, Mommy. That's so perfect for a baby girl like me."

"No more talk Petal. Just baby talk now. Good sissy baby."

Yes, Aunty Frocks. I love being a baby girl. OMG. Being nursed every day would be heaven. And I love all the attention from the ladies even though it is humiliating. You seem to know exactly what I want. I want to be just like the baby girls in Aunty Frocks Baby Room. I just was looking at PPP#24. I am so jealous of Baby Pollyanna and Baby Georgie.

It sounds like, from what Mommy said, that Ms Dawn wants me to be a baby girl for awhile.

The surgery is in 2 days. I will write you as soon as I can. Mommy likes me to write to you.

I love you, Auntie Frocks

Curtsy

sissy-girl baby Petal

Dear Petal, sissy baby,

I am hardly surprised that you took to being breast fed by a new mother of a real infant. You are very fortunate to enjoy the sissy experience of drinking proper mother's milk, and as for being cared for by a mother figure? - Well. Sissies would die to earn that privilege.

As I said in my last mail, you have babyness in you, in your make-up, and it is coming out now that circumstances are coming together for you to experience the sweetness and the 'smallness' of being a sissy-baby.

Make no mistake, though, my darling: becoming a transgender is for keeps, and becoming a sissy baby could be as well if Miss Stephanie decides your medications will take you down the road of hormonal conversion and physical weakness. How do you feel about forgetting a lot of what you now enjoy as an 'adult sissy'? Will you continue to relish being cared for and controlled by Mistress Stephanie and her lady-friends when you find you can't return to being a sissy girl again, or a maid? Or has Miss Stephanie got your future planned so that you will be able to be both?

This is one of the troubles of these life-changing steps, isn't it? The immediate pleasures are dazzling, but the costs need to be not all that important to us compared with the pleasure of serving your Mistress and being her sissy-baby-girl for humiliation purposes.

Two days! I send you all my care and thoughts, darling.

Aunt Frocks, with cuddles xxx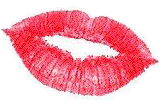 ---

Here are more photos of one of our sweetest girls in the Wendyhouse - Suzie-cd.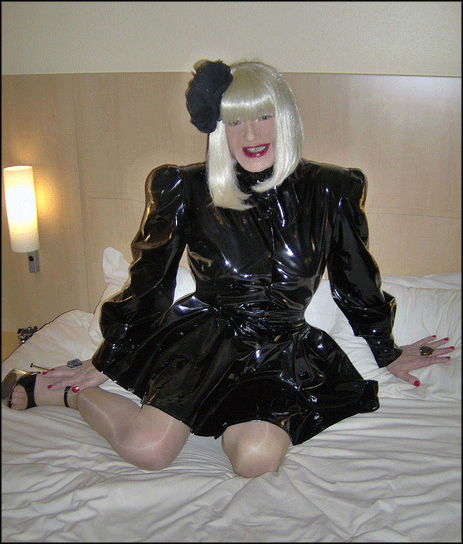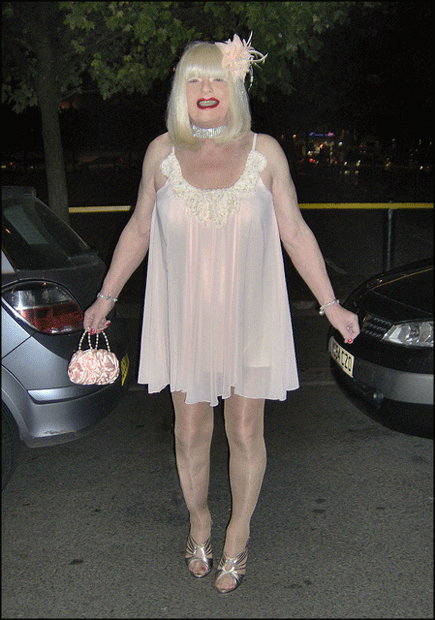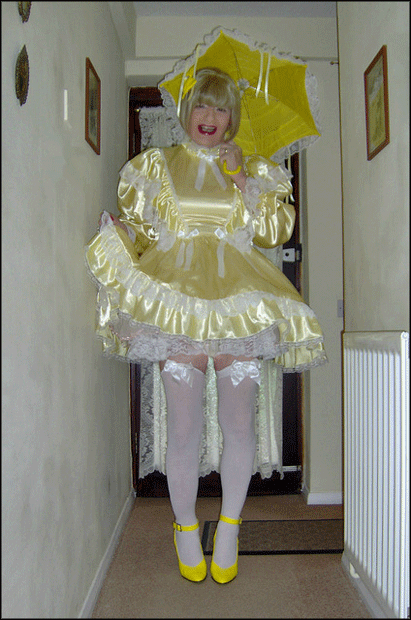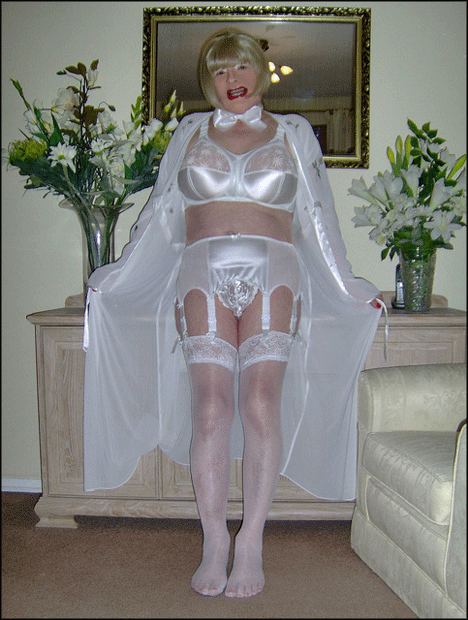 With a sparkling smile that that, we can be in no doubt how much Suzie is enjoying being a girl.


---

Here's one more letter from Petal, continuing her lovely story.

Letter 3 - Mommy's Sissy Baby Girl

deep curtsy to my Auntie

sissy-girl petal

Ms Becky came to visit today and breast fed me again. Mommy said she will continue to nurse me as long as I am a helpless baby girl who needs that. I know Mistress Stephanie well enough, from experience, to realize that I must become more and more babyish for this to continue. After being nursed I crawled on the floor and started to suck on my rattles and make even more babyish sounds. Then I wet my diaper and started to cry and scream to be changed. Ms Becky and Mommy told me what a good baby girl I am. I said "uppy" to Mommy. She had me sit on her lap and let me suck on her finger for awhile.

All my emotions are telling me that I want to be infantilized as deeply as possible. I would do anything to be nursed every day. Mommy said that Ms Becky will nurse me as long as I show her what a sissy baby I am. I am trying very hard to show her. Would you have any suggestions as to what I should do to truly infantalize myself? I am trying so hard not to think like an adult and to just think like a baby girl does.

I do know that I will be starting on female hormones a month or so after the surgery. I have decided to stop worrying about wherther I will be a baby sissy or an adult sissy and how this all will work. Mistress Stephanie knows what is best for me and will decide about my future. The other thing I know is that Ms Dawn is able to help her financially with my care.

I LOVE being Mommy's sissy-baby-girl.

I love you, Auntie Frocks

Curtsy

sissy-girl baby Petal

Yes indeed, dear Petal, who would have thought?

By the time you read this, you will be a new - GIRL! Oh my Goodness! The first thing is, I hope you are feeling well. If you are not, you soon will do, darling, I know. These things can take time but there is sunshine on the other side of those clouds. I know that Mistress Stephanie, Ms Dawn and Ms Becky will take wonderful care of you.

Then you can be their little baby girl. How wonderful! You can depend on them for maternal care and cuddles if you are being a good sissy. You ask me about ways of showing that: it depends on how babyish you can be: yes, that means peeing and pooping, dribbling and crying, I'm afraid, but that is babyness, darling. If you cry and grizzle too much, Mommy will make sure your mouth is closed with your pacifier, perhaps having to have it tied in place. I expect Mommy will also keep you in baby bonnets. Sissy babies I know have enough different bonnets to sink a ship, but basically, if you are a crying type of baby (not all babies cry) you will need deep bonnets so that you feel a bit closed in and enveloped for Mommy. I expect Mommy will also attend to the prettiness of your 'other end'. Big diapers, wide and fluffy so that you are well and truly babied in them. Such big diapers require bigger plastic or rubber baby pants, and over them I am sure she will dress you in ever so pretty baby bloomers or sweet diaper covers.

Maybe she will dress you in those lovely dress-and-bloomer matching sets. Babies are ever so lovable in those.

I do hope you recover very quickly, darling. Do everything Mommy says, and the doctors, and you will soon feel a lot better.

And you have my thoughts and my warm hugs too to help you feel sweet and babyish.

warm huggy kisses, darling,

Aunt Frocks xxx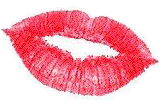 ---

Thinking of Baby Petal in the lap of her Mistress's girlfriend has decided me to include Prim's baby story here darling, to go with the picture Petal sent in for us. This one is drawn from my Nursery page in PPP#6 which is in the Stephanie Room.



Baby Dolly Meets His Girlfriends


I know lots of sissies like to share that rosy, helpless feel of female age-regression, but not all want to go all the way back to childhood. Like the sissies who share the wonderful worle of Lolita, for example. Here are some delicious examples of Brolita femininity.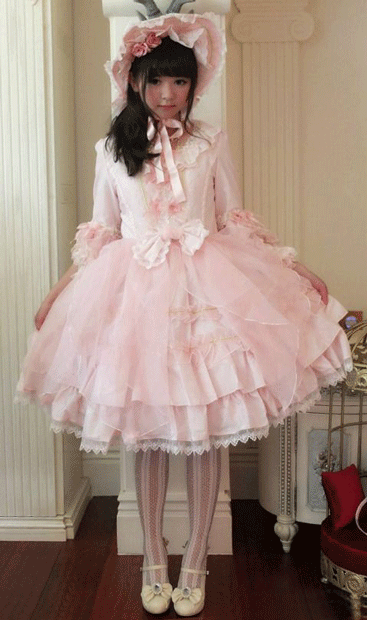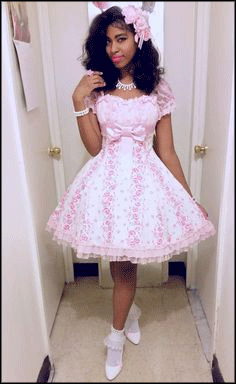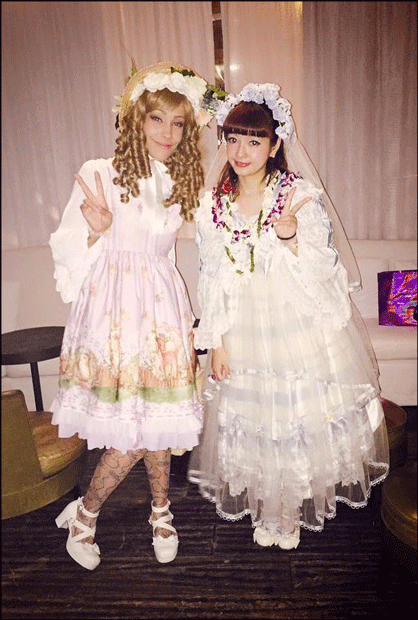 Perhaps you would like to think about some Lolita style shopping, my sweet. This link shows you no end of retail outlets at:

Lolita-Tips


One of the most famous world-wide chains for Lolita is BTSSB: this website is for the Manhatten store:

Baby the Stars Shine Bright, nyc



---

Lolitas are so happy because they get to feel so sweet and frilly. No wonder so many sissies follow the Lolita style. I wonder what Dame Selena would make of such transformations?

Letter 4 - Dame Selena is back with us

Dear Prim,

I know I haven't corresponded in quite some time. I see you and the beautiful Aunt Frocks are doing exceedingly well in creating more content for a much wider audience now. I look forward to writing to you and your lovely Aunt Frocks once again.

I am most eager to see what you come up with for the next issue of Prim's Petticoat Pansies #31

Witnessing Walt's/Daisy's transformation has been a very thrilling ride. So right to have him transformed and controlled in such a way that is altogether humiliating and pleasing. I think the most thrilling was the reveal of Storyette Part 3 (chapter 21) of Walt coming out of the entranced sex changing machine. Very brilliantly written and illustrated.

Feel free to use the images below for the Wendyhouse. I think you'll enjoy them.

Warm regards,

DS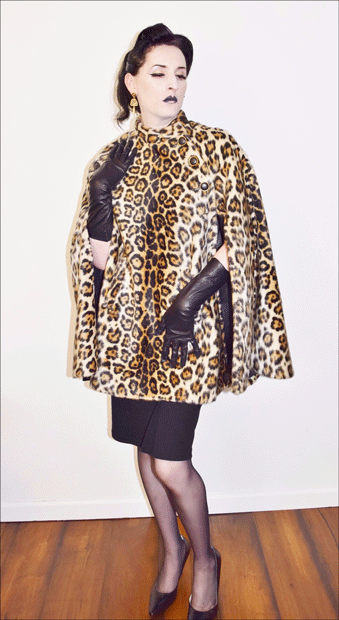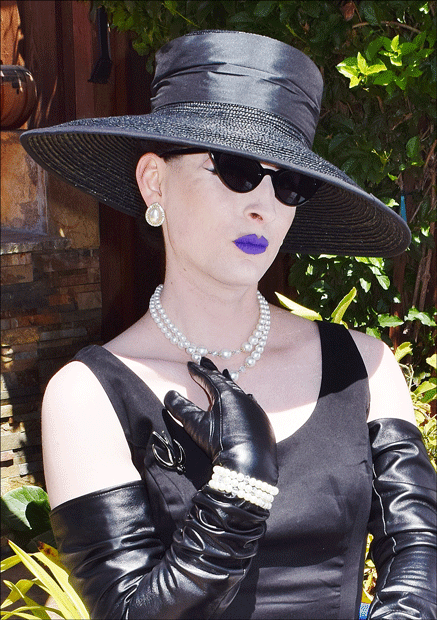 Dear Dame Selena,

How lovely to hear from you again. Sometimes our paths part for reasons beyond our control, but that can make it all the more pleasing when we are back in touch. I love your photos, Madame. They arrive in time for my Aunt's upcoming September Newsletter to lift the hearts of my readers. What a gorgeous leopard print cape, and those black opera length gloves with matching hat - what a presence they create for your ladyship.

I'm delighted you enjoyed my recent works. I'm working on what I hope will be a special issue of Prim's Petticoat Pansies, dedicated to you, the Ladies, in gratitude for your graciousness in stooping to deal with pathetic sissies. We need them so much, all ladies who relish imposing their controls and crushing male egos beneath their heels. I am very pleased that you enjoyed Walt Wisconsin 20-21. Maybe all sissies deserve to be dragged through the same route. What do you think, Madame?

Now that you are back with us, I hope to see and hear more of you very soon.

Warm respect, Dame Selena,

Prim x


---

Another irreplaceable Lady of Fashion is my good friend, Mrs Wanda Nylon. You can see here what an in-demand cover girl she is.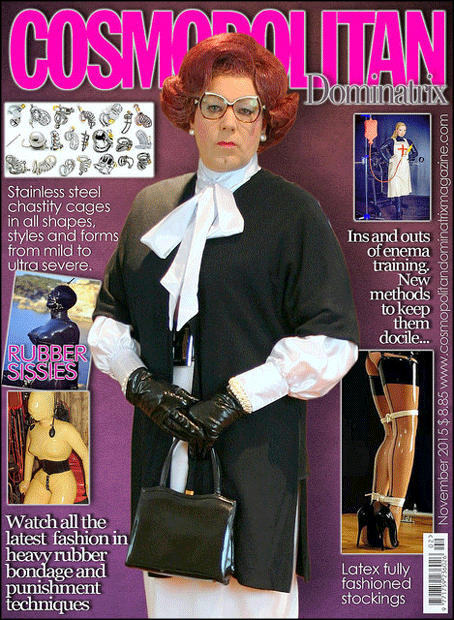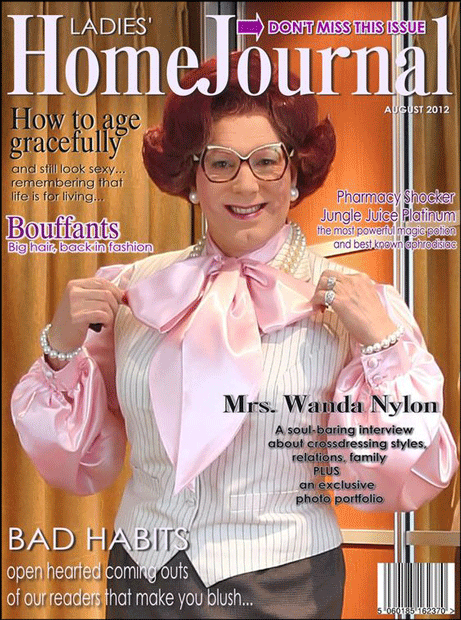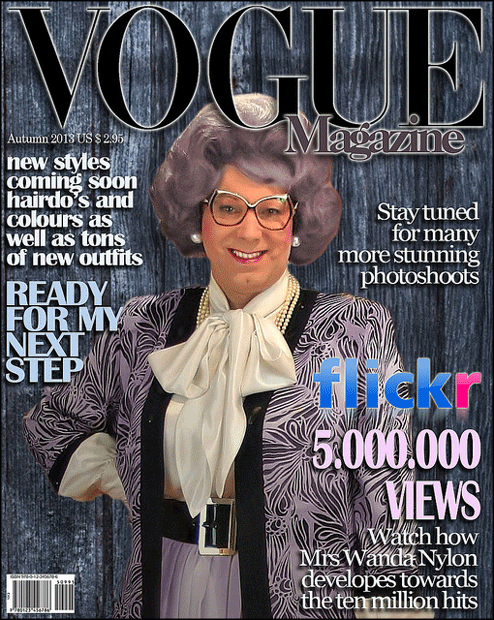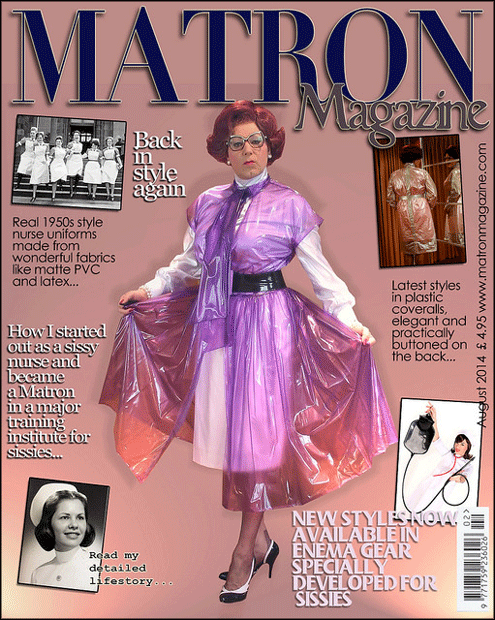 What a gorgeous icon of elegance. If you enjoy a nice nostalge among ladies' fashions of yester-year, darling, follow this link to:



Ms Wanda's Flickr Faves



---

Letter 5 - Disappointed with Michael Shoemaker

I was able to open Walt 5 but I must say I was a bit disappointed. I expected to see further adventures of Daizy. There is so much more that could happen including -

Tighter corsets

Jizm feeding apparatus

Butt plug to mouth or nostrils tubes

HIGHER heels

LARGER breasts

Etc.

Your writing and illustration styles are so lovely and erotic at the same time. I do hope you will take our favorite girl Daizy on further adventures very soon ...

Keep up the good work ...

Chris (Anon)

Hello Chris.

So glad you could access Walt 5. Now, about what else he could have done to him, lol. I agree there's tons of scope in the hands of these strict nurses and women doctors. But the trouble is this is an old story I wrote years ago. As the title pages say: this is the new version of the old story. All the pictures were there already, except that they were black and white lined cartoons. So I update and try to improve them. The story was in text boxes in each picture and very brief. So I've tried to make it a real, full story.

So in some ways my hands are tied as to what happens to Walt. The pictures all follow on each other. However, I can promise you that once Male chauvinist Michael has been taught his lessons and is brought to the same level as Daisy, that's when Daisy returns to the story. Walt Wisconsin part 8 finishes with the two sissies being given treatment together, and after chapter 60 … Well, it might spoil it for you if I explain more, but the story continues. But then you might know, my friend. I've seen the black and white pics that continue on the web.

I take on board all your suggestions, and who knows - ?

Thanks for your support in the Wendyhouse.

Hugs,

Prim x


---

Let's enjoy some more photos of feminine elegance, sweetheart, this time modelled by Fraulein Birgit Bach, who supports us at the Wendyhouse and will soon join the girls in the Rose Room.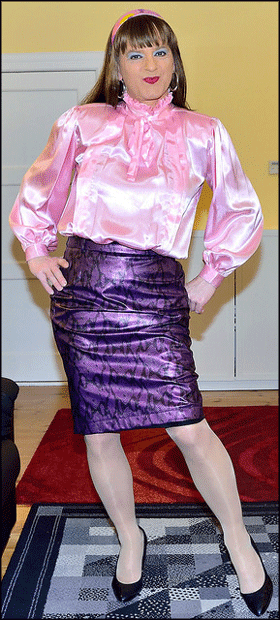 Birgit has a seemingly endless closet of fashions to delight us with. I confess I am a fan of her longer skirts and tasteful blouses with a hint of retro. Quite a model of Prim Style Fashion.


---

Letter 6 - A mail from Lady Yvonne

Dear Susan Frocks,

I am sissy Katrin's Mistress whose pictures and letters to you were published in the latest issue of Prim's Petticoat Pansies. It is a great pleasure to see my precious sissy princess amongst all those sweetly dressed pansies who are all so cute to look at.

As you can imagine she was so utter excited to be put on show and publicly exposed as the pathetic sissy fairy she has become.

As my sissy fairy princess has told you before, I have trained and emasculated her for many years which means that I have turned her from once being a mere transvestite male to a shiny little sissy princess with no traces of her former masculinity left. When I look at her now, when see her walking, talking, behaving and how she likes her utter frilly sissy dresses, I hardly can believe that the sweet little creature has ever been a male. The only hint on her past is her tiny useless wee-wee that I keep well hidden under unyielding steel.

I must admit that I have thought a long time about having that last vestige removed but on second thoughts I decided against such final step. Leaving that last reminder is a rather wonderful way to enforce absolute obedience and retain her as the sexless pansy she is.

However, keeping a sissy pansy as meek as a lamb at all times takes constant maintenance and is not as easy as one might believe. My little princess needs a good portion of strict corporal punishment as well as public humiliation. It is so lovely to see how she tightly clings to me and seeks my protection when I take her out in one of her finest pink frilly dresses, made up like a sissy princess fairy doll. There is no way for her to blend in the crowd but nearly everyone turns head and giggles about the pansy demurely holding her Mistress's hand. A situation every sissy craves to be in but simultaneously fears the extreme humiliation it entails. We all know what happens inside a pansy's panties in the very moment - no matter if they are made of the finest satin or stainless steel, as in my princess's case.

Another good opportunity to humiliate my fairy princess is to send her out for shopping groceries in a proper maids uniform with full petticoats underneath that makes her skirt sticking wide out and bobbing up and down with every move she makes. Rest assured, she always returns home as twice as meek as she was before and her pleading eyes to spare her that humiliation next time is priceless.

The maids uniforms - all of them she had to sew for herself - are not just for show and humiliation. As you will know I have trained her as a proper house and Lady's maid and she has become quite good and useful in that job. I even did lend her out to some of my friends for serving at parties or just cleaning their house.

I hope you like the attached pictures of my obedient sissy maid.

Another part of my fairy princess's training was to learn sewing, mainly to make her own sissy dresses. As you have seen, she has become quite good at it. I just give her a rough idea on what I would like to see her to be dressed in and leave the design up to her. Funny enough, in most cases her design is far more sissylike and humiliating as I originally had in mind.

I hope you don't mind sending you this letter which has been translated by my little fairy princess Katrin. Kindest regards and keep up the good work in encouraging more and more sissy pansies to come out of the shell.

Lady Yvonne

My dear Lady Yvonne,

What a pleasure to hear from you, and I can tell you that the pleasure was all mine as I included Katrin in her sissy styles in my Newsletter. I shall go on to feature her photos again in Prim's Petticoat Pansies #31 in the new Alice Room inside the Wendyhouse.

But I am delighted as well that Katrin appearing amongst the other girls in the Rose Room was such a joy to you, and a healthy dose of humiliation to her to be seen as the sissy girl she is in her satin and frills.

I didn't realise that Katrinthesissy has been under your instruction for so long, including the steel chastity protection you describe. I am used to mistresses controlling their sissy-maids with force of tongue and cane, but a chastity device is certainly more powerful in that it cannot be disobeyed, as it were.

Oh I love to hear of Mistresses who take their maids out in public in either their maiding uniform or in other fashions that demonstrate the sissy's shocking position of degraded feminization. When your sissy shows distress under humiliation, you know you are doing something right. I am delighted too that you use the very effective control of lending out your maid to other ladies. There's no room for ex-male re-assurance when he is serving strange women in their house: especially if the new mistress/hostess has arranged for friends of hers to see the sissy specimen she has taken on for the day. As you know, dear Lady Yvonne, women can make up nice teasing tricks to keep sissy maids on their toes.

Rest assured we shall keep up the good work of keeping sissies in their place and doing all we can to entertain the ladies who keep them under control.

Warm wishes, and a hug for Maid Katrin,

Susan Frocks x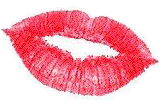 Here is Katrinthesissy, obedient, humiliated and smothered in satin dresses.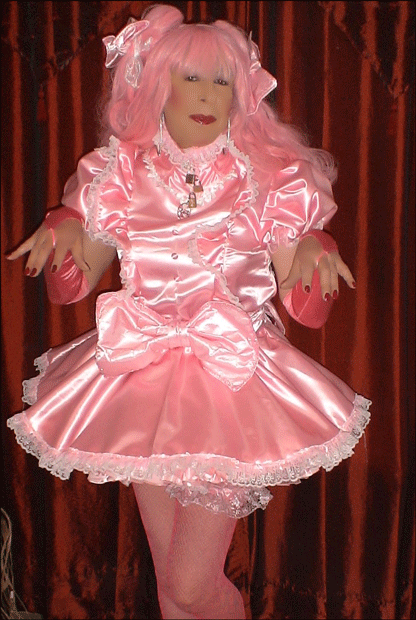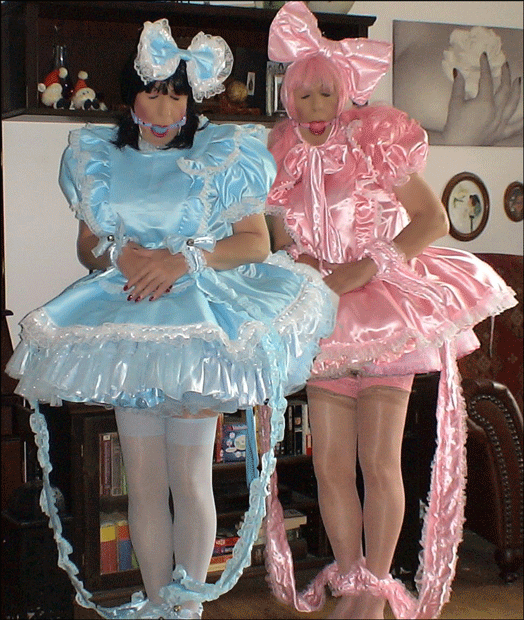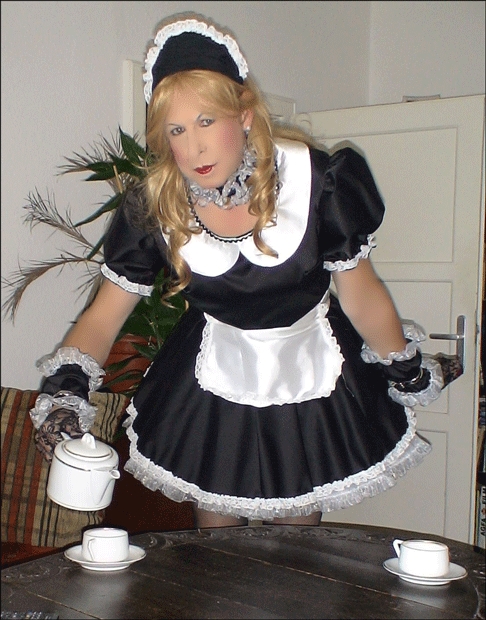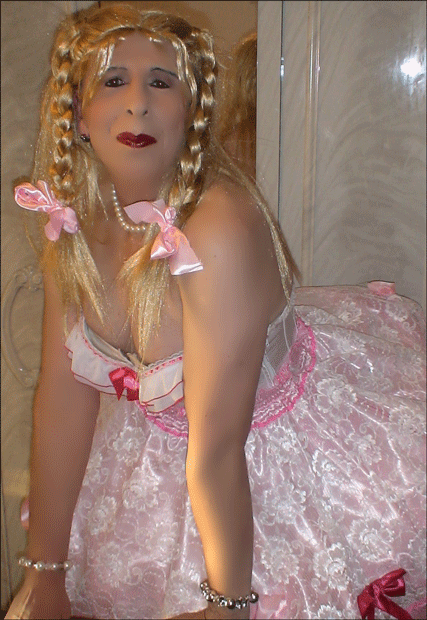 ---

Letter 7 - Hello from Svenja in Germany

Hello my dear aunt Frocks,

I'm Sissy Svenja from Germany. I'm 51 years old and secretly I've been a sissy all my life.

My wife and my two daughters and some close friends know that I'm a crossdressing sissy.

I wear a sissy nighty every night and some rare times I try to make love to my dear wife wearing it. Unfortuatly she doesn't really know how to tread a real sissy husband.

But I've got two close sissy girlfriends. One is a sissy I've never meat. We write emails and share many sissy secrets. The other sissy wants to be a babygirl. She is so lucky because she has the smallest clitty I've ever played with. We are like sissy sisters When we meat we've a lot of fun playing with each other.

Thanks that You offer us sissies a place to be. I know we are only a few these days but I hope we will be more and more over the next years.

Every secret sissy should show her real self to the world.

Many kisses

Yours Sissy Svenja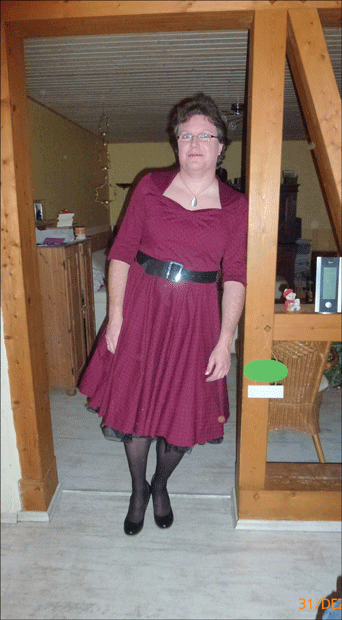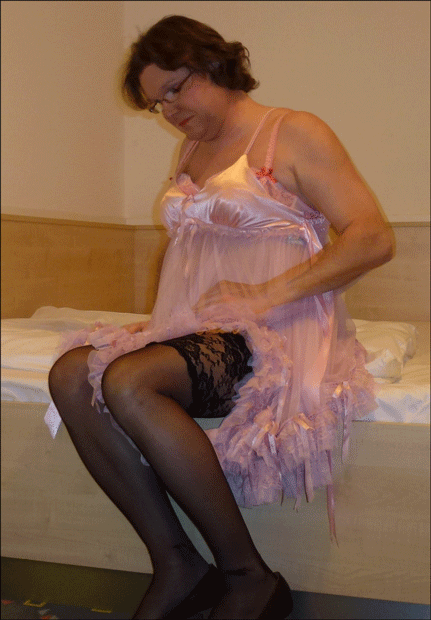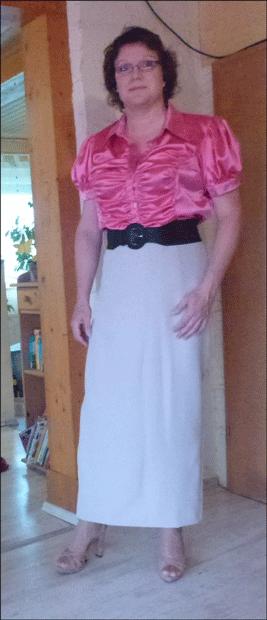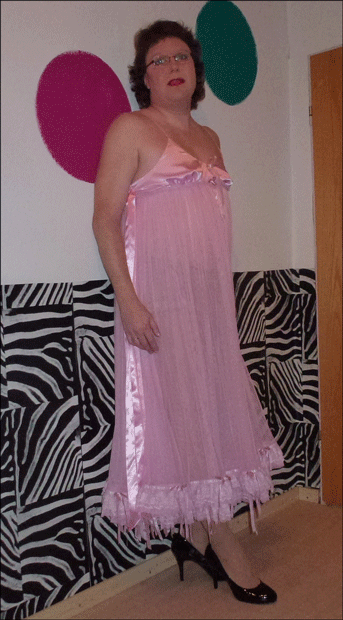 Hello Svenja darling. How nice of you to write to me. I see that you have just joined the Wendyhouse, and I hope you are loving being amongst such adorable sissies.

You are a lucky girl, having a wife and family who understand and allow you to be a sissy and have sissy friends. Forgive me for saying, but I think they are quite right to look at your desires and your needs with such sympathy and understanding.

But Svenja darling, you are equally lucky to have sissy sisters who share your feminine desires. That is so precious for sissies who want to be girls. You must write to me about what you have seen in the Wendyhouse, and tell me your favourites. Equally, you can tell me what you want to see more of, and request me and Primmy to see to it for you.

You wrote to me asking for Free monthly membership for a friend of yours, but Prim tells me your friend has not mailed back yet to verify the email address. Until she does so, we can't grant free access codes to her or to you. Would you be an angel and ask her to mail me from that address?

Your photos show how attractive you are: very elegant and very feminine. I will include them in my forthcoming Newsletter in mid September.

Enjoy the Wendyhouse, darling, and thank you for your support.

Warm hugs,

Aunt Frocks x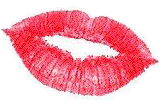 ---

Shall we remind ourselves here, pet, about a regular feature in the Wendyhouse: the Sweetheart Styles, designed by me and drawn by Prim. This one is in Prim's Petticoat Pansies #20 in the Jessica Room.



Sweetheart Styles, Number 20


The whole idea of Sweetheart Styles, darling, is that sissies who are dressed in them KNOW that they are at the service of superior Ladies.

---

We're coming to the end of my Newsletter, pet. That means it's time for me to give you an idea of what's coming in the Wendyhouse in the coming month. The first thing to look forward to is Prim's Petticoat Pansies #31. It should have been ready by 7th September, I know, but things got in the way to hold up Prim's efforts. When it comes, though, it will celebrate those awesome Ladies who make use of sissies for their own amusement and pleasure, in a special LADIES WHO USE SISSIES issue. I think it fair to say that the Ladies will outshine the poor sissies this time.

Prim is creating the Alice Room and the Hannah Room to join the six rooms already in the Wendyhouse. Why two new rooms? - Because the Molly Room is now full with issues PPP#21 to PPP#30, and because we also need room for the overflow from the Tiffany Room. That's the room where all his serialised stories go other than Prim's Petticoat Pansies - stories like The Helpless Adventures of Johnny in four parts, The Stepford Sissies in three parts, and Walt Wisconsin which will have eight parts when it's finished.

Part Six of that story - I Am a Prisoner in the Fem-Ultima Clinic - will follow on in October, and that's where Michael Shoemaker, Delma's second unfortunate victim, gets to really worry about his sexuality at the hands of Frau Doktor Strapz, Frau Doktor Cuntz and their determined nurses.

I think it's time for another story from Prim, don't you darling? This one comes from PPP#28, the special DOMINA issue dedicated to the Ladies that sissies want to serve.



Loving Miss Danvers' Pleats


I want to finish my letter with a nice photo of one of our lovely girls. This time it's Stephanie. I think you'll agree, darling, that it's hard to get more girly than this.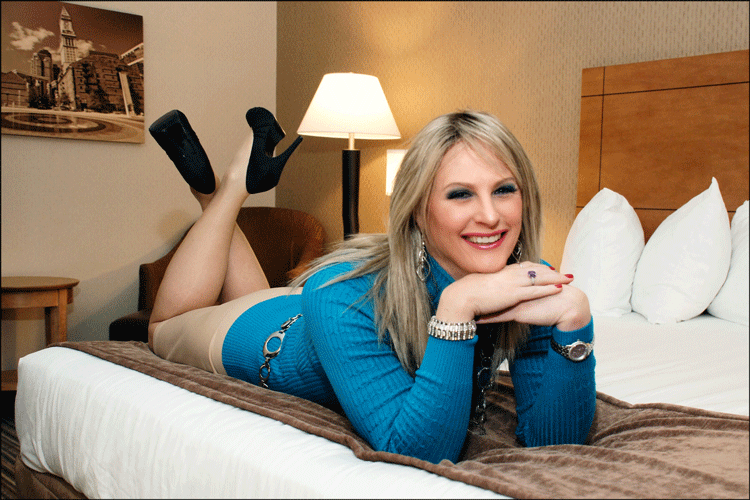 Isn't it lovely, darling, when girls send us their photos for us all to enjoy, supporting the work we're doing for sissies and transgenders here in the Wendyhouse? I'm sure more girls will write to me and maybe send me their photos for my next Newsletter in the middle of October.

Until then, darling, enjoy Prim' Petticoat Wendyhouse with all my love.

Warm kisses, darling.

Aunt Frocks xxx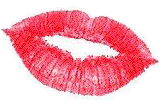 BACK