&nbsp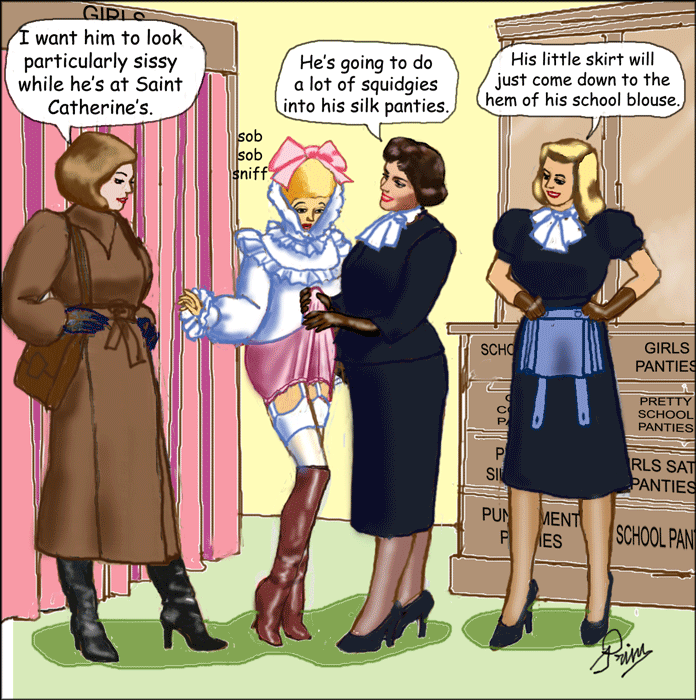 "Oh stop your sniffling!" cried Divina Wretchley, nearly pulling her stepson's arm out of its socket. "You're going to Saint Catherine's and that's that. If you will erect when I dress you in my things, you are going to be treated as a sissy, and the more women - and girls - who see you in frillies, the better."
Verity did his best to master his grizzling, but it's not easy for an eighteen-year-old youth to master his emotions when he is dressed in his stepmother's white satin trousers, her oyster pink blouse and her hot pink cardigan worn over it, as she dragged him relentlessly through the doorway of Dressing and Dressing, the school uniform shop. She was met at once by the redoubtable figure of Miss Marx, the chief dressing assistant.
"I am at your service, Madame," she cried, tugging down on the front hem of her navy blue serge uniform jacket. "Could I ask whom I am serving?" It had taken the woman just ten seconds to frighten the life out of Verity.
"Divina Wretchley, ma'am, and this is Verity, my stepson. I've got him a place at Saint Catherine's school for girls."
Miss Marx's cheeks bulged with delight as she beamed at the unfortunate youth in the cardigan of soft pink wool. "So you will be needing the boys' version of the St Catherine's uniform, Miss Wretchley. Would you welcome a fitting for him this afternoon?"
"Yes, I want to see him in his uniform, and purchase today so that he can begin at Saint Catherine's for the new term."
Miss Marx clapped her hands and her young assistant appeared. "Sarah-Mae, this boy is starting at Saint Catherine's. He looks a size 10 to me. Bring Missus Wretchley all he will need for his first day." She turned back to Divina with a broad smile. "How lucky you are, ma'am, to have got him into Saint Catherine's - the school policy is to have no boys - indeed to hate boys."
This information from a woman who knew the school was music to Divina's ears. To Verity Wretchley it was a clap of thunder. What was going to become of him when he started at his new school? What would the teachers say to him? What would they make him do? His thoughts were interrupted by Miss Marx, who took each of his hands in hers and held them out to the side on the level of his shoulders.
"Keep your hands there, young man," she ordered, and began to undo the front of his satin trousers. His trousers fell to his ankles in a pool of white satin. His hands were brought down to his thighs, so that his cardigan could be unbuttoned and slipped down his arms. What a lovely blouse, Missus Wretchley. You have your stepson exactly where he should be, I feel - under the control of your closet."
Sarah-Mae was back with an armful of clothes, in pink and white with pale blue satin on top. She opened everything out and spread them on the counter as Miss Marx undid his blouse and slipped it off. She smiled to see how smooth he was in the curves of his shoulder and the slim delicacy of his arms. She pulled the waist elastic of his panties wide to unhook it from his stepmother's pretty panties, then she reached round him, pulling him onto the white bow of her blouse, and unclipped the back of his stepmother's brassiere. He wilted in the nude in front of her, wearing just his stepmother's stockings, suspenders and heels. He bleated again as the uniform lingerie was applied: a brief white corselet overlaid with lace, and a pair of panties in rose pink rayon.
The youth began to blubber when he saw the whiteness of the school blouse, made ten times worse by the lashings of lace around the shoulders and up at the high neck. And there was a little pair of shorts on the counter, in pastel blue satin. He turned to his stepmother. Surely she hadn't realised he would be dressed like this.
"The uniform blouse for a boy is in frilled white silk polyester," explained the chief assistant as Sarah-Mae passed it to her. It hung with horrifying femininity from her hands as if it was feather-light. She held it in one hand and turned the boy to face his stepmother with the other. The next thing, she was reaching round him with the blouse ready for him to feed his bare arms into its sleeves. To Verity's dismay the blouse would button down his back, and when he thought she had finished, the buttons continued to close, up his neck and on up the back of his hair.
"Oh that's good," declared his stepmother. "He's blushing," and his cheeks grew visibly darker as the white polyester blouse gathered closer and closer round his face. "He will be blushing all the time he is dressed in his uniform blouse at school."
Miss Marx turned him again to face her and tugged at the lacy edges at his cheeks to draw them as high as possible. Her attentions coincided with the moment when Verity Wretchley's emotions became too strong for him, and his tears welled from both eyes to run down his cheeks and into his blouse collar. Miss Marx straightened herself up and lifted his face with a crooked finger under his chin as if proud of what she had done. "His hair ribbon, Sarah-Mae, please," she said, "and his girls leather boots."
The young assistant stood behind the boy and threaded a wide ribbon of pink silk through his hair, fussing it into a high butterfly bow which Miss Marx commandeered to see to its shape. She looked down while he sobbed in front of her, conscious of interference at her skirt, and found that the boy's cock was fully stiffened in his panties. He blubbered more loudly as he felt the girl lifting his foot from the floor to take off one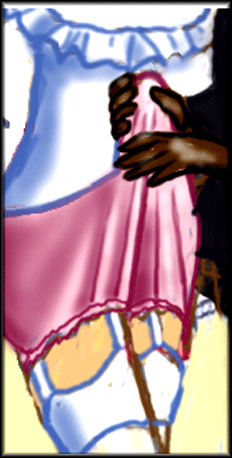 of his shoes, to replace it with the cold leather of a long girls' leather boot, which she closed round his stocking and zip fastened up the inside of his leg as far as his knee.
"Boys at Saint Catherine's are obliged to wear boots," said Miss Marx to the boy's stepmother, "because it is a modern school with up-to-the-minute ideas on fashion and life-style." She spoke as he was being booted up his other leg too. "Principal Baines wants her girls to appreciate how shamed they can make any boy who dares to set foot in their school. His school skirt, Sarah-Mae please." Her hands fondled the rayon point in his panties as she spoke. "Miss Baines wants any boy pupil to expect his panties to be held by staff and girls alike, which is why I'm pulling on his member now." She paused as her assistant had him step his boots into a white petti-slip in lace-edged polyester, which was followed by his skirt. So it wasn't a pair of shorts at all. It was pleated in powder blue satin with button straps and prettied round the hem with girlish pleat buttons. She wrapped it round his waist and buttoned it together at the hip, where a little row of hidden buttons fastened down the inside of one pleat. His satin straps were fed over his shoulders, and Sarah-Mae and Miss Marx fastened a button each onto the front of the waist band.
Verity's weeping was constant, and so disturbed that all three women knew he was close to losing control of his sex. Miss Marx's fingers worked in slow slides up the length of his penis, closely watched by the other two. He knew his stepmother was watching him in his shame, and Sarah-Mae too, with a smile on her face. His self-pride drained rapidly away and he knew he was a very weak, sissy teenager in a frilly white blouse and little skirt, with girls boots over his stockings, and his panties held in the front by Miss Marx. It all became warmer in his penis, more girlish and sensitive, and his member could contain itself no longer. His emotions gushed up his penis and into his stiffened panties, filling Miss Marx's palms with hot, sticky cum.
There was a smile of satisfaction mingled with a sneer of disgust on her face. "This is precisely what Miss Bligh has in mind in her design of the boy's uniform," she said. "I think he can expect this to happen every day at Saint Catherine's."
***