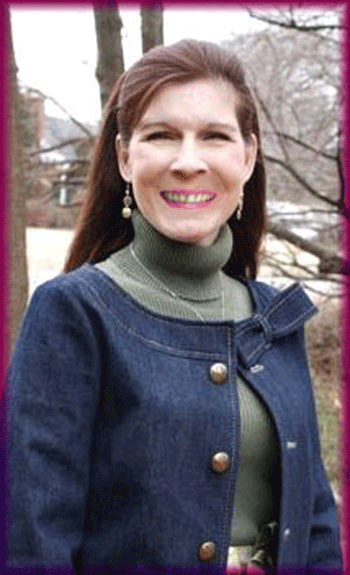 Hello my darling. I'm so glad you've stopped by to read my Newsletter. I'm guessing you've got in mind to hear what girls have written to their Aunt Frocks and to take in their gorgeous photos. Sexy, glamorous, sweet and girly, these girls have got it all, so take my hand sweetheart and we'll wander through what we've got this time.


I'd like to see your face and hold your cock through your panties, so that you feel the pleasure so many girls provide when they're gathered together in one place. We can't enjoy the pleasures of meeting and mixing like we used to. It's full of risk, even though none of us would dream of allowing any harm to each other. All we can do is play it by ear, think of others and stay safe.


So my Newsletter is a form of getting together. A safe way of sharing our femininity and our fetish desires. I could go further and say that all Prim's issues that you can order, and the Wendyhouse itself with issues PPP#1-PPP#34, offer the pleasures you may be missing, a sort of safe pleasure-house. This after all is what Prim and I are all about: providing sissies with what they need.




---

So let's get on with it, shall we? Starting with Michelle, one of the many lovely girls in the Rose Room.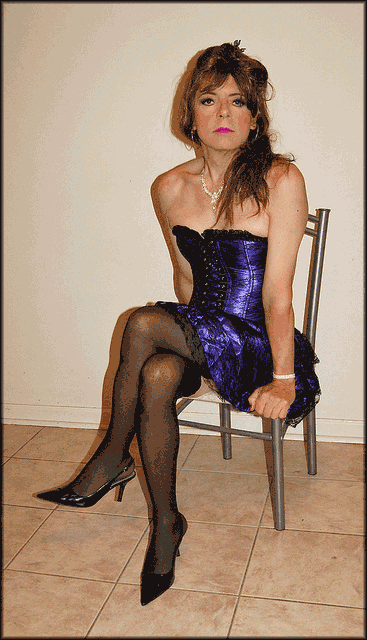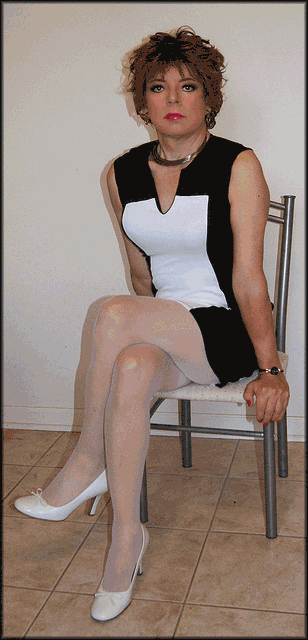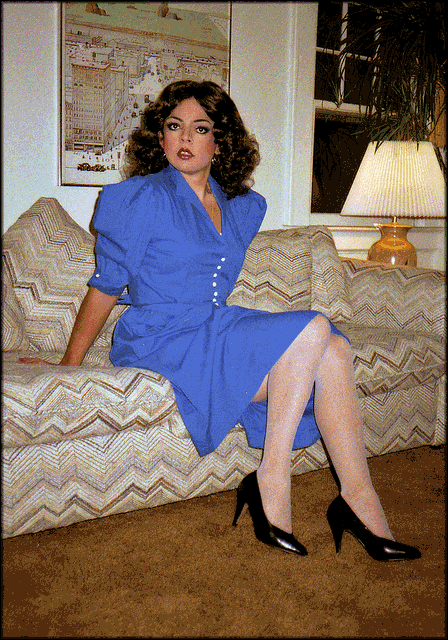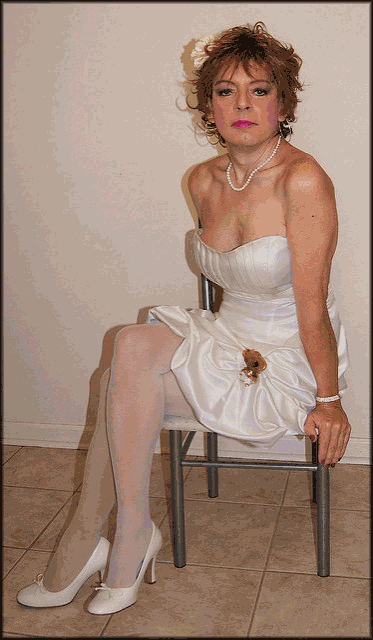 When lovely legs are combined with fine dress sense, the result is glamour. And she's so cute.
---
--- My STAR LETTER this time ---
Letter 1 - Just discovered Prim and the Wendyhouse
Dear Aunt Frocks,
I'm a very new subscriber to your website. I joined one night when I'd had a few too many glasses of wine and had a passing interest in the idea of female domination and forced feminisation of the hapless male. I have had no experience of this at all but the idea does retain my interest. However, I now find that I am returning again and again to the Wendyhouse, and avidly reading Prim's stories. I just spent almost a whole afternoon reading through all the stories in PPP #14, 15, 16 and 17 and found myself becoming curiouser and curiouser.
Do those silky satin ultra-feminine panties and dresses, corsets etc that can be locked on to the sissy really exist? I would love to experience them for myself!
Having read your stories, I feel that I want, no, need to meet the strong women in your stories who will seduce, cajole, persuade and eventually dominate me into wearing them, me weakly letting it happen and then feeling helpless to escape, while being kept so vulnerable to their teasing and torment, feeling ashamed and exposed to ridicule by groups of assertive women who wish to keep me that way. They take away my masculinity, and prepare me for a life as a sissified play toy.
Is it all about finding sexual release under the guiding hands of dominant women? Nearly all of the stories involve masturbation of the male by females, usually against his will and utter shame as he is dressed in frilly panties and petticoats, but with his genitals exposed for all to see - and play with. He will often ejaculate involuntarily as a result of the extreme stimulation of the satin panties and other garments he is forced to wear and eventually desire. Being forcibly masturbated with silky panties must be an extremely demeaning and humiliating sensation! He might even be in tight bondage, his arms tied painfully behind him.
Then there is the idea of being tightly corseted, or made to wear tightly fitting girdles and. having my genitals hidden away between my legs, making me look even more like a girl. and the stretching of my bum hole to accommodate large dildos and eventually a man's large cock.
I don't know which of these ideas is foremost in my jumbled mind, but being trained as a sissy and subjected to the treatments so beautifully drawn by Prim is something that excites me more and more as I read your stories!
You have unleashed the potential sissy in me. How can I make this idea become reality?
Thank you, Thank you, Aunt Frocks
Peter xx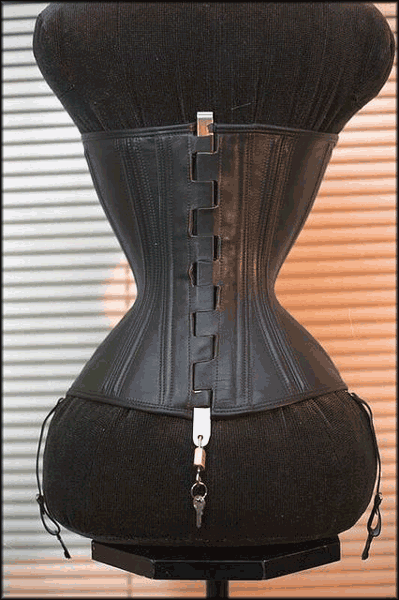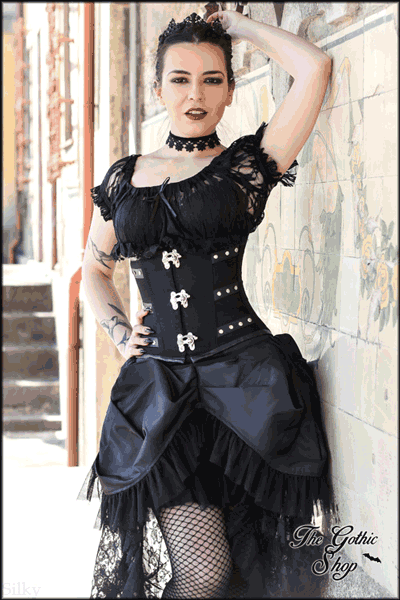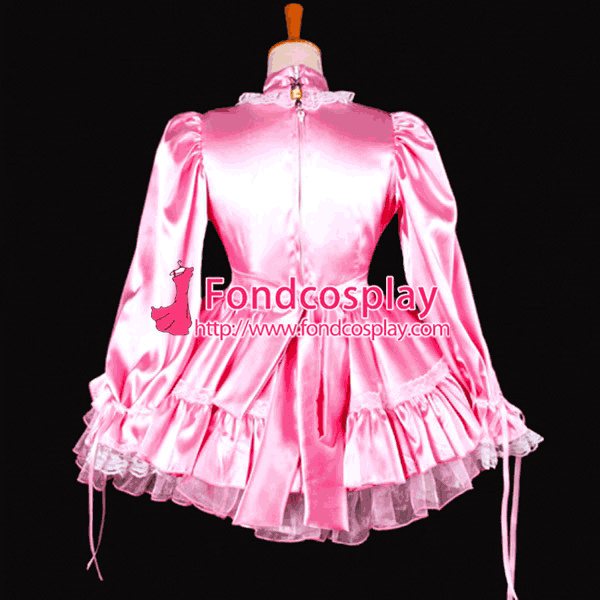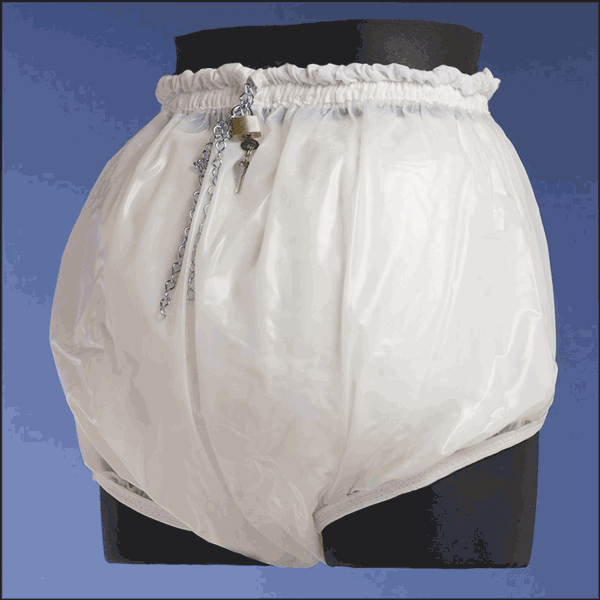 You'll find a locking corset here - The Gothic Shop
Look here for locking plastic pants - Fetwear.com
Here you can find a locking sissy maid dress - Fond Cosplay
Find locking high heels here - Sissy Kiss Boutique
Peter followed his first letter with this:
Dear Susan. may I call you that?
My favourite so far is 'Worshipping Mother in Law's panties' in PPP#18. More like this, please! It made me feel more submissive, more like the sissy I might be. The lady is so strong, so in charge, and makes him so vulnerable, just for her pleasure and so much for his humiliation. I never thought to be sat like that in a chair. So simple but so exposing and vulnerable, and he is so humiliated, being forced to ejaculate at her pleasure. Prim has such a vivid imagination. I wish I could find someone to do that scene with me!
Aunt Frocks, you are changing my life.
Peter, you are a darling for writing to me about my nephew and the Wendyhouse, both of them close to my heart. Your letter is beautiful and I've chosen it as my STAR LETTER for this Newsletter, because it answers some of the things I've asked girls to write to me about and because it opens up the Wendyhouse to sisters who may not be aware of it yet.

So let's see what you've asking me, and I'll try and give you some answers. You want to know if you can shop for locking sissy-wear, you want to know more about dominant women who deal with sissies, whether it's all about sissies being made to ejaculate since there's so much of it in Prim's stories, and how you can make all this sissification happen for you?

Okay sweetheart, what about some answers. First of all I'm thrilled that you've discovered the Wendyhouse. The funny thing is, and this applies to hundreds/thousands of girls who don't even know it yet, you weren't really looking to be a dominated sissy, and the Petticoat Wendyhouse doesn't even exist as far as they are concerned. That's why you can help by telling as many friends about it as you can. Tell them you need to 'suck it and see', as you have found out.

Sure these locking corsets, panties, dresses exist. Look at the photos below and the online shopping links for finding them. I have to agree with you: being dressed by your Mistress who then locks you into your girly costume is a step beyond merely becoming feminine for her. She can invite friends, darling. She can take you out like that, and show off your locks. How humiliating is that? It all serves to show our poor little sissy that he is nothing more than a maid, a pet, a toy or a slave.

Then answers to all your other questions can be rolled into one: the first thing to do is bury yourself in reading Prim's stories now that you've started. They will open your eyes to the possibilities of sissification. You've noticed how many times the story has sissy being brought to a shameful climax for the pleasure of his teasing Mistresses, but Prim's stories show you how deliciously varied all this orgasmic pleasure can be.

Then, however, you may want to move on, armed with an imagination that's raring to be feminized. I suggest your next move is to explore the wonderful world of fetlife.com. This online resource for kinksters is amazing and will have just the sort of femmy, dommy or submissive people you want to meet for real.

Here's the plan.

Start at our profile page from the Fetlife link below. You can join on that page with the bottom line (Sign up to Fetlife). It's Prim's page really but I tag along. Then look through Prim's friends until you find a very frilly, girly sissy just like you have in your mind's eye. Look through their profile and friends: they will very likely have some Domme friends who will be glad to hear from you. Unfortunately they may be on the other side of the world. That's when you start asking around. Who knows a domme for sissies near me. You are very welcome of course to look through our friends: they would be happy to hear from you too.

However, here's something to remember, darling. When you're looking for a play partner, or a Mistress, try and give THEM what they want. Be a generous, even a loving person, instead of it being all me, me, me. They'll love you the more for it and you'll be a lot happier in the long run.

Enjoy the Wendyhouse, darling. Do you see why most sissies become recurring members. How are you EVER going to get through all those stories?

I'm so glad you found us, Peter.

Love from Aunt Frocks xxx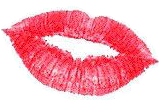 Primonline at Fetlife
---

Satin Stephie has sent me her photos for the Rose Room too. Such a darling sissy girl.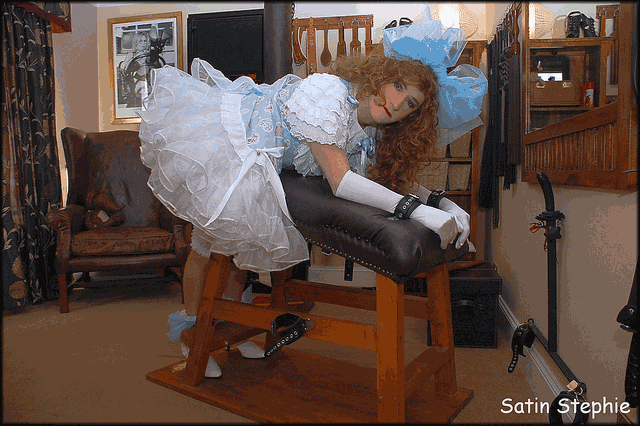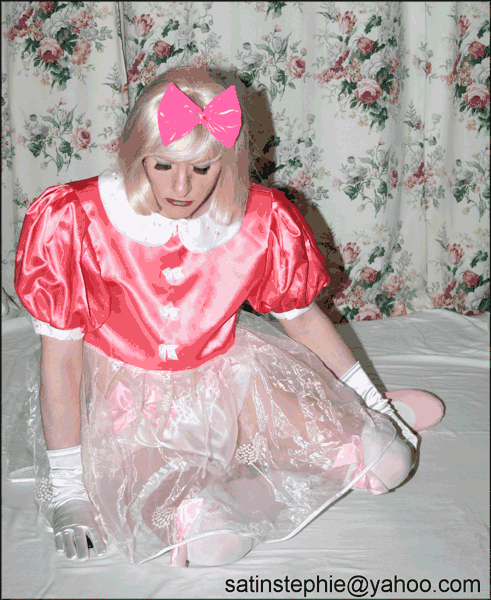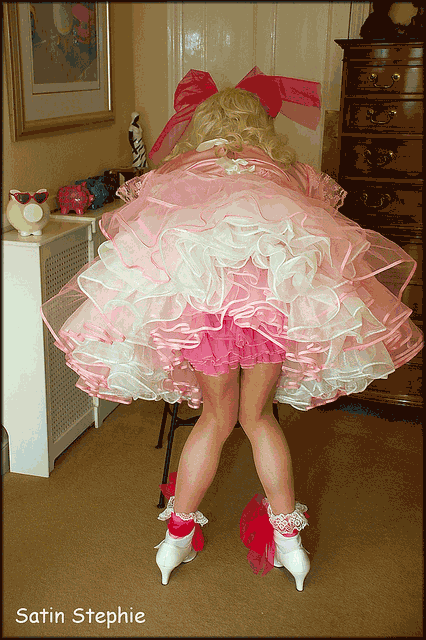 I think she wants us to inspect her lovely petticoats. We'd love to, wouldn't we?
---
Letter 2 - Those bra-stocking suspenders
Hello
you wrote something about suspender blouses:
http://www.primspetticoatwendyhouse.com/members/Prim34/34-sw-st.htm
[ Note from Aunt Frocks - Satinsissi's link won't work because it's inside the members' area. Unfortunately the Sweetheart Styles page from PPP#34 is not suitable for this semi-public Newsletter. Sorry darling. ]
I want to tell you - and other sissys - about suspenders for blouses and shirts. I highly recommend it. You have more straps on the legs, it acts as stocking holder, too and the blouse is alway straight.
And You feel every move. If the blouse has a tight neck, you get a little choke at every move that tugs the blouse. So erotic.
The best for home office in secretary outfit during corona time.
Best regards Satinsissi
Dear Satin Sissi,

Thank you sweetheart for writing to me about Sweetheart Styles in PPP#34, the Sissy Cock-Suck special issue. Like you say, it's that tight pull that ensures the sissy's cock stiffens nicely with the feminizing tug of suspenders. The tighter the better, isn't that right, darling? What I didn't realize until you mailed me with your link to Aliexpress, was that these unusual suspenders already exist on the internet market. Following your link, I like the nude coloured ones for holding shirt/blouse to stocking-tops. As far as Mistresses are concerned, darling, it's all a question of humiliating costume details: those sissies must feel the bitter shame of what women who see them dressed like that will feel about them - and what they will say to their faces, poor dears.

Enjoy the Wendyhouse, darling.

Aunt Frocks xxx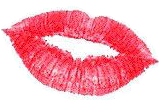 Tight shirt suspenders - Aliexpress
---

Letter 3: I Cream over Feminized In Frillies

Hi Prim,

I hope you are well. I just had to write to you, and congratulate you and Prissy on yourwonderful series of 'Feminized in Frillies'. I have just started to enjoy Vol.4, and it is so exciting; I just tingle all over as I read your amazing short stories, and admire Prissy's fabulous Art Work.

Prim, you really are the most gifted writer of TV fiction I have ever read. Reading your stories and looking at Prissy's drawings, ALWAYS!!!! makes me so excited in my Silky Sissy Panties. I just love to 'Milk' my sweet little 'Dicky' in my pretty panties as I enjoy reading your titillating stories Prim... and I always spurt my Sissy Creamies when I get to the climax of your Sissy Girly Stories, Miss Prim.

Kind regards,

Sissy Princess Pansykins... deep curtsy's.


Hello Sissy Princess Pansykins (what a lovely name),

I was very pleased to read your letter, or should I say, I was REWARDED when I read your letter, because this is the purpose in writing our stories and drawing our pictures. If sissies can enjoy them with all the rich, glowing pleasure that forced feminization can bring, it's job done.

It's nice to know that Prissy and I press all your buttons, hon, and from what you say, we do it in all our pics and stories in the Feminized In Frillies series. However, there is one thing I would say: I would rather you were more exact in picking out one or two details that work for you. That is the sort of fan mail that really works for us.

For example if you had said: I was reading the "Sissy Clinic Nurses Have Their Home Sissies" story in Feminized In Frillies volune 4. Nurse Walters was telling John how sissies have to behave at Miss Hateman's De-Maling Centre, and as she fondled his cock through his panties I knew I was going to climax. If you told me that sort of thing, I would know the sort of situation that sissies treasure, and make sure to pay more attention to that kind of detail.

But that sounds like I'm not pleased with you for going to such trouble writing to me with such nice thoughts. Nothing could be further from the truth. You're a sweet sissy and I'm writing stories for you.

I wish other girls would write to me too, or to Aunt Frocks, to tell us what works for them.

Big hugs, Sweetie. Enjoy all the stories.

Prim x


---

This is Carol, darling. Isn't she hot?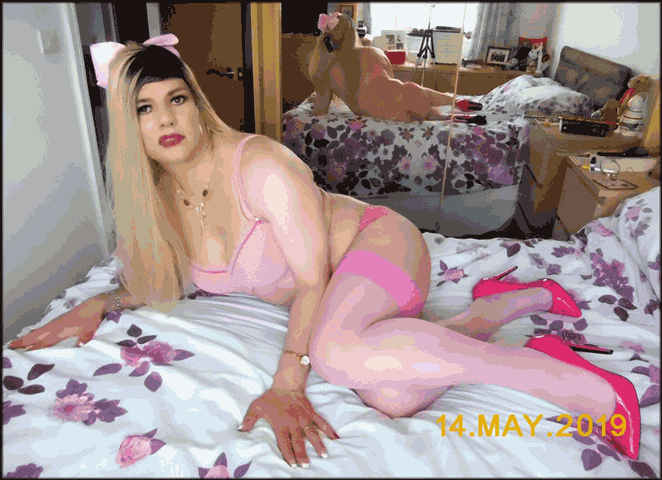 We want to see more of her, don't we? One of the new thrills in the Wendyhouse is the Lacy Lingerie Room. Click here to see Carol as one of the Lacy Room Lovelies.



Carol in the Lacy Lingerie Room


Mmm! Clutchable candy, a gorgeous girl! What about you darling? Have you sent me your 6 or 7 photos yet?


---

Letter 4: How does the Wendyhouse work?

Auntie, I was wondering how this works? Do I pay to see all the comics, or is there an actual place I can go to get turned into a sissy?

Hello dear.

It's nice to see that you are interested in becoming more sissy. I say 'more sissy' because you wouldn't be writing to me unless you were already a sissy in your heart, wanting to be more feminine.

The best way to see more about the Petticoat Wendyhouse is to visit FREEVIEW (see the blue links on each page) and then FULL INDEX. Another good idea is to scroll to the bottom of our Home Page where there are 4 pink panels down the right hand column, titled PPP#30 to PPP#34. Exploring these will give you an idea of what to expect as a member of the Wendyhouse. The JOIN page shows a few example pictures: remember each one has a story to fill it out inside the Wendyhouse, so there is a Prim story to go with each of the 399 Prim pictures in the members' archive. On 1st June that will go up to 407 when Prim's Petticoat Pansies #35 will go into the Wendyhouse.

When you add in the art work of all our guest artists, with a Prim story to fulfil each one, that makes a permanent Aladdin's Cave of sissy feminization, and all at such low cost.

With hugs,

Aunt Frocks x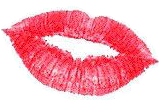 ---

Of course girls can look gorgeous in their lingerie or in their fashions, like Jane. Here she is doing both.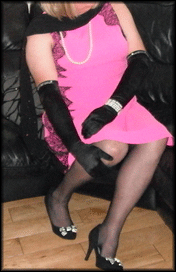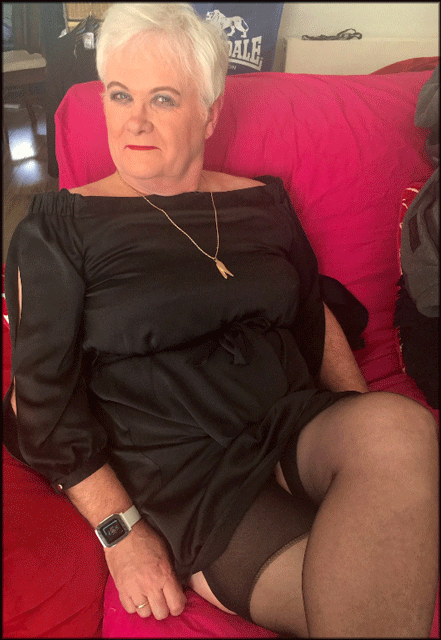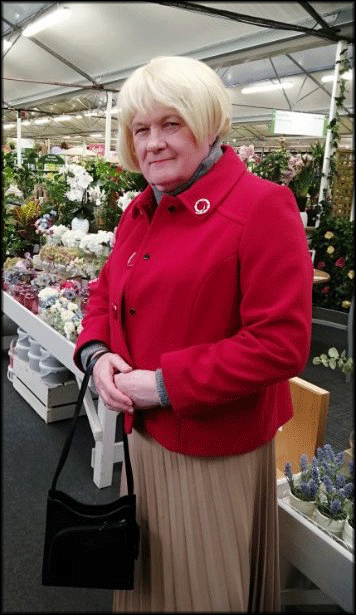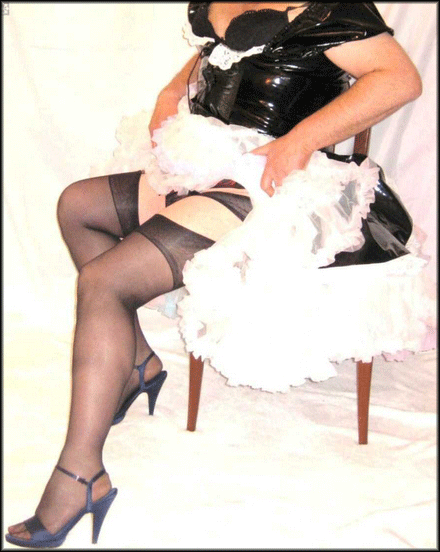 I am so grateful to Jane and all our other girls for sending me their photos to share with you.


---

Letter 5: Donna E Mobley - a secret sissy

Aunt Frocks to Donna:

Can I ask you a personal question, darling? Please decline to answer it if you feel that's best. It's none of my business, but I want to know if you use your costumes in any way for auto-eroticism? Do they turn you on? Some more than others?

There, I've asked it. I do apologise.

Keep safe darling.

Love from Aunt Frocks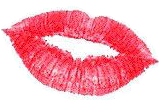 Donna's reply:

Well, darn...you've found me out. ??

I don't often get any sort of erotic thrill from just being Donna. I've been seriously into the crossdressing for 40+ years and it's just part of who I am. I have had one or two serious gentlemen friends who enjoyed my company and parked their slippers under the bed.

But it's when I get into the really really sissy frame of mind that things get much more erotic. I think it would be just marvelous to leave the normal world behind for a while (or for good!) and just be a sissy boy toy for some elegant lady and her friends. I have very close friends in Las Vegas, a married couple, and they're seriously into sissy play and bondage, and I visit with them a couple of times a year for a few days of serious partying. They have a very wide circle of friends who are totally into the sissy/maid thing, and I try to schedule my visits for when they're having a few other couples visiting. It's just so much fun being able to turn fantasy into a couple of days of real-world fun. (Not many people can do that, and I sometimes wonder how many actually would even if they could.) I'm usually the only one not part of a couple, so I get to play the bitchy old aunt or stern headmistress and sometimes I get to be just an extra boy toy for the ladies to play with. And if I'm stuck at home by myself, I do sometimes let the fantasy take over. If I don't have someone to play with, I play with myself. ??

Quite a few years ago, I used to do a little "sissy academy" weekend here at home, with one or two of the local gurls who had to learn how to do their makeup and do the household chores (I always had a very clean apartment) and learn proper table manners and deportment and all that. Of course they had to learn how to satisfy Aunt Donna's physical needs, as well. I had little report cards and diplomas for them if they did well. I just don't have room for that sort of thing where I'm living now, and I've long since lost touch with everyone except my friends in Vegas.

I've been into photography and video production most of my life, and I've dreamed up all sorts of fun stories and scenarios and plots for videos, even story-boarded a couple of them, none of which will likely ever get produced for want of money, performers, and locations. But maybe someday. Who knows?

Meanwhile I have to just satisfy myself with an occasional photo session and engage in a little fantasy.

LOVE!

Donna E Mobley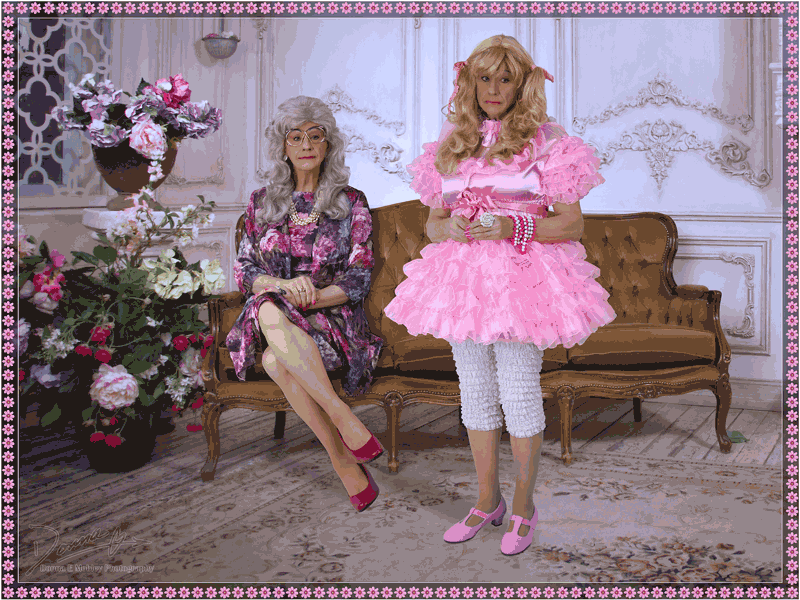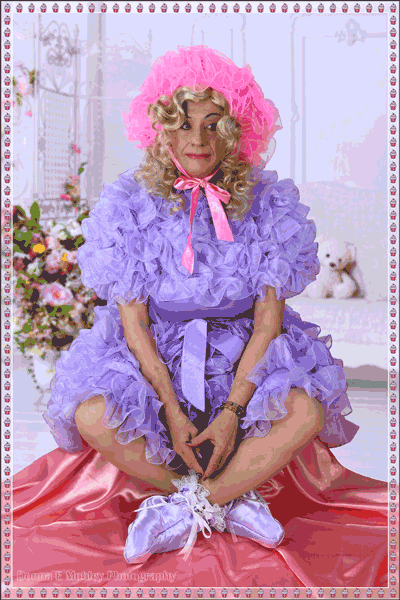 Well darling, I asked my question but I didn't expect such a warm and full reply. You're a darling. Now I have to ask you if I can include your letter in one of my correspondence columns, but I recognise that you were obliging me, your Aunt Frocks, when you wrote your heart on the page, as it were, so you may have forgotten my dictum that what you write to me I will take as 'for publication'. So you can say NO, with absolutely no offence taken. Your choice. It would fit so nicely into both my Tell Aunt Frocks page in Prim's upcoming issue of Prim's Petticoat Pansies #36, all about Mothers-In-Law, or in my Newsletter which will follow it. I would like it to be in both, with some of the adorable photos you've been sending me lately.

Now, let's see what you've been telling your Aunt. It's easy to see from your photos that you are 'seriously' into crossdressing, and from your recent 'closet tour' video clip which I so enjoyed.

[ Note from Aunt Frocks: Donna sent me a video she's done of her women's space at home. Enjoy.]



A Peep inside Donna's Feminine Space


The reason I enjoyed it is that I could imagine you, or A-N-Other cd submerging themselves in your dressing area as if in a parallel existence, which of course it is, the so-called second-life that gender people enjoy. You say you have had gentlemen partners, and haven't mentioned lady friends, so I'm assuming you are gay and not bi-sexual. You dream of how nice it would be to step out of the real world and engage in sissy boy frolics on a more serious basis. Well, it happens. I know of one important case where that is exactly the case: it concerns Jennifer, or Wendy Girlpanty, the sissy being trained in the Miss Blouse column of my nephew's PPP e-mags. There is no question of Wendy returning to normality: he is submerged in an all-female milieu in Paris, and is being very thoroughly fulfilled. To the satisfaction of the Ladies too, I might add, all of whom are VERY elegant. I can't go into too many details because of privacy considerations. On the other hand, Prim may one day be allowed to expand on 'day-to-day' activities in his e-mag: but that is for discussion.

I love the sound of your friends in Las Vegas (where else, lol). And for you get to be the strict senior Lady: how lovely for you, and for them. I see you performing that role so effectively, costume, demeanour, imagination. It all fits in. If only you could just run a little video shooting on one of these occasions, giggle. Needless to say, I would fit into the exact same role myself, although I don't know about 'educating' and couple, let alone a house-ful of submissive pupils. Prim could take a domme role as well: he is really into classic ladies' styles: women's office wear, Dynasty women styles, that sort of thing. Have you seen Escada styles, darling? That kind of power dressing is just up his street - as well as the very opposite: little girl dresses, little boy suits as in wedding ring-bearers and baby-wear. He's a sissy of wide tastes. Your 'Sissy Academy' sessions sound amazing. See what I mean about imagination, which can take a girl so far. Well, let's face it, ALL t-gs are obviously FULL of imagination, or they wouldn't try on what they do. Before a girl tries to become a girl, she must have spent a lot of her private days and nights seeing herself in her other self, living in this glorious pinkish dream world. The same applies, of course, to the Petticoat Wendyhouse. It's all a dream-land for girly dreamers. That's what Prim is good at.

You must see the new Prim's Petticoat Pansies #36 which he is getting ready. One of his best, there is no doubt at all. It could be published around the start of May, and apparently, despite the virus, it can be processed and become available in the usual way, thank goodness.

There are one or two questions you leave me with, my sweet: do the clothes actually turn you on as you put them on: the original tranvestite excitement of women's or girls' clothes? Or alternatively, are you a clothes fetishist, which is a question I find myself wanting to ask all our girls: can you make love to a lovely dress, in other words? And secondly, which clothes are your 'main ones', your dream of dreams? Have you any fetishes, in other words? For Prim, it has been women's blouses, probably his own mother's, with large collars that can be turned up around his face. After that it's skirts of all kinds because they are essentially for females. These come before lingerie for him. Then I think the next in line would be humiliation and enforced feminization at the hands of stern women older than himself. Can you top that?

It's lovely talking, darling. But be sure to continue to take care in these dangerous times.

Warm cuddles,

Aunt Frocks xxx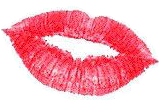 ---

A lot of sissy girls are pleased to know Sissy Suzee. She has her own Flickr group, and we're glad to have her company in the Rose Room.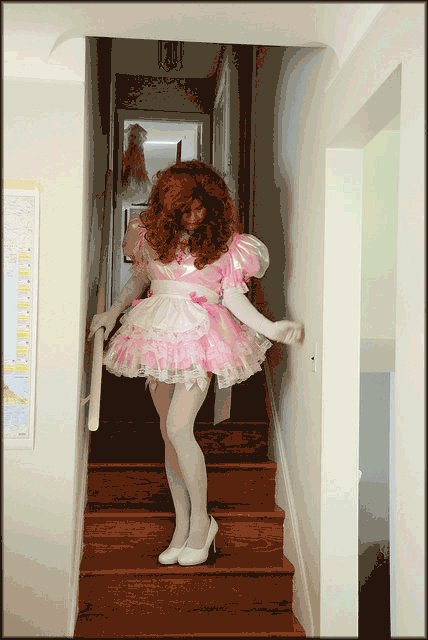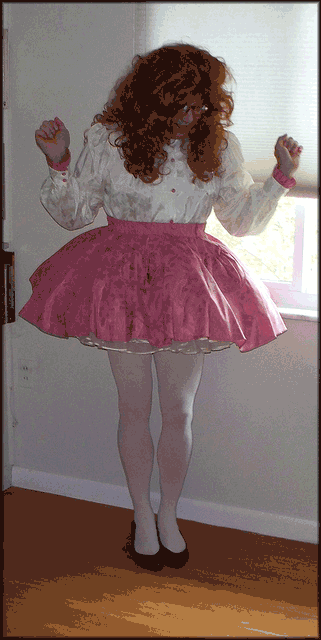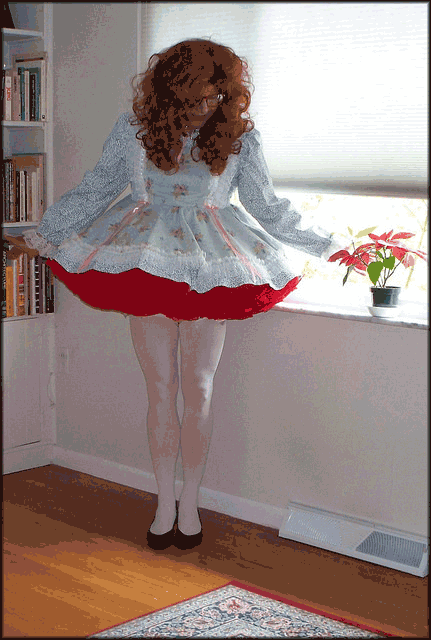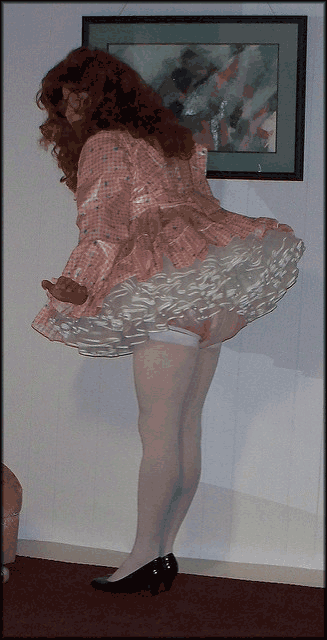 Isn't she a lovely little girl, and there are lots like her in Pretty Sissygirls. Go here to see for yourself.



Pretty Sissygirls



---

Letter 6 - PPP#36 - the 'Mothers-In-Law' special issue

Hi Prim,

Thanks for letting me know, I've got issue 36 now and I've started reading. Another fine piece of work as I love the thought of being "brought to panty" by a domineering mother-in-law. In my mind I often think the mother-in-law will have had more experience in those matters than her daughter, maybe she will have pantied her husband and have him brought to heel wearing her panties at all times.

Regards

Gary


Hi Gary, Glad you're enjoying PPP#36. You bet you're right about Mothers-In-Law knowing more ropes than their daughters. Her panties, oh yes please! But for husbands who think along the lines of being dressed in female apparel, as we do, I'm sure they ALL dream of her dressing up their son-in-law in all sorts of their clothing. Then there's the added thrill of her being an authority figure, a bossy madam. So surely she would delight in constricting you in her corsets and her tightest skirts and overwhelmingly feminine fashions - just to make the point of her dominance and your submissive weakness at her feet.

That's Mothers-In-Law. Where would fem-dom be without them, lol.

Enjoy, hon.

Prim x


---

I've already reminded you about the Lacy Room, sweetheart. Now I'm reminding you of those girly girls who know instinctively how to wear their lingerie. I've noticed a growing taste amongst our sisters for curvy girls. Here are four lovely girls I borrowed from Pinterest, showing us their lingerie.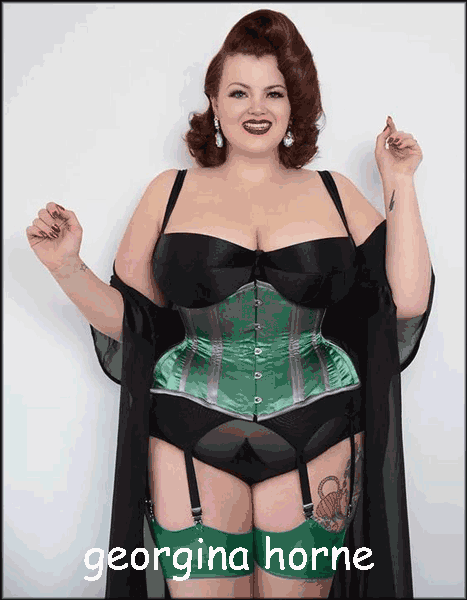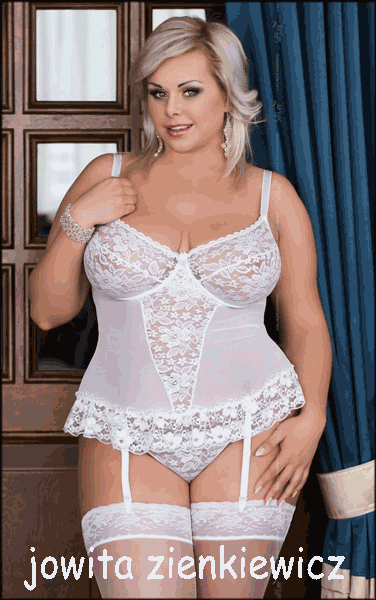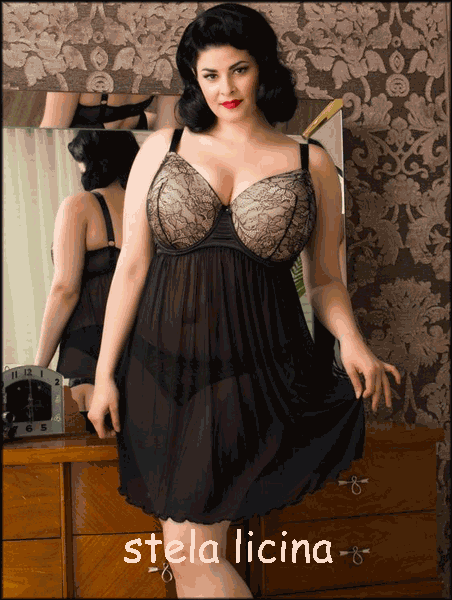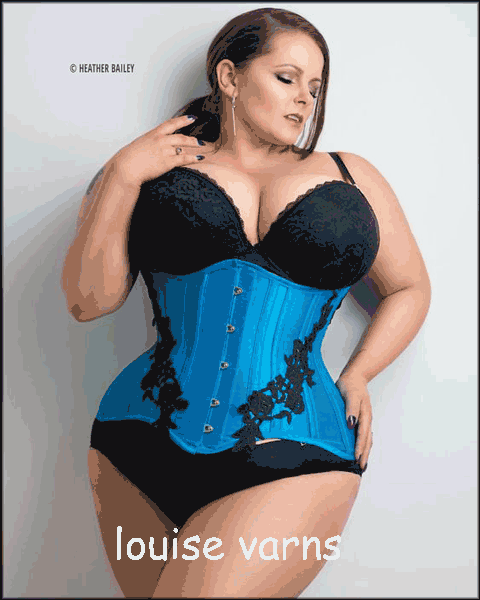 So let me invite you again, my darling. If you haven't sent me your lingerie photos yet, now is the best time!


---

Letter 7: Little Fanny Mattie's been busy

Dearest Auntie,

I've been stuck at home during the pandemic for the past two months with very little to occupy my time. My days now usually consist of sitting in soggy diapers in the middle of my playpen while I comb the hair my dollies, taking care to continuously change their little doll diapers despite the fact that my own have long since ripened.

All of this makes me very sad, since little pansy's like myself need lots of affection and attention, not to mention ample doses of discipline and shame! Speaking of which, Mommy Ellen and I were forced to cancel a trip that we'd scheduled for this past April. We were set to attend a weekend long erotic arts festival together where I was to serve as her girlie sissybaby. Like every new experience with Mommy, this one was supposed to be a next big step in pushing my submissive fetish boundaries to new heights.

I was thrilled [while at the same time horrified] at the thought of such a grand public unveiling of my sissy-self. I can only imagine what it would have felt like being led by Mommy's hand while toddling though a crowded hotel, dolled-up as an ickle diapered sweetheart in a flouncy nursery-print little girl party frock. There would have truly been nowhere to hide in such a venue, and similarly, there'd be no way to hide my thick, crinkle diapers and plastic panties since the layers upon layers of frothy petticoats would have effectively lifted the skirt hem of my extra-short babydress well above my waistline.

It is with little doubt that I would have been a ridiculous spectacle for the amusement of hundreds of unsuspecting attendees. And who knows what kind of trouble I would have found myself in with all the workshops, playrooms, and dungeons that were scheduled for the event. Mommy had already promised me one experience; a very intense public bare-bottomed spanking. This vow came during my last visit when she uncovered just how desperate I am to have my fanny spanked (a weakness that Mommy now uses to make me beg her convincingly for).

And so it was her intent to march me up onto a stage, where she'd then lower my diapers and proceed to thrash the bare flesh of my hairless little tushy with various paddles, straps, and canes before a captive audience. Aside from the sight of my pale bottom getting tuned into bright shades of crimson, the onlookers may have also observed how my little peenie was neatly locked away in a micro-chastity cage while the base of a pink buttplug could be seen protruding from out of the crack between my bottie checks.

Of course my biggest fear with partaking in such an exhibition is that my helpless little clittie might easily succumb to all the humiliation and shame. I shudder to think of how, without warning, it could erupt in gobs of spurties from out of the opening of it's steel cage during the middle of my punishment (the mortification of this would likely be unparalleled to anything I've ever experienced before!)

Alas, this potential reality will have to wait another year or so. In the meantime, I just have my thoughts and fantasies to keep me occupied. But luckily Auntie, I still have you and Primmie here to help with this! In fact, there was one story from Volume #3 of Prim and Prissy's 'Feminized In Frillies' series that continues to keep me in bated ecstasy. Entitled "Petticoat-Panty-Productions", it features The Grandmothers of Little Dixon Village, who serve to subject local panty-stealing male miscreants to extreme forms of humiliation and petticoat punishment. They ultimately make such perverted imps into little girls, and then force them to star in online sissy porn films together.

Oh Auntie, I must confess that despite being a sexless sissybaby, deep down I also fantasize about such forbidden scenarios, and I shiver with thrills just thinking about being directed by these stern, elderly Matrons. Like the 'victims' in the tale, I cannot deny my repressed desires to be similarly shamed with a face full of sissy spunk as I am filmed live on-camera. You may recall, I confided in you before about my growing curiosities for cock (and of being covered in cummies), although strangely it is only arousing for me as a forced humiliation at the hands of dominant and mature female betters. I believe this is the premise of being a cuckold, or in my case, a sissybaby cuckold.

And so given all the time on my hands, I decided to delve into this dark forbidden fantasy by creating several Photoshopped scenes of myself. Below are 2 versions for you and all the Wendyhouse readers to enjoy (one is an "ice-cream" censored version while the other is "x-rated"). I do hope you like and understand these!

Love and hugs in semen-soaked diapers,

Little Fanny Mattie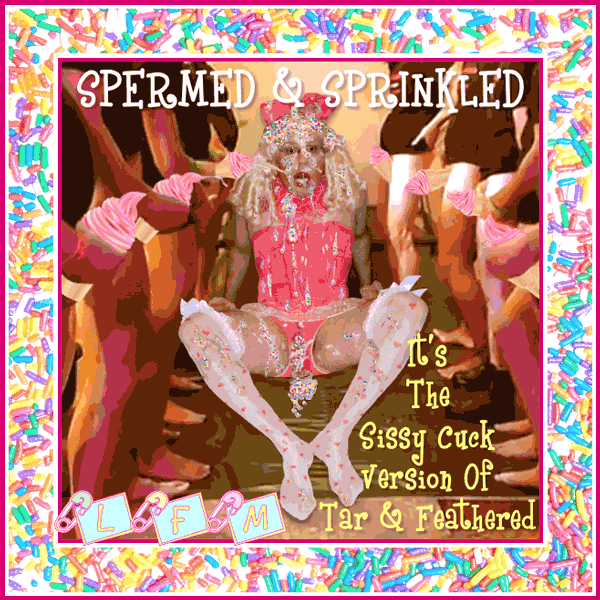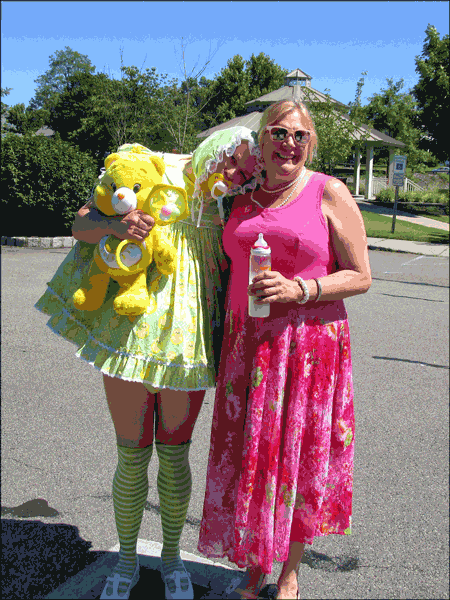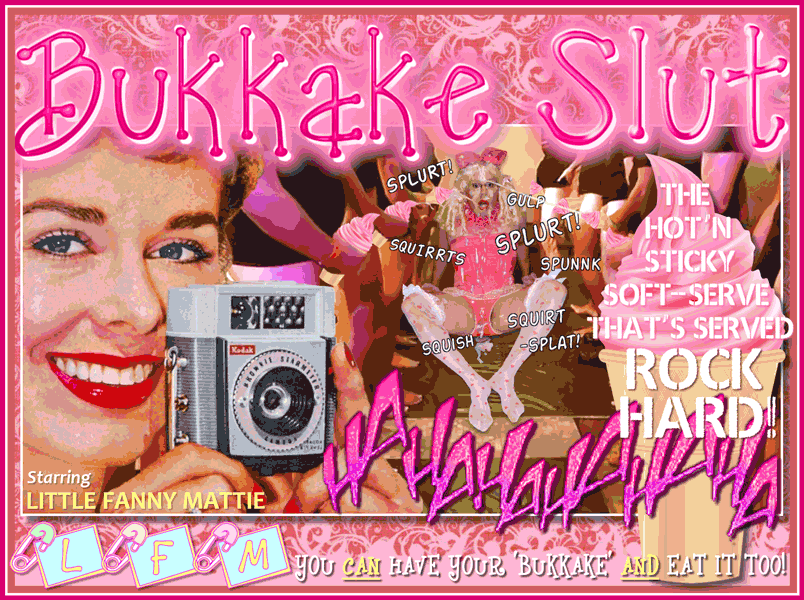 Little Fanny Mattie's albums in Flickr.
My dear Little Fanny Mattie, It's lovely to hear from you again, in response to me asking any girls who wanted to be in my Newsletter. So here you are.

You have been working SO HARD on your helpless victim art, in which you have shown what a bukkake slut you are! How sweet of you to give me the option of the Vanilla ice-cream version or the X-rated version. I take it as my privilege to use either, or both.

But Mattie my sweet, how awful that you had such a wonderful public humiliation event lined up, only to be foiled by this dreadful pandemic thing. It must be disappointing not only to you but to the sissy-lovers who had planned to be there, willing you on - or willing Mommy Ellen on in her spanking across your bottom.

I didn't know you were so desperate to have your bottie spanked. Well, well, well, and simply bursting to lose control of your sexlessness so that you shame yourself in front of your audience. But come to think of it, it's all I would expect from a tea-leaf sissy-diaper like you, Little Fanny.

It's interesting how your interest is growing in cock-sucking, especially being forced to suck cock. I wonder if Prim's Petticoat Pansies #34 the cock-suck special was an influence, sweetheart? So you would like to be a cuckold, especially when it's a Mistress and not a Master who insists?

I'm very pleased with you for sending me the link to your Flickr site to put into my Newsletter. Now we can all step inside and see what a worthless, helpless, sexless little fag you are.

Be feminine, my little baby girl, and stay safe.

Close cuddles from Aunt Frocks xxx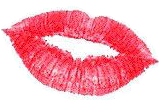 ---

Here's another sweetie who loves being a baby girl. I'm pleased to say Samantha-Rebecca is in our Rose Room too.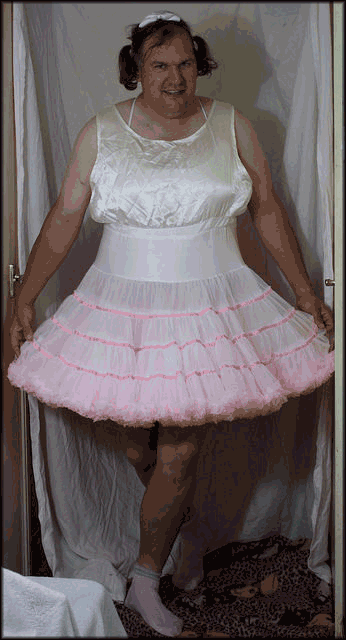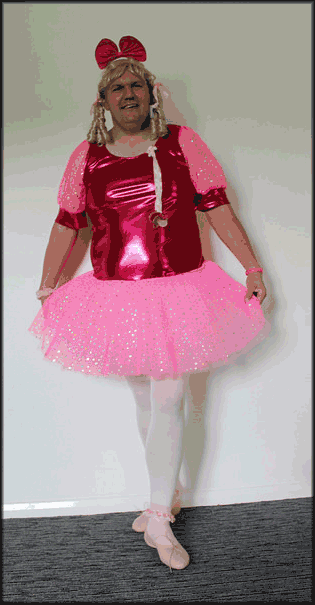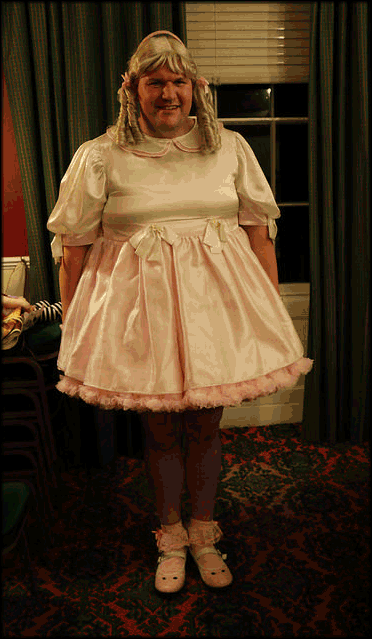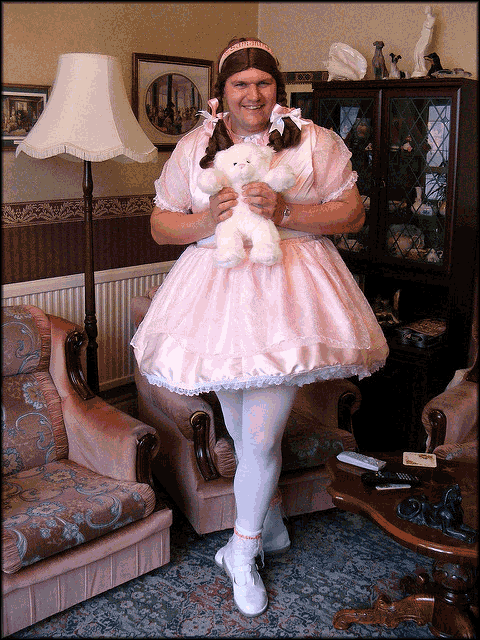 She has such girly wigs and wears such gorgeous dresses. Mummy will be pleased with how sweet her little girl is.


---

Letter 8: Prim's "Dress-boys" pic in petticoated.com

How nice to see a dress-boy at a wedding

Dear Aunt Frocks,

I just wanted to say how much I loved Prim's story and image in this month's Petticoated.com. The tricked and humiliated dress-boy was wonderful, and the ridiculous femininity of his outfit was just perfect. It's especially meaningful to me, as I will be marrying my Miss early next year, and she took just as much delight as I in the concept. The only changes we'd have made would be to pin up the front of the dress-boy's hem so everyone can see all those lovely lingerie layers and the excitement he's getting at being walked down the aisle. We'd also have made most of the items come right from the ladies of the bridal party, so the sissy dress-boy could feel truly swallowed up by them.

Sadly, real-life does not make such things practical for our wedding, but it was still an absolutely lovely new fantasy for both of us, and one we might have to play out sooner or later.

Love,

Bunny


Hello Bunny.

What a darling you are for writing to tell me how you and your beloved Miss enjoyed Prim's idea of a wedding dressboy. It is an alarming thought for past boyfriends, and as you probably know, sweetheart, girls and women can be so subtle and sneeky in closing a honeyed trap around those innocent, weakling boys in their lives. I hadn't seen Prim's pic and story until they appeared in Aunt Helga's March edition of Petticoat Discipline Quarterly. I love it as you do: the ridiculously humiliating costume for the wedding, with his stepmother's bra worn over it - and locked into place for everyone to see he was padlocked at the back. That's soooo embarrassing for him.

And that's what we like isn't it darling? To see these sissy-boys crying with shame. I take your point about how he should have had his dress pinned up at the front, to show the wedding guests how pathetically aroused he was.

So you're getting married? That's wonderful, Bunny. I wonder if you will wear something that shows just how sissy you will be for your new Mistress?

Warm hugs for you and her, darling.

Aunt Frocks xxx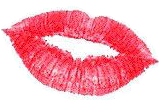 ---

Another sweet girl who sent me her photos is Baby Charlotte, all in oyster pink.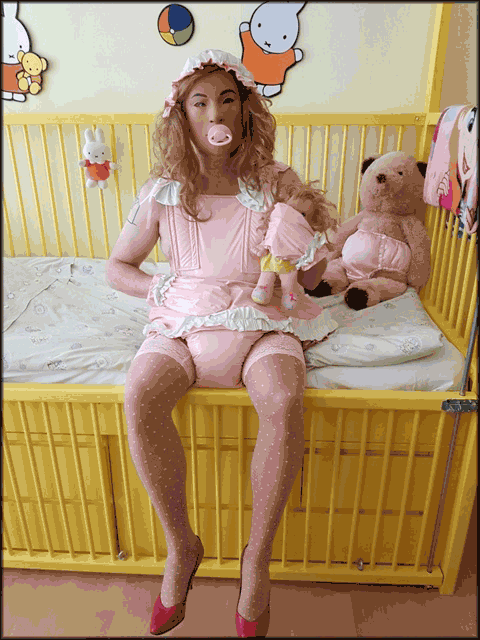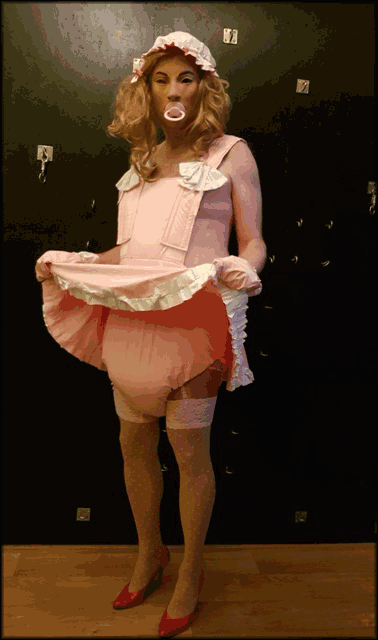 Charlotte is one of those little girls who needs deep, fluffy diapers because of accidents. but we love to see her big plastic baby panties, don't we?


---

Letter 9 - Chemise Satin, Sissy Angel

Hello Aunty Susan. Since my last email I've set up a Flickr account called Chemise Satin Sissy Angel. I have taken loads more nice photos and made some albums of beautiful people that bring me pleasure. I think my own pics are getting better. Maybe these will be good for the lacey room or even a separate feature in a future newsletter or prims petticoat pansies. Here are a few examples of what I've done lately.

Best wishes

Chemise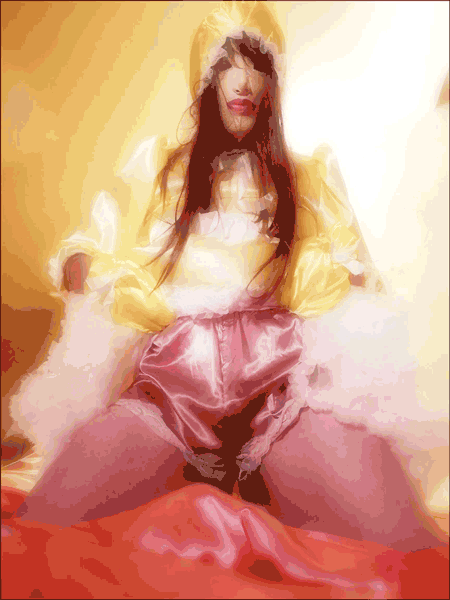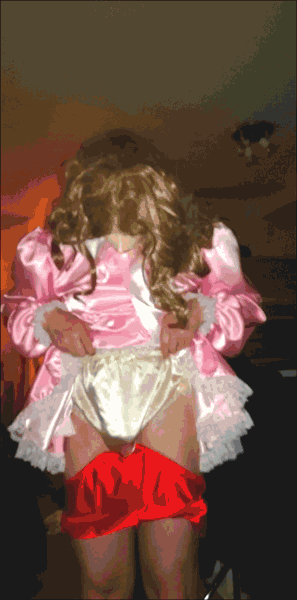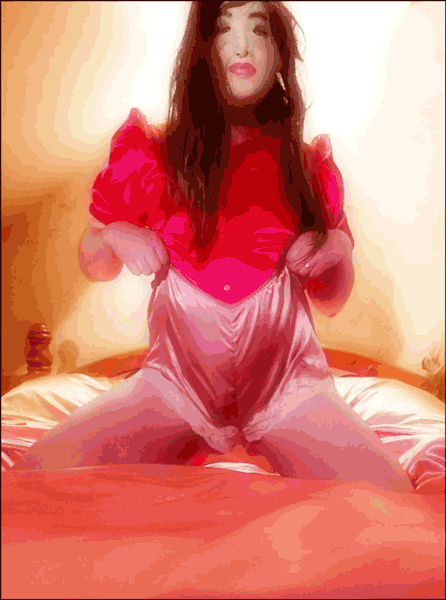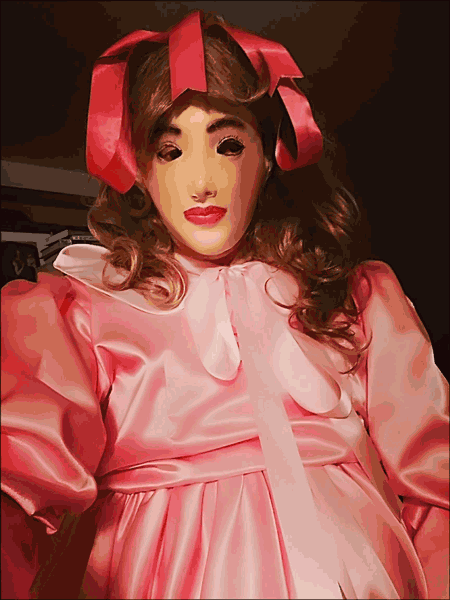 Well darling! What am I to say? Your photos you sent me are simply soooo much batter than any you had sent me before. Of course, Prim will have to be including your nice panty photos in our Lacy Lingerie Room. That's likely to be sometime later in May. Your girly mask frees you up to do so much more with your photos, doesn't it? Everything you've sent me is so sensuous and sexy.

But darling, then we come to your new Flickr website. Oh my gosh" So much satin!!! Sissies who visit will be breathless with the desire to throw themselves onto the bed and sliiiiiide! I love the way you've done it, with photos of yourself mixed with photos of your fave satin-loving women. Mmm-Mmm.

Love your albums too, and how sweet of you to include a Prim album sweetheart. By the way, the seventh toon is a Prissy pic, Prim can't lay claim to that one. And Christine Bellejolais! Isn't she a one! Prim reckons, and I agree with him, that she is one of the all time quintessential sissies. He's pestering me as I write this to ask if you have a contact address for her because he's tried to get in touch and can't find a web or email address. Can you help, darling?

Christeen too: what GORGEOUS pics. Delicious sweetness, ultra femininity. When I include your letter and photos in my Newsletter I'll put a link to your lovely new Flickr account. I wonder if setting it up was thanks to being stuck at home to avoid the awful Covid-19 ? - Well it just shows, everything has a silver lining.

Thank you again for thinking of me when you made your photos, darling. You're such a sweet thing.

Cuddles from Aunt Frocks xxx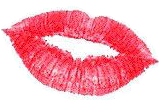 Chemise's new Flickr albums
---

Now it's story-time, darling, and this time I want you to enjoy three Prim stories, starting with the Wedding Dressboy story from Bunny's letter above. Terry Vernon finds he's still carrying a torch for his old flame Amelia, and foolishly agrees to be her dress-boy at her wedding.



Dress-boy at Amelia's Wedding


This next story describes the humiliating ordeal of Nigel Michaud when his wife Natacha agrees to his sissy dream of being fastened into his Disney princess buggy - then wheels him into the horrifying company of his two previous wives. The story is in PPP#26 in the Molly Room.



Natacha Bonnay creams Nigel for his ex-wives


And lastly a story of sissy confession about those precious feminine panties we all love, women and sissies alike.



The Most Feminine Panties




---

Someone wants to say goodbye to you, darling. It's Sissy Maid Jessica, taking a break for her maiding duties.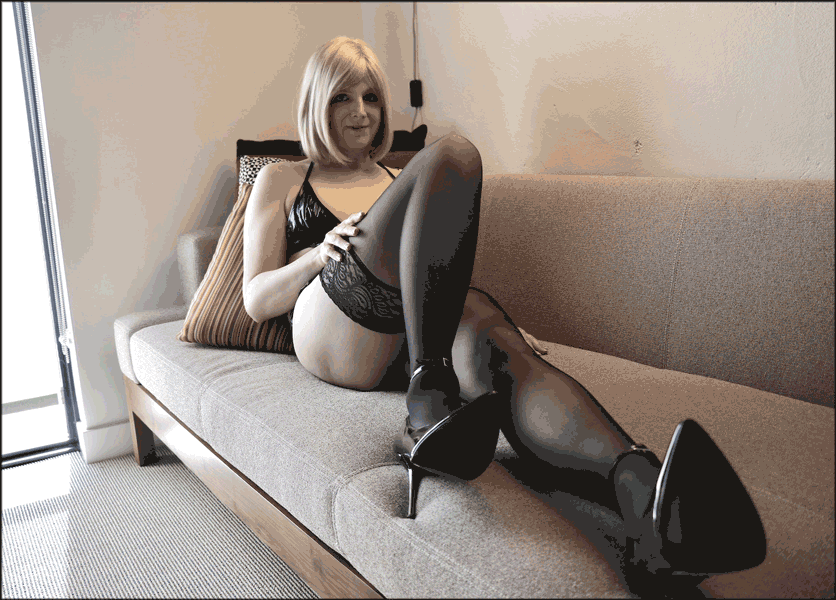 What a gorgeous combination it is: mmmmmy lingerie with stockings and high heels. Thank you for looking so lovely, Jessica.


---

It's been a pleasure for me having you reading my Newsletter alongside your Aunt, precious. I hope you've enjoyed what the girls sent in, but please bear in mind that you too can make my Newsletter a pleasure for so many other girls, as well as for everyone in the Wendyhouse if your contribution goes into my Tell Aunt Frocks page in the next issue of Prim's Petticoat Pansies.

And that's part of my news this time: PPP#37 will be a 'SISSY SCHOOL special issue'. It should be ready for the beginning of July. Don't forget that PPP#35, the 'PETTICOAT PUNISHMENT issue', will go into the Wendyhouse archive for members from June 1st. But before any of those things, the next collection of Prissy pics and Prim stories will be available to order around the start of June: Feminized In Frillies volume 5. Get it darling. It's a snorter!

All my love and thanks again to all the girls who contributed to this Newsletter. And to you, pet, for stopping by to read it with me. I hope you felt extra girly and full of sweetness. Now you can pop into the Wendyhouse to plunge into some of Prim's stories, or to enjoy browsing the girls in the Rose Room or the Lacy Lingerie Room.

Or you can stay in my lap, darling, and read through the Newsletter again with me, I'd love that.

Love and deep hugs, my angel. And stay safe.

Aunt Frocks xxx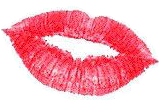 Back to the Home Page