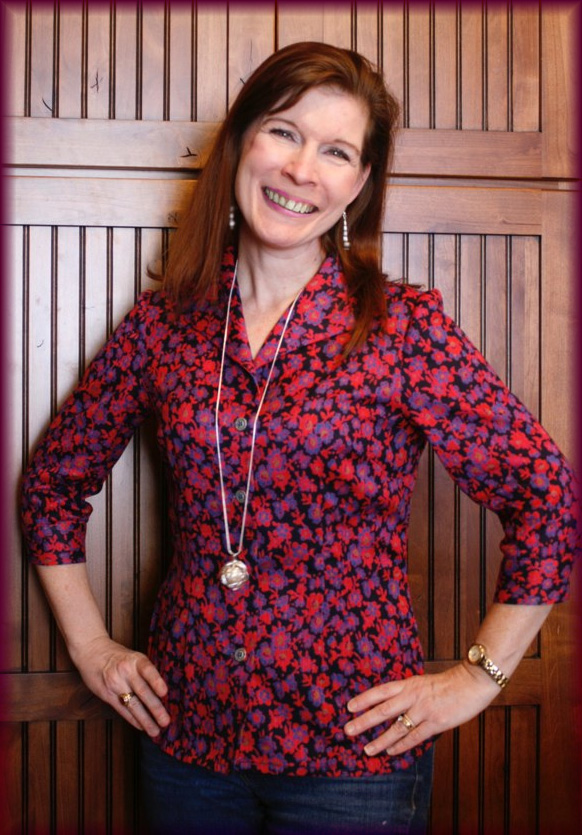 Hello my sweet darling. Welcome to my 38th Newsletter for precious girls like you. Or maybe you are one of my very special sissy babies. I want you to enjoy your own private feelings of femininity in your own way. But through my Newsletter, I want to show you how you are not alone at all. You are part of a wide, loving family of cross-dressing and transgender girls. And if you are reading here, in the Wendyhouse, I'm guessing you love to submit to those degrading humiliations that dominant women inflict on sissygirls like you. Because that's what Prim's Petticoat Wendyhouse is all about.

Of course you know this if you are already a member. You will know that Prim is constantly filling up the Penelope Room with fresh pictures, month on month. We are up to 80 new pics since January, and in a few days' time that will become 90.

Then there is our other new development from this month onwards: Petticoat Discipline Corner. These monthly issues in six sets of 12, are the pictures that Prim sent to Aunt Helga for her brilliant sissy website Petticoat Discipline Quarterly. How sad it was that we lost Aunt Helga 18 months ago. All we can do is admire that work she put in for sissies like you, darling. Wasn't she a superb example of unselfish effort for the pleasure of others?

But now her site has gone, so the least Prim can do is to bring back the pics he sent her for you, with the stories that went with them.

My Newsletters in future are going to be only half as long. I'm afraid they were becoming too long and difficult to do. The upside of this is that I hope to bring out a Newsletter every second month.

But darling, you want to read what girls have written to your Aunt, with photos to enjoy too, so let's get started, shall we, with a nice set of photos sent to me by Lady Suzanne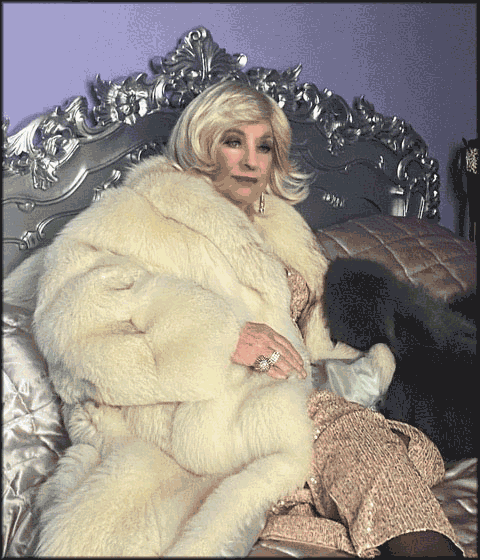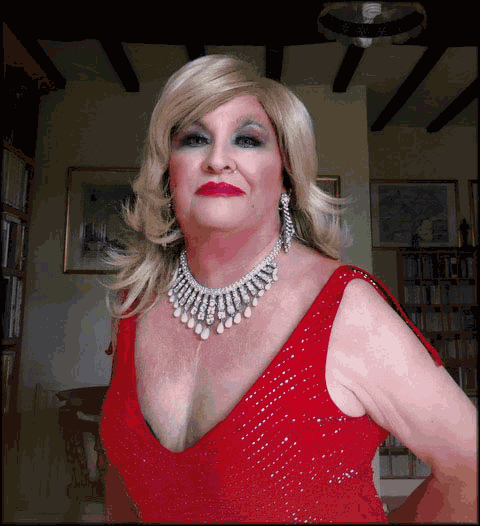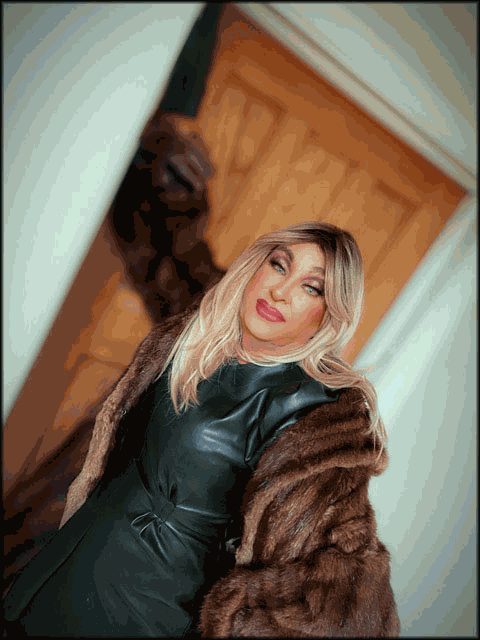 She was the very first Rose in the Rose Room and has been a member of Prim's Petticoat Wendyhouse from Day 1. You're not the only long-time supporter, Lady Suzanne, but thank you for helping us to provide for all the sissies who have enjoyed the Wendyhouse ever since.
Click here to visit Lady Suzanne's Flickr photostream:
Lady Suzanne
---
Letter 1 --- Should I tell?
Hi, I have been a TV all my life. I love it but my partner does not know. Should I tell her? I am now 69!
I have been to Mrs silks and other places. I would like to know your opinion.
Melanie xx
Hello Melanie darling. Thank you for writing to me.

You raise a very important point, which at the same time is very delicate. It's one you have to get right, as I'm sure you understand.

The difficulty in deciding arises from how long your love - and your practice - of TV life has been kept a secret from your partner. It is for you to decide how they would feel when or if you reveal it. It's never nice for a loved one to be told you have been keeping something major a secret, and even more delicate when that has been for a long time. Only you would know, or be able to guess, how they would take it.

Such a revelation would certainly bring them a lot of distress. Your hope would be that they would cope with this, probably with your very sympathetic help, and end up loving you the more for your honesty and your desire to 'come clean' and be more open and closer to them from now on. I suppose you also feel that he/she would allow you to continue to practise your cross-dressing since it is a crucial part of your personal sexuality. Perhaps your hope might be that they would share it with you, and take part, loving you as a cross-dresser as much as when you are the 'normal' you.

But getting back to how they would feel, that is where you must make your decision, I feel. Are any subsequent benefits you might enjoy worth the risk that they might be unhappy, even to the point of doubting whether you can carry on in the light of this shocking revelation. My instinct tells me that you would be better not telling. Keep it a secret, at least until such time as maybe you are sure that they would not be unduly bothered by the news. One thing is most important: you and your partner must be able to carry on being in love and happy with each other, either the way you are, or the way they think you are.

I hope that helps, my pet.

Love from Aunt Frocks x


---

Six new Roses have been added to the Rose Room this month. They each have their own gallery showing us their fashion choices and their femininity.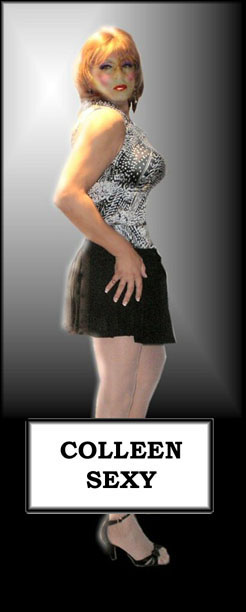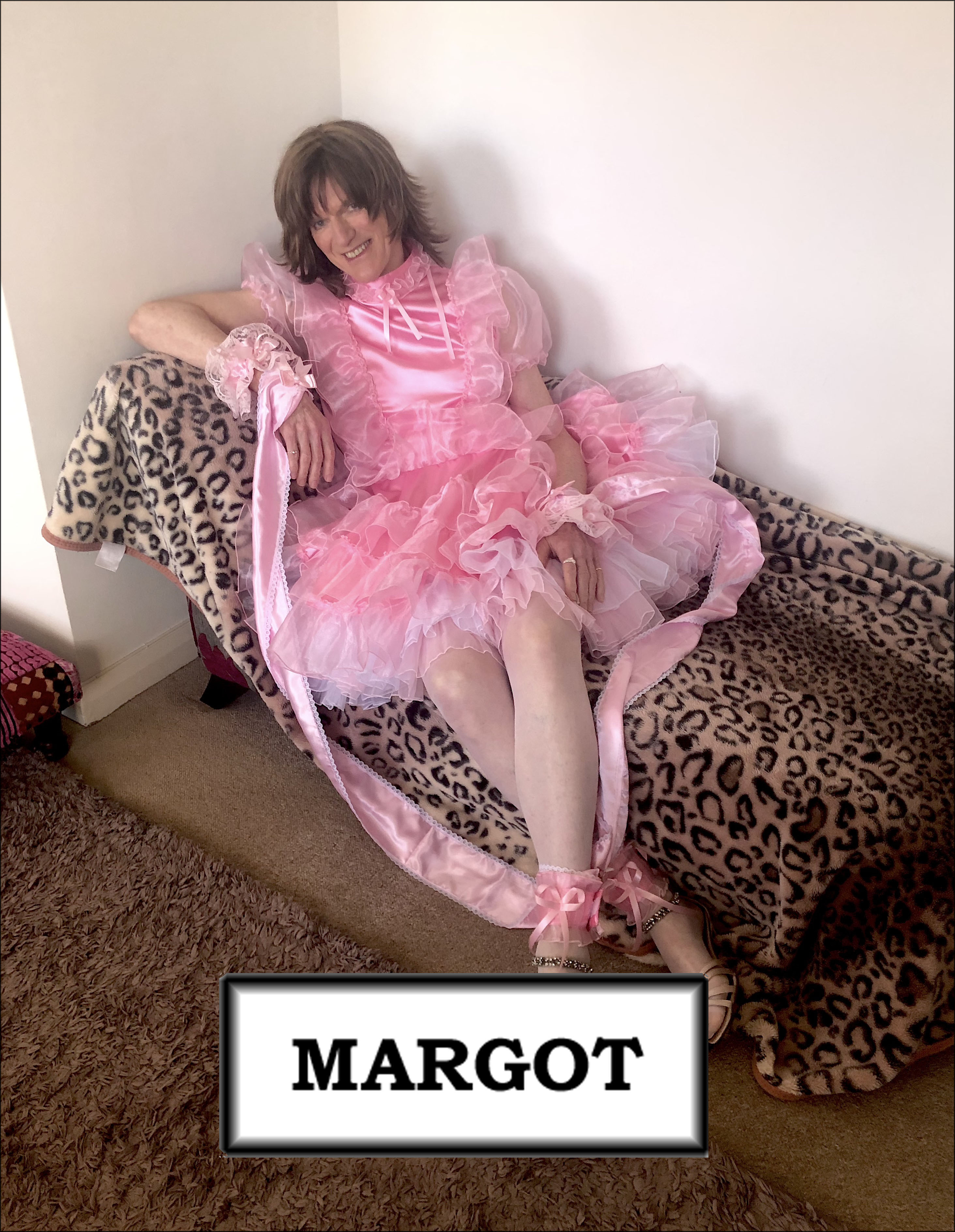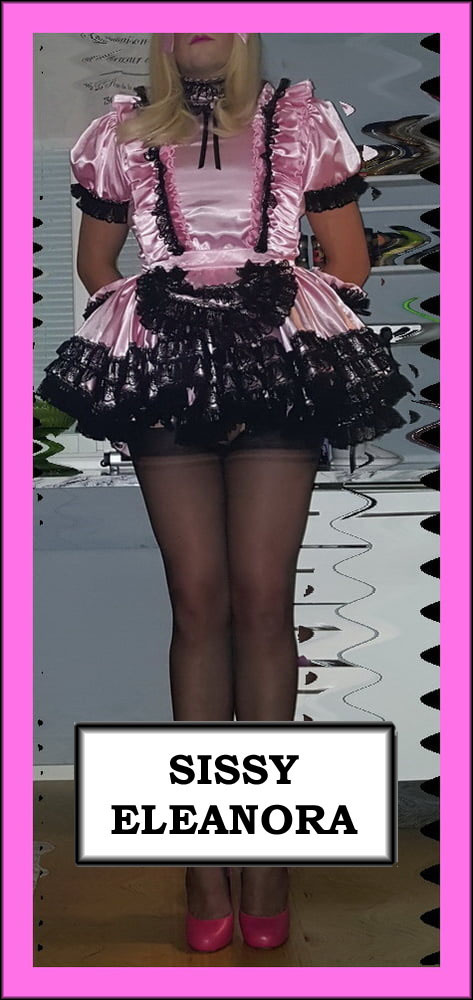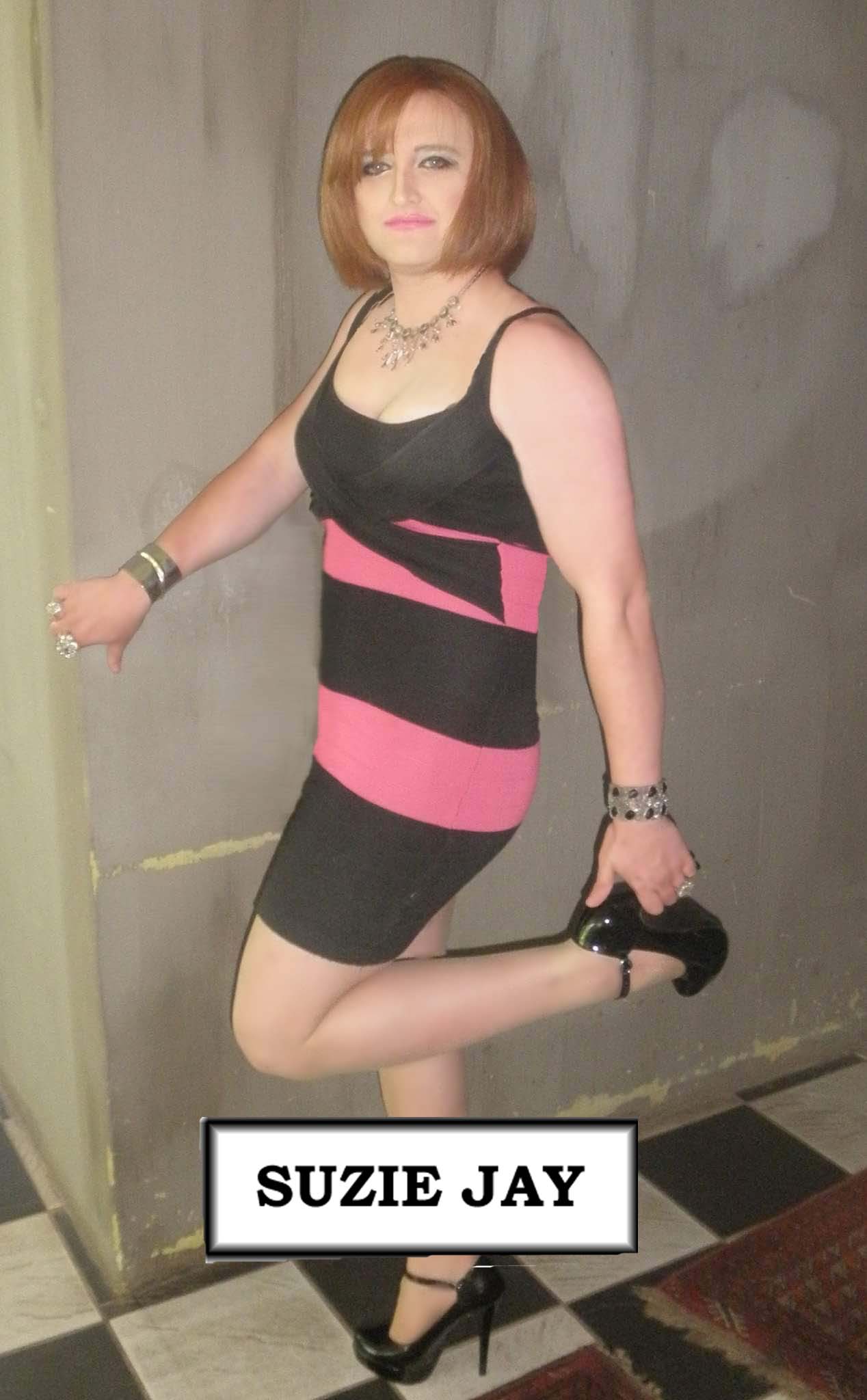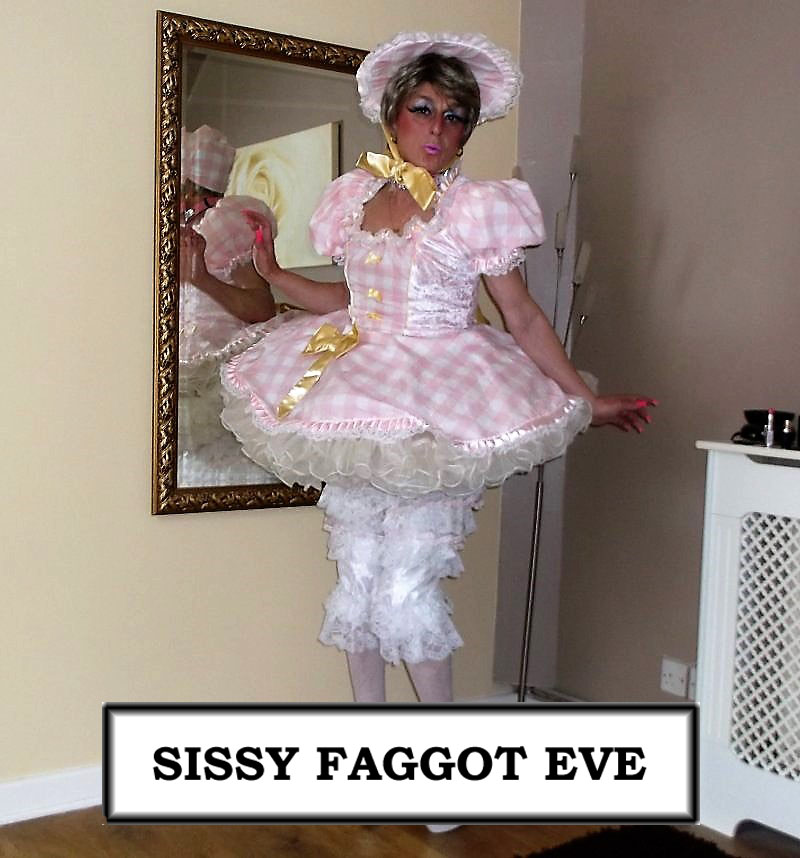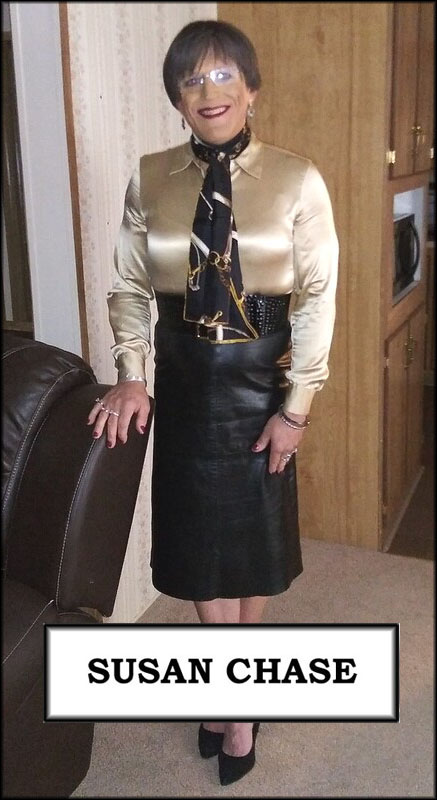 Aren't they lovely! You can be in the Rose Room too. All you have to do is write to me and show me your photos, or ask me to choose from your photostream. See my email address at the bottom of my Newsletter.
---
Letter 2: A new sissy in the Wendyhouse
Hello Aunt Frocks. I'm Sissy Faggot Eve. New here in the wendyhouse. It's wonderful here Aunt Frocks. The stories and photos are beautiful. A lot of them I can relate to, having experienced them. I've been sat here today reading the stories aloud in my pathetic sissy speech voice, with butterflies in my stomach, wetting my nappy, feeling like a proper little pansy poof.
Your nephew told me that you would require around 20 photos of myself, which I have attached for you Aunt frocks. A lot of your sissies will know of me, there are some familiar faces in there. Hope you like the photos.
sissy kisses
sissy faggot eve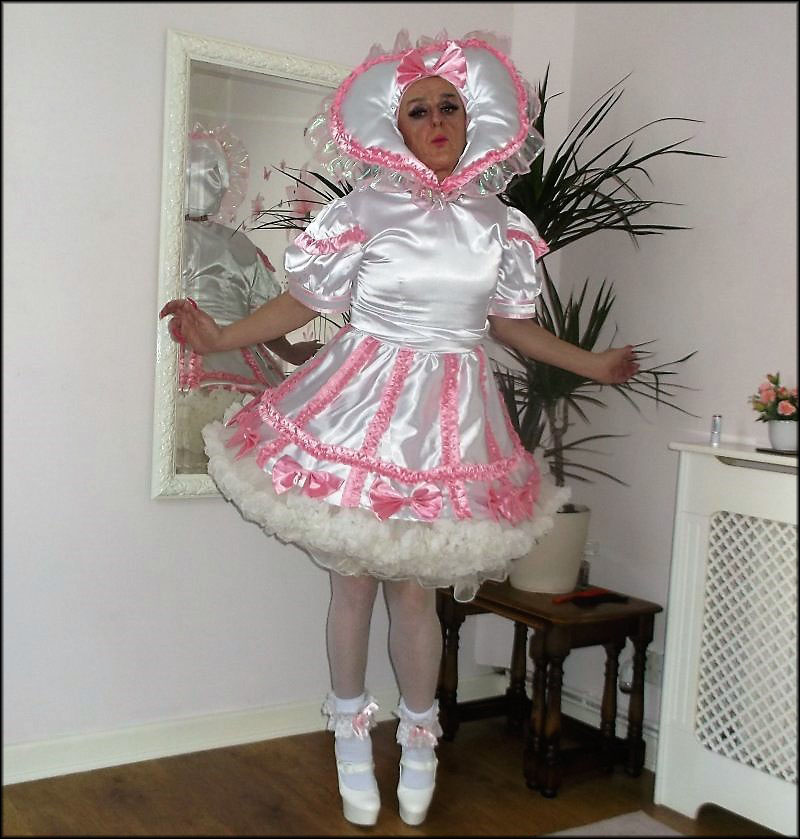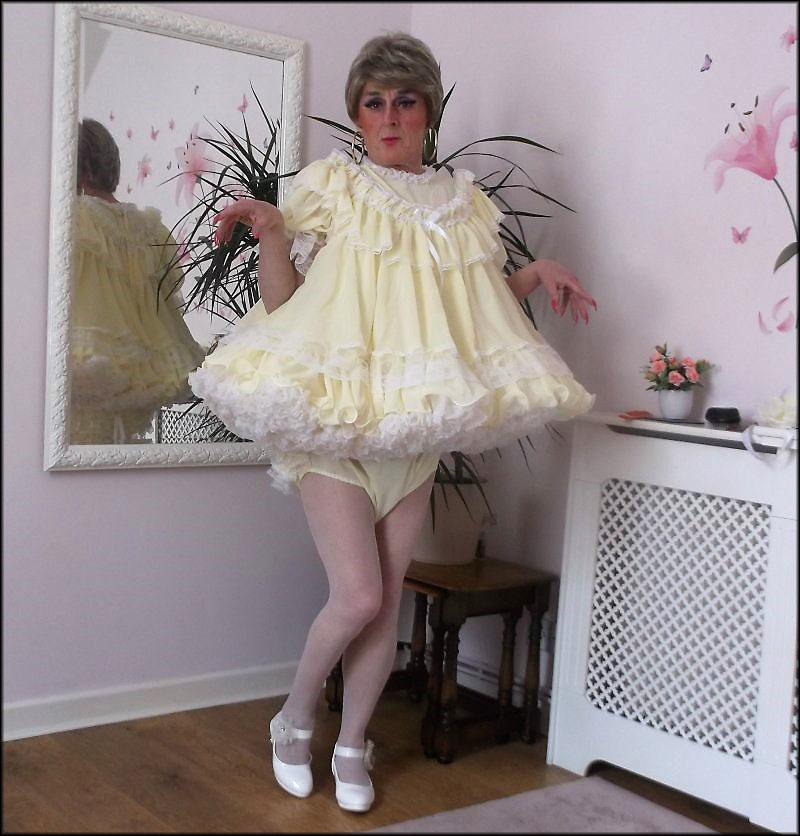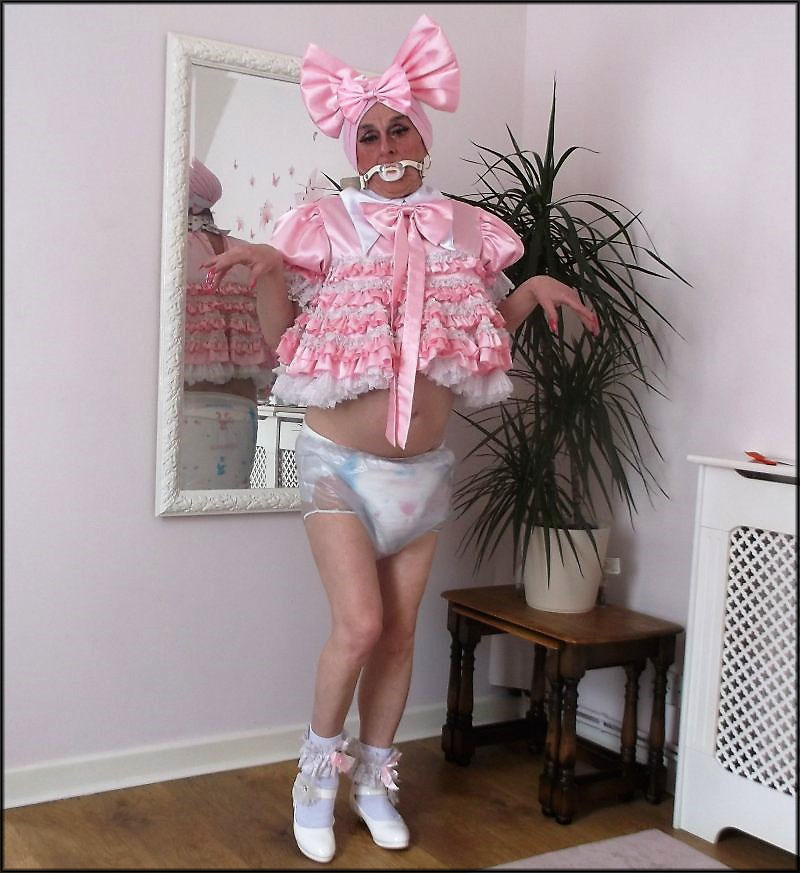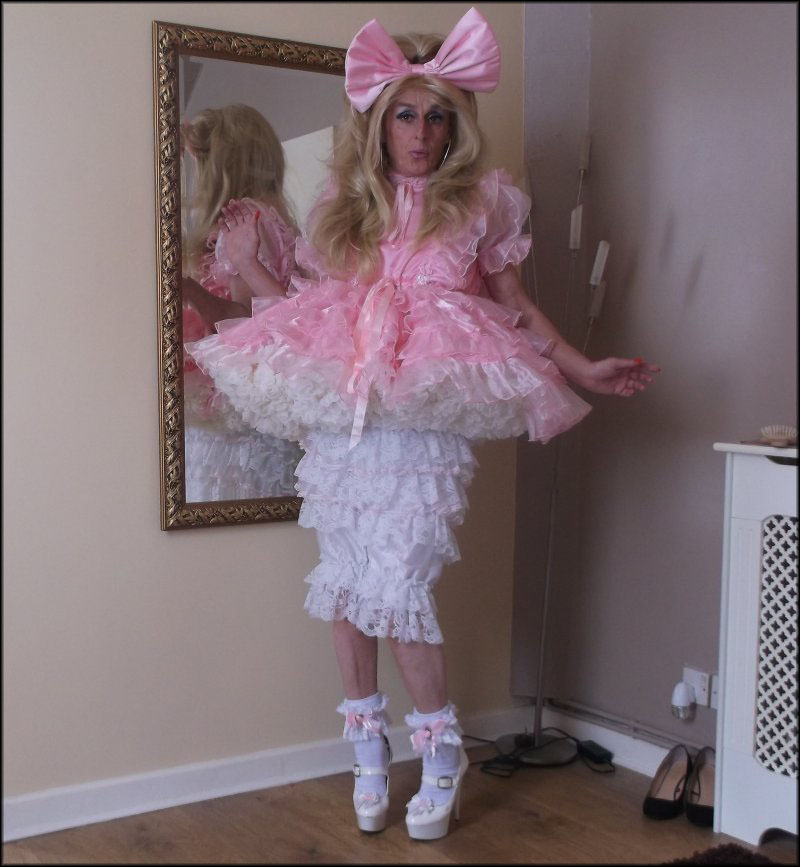 Dear Eve, you little sissy faggot,

My how cute you look in such frilly dresses - so suitable for a 'man' as depraved and desexed as yourself. I imagine you keep a secret little stiffie underneath all those panty and petti ruffles while you are being photographed, because you will be feeling so pathetic and sexless. And so GIRLY.

You did very well to send me 20 photos, darling. That means I can feature you in the Rose Room and in both my columns: my Newsletter, and Tell Aunt Frocks in the next issue of Prim's Petticoat Pansies. Look out for all of them. Unfortunately you have to wait because of other duties taking priority, but everything is in line.

My favourite photo is 7551, where you have been put into your pink frilly dress over your knee length pretty pantaloons. Oh my gosh! So many frills! No wonder you are standing there petrified in feminine helplessness. Prim likes photo 3653, where you are desperately trying to escape the sissyfying effects of your white satin baby bonnet. He likes that kind of thing, the pansy. Another fave of mine is your primrose dress, the way it hangs so sweetly, flaring a little wider over so many petticoat frills.

What an angel you were for sending them to me. I shall try and get you into the Rose Room as soon as I can, but it won't be until July at the earliest, pet.

Lots of love from your Aunt Frocks x

You can visit Eve's blogspot if you go here, which we can't do as a direct hyperlink:

https://deref-mail.com/mail/client/6nPijxSqH98/dereferrer/?redirectUrl=http%3A%2F%2Fsissyfaggoteve.blogspot.com

---

Sissy Marina sent me a couple of photos to show how she loves to dress up in ladies' lingerie.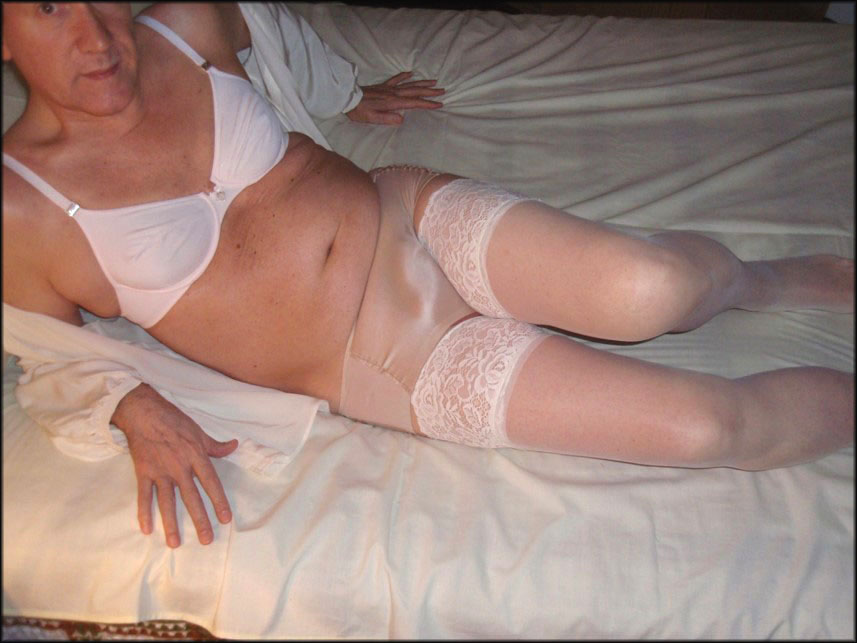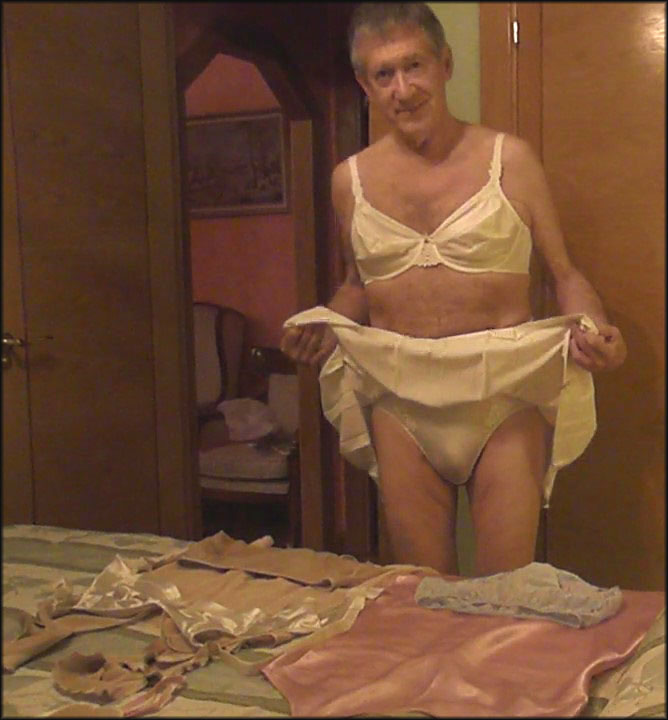 It looks like she enjoys wonderful evenings in her bedroom, feeling feminine.
---
Letter 3 --- Prim pics and stories
Hello, Prim! I just stumbled upon your Monica Satin account on Flickr. How wonderful to find you. I guess I've always felt that you were protected behind a wall from your adoring fans of Prim's Wendy House, to which I belong.
I occasionally hear from Aunt Frocks; most recently about the inclusion of my Femdom FLR stories on the website. Exciting!
Speaking of stories, I love your tales of tantalizing female control over sweet, hapless, sissified males. And your artwork is excellent. .... the sheen of the stockings, the luxurious folds of the pretty, pleated skirts, the gorgeous heels, the sumptuous colors, the oh-so humiliating costumes the poor little dears are dressed in for the amusement of your strong, authoritative women. mmmm... Your charming, smiling, beautifully dressed women remind me of my kindergarten and second grade teachers. I wanted to marry both of them, and was their adoring little pet.
Okay to follow you, Prim?
Warmly,
sissy pooh suzette
Hello Suzette. What a beautiful letter. Thank you for sitting down and saying it all for me and my Aunt. We love it when girls enjoy feelings of pleasure over our stories and pictures and then tell us how it makes them feel. This is why the Wendyhouse exists: because there isn't enough sissy material around of this submissive girly kind under the control of strict dominant women. That's why I've opened the Penelope Room: fast output on a regular basis.

It's a full time job and of course we need income to live, hence subscriptions and prices. Can we thank you for your support. Every bit helps us to keep on doing what we are doing.

Girly hugs and thanks. Prim and Aunt Frocks x

This is Suzette, darling. Isn't she a live wire?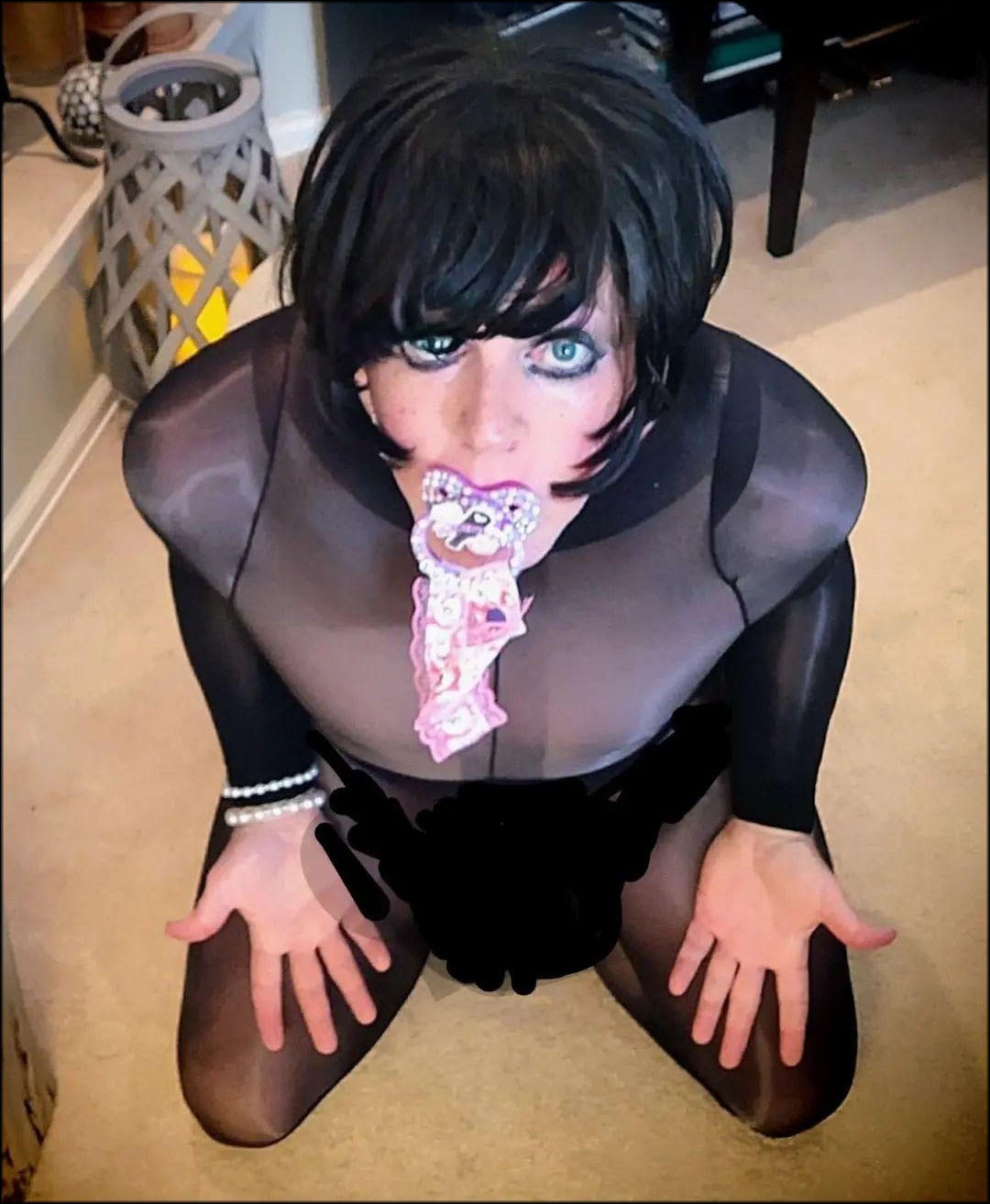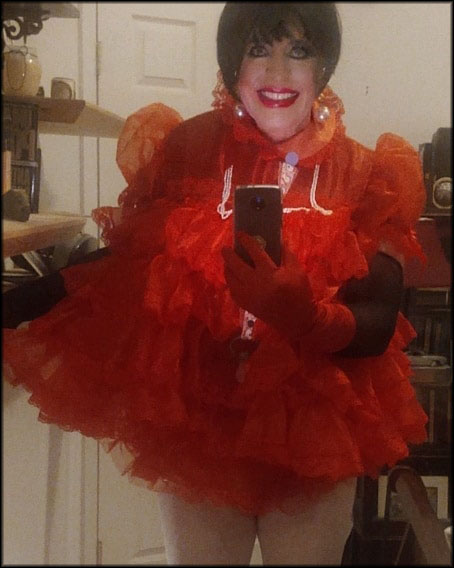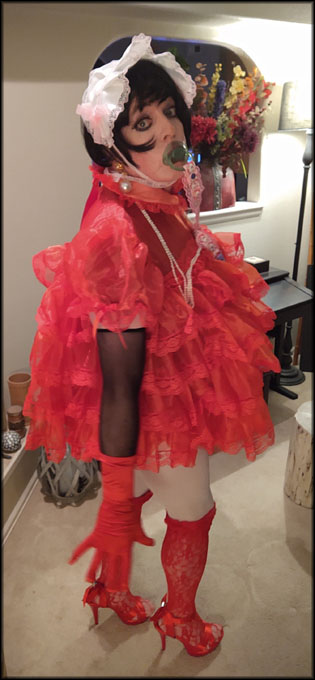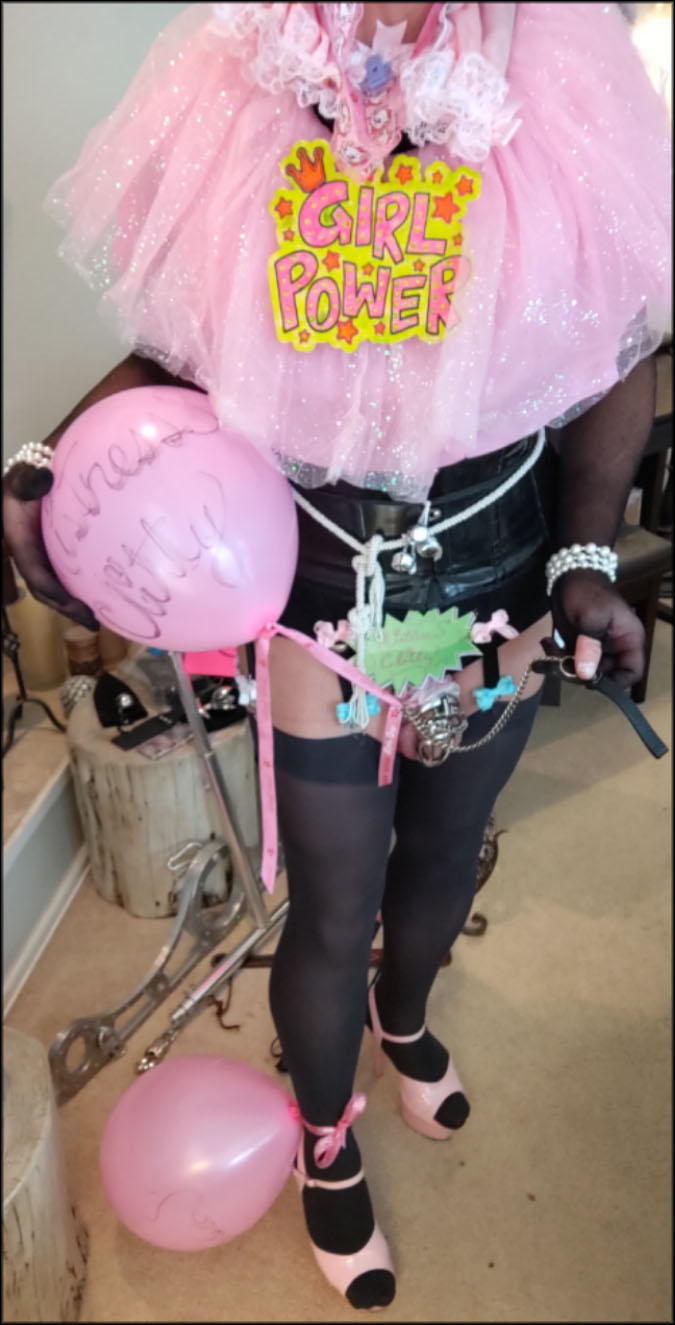 Some girls are naturally sparkling like Suzette, but you don't have to be. Everyone is different, and you are all welcome in the Wendyhouse.
---
Letter 4 - I love the Rose Room and your Newsletters
Aunt Frocks
This is Emma. I'm a woman and a long-time fan and subscriber of the Wendy House. I love your newsletter and all the specialty rooms. It still constantly amazes me that sissies crave humiliation, sissification, feminization and so much more. The ROSE room is stunning. So many darling sissies who crave to be shown off to women and display their love of femininity and their need for humiliation at the hands of dominant females. Quite the diverse group of sissies from sexy femme fatales, sissy maids to precious little girls!
My favorites of the "screaming sissy" genre are Cindy Nightshade, Dolly and Princess Pansy. The frilly frocks, cute dollies and the need to totally submit to a superior female.
My favorite though is Annie. She is truly a delightful and darling little girl. Her smile is her best feature. She just radiates happiness with her dolls and pretty dresses. I went back to the newsletters and earlier issues of Prim's Petticoat Pansies. Her mum deserves so much credit for transforming the sissy into a precious and darling little girl.
I love your intro to "PRIMS" - "Sit in my lap, my pet, while you share it with me as my little angel. I want to see you enjoying all those lovely feelings as you feel submissive and girly and humiliated. Don't worry, my darling. Aunt Frocks understands how you need to whimper occasionally and cry - and spend your lovely sissy cream out of your desire to be a little girl. Because you ARE my little girl, sweetheart."
I love little girl sissies the most. You obviously have the same interest and love. Seeing males regressed to a sweet little darling in his pretty sissy dresses and playing with his dollies. The humiliation must be so intense. Does constant and repetitive masturbation take the sissy even deeper into submission?
My girlfriends and I would love to see a regular feature of sissy Annie in your newsletter and your "Prims" issues. Would that be possible? Her "Why I am a Pansy" feature in PPP #38 is sweet, adorable and precious! Her mum's letter following is awesome! I adore that mom put her in nappies and a sissy baby dress.
Warm Regards
Emma
Hello Emma. Thank you my darling for sitting down and writing to me to tell me how much you enjoy living in the Wendyhouse.

You're right to be amazed, I think, how sissy girls are eager to suffer: teasing, dominating, dressing for public shaming and even being spanked. All in the hope of feeling so very feminine and little girly. And like you say, the Rose Room shows the full range of girls who like to share these pink and frilly desires. You know who we have to thank for that, don't you? The very girls themselves, of course, who have sent us their photos and written to me. Aren't they adorable!

It's wonderful that you are able to cherish one of the girls more than everyone else - Little Annie. It's almost as if you have fallen in love with her from her photos and what she has said to me in her letters. She's a sweet girl, but I can't allow myself to talk about one girl more than all the others who write to me, I know you will understand. They are all close to my heart.

Keep on enjoying my Newsletters, precious. Who knows, your letter might appear in my next one.

Love and kisses in my arms, darling.

Aunt Frocks x


---

Susan is classy to say the least. See how she basks in her classic styles.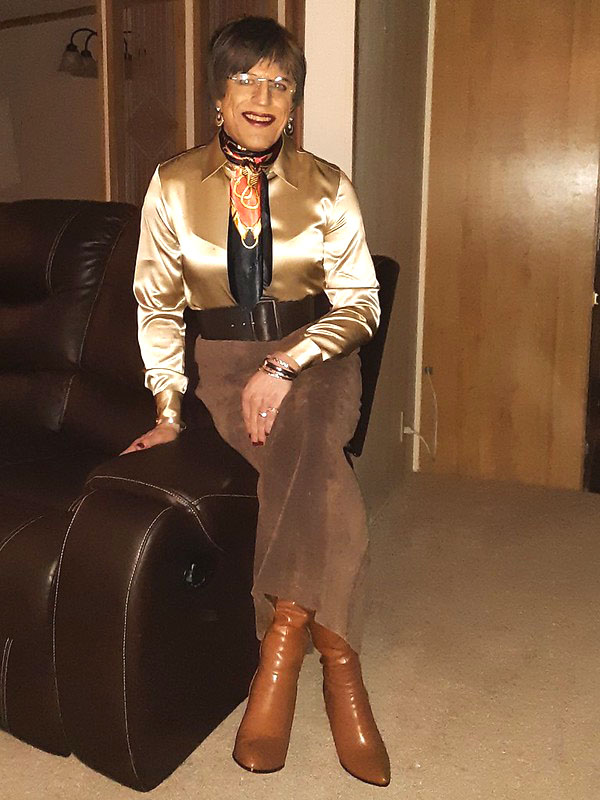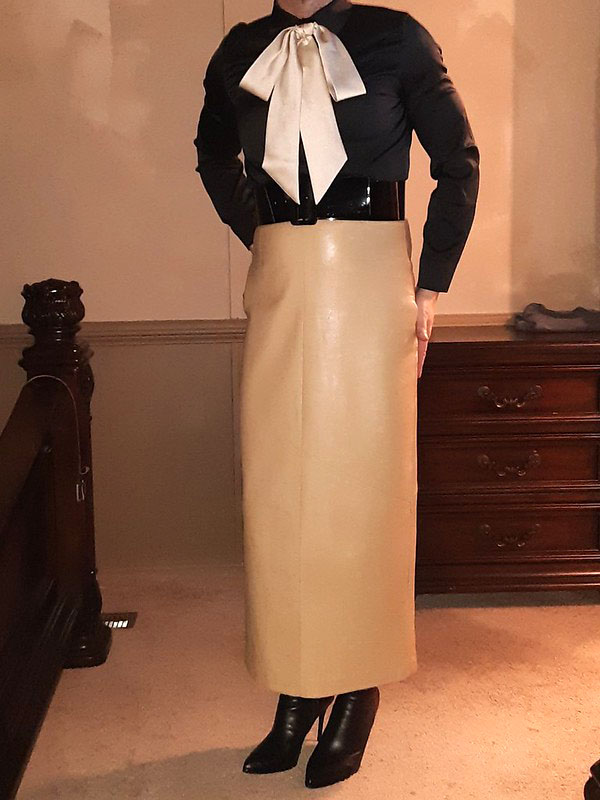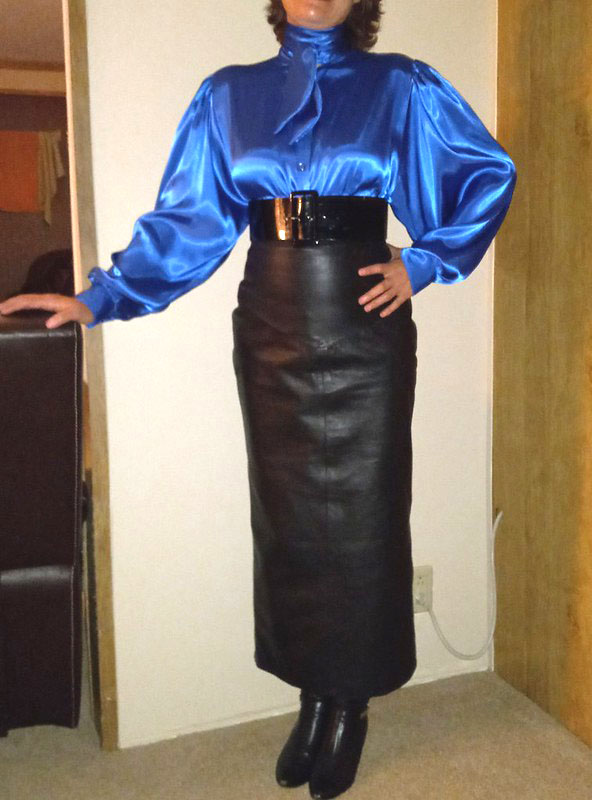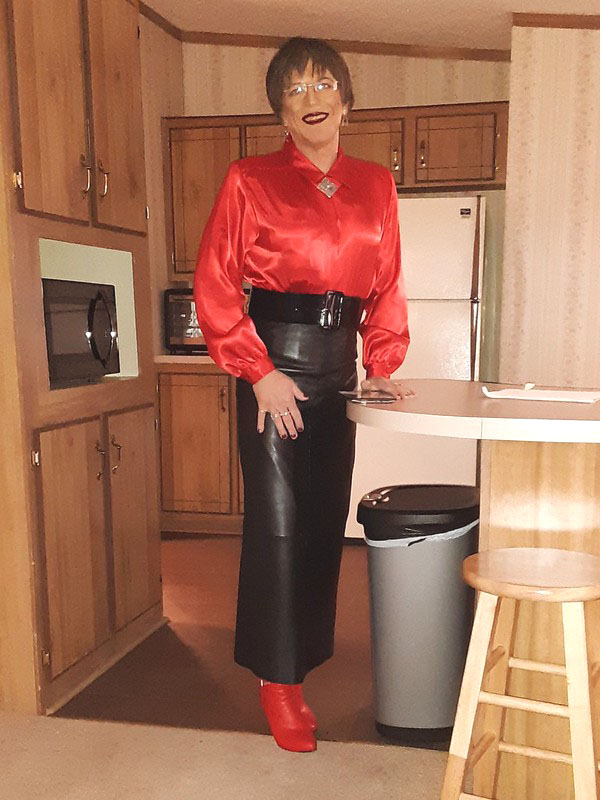 An ankle length pencil skirt in black leather and a satin blouse with bat-wing sleeves. Don't you wish it was Susan who was dominating you?
Susan Chase in Flickr
---
Letter 5 - a new sissy
Dear Aunty, my name is Sophie Sissykins. I have just joined the wonderful Wendyhouse and I'm so happy I really should have joined a long time ago. Sadly I cannot be Sissykins as much as I would like but it's always inside me especially now I have the Wendyhouse. This is me when I can manage baby time. I hope this is suitable for consideration for the readers page. Thank you so very much for all you do for us sissies.
Curthey, thithy thophie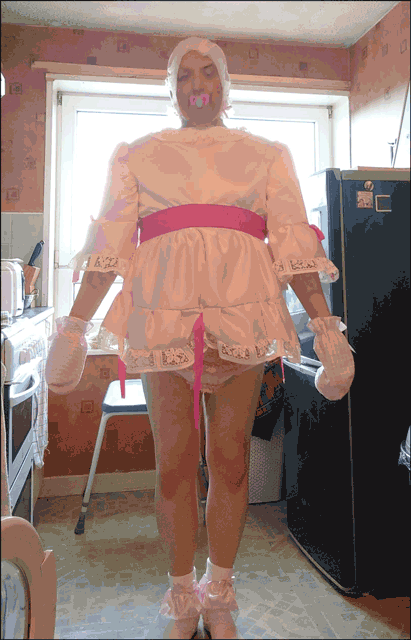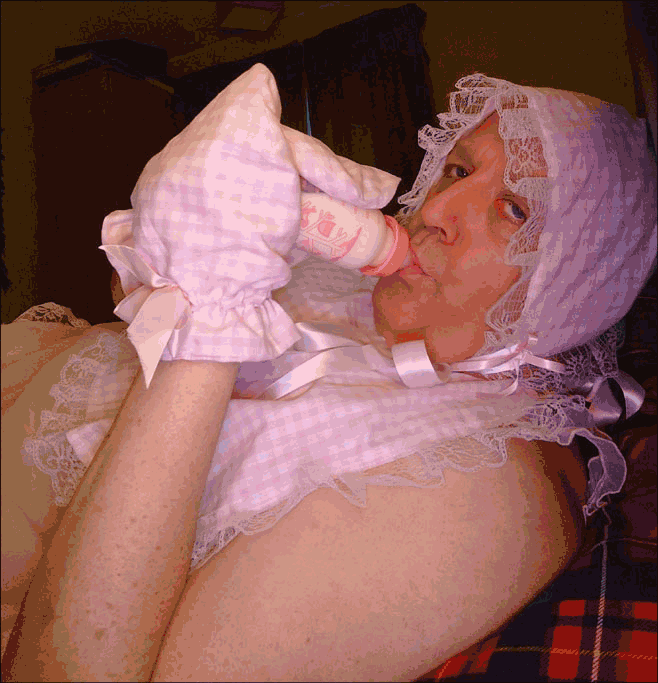 Hello, my dear little Sophie.

I love to hear from new sissies, perhaps most of all from littles like you who are very VERY sissy. I'm in love with your pink gingham baby outfit: how sweet and girlish.

Thank you darling for saying such nice things about our Wendyhouse. Prim is very good at making sissies feel cute and helpless in their femininity, isn't he? It looks like you are rising to the taste of sweet sissy girl feelings and desires that he puts into his pictures and stories. I can't promise, my darling, but I think I might be able to put your photos and your letter into my next Newsletter, which is likely to come out in August.

Darling, we love helping you to feel girly, and our greatest wish is to bring girls pleasure.

Very warm hugs,

Aunt Frocks x


---

Colleen wants everyone to know her as a sissy and to know her as Colleen Sexy.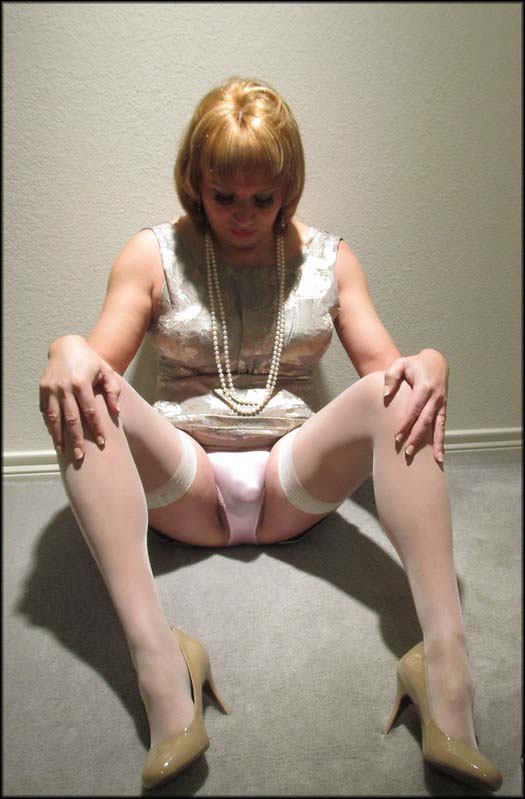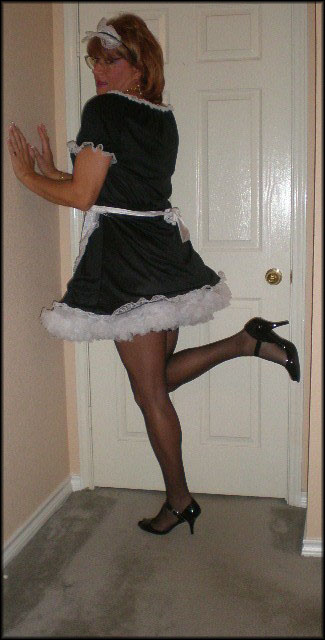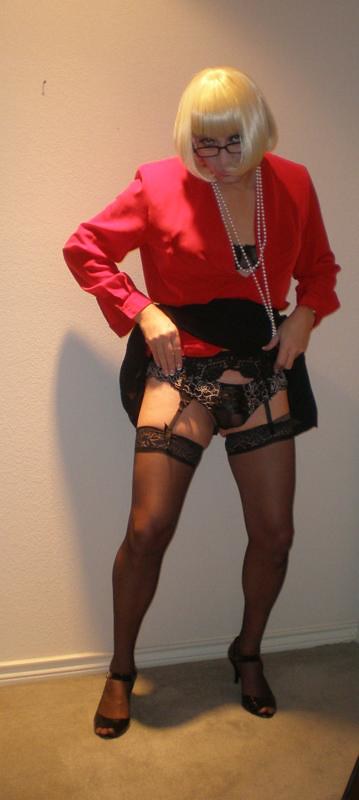 She definitely has sexy legs and we can agree that she has no masculinity left. So Sissy Colleen Sexy it is. You may have to login to your Flickr account to see her photos.
Click here to see more of Colleen
---
Letter 6 --- Panty bulge - how lovely!
Dearest sweet Prim
I can't thank you enough for the deeply girlish joy that your lovely site gives me. I've been a sissy all my life, but I only realised it when I discovered that 18th Century children were dressed exactly alike up until the age of 5 or 6 and was totally disappointed that I couldn't wear a dress - I was looking at a painting with two very girlish boys wearing white long dresses with blue sashes and dainty white shoes and stockings. After that it was a fascination with how my mother's lingerie and bedwear was just so much nicer than the male equivalents - lace is just too pretty not to want!
I can't quite remember when I realised it wasn't just me - there was a little scandal at school when it was discovered some panties had gone missing - they never found out but I had such fun wearing them even though they were disappointingly plain.
Now I have such fun being a sissy when I can, though I would love to meet with other sissies who understand quite how exciting it is to see a little bulge in a cute pair of panties - even pictures of lacy, frilly panties can get me going - so it was such a pleasure to see those pics in your October 2018 newsletter.
What a lovely world it is to have someone like you who understands our need to be girly and soft and feminine (even if not every day or not in public).
Lots of love
Sissy Violet
PS I do dream that's it's you dressing me and showing me how to wear panties and dresses and bows and ribbons!
Hello Sissy Violet.

I confess I'm surprised you wrote your letter to me and not to my Aunt, who was responsible for including those nice panty bulging photos in her Newsletter nearly 4 years ago. But that doesn't mean I'm not very pleased to hear what you say. In fact I was intrigued myself when I came across 'crossdressing' photos of Edwardian style dresses for boys alongside their sisters. I can't help wondering how the boys felt as their mommy or nanny dressed them in the morning, almost certainly in similar lingerie to their sisters too, and of course petticoats since otherwise their dresses would not hang properly.

From what you say, it sounds like your cd interest focuses mainly on panties these days. I hope the rooms of the Wendyhouse can open your eyes to lots of alternative attractions of feminine apparel in my pics and the pics of our friend artists. If you want to enjoy the full range of lovely feminine apparel, can I also recommend you to visit my Pinterest boards here:

https://www.pinterest.co.uk/benpearl25/_saved/

Enjoy the Wendyhouse and feel very sissy.

Prim x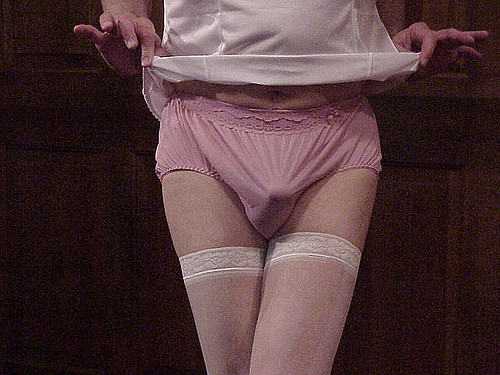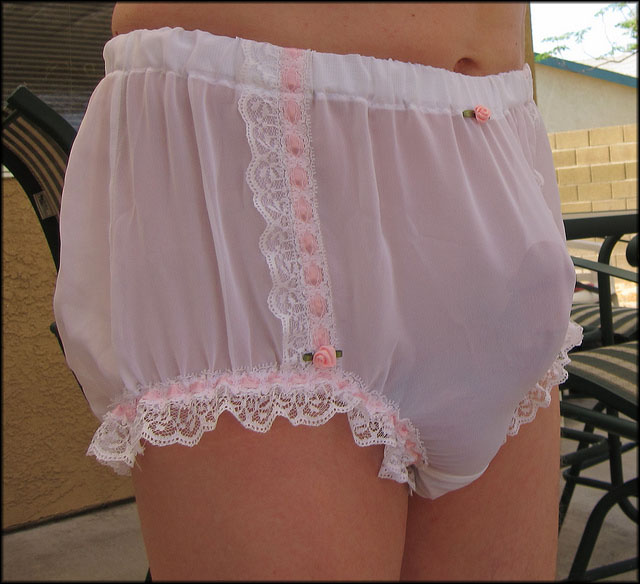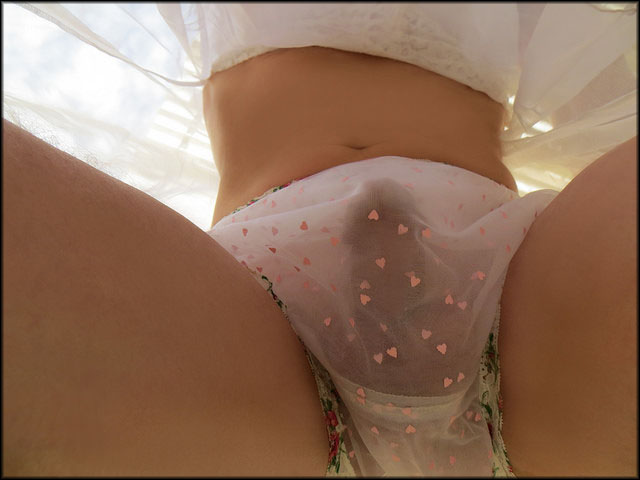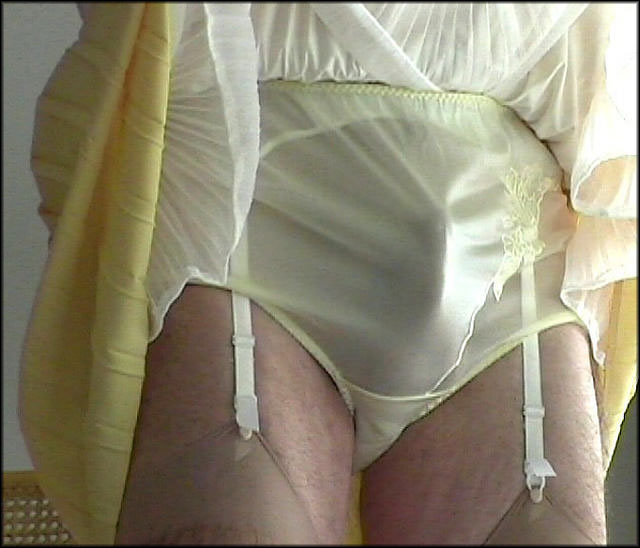 As you know my darling, your Aunt Frocks normally prefers to see girls wearing their ladylike clothes sensitively, or their frilly sissy dresses, but here we can see how these nice girls are feeling inside those delightful panties.
---
Letter 7 --- Learning to be a sissy
Hello Aunt Frocks. Attached are 6 photos of me celebrating my first steps in sissy training. Hopefully they will delight all the sissies who come to the Wendyhouse.
More training soon to come! -- I spoke to Lady Penelope this morning who I will see in order to become a proper prissy sissy. So much to look forward to!
Thanking you,
Margot
Margot in the Rose Room
How lovely to hear from you, Margot my dear, and especially to see your sweet sissy-girl photos. My, you have some lovely dresses, and you are so obviously feeling lovely wearing them. Am I right in thinking Lady Penelope is your Mistress and you are her sissy for training? Perhaps she instructed you to send me photos of your sissy self for the education and amusement of the sissygirls in Prim's Petticoat Wendyhouse?

There is the possibility of you being in the Rose Room. Do you want me to create a gallery for you, my pet? It might help if you added a few words as a personal profile, like some other girls do. That's up to you. Or, you could send me one or two more photos as I need 7-8 photos for the Rose Room.

I wonder if you are in the Wendyhouse? You didn't tell me that.

The important thing is that now that you have written to me, I can hug and kiss you as my own sweet little girl.

Love from Aunt Frocks x


---

Jan Poppy is another recent addition to the Rose Room. She wrote to me to send me a nice illustrated story in two parts.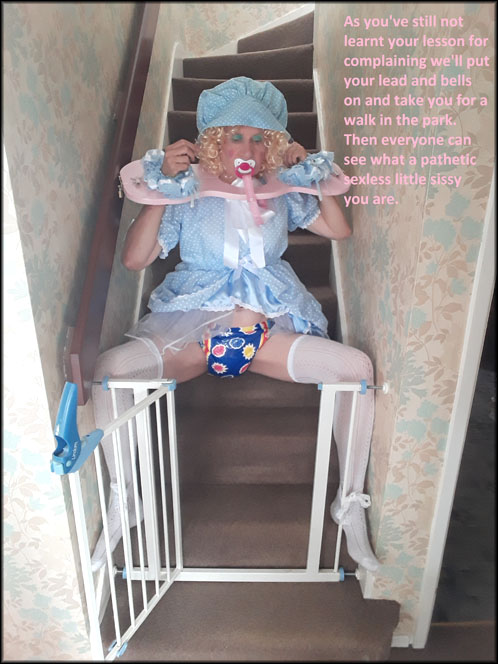 Isn't she a fluffy-headed panty-waist. I think you'll love her story though. Here is Part 1:
The Ladies' Guild
Let's finish with a story or two from Prim, shall we. This one is from Feminized In Frillies volume 6, called:
John Panty Sucks His Way Through All the Sissies
And a second Prim story, taken from Prim's Petticoat Pansies #14 in the Jessica Room:
His New Sissy Uniform
Well darling, I have to close my Newsletter now, a little shorter than my earlier ones. It's been wonderful for me having you holding my hand all the way through. Don't forget that you can write to me here.
auntfrocks@mailcom
I'm looking forward to hearing from you, my sweet. I'll leave you with a last photo of Lady Suzanne relaxing in her negligee. Such class. Such glamour. Would you like your photos in the Rose Room? Write to me.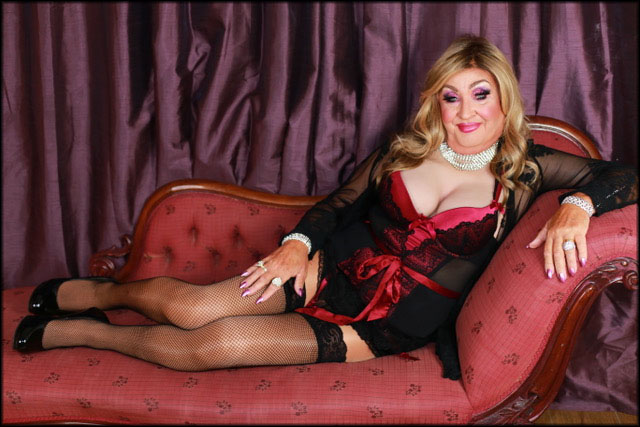 All my love, sweetheart.
Aunt Frocks xxx
BACK