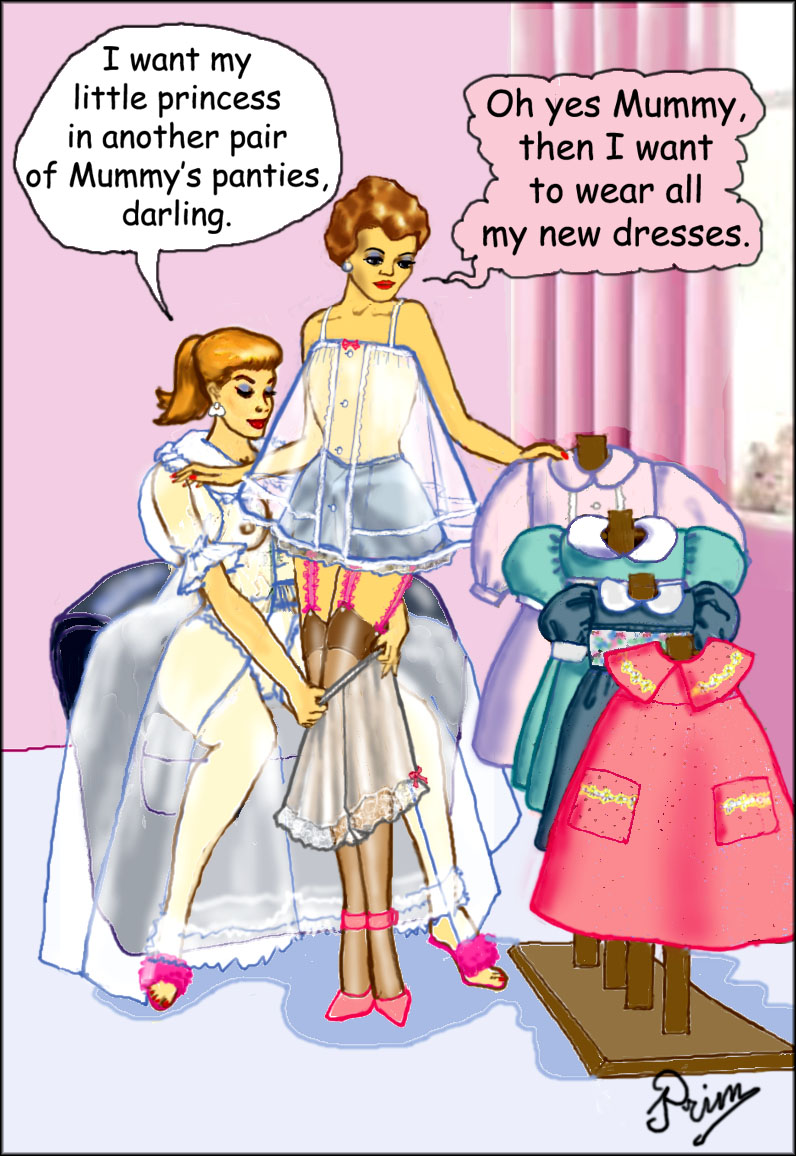 "Well darling, that's your final exam out of the way." Cecilia Lovelace didn't raise her eyes from her embroidery, even though what her son said to her next would be either a dream from heaven or a knife plunged into her heart. "Have you thought what will become of you now?"

Michael was horizontal on the settee, his socks higher than the phone screen in his hands. His long sigh told her how unimportant the options were to him, and his voice was flat. "I thought I told you, Mummy. I'll go to University in the city and set myself up for some career in business."

It WAS a knife in her heart. When her little angel left her side, Cecilia would no longer have the chance to let him wear her jewellery, her make-up and her nightdresses at weekends. Not only would she be on her own, but she would be robbed of those lovely feelings of girlish pleasure she liked to watch in her darling's eyes and, yes, in his stiff little penis too.

But it was what she should have expected. Wasn't it already three months since he had worn anything of hers? He didn't ask her any more if he could stand at her closet and choose something nice. It was a thought she hoped she would never have to admit, but perhaps he really had grown out of it.

"But why should I let him go?" she told herself. "I won't need to restrain him by force. No need for emotional blackmail, like 'How can your poor mother make a success of her dressmaking business once you have abandoned her?' " Instead she made his favourite chicken tikka masala and sat down at the table to have a serious mother-and-son talk.

"Darling, you know how much your mother wants you to be happy, so this is what I've been asking myself on your behalf. If you leave home and go to university, I won't be able to let you put on my slips and nightdresses. So how will you cope without all those nice feelings you've been used to?

"Don't worry about me, Mummy. I'll get a girlfriend."

Cecilia knew how to look like a very doubtful and very concerned mother. "But will you find a girl who will let you wear her nylon dainties?"

Michael gave a shake of the head. "I'm turning my back on that."

She raised her brows and pondered, then gave her darling all her support. "Oh darling, I do hope you can do that, and be happy."

But Cecilia wasn't planning such an outcome at all. She needed a strategy that would be failsafe, to keep Michael at home with his Mummy. Amongst her calculations was the need to upgrade the clothes she would allow him to wear. They needed to be more sexual, more feminine. She spent a long evening thinking back over Michael's most sensitive and emotional dress-up evenings. He got very excited in her narrow silk underskirts, she knew, and he was wonderfully affectionate when she had him in her wide collar blouse with two pairs of panties. She flushed with pleasure as she recalled how he had sat at her side for a full hour, his cheek on her shoulder, as if wanting her to mother him.

Yes. That was the answer. He had to see her as his Mummy and himself as her little sissy boy. And if she wasn't mistaken in her analysis of her little angel, he would probably like her to have larger, full cut panties in her chest of drawers, in sweeter materials, with lace inserts, ribbons and rosebuds.

She spent two days of intensive shopping, creating a store of promising items which she smuggled upstairs into her closets. Her aim was to tempt her darling to throw himself into dressing again with his Mummy's approval. She would also make it desirable for him to stay at home and work for her. She needed a seamstress, and she would simply love teaching her little angel to sew and embroider, but from now on, she thought, it would be to create little dresses and pretty lingerie.

Cecilia would leave nothing to chance. She took all the steps needed to make her plan work. She told Michael she wanted a make-over throughout the house: the result was that every room was soon pink, with soft fabric furnishings and gilt-edged mirrors everywhere. He soon saw his mother in new nightwear, luxurious and see-thru, and she wore perfume every evening so that feelings of femininity were never far away. She set herself a launch day a week or so ahead, then did some carefully planned fashion shopping: repeating items that had a profound influence on her little pet: narrow skirts that were silk or satin lined, taffeta dresses with pinched waists, deep belts and worn with a brooch on the shoulder.

Her launch day came: she had done her internet homework and found a gender stimulant: Estrosenzine Soft. It went into the bucks fizz she brought him at lunchtime. Then she brought some of her new purchases downstairs, ostensibly to see if they needed altering. Michael was dividing himself between watching the football and following FB, but it wasn't long before his attention included watching his mother taking off her dress to reveal her full length satin slip, and putting on a striking dress in turquoise taffeta which sizzled like two of her mackintoshes sliding together. That came off, and she picked up a long, pencil skirt.

"Darling, what do you think of my new skirt? This viscose rayon is deliciously glossy and it has full rayon lining." Her hands smoothed up and down the satin-like garment as she held it against her slip. "The colour is called dark mandarin peach. I love this self-styled belt - four inches deep with an oval buckle, and look darling, it has a cluster of five kick pleats at the back below a cute little end-buttoned half belt."

Her son didn't get as far as a reply. She saw his interest from the corner of her eye, his eyes glued on the little pleats and the buttoned belt, and she imagined the pattering of his heart. "I bought the same skirt three times to get the size right, darling, and in three different colours. Be Mummy's little angel and fetch the other two from on my bed."

Perhaps the Estrosenzine Soft was doing its job, or she was looking and smelling fabulous in her satin slip, but Michael was up the stairs with no hesitation. When he returned, he had four skirts instead of two. "These other skirts were on the bed too, Mummy. I thought I'd bring them down for you," he said. The apology in his voice was music to his mother's ears: it told her he really hoped she would dress him in one of them, and he was just a tad ashamed to admit that he did need dressing after all.

The two belted skirts were in plum red and sapphire blue, but it was the other two skirts which had probably quickened her son's heart in the bedroom. One was white, the other silver grey, but while they were as long and narrow as the other three, their fashion belts were all that held them together, for down the front of both of them was a row of very pretty, self-coloured buttons from the waist to below the knee. Cecilia left him watching and wanting for as long as it took her to put on the plum red skirt.

"Do you like it, honey?" she asked, smoothing her hands down both hips over and over and turning for him to see it to full advantage.

"Mmm, s'nice."

She stopped with her hands round her thighs and looked at him with deep, maternal understanding. "Darling, would you like to wear one of Mummy's skirts? I'd love to see you feeling nice in one of them."

His lips worked together and he nodded. "Y-Yes please. This one." It was the silver grey.

His mother brightened at once, leaving him in no doubt that he had made her the happiest woman alive. She held the skirt for him as he took down his trousers. "But darling, this skirt needs a petticoat slip." She paused, as if thinking. "Come with me up to my bedroom." Michael was easily drawn on, and once there, his mother soon had two or three white underskirts spread on the bed, all of them pencil slim to below the knee. "And I would like to see how you like to wear a pair of my stockings, darling. Shall we do that?"

His cock was stirring upward as his mother's thoughts rooted deeper and deeper in his desires. He stood at her knee as she sat on the edge of the bed and passed a white suspender belt round his waist to clip it at the back, leaving four white suspenders dangling at the tops of his legs. He had to hold onto her shoulder as she fed the stockings up his legs, then clipped them with the loving care that only a mother could show at such an intimate moment.

"Wait there, darling," she cooed, and a moment later she was sitting again beside his stockings and pushing a pair of white high heels onto his feet. "Walk for me, Michael. Walk to the mirror." By the time he came back to be put into an underskirt, his cock was upright, loving the tight tug-tug the suspenders brought to his stockinged legs.

"Honey, I bought some new blouses too." Cecilia's heart was in her mouth. Was she going one dare too far? Her heart was thumping as she looked into his eyes. "Would you like to see them?"

She brought the blouses out. Four - five - six of them, laid out across the bed so that he could see them all. He picked up a crisp blouse in café-au-lait nylon, frilled around the base of a high neck cuff. She held it for him and he slid his arms into the long, billowing sleeves, ready to be buttoned down his back. The underskirt came next, then her darling little angel stood for his mother to button his skirt at the front of his waist, and on down his knees, finally letting her buckle his belt.

"Michael, darling, I must see you in one or two touches of make-up. Sit here on my stool and I'll make you Mummy's sweetheart."

When Michael's cheeks were softly blushed, his eyes lightly mascaraed and his lips glossed in ruby, he lay on his back on the bed while his Mummy sat beside him with the widest and most loving smile she had ever bestowed on him. "I do love it when you wear Mummy's clothes, honey. Lying still for me to admire how feminine you look, or with you sitting next to me in the living room and feeling lovely. It makes Mummy feel lovely too, so that I think the world of my little angel." She took both his hands in hers on the front of his skirt. "So I had an idea which might be a way I could bring you even more happiness." She found courage as his lips parted, with trembles on his glossed lipstick. "Instead of me dressing you in my own things, what if I dressed you in some pretty clothes I've been getting ready for you. I've been making them in my dressmaking room?"

She got to her feet and held out a hand for him to take so that she could lead him to the other closet. She positioned him where she wanted him so that the closet door hid what was coming. Then his feelings overcame him and his hips squirmed in the silver satin of his skirt.

"Oh Mummy! Mummy!" He couldn't say anything else. She held in her hand a little girl's sleeveless sundress in raspberry pink dupionne, with a collar round the shoulders and two big patch pockets on the skirt.

"I would love you to wear this little dress for Mummy, and sit next to me, feeling lovely in it. will you do that for me, darling?"

"Yes, Mummy. Oh yes, I'd like that."

She bestowed another happy mother's smile on him and hung the dress on the closet door, before bringing into his view a sweet party dress in midnight blue satin. She thrilled at her son's intake of breath as his eyes feasted on the smock stitching which had taken her a full day to complete across the bodice, knowing that it would add a thick layer of girlishness to him when he was wearing it. It took its place next to the sundress.

"Ohhhhh! Ohhhh Mummy!" he bleated when she showed him his next new dress. The front of his skirt was forced into a glossy point, pushing the first button below his waist towards his new, pale green dress.

"I knew you would want to wear it, sweetheart," glowed Cecelia. "I would love you to wear this pretty Peter Pan collar at your neck, and see," as she turned it: "what a lovely bow for the satin sash!"

Her heart swelled with pleasure as Michael's hands clasped across his blouse and his skirt slithered across his underskirt as one stocking slid with emotion across the other. The fourth dress brought an even deeper moan from his breast. "It's pink polyester, honey," said Cecilia, her own lips beginning to tremble, "with its own integrated petticoat in white satin and the most gorgeous sash bow at the back." When all four dresses hung in a row along the doors of the closet, mother and son stood with an arm round each other and gazed with deep, girlish feelings at how pretty they were and how lovely Michael was going to feel in them. "Would you like me to dress my darling in one of them now?" she asked.

As Michael's body was undressed and his cock came into sight, there was no doubt at all that it had fully recovered its desire to be dressed in feminine things by his loving Mummy. He gave her a warm, tight hug as she showed him one of the little petticoats she had made for him. "Little boys who feel lovely in little girls' clothes," she said, fastening it down the front for him, "have lovely feelings when their penis is just behind a row of feminine buttons."

It was true, as his penis showed: aching with desire and lengthening to nuzzle into the petticoat nylon that surrounded him. "And Michael, my sweetest darling - when you are wearing dresses - as Mummy's little girl - you get to wear Mummy's nicest panties too - like these." She produced a pair of full cut, satin French knickers in powder blue, and Michael wailed with ecstasy before throwing his arms around his mother's neck.

Cecilia giggled with happiness as he clung to her, and allowed herself to dream ahead. Instead of a dressmaking business that catered for the over-30s, they could seriously start dressmaking for the under-7s. And instead of her little angel, Michael was going to be her little Princess.