---
THE ADVANTAGES YOU WILL GET
- Enjoy living in the Wendyhouse, alongside many like-minded sissies and sweethearts. You can write to me, Aunt Frocks, if you like, and share your feminine desires. Your letters would be published either in my Newsletters or in my letters column in each issue of Prim's Petticoat Pansies in the members' area. But not everyone wants to write, so you can choose to live a quiet feminine life.
- Once you are a member, there are no other steps to take. Login and enjoy, 24/7/365. How easy is that !!!
- I am constantly adding art and stories from my nephew Prim, including each new issue of Prim's Petticoat Pansies. You don't have to pay for these or anything else once they go into the Wendyhouse; they are included in your monthly membership. Simply enjoy everything around you.
---
| | |
| --- | --- |
| | |
---
SECURITY AND ANONYMITY
- When you join the Wendyhouse, your name and payment details are in the safe hands of our e-commerce agency.
- The Prim's Petticoat Wendyhouse website is a direct continuation of Prim's Petticoat Pansies, which was previously hosted by PRISSY'S SISSIES by kind permission of Prissy. It continues under the secure protection of web hosts
Lunarpages
based in Los Angeles, Ca. and e-commerce agents
Verotel
based in Amsterdam, Holland, both of whom have hosted
Prissy's Sissies
since 1999 with complete personal security for all members.
- However, Prim's Petticoat Wendyhouse and its owners do not accept any responsibility for internet fraud or loss, and are exempt from all kinds of claims as a result of unwelcome internet crime or accident.
---
Assisted viewing of the Wendyhouse

Clive's Mother-In-Law Julia directs his viewing of the Petticoat Wendyhouse with assistance from Miss Rhondda his Governess, to gain full unsexing from Wendyhouse stories.

The full story is in Prim's Petticoat Pansies #30, in the Molly Room.

Do You Like Wearing Our Panties?

Cassandra Tucker has husband Sheridan in one of his satin dresses for the visit of her women friends, Antonia Grestle, Meredith Turner and Cosima Massingham. He must ask them to dress him in their panties.

This story is in Prim's Petticoat Pansies #25 in the Molly Room.
---
COMPLETE COPYRIGHT
ALL images and stories on this website are copyright to Prim's Petticoat Wendyhouse 2015 and must not be copied for reproduction or sale anywhere else except by permission.
By joining the Wendyhouse, you agree to this condition of membership.
This is a site for sharing, not stealing. In any case, there is no need to download, since everything is here to enjoy, at low cost, with all Prim's issues at the click of a mouse to login.
Having said that, I can understand my members wanting to 'borrow' the odd picture to send to a friend. This needs to be in moderation and very rare. In fact members are asked to think first: Do I need to send this pic to someone, or shall I give them the URL and suggest they join the Wendyhouse. The mind-set of members must be
to not download as the general rule.
---


Fullslips in the Squidgy Room

Auntie Carol knows how effeminate young males need deep dressing in female lingerie, and she makes sure they get all the petticoating they need when their wives and mothers bring them to Satinette Sissy.

The full story is in Prim's Petticoat Pansies #21 in the
Molly Room
The Sissy Suck Chair

Jeremy Sweeting must attend personal dressing lessons in the Headmistress's study every Friday after school. One day he was fastened into a special chair, and introduced to Clive Pettinix.

The full story is in Prim's Petticoat Pansies #11 in the Jessica Room.
---
ENDING YOUR MEMBERSHIP
Leaving the Wendyhouse membership is no problem.
Follow the instructions on the email you received from Verotel following your initial payment, where it tells you how to stop payments. Or you can
click the red JOIN button above to find FAQs
for Verotel where it tells you about unsubscribing in the question:
How do I cancel my membership?
Your access to the Wendyhouse will stop on the day your last monthly payment expires. You can rejoin at any time in the usual way, with your access opening again when your payments restart. If you can't lay your hands on that email, you can mail Verotel direct at livesupport@verotel.com
***
---
The New Sissy Teachers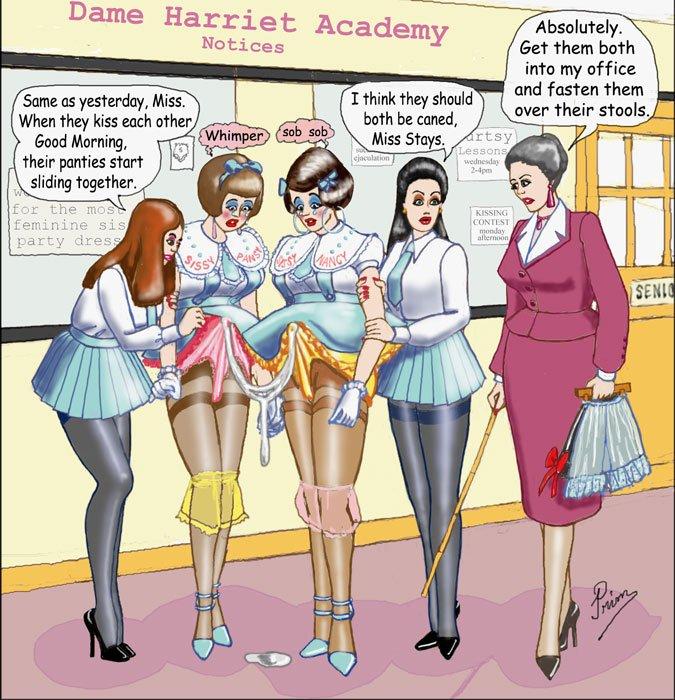 Home Page