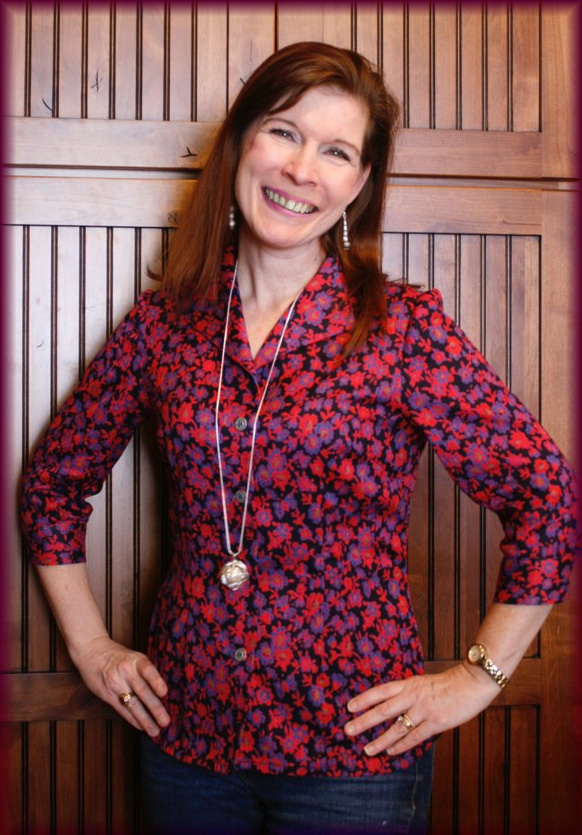 Hello my darling. Come to your Aunt Frocks and let me hug you very close into my blouse. I want you to sit in my lap for us to read my newsletter together and enjoy the lovely letters that girls have written to me or Prim. Then we'll drool over the gorgeous photos they have shared with us. There are so many very feminine girls this time - as they always are - and you will be able to learn a lot from them about fashion sense, make-up and how to be a gorgeous cross-dressing girl. But most of all, pet, I want you to pick up on that wonderful feminine quality they have. Feel feminine with them, my sweetheart.

Eveything has been set back by a lot because of this pandemic, but we are able to be more hopeful now that we are learning how to cope with it. Who knows maybe soon we'll be seeing it gradually disappear. As an intelligent species we should manage that, especially since we are all working together to help each other. Well done for your own bravery, and we hope you have not suffered any personal loss.

Coming soon, hopefully in April, will be Prim's Petticoat Pansies #38. It will be a Public Humiliation special, so if that's your thing, you'll be able to order it on the Home Page. Following that, Prim is still hoping to do a story for Lustomic: a shocking record of male de-sexing and humiliation in a senior girls school. That could be in May, we hope.

Meanwhile there are new girls in the Rose Room and the Lacy Lingerie Room for you to look at and love. But right now we want to see some of those lovely girls who share their photos with us, don't we? So hold my hand, darling, and let's go.


---

It's always a thrill when girls share their photos with us at the Wendyhouse. This is Samantha Satine who joined the Rose Room recently.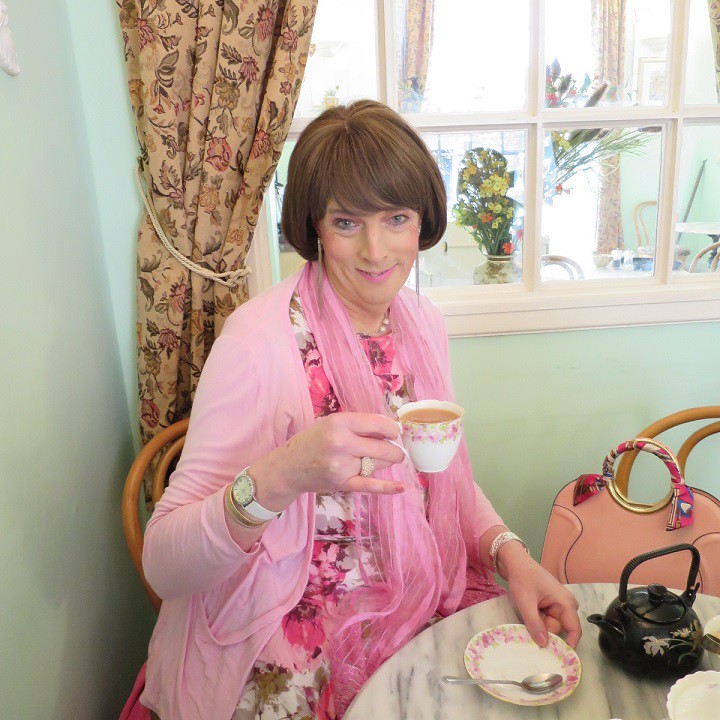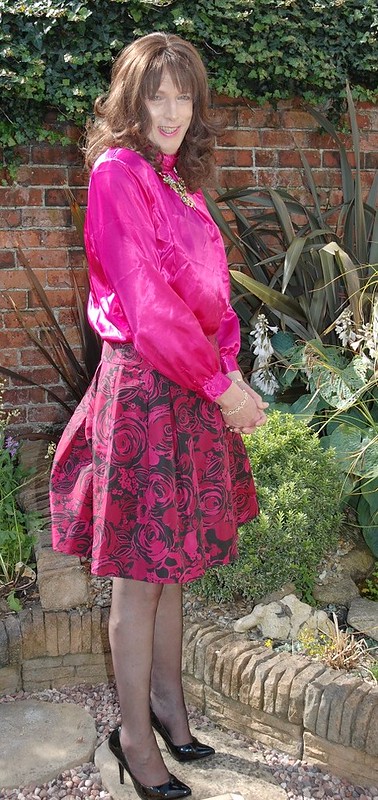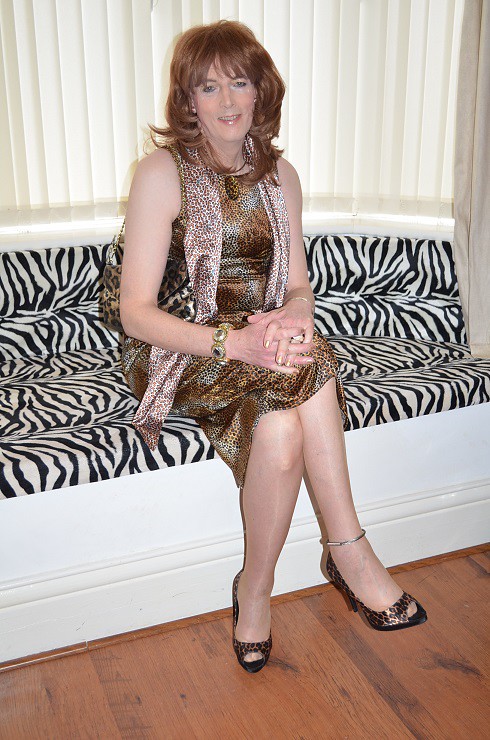 Doesn't she choose the most feminine fashions? You can see how she loves wearing them.
---
Letter 1 - Please tell me why dicks bend
Hello Susan I have a question. Why do most dicks bend to right or left? Some even bend upwards. I used to believe the bend indicated if you used your right or left hand to wank. I use my right hand but the bend is to the left.
My lady friend claims women have a similar problem in that she only reaches orgasm using her right index finger in a clockwise direction and as fast as possible.
Your comments please.
Peter.
Dear Peter,

You are cute asking me such direct questions. I'll have to answer by saying I believe you're mistaken that most dicks bend. Then I confess that I haven't the faintest idea why. Your own theory of which hand you use is interesting and you may have solved it in one.

Ladies' pleasuring, I can assure you, is a completely personal and individual affair. There are as many methods, something like a cosmic Kama Sutra, as there are vulvas and fingers. And there again, any lady knows that no matter how devoted and good at it their lover is, his cock or his tongue are never going to be as successful at lighting her hottest fires as her own trusty finger, because she knows what she's doing. I suppose masturbating men are the same.

But by the same token: there's a world-beating pleasure in having a man at your clitoris, while there must be a special, SPECIAL pleasure of having your girlfriend or boyfriend sucking off your cock. Do you agree?

Enjoy the Wendyhouse, my darling, and feel feminine.

Aunt Frocks x

---

One of our new girls in the Rose Room is Ann, who likes being sultry and feminine.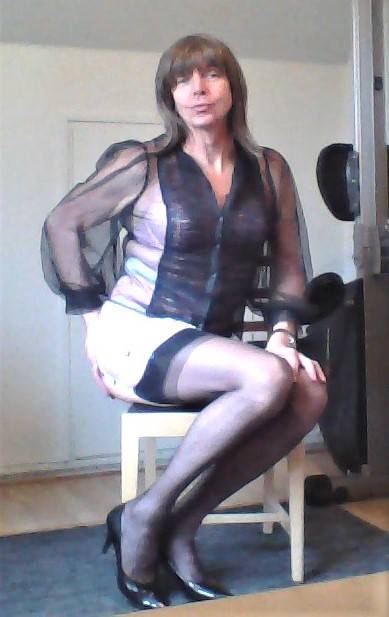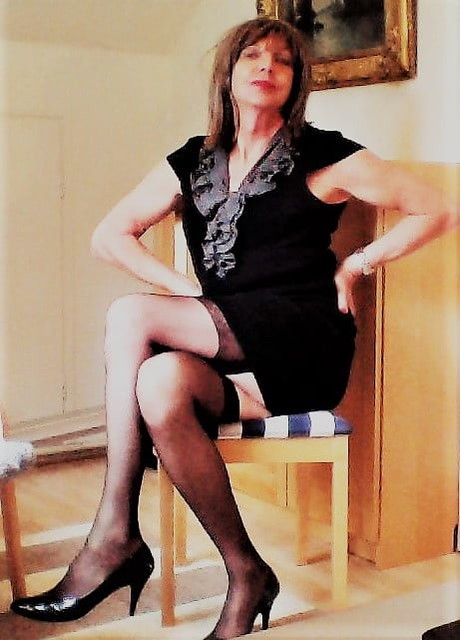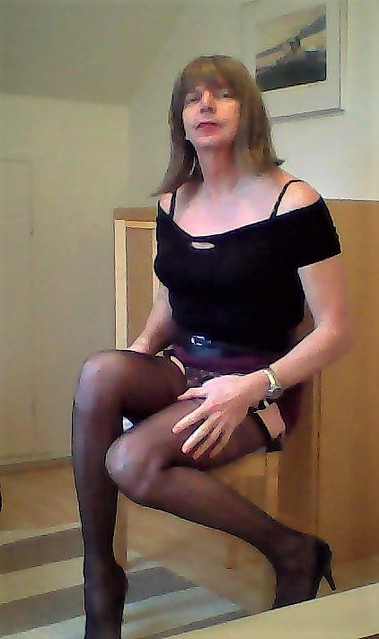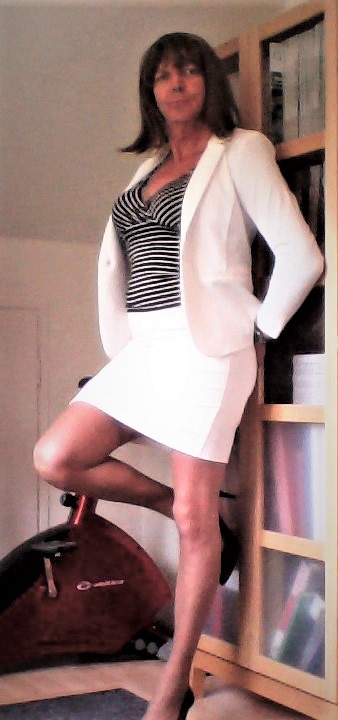 You can see more of this gorgeous girl in her Flickr photostream. However to see Flickr photos you may need to login to your Flickr account.



Ann on Flickr



---

Letter 2 - Walking Baby Doll

Dearest Prim,

I do hope you have been safe and well this year. I felt inspired to write after seeing in Aunt Frocks' recent newsletter that your longtime 'Silkblousey' account was deleted. Was this something Flickr imposed or was the account compromised by someone?

Either way I was quick to Friend / Follow your new 'Monika Satin' profile, and was quite delighted to see that you included several of my pictures that were once featured in the Wendyhouse some time ago. I also do so love seeing myself next to all the other wonderful art and feminine imagery in your gallery; it really 'tickles my fanny' so to speak.

I also took care to join your new 'Thank you Mother-In-Law' group and I plan to contribute some appropriate content there soon. Speaking of which, I again recently teamed up with Auntie Helga on a few of my custom Photoshop works for use in PDQ's Annual 'Dummy Discipline Digest'. It was just released yesterday in fact. I ended up revising an old piece where I am posing as a sissy-doll in a vintage 1950's Saucy Walker Doll ad. I also created a bookend piece, which has my sissy-doll self crawling across the foreground of a collage with nine other Saucy Walker advertisements (making all the ads fit / complement each other was a bit like putting a puzzle together).

Anyway, I've included the below links to my full resolution versions of each, as well as present icon [ie the original box for the doll] that was meant to serve as a clickable link to my surprise sissy-version (in the end Auntie either forgot to use it or wasn't able to for some reason). I do hope you enjoy them, and please know your incredible work (in both literature and illustration) as well as your wicked imagination continue to titillate and inspire me!



Saucy Walker Doll Box [clickable Christmas gift icon]




Saucy Sissy 'Walker' Doll [single ad image]




Saucy Sissy 'Crawler' Doll [9 ad collage]


Warm hugs,

Mattie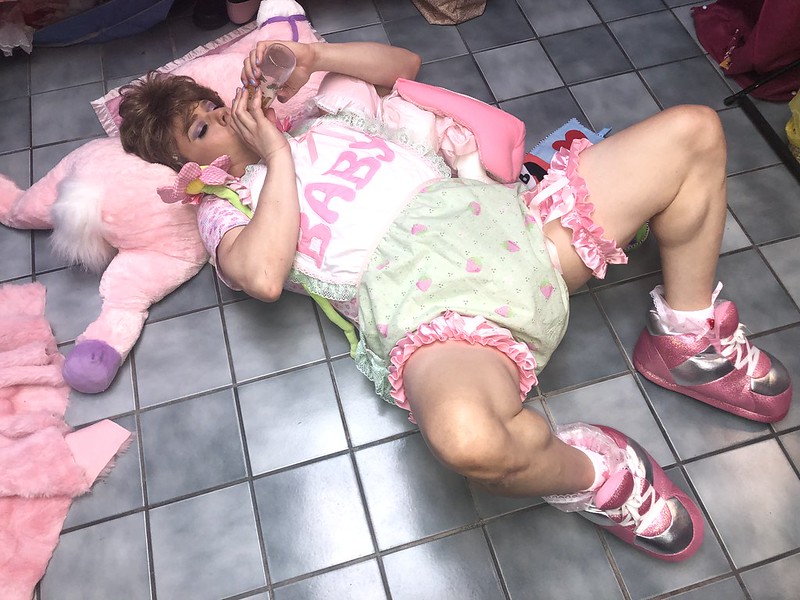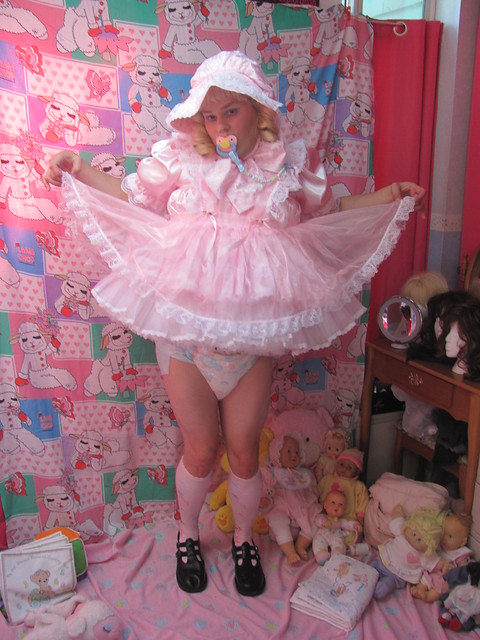 My dear Litte Fanny Mattie, you are a sweet thing for sending your piccies to me. I've loved looking at them. Girls and Mummys can visit your Flickr account here to see lots more.



Little Fanny Mattie on Flickr


It's very clever the way the Saucy Walker creators and advertisers have got the dolls dressed the same way as their young owners: I'll bet that sold a lot of dolls and a lot of dresses too. And I love your pink satin party dress - you look so sissified and little girly.

You're a fairy gem for joining my new Flickr group, Thank you Mother-In-Law. Do you see yourself as belonging in it: under the thumb of your wife's mother? Or of similar hard and superior women? I think you fit that role perfectly: made to look ridiculous by women who want their men to be soundly kept in their place as inferior, effeminate and weak. That's you, isn't it?

Well done for writing to Aunt Helga at Petticoat Discipline Quarterly. I haven't been able to support her efforts for the community the past couple of months - too much to do - but I'll be there in support for the New Year.

I hope you have a very cheerful Christmas, Mattie sweetie, in spite of Covid restrictions and worries that may be depressing as a result. Somehow I think you'll overcome it all, but you've got my warm feelings to support you.

Feel babyish and feminine too.

Hugs from Prim x


---

Jane is a dear girl who is so unworthy and submissive she has turned herself into Slave Jane.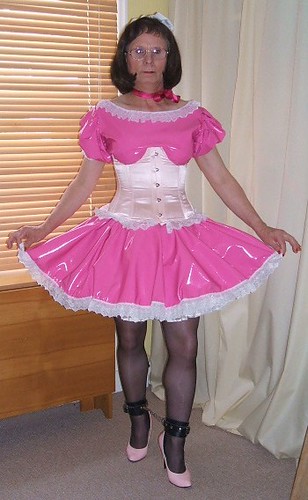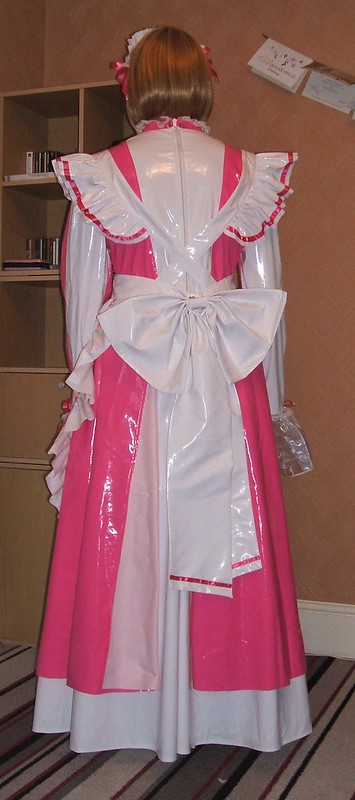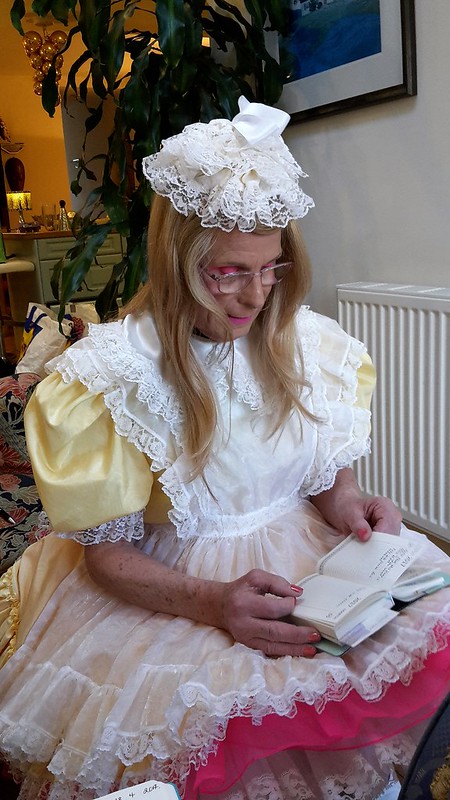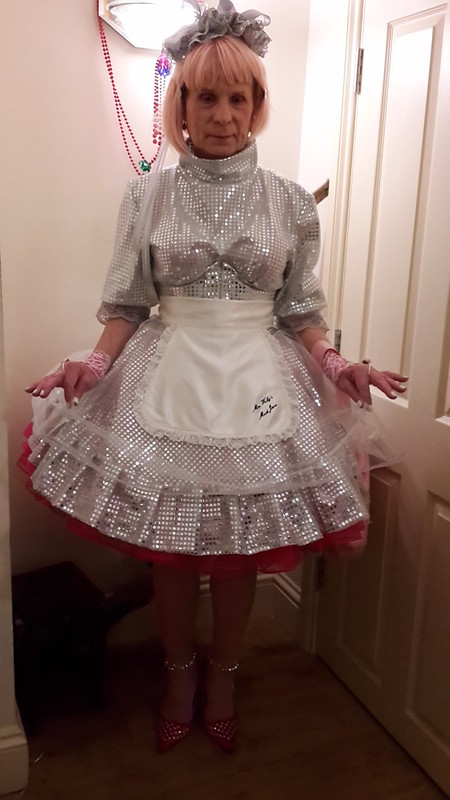 Isn't she adorably feminine in her lifetime of service, and if you're not convinced, visit her photostream here:



SlaveJane on Flickr



---

Letter 3 - Locked up in my lingerie

Hi Susan I know I have not heard from you in a while. If I have offended you in any way I am so sorry what do you think my chances are once in a full silky slip a satin petticoat over the slip which has d rings all around it and locked in 4 times around my waist? I think I will be in trouble down below and behold that I am forced into a lockable long satin dress. Would a woman really be so cruel as to totally lock me in it to serve her as her petticoated maid? I beg you to get back to me my angel.

Abbey

Abbey dear,

Of course the right kind of woman would be cruel enough to lock you into your slip, your petticoat and your satin dress, so that there was no chance of you getting out until she was ready to release you. It's what you deserve, you wretched sissy slave. I'm quite sure she would take the opportunity to call round a few of her girlfriends to come and see what she had done to you and have a good laugh in front of you while you are LOCKED into your PETTICOATS.

Feel feminine at Christmas, sweetheart.

Aunt Frocks x

---

Don't forget that stepmothers and Mother-In-Law wear delicious lingerie too. Let's take a look.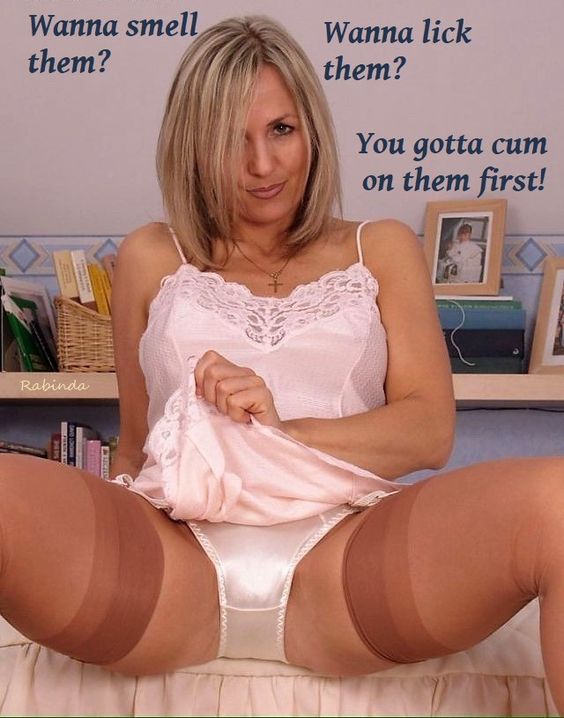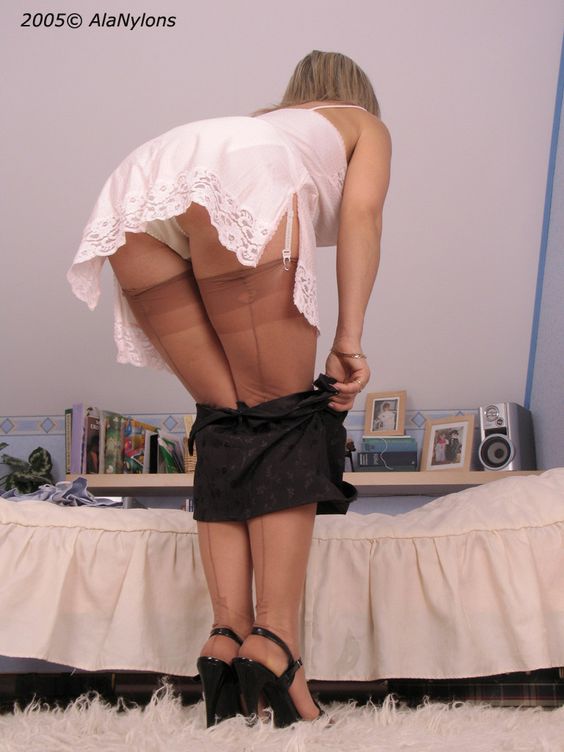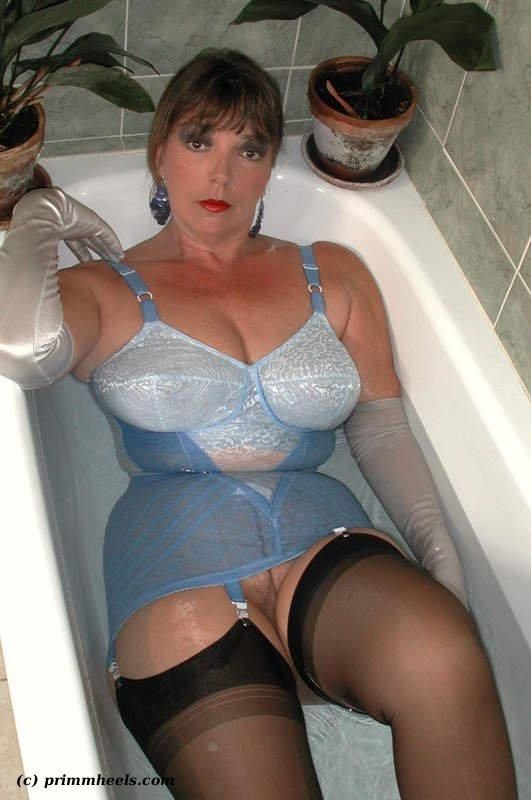 Do you see what I mean? If you take a step sideways to our Pinterest account, you'll find lots of mature females wearing their tempting lingerie in boards like Auntie's Lingerie, Foundations, Lustful Lingerie and Mother-In-Law.



Primonline at Pinterest



---

Letter 4 - Do you offer dressing and training?

Hi. Do you do a dressing and training service? After covid has gone please?

Hello Alan.

No we don't, but what a good idea it would be, if it could be done. The best I can offer you is online sissy dressing stores, like the Sissy Kiss Boutique. Mistress Lady Penelope offers dressing and training, and both these outlets have ads on our Home Page so you can reach them from there.

Enjoy feeling feminine, darling.

Aunt Frocks x

---

Mandy has shared her photos with us for our inspiration and pleasure. She's in the Rose Room and the Lacy Lingerie Room too.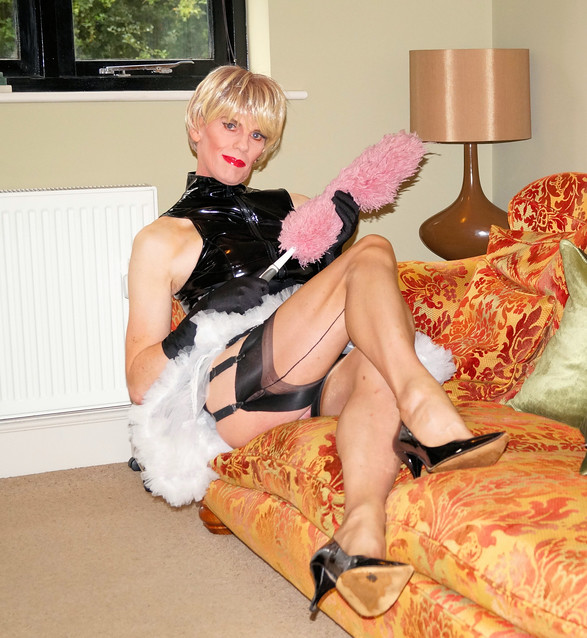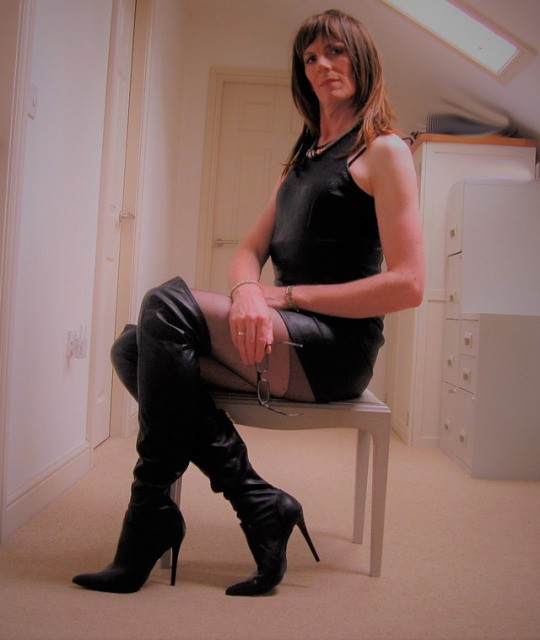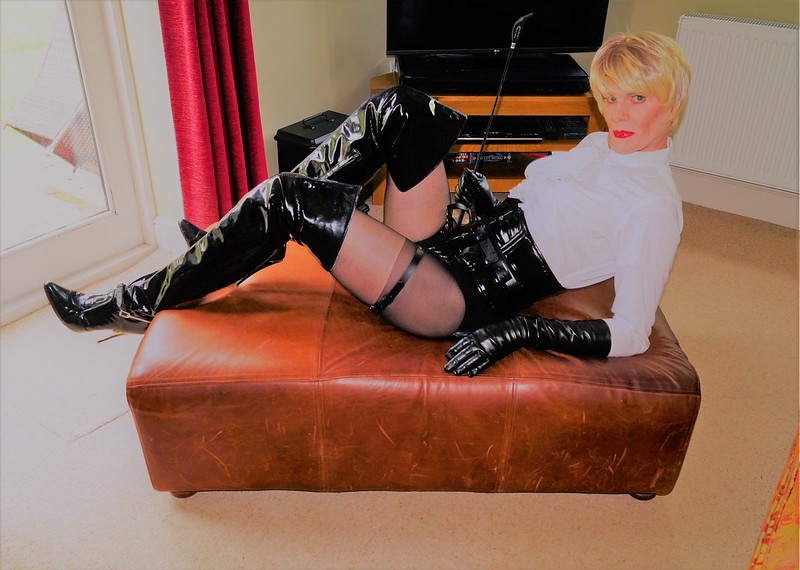 If Mandy shows just enough kiink to whet your appetite, you can follow her on Flickr here, and even see her Lacy Room lingerie gallery lower down my Newsletter.



Mandy on Flickr



---

Letter 5 - Mother-In-Law's blouse punishment

Lovely stories Prim, though an old favourite is: Invited For a Blousey Weekend at his Mother-In-Law's. I have spurting so much cum reading this story over and over.

In fact the first time I read it I was edging, kept rereading the juicier tidbits as I increasingly juiced with pearly precum dribbles until I could no longer contain myself and ultimately splashed an enormous fountain of cream, shooting here there and everywhere, most over myself, some on the couch and floor, one blob hitting the screen of the laptop, lol. Yes it was a very large eruption and all thanks to your lusty titillating potent words about satin sleeve masturbation. Wonderful.

Satinlush

To be honest, hon, I copied this idea from a friend who draws pics for the Wendyhouse: Penelope Pin Prick. She drew a pic of a sissy being discovered trying on his landlady's blouses, so she held his cock and forced him to insert it into the sleeve of one of her blouses hanging in the closet, and squirt his load into it to show his devotion. Nice huh?

Have you tried it yourself into one of your favourite blouses?

Prim x


---

Here's that winning combination of shapely legs and feminine style again. This is Paige.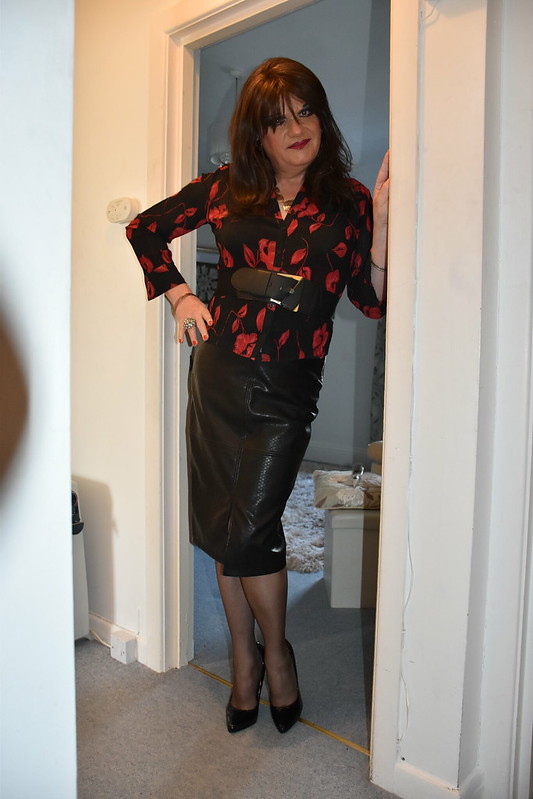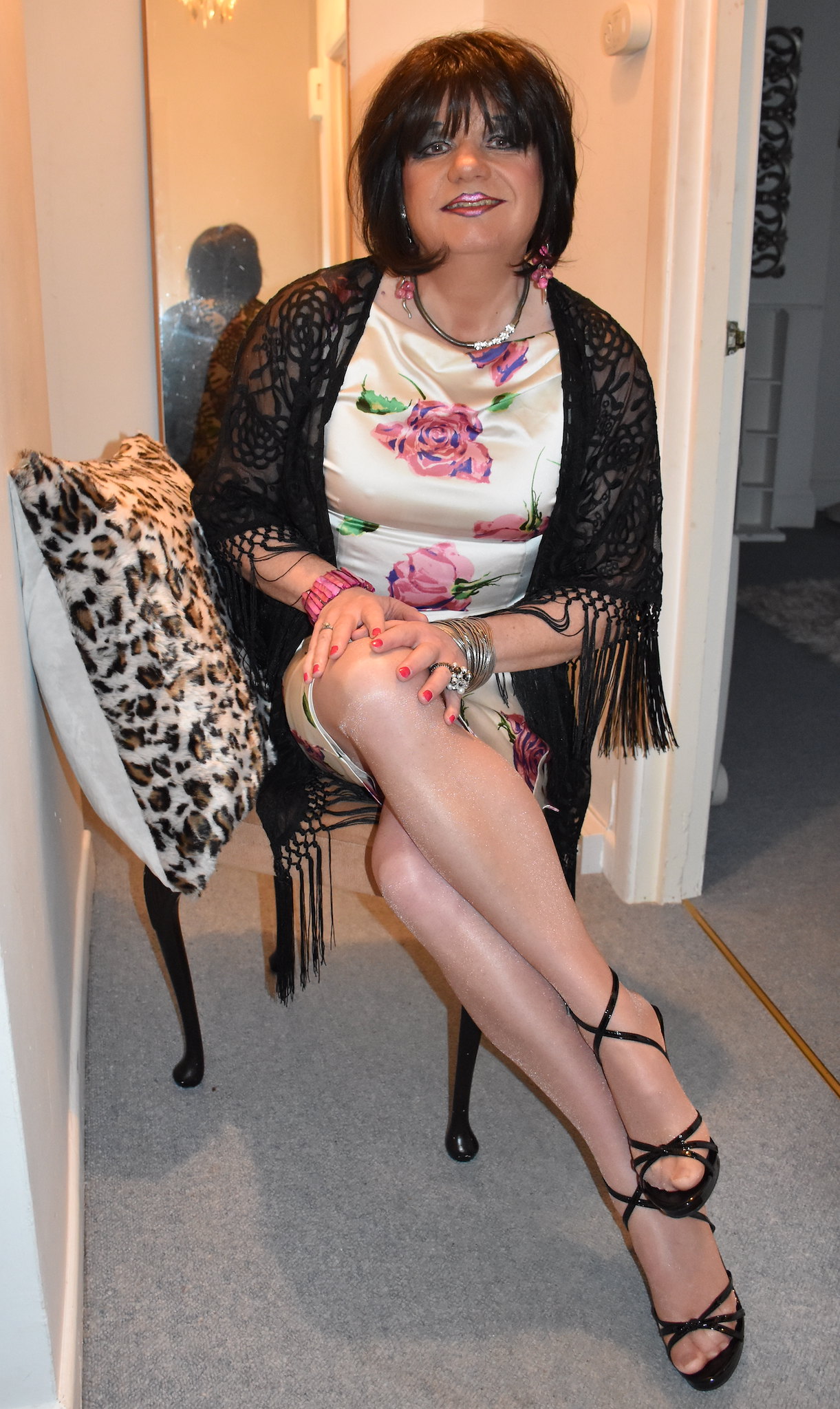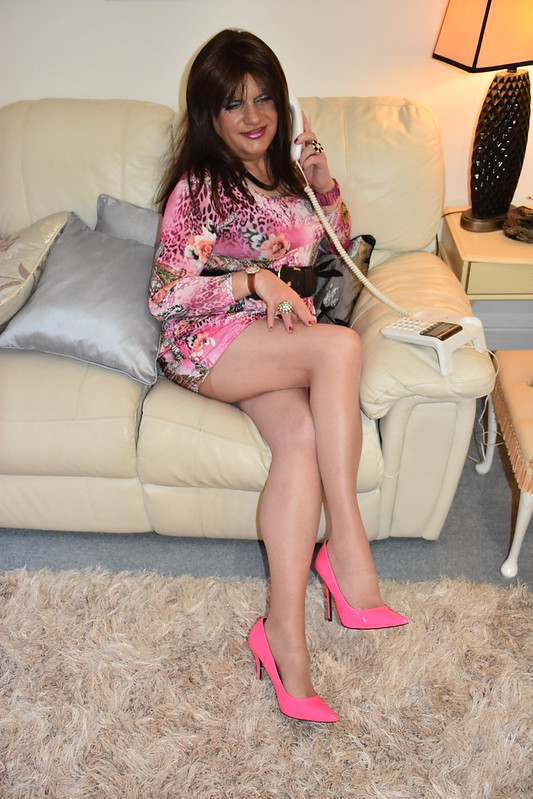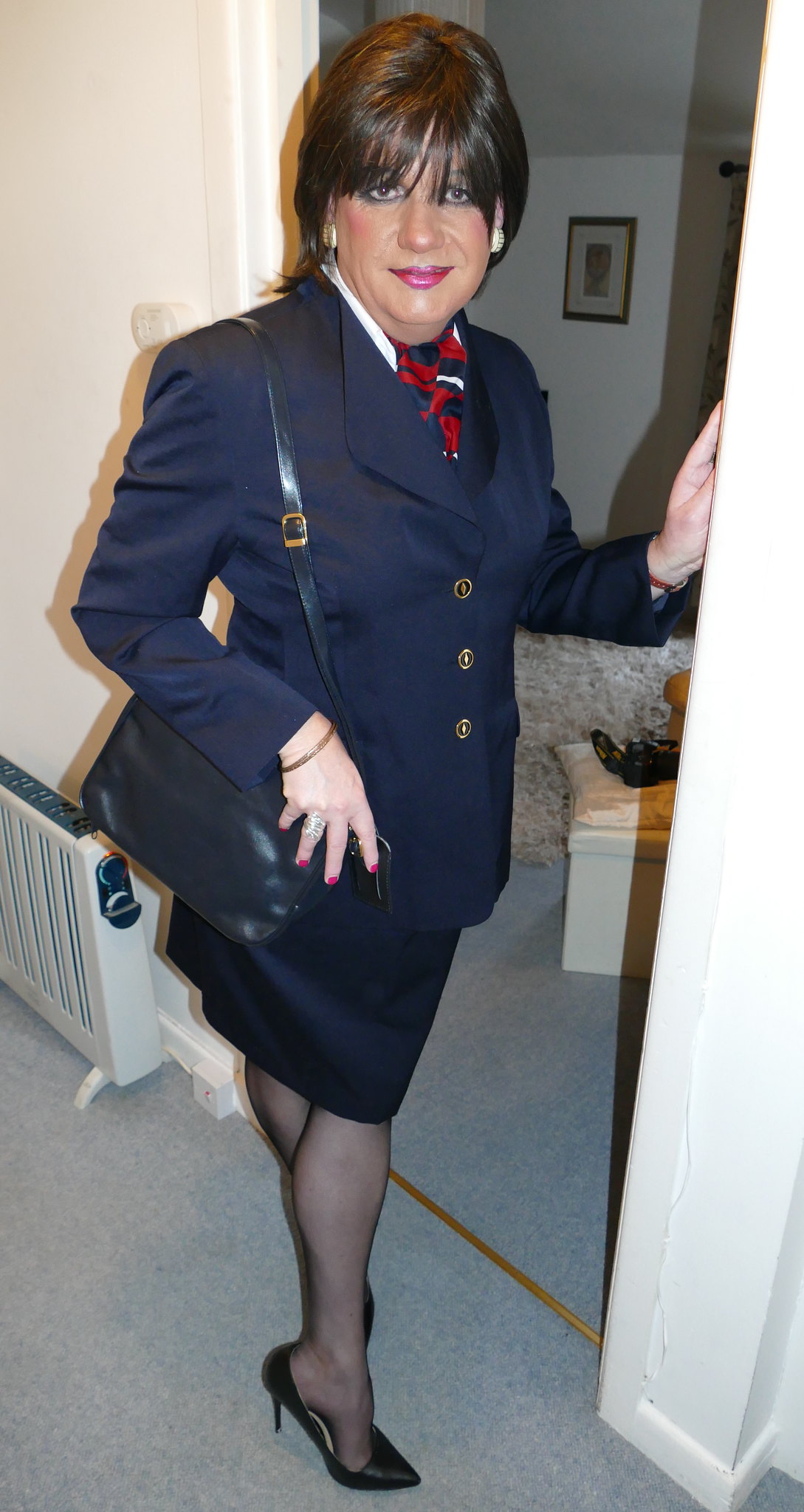 Isn't she adorable? I've made it easy for you to see more of her on Flickr:



Paige on Flickr



---

Letter 6 - Face coverings for sissies

Hello

Covid-19 or corona are really bad. No question. But let's see the postive side.

I always think that a sissy should be not only in permanent arousing but also in permanent state of reduced air.

That will make her quiet and obedient. And it's also humiliating. And of course breath reduction makes her horny.

A lot of your sissies often wear gags or other kinds of mouth and nose covering.

But now there are a lot of masks, e.g. for wedding, first communion etc. made from lace and silk are available.

Even for sissies (see below).

Every sissy should be strictly masked. Except for oral activities.

At best with a mask that can be tight at the back. Together with a bonnet (also strictly tied to reduced breathing) sissy is always covered, dehumanized and she will feel so safe and cosy. Only eyes are free. But why not use a veil, too?

What do you think?

Satinsissi



adult baby sissy frilly lace face covering mask fancy | Etsy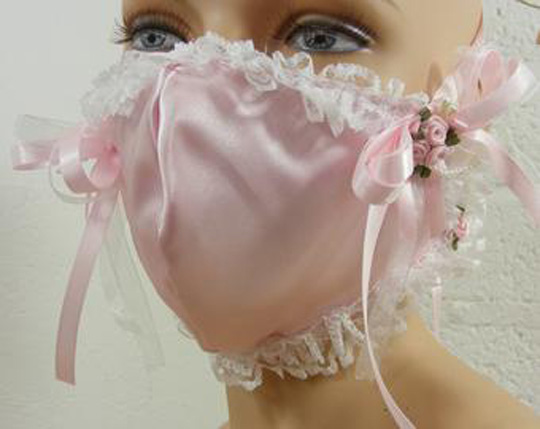 Dear Satin Sissy,

I agree with you completely in all you say, and I know Prim would too: between you and me, Prim is a BIG helpless fan of being enclosed in femininity, ESPECIALLY face covering. He would love me or his dominant Aunts to keep him silenced in a big white gag that covers at LEAST half of his face. If you like bondage photos, you will appreciate the draw of 'damsel in distress' photos of cds rendered submissive and impotent by their Mistresses, with a big gag covering their mouths and the lower half of their face. Add to this a similar blindfold to smother the top half of sissy's face in a silk scarf for instance, with his hands tied behind him, or even hogtied into helplessness while face covered. It's so easy for Mistress to slip down her panties off her feet and pull them over his head to complete his slightly breathless smothering enclosure. Do you agree?

I'm sure you will know of other sites that feature cross-dresser bondage Sissykins, but in case not, try these:



Trannies In Trouble




Bound by Bowhani


Enjoy your struggling, smothered femininity my pet.

Aunt Frocks x

---

Let me presnt to you our new blossoms in the Rose Room: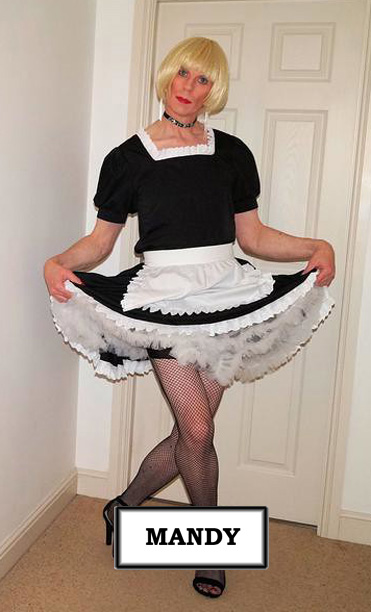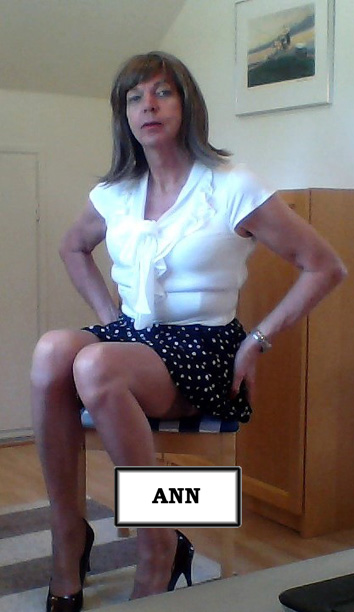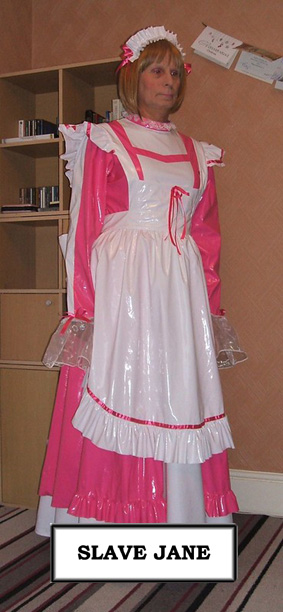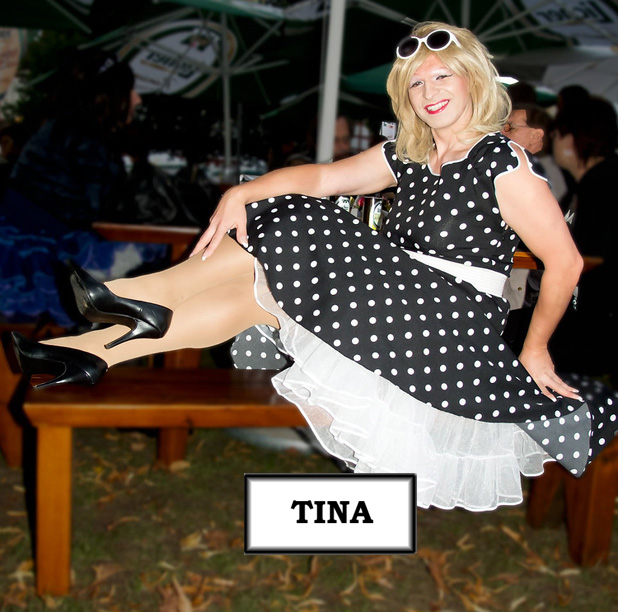 The Rose Room is a much better place with these new Roses joining the other girls. Unfortunately I can't fix you a link to visit it because the Rose Room and the Lingerie Room are inside the Wendyhouse which is access protected. If you want to enter, go here:



ENTER the Wendyhouse



---

Letter 7 - Please make me a sissy

Aunt, please make me a complete sissy.

Dear John,

I'd love you to become a complete sissy, darling, but I can't do it for you, sweetheart. What I recommend you to do is to read as many Prim stories as you can and look at his pictures. You will learn that way, and you can copy what the sissies do, because you are the sissy in each story.

You don't have to subscribe to the Wendyhouse. There are plenty of Prim stories and pictures available for free on our website. Go to the NEW FULL INDEX which is our FREEVIEW page, and if you click on some of the icons you can open up the stories.

I want you to be feminine, John. A little girl in lingerie and a sweet pink dress.

Feel sissy my darling.

Aunt Frocks xxx

---

Sandra joined the Rose Room way back in November so she featured in my last newsletter.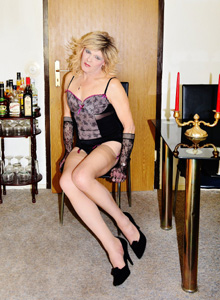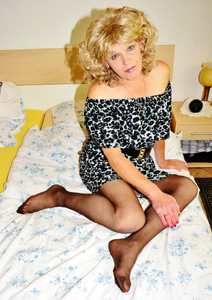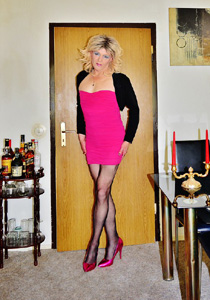 But you can see why I wanted to include her this time too. Her legs were made to wear stockings and pantyhose. Visit her on Flickr here:



Sandra on Flickr



---

Letter 8 - I love the frilly sissy fashions and stories in FF-7

Hello Prim,

I do hope you are well. I just wanted to write to you, and congratulate you and Prissy on another fabulous edition of Feminized in Frillies. I have had so much enjoyment and excitement from reading your very naughty stories, and Prissy's very naughty Art Work.

Every one of your stories, Prim, was just what every 'True Sissy Girly' loves to dream and fantasize about. You and Prissy really are spreading so much happiness and excitement all over the world with your fantastic series of Feminized in Frillies. I am absolutely sure of that.

I didn't have any particular favourite story, Prim, as everyone of them was amazing, but I must confess I was a very naughty 'Little Sissy Girly', because I ALWAYS milked my sweet little 'Dolly' into my prettiest Satin Sissy Baby Panties. I just LOVE to spurt all my 'Sissy Creamies' all over my frills and pretty bows, and then I can hand wash them and wear them for the next time.

I just LOVE that all your stories have so many Characters, Prim and sometimes you give them the cutest little Sissy Girly Names, I just LOVE that, and the wonderful dialogue you write for your Superior Ladies, and PATHETIC Little Sissy Girly's is such a turn on.

I also adore how Prissy dresses all his Superior Ladies, they always look so Dominant and powerful... and the outfits he dresses his pathetic Little Sissies in are FABULOUS. I just love how he coordinates their Sissy Dresses with all the rest of their costume. My favourites, are of course their Sissy Panties and Sissy Fluffy Petticoats, but I do have a particular fondness for their High Starched Sissy Dress Collars and Pretty Bow Neck Ties, and their Frilly Baby Doll Bonnets are absolutely divine.

Lots of hugs and Sissy Kisses, and deep curtseys,

Princess Sissy Pansy.

Dear Princess,

You are right to mail me again and tell me off for leaving this reply so late after you wrote such a nice letter to me and Prim. Darling, I apologise for being a bed Auntie. But let me try and put that right at once.

What a dear sissy you are for feeling so sweet and sissy while you read Prim's stories alongside Prissy's pictures. A lot of girl enjoy Feminized In Frillies, but you went one step further and wrote to me to tell me what you liked about Feminized In Frillies Volume 7. I am delighted that the stories and pictures made you feel so girly, and I want to kiss you for finding your panties with your girly fingers and bringing out all your deepest feminine pleasure.

I know you love to see sissies in very cute dresses and very frilly petticoats, because you've told me before, but I will happily sit her another twenty times while you tell me again and again. Yes sweetheart, doesn't Prissy draw such delicious sissy dress collars and pretty neck bows? You may have guessed that both Prissy and Prim feel so girly when they are made to wear large white dress collars and soft slippery neck bows on their dresses and blouses. It makes it so easy to dominate them, I can assure you.

Feel lovely in your little girl frills my pet. Be as girly as you can, and enjoy yourself in the world of Prim and Prissy.

Close hugs from Aunt Frocks x

---

A lot of girls are intoxicated by the pleasure on the eye of pink flesh and black lingerie, as Ann and Mandy can demonstrate.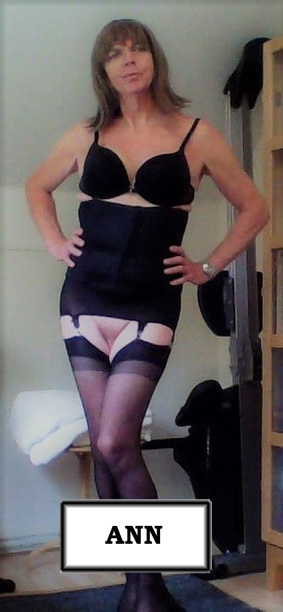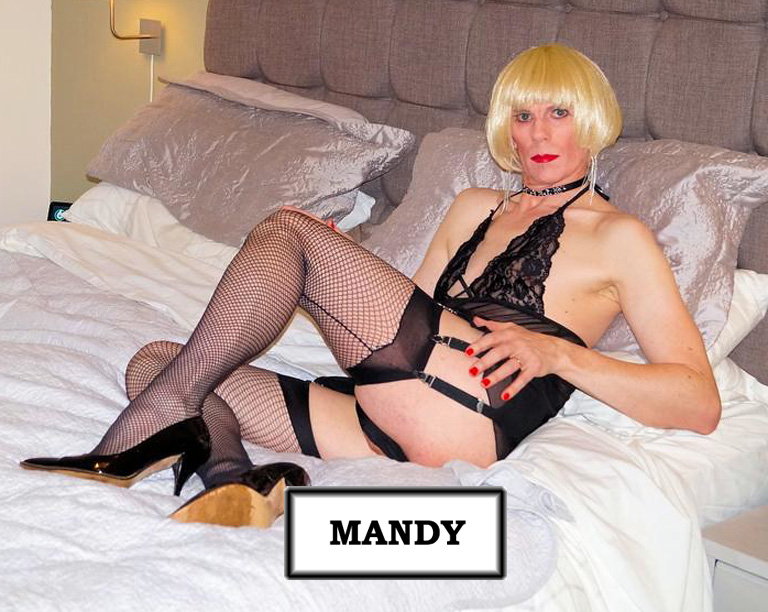 They deserve our thanks for sharing their lovely photos with us in my Newsletter.


---

Letter 9 - Can you send a male to Prim's Petticoat Wendyhouse and have him totally feminized?

Is this a place that you can actually send a male to and have him totally feminized? How long is the process? Do you use any hormones?, costs?

Kevin

Hello Kevin.

I've never been asked this one before, Kevin. But that doesn't mean your query isn't intriguing.

Unfortunately we're far too busy on providing all the other aspects of the Petticoat Wendyhouse for our readers. Take a look at our NEW FULL INDEX page to see the content of the website. There are dozens of stories covering the scenario you're interested in, but on our website it's all fantasy, I'm sorry to say.

On the other hand, our sissy victims are put through some shocking feminization experiences. See the Dressing Adventures of Johnny, for instance, and especially the Walt Wisconsin story in 62 chapters of trans-gendering. There's no mention of the cost of this process, but it's a hormone-rich method which is fail-safe. He is feminized alright. The Stepford Sissies is another trip into organised feminization of likely sissies. Many of Prim's serialised stories focus on women deliberately reversing the sex of the men in their lives, so there's plenty of scope for finding out about their methods, without being able to access them at a price.

Sorry I couldn't help more.

Hugs from Aunt Frocks x

---

Another fabulous girl who joined the Rose Room in November is Lucy. Isn't she lovely in the glamorous frocks she's chosen to wear?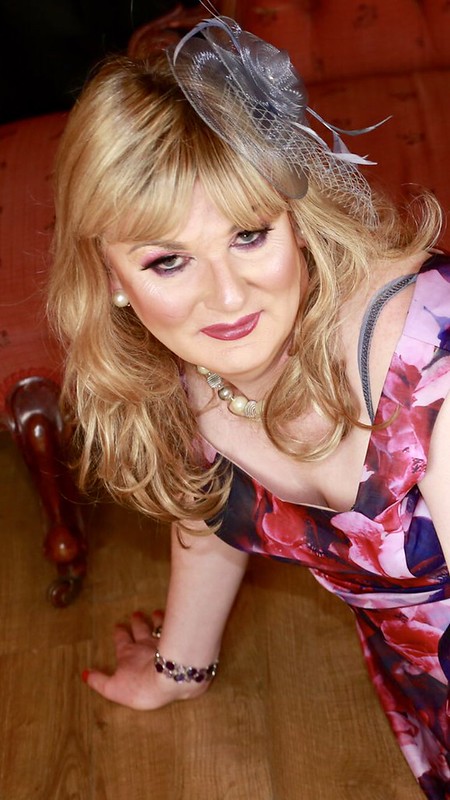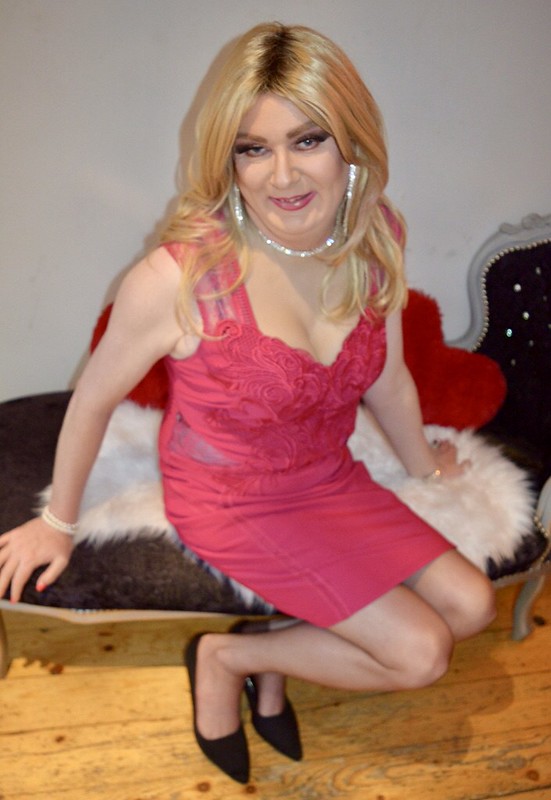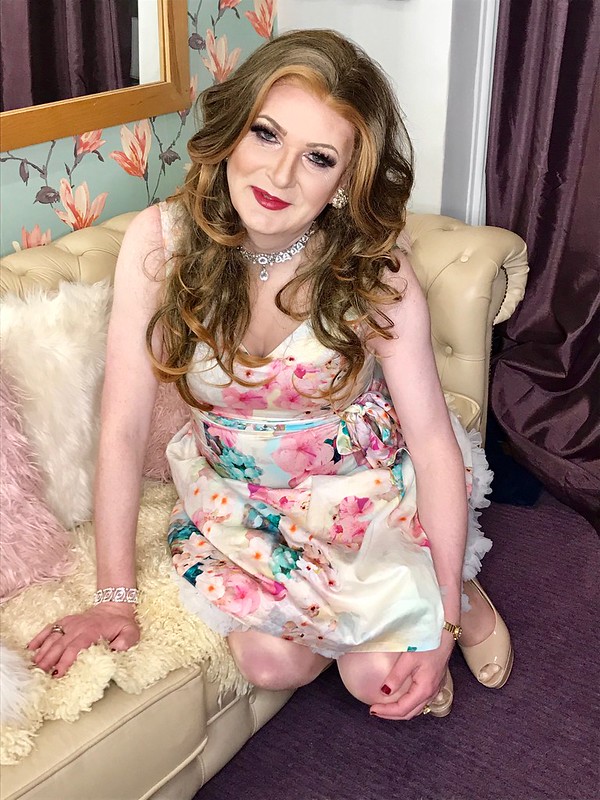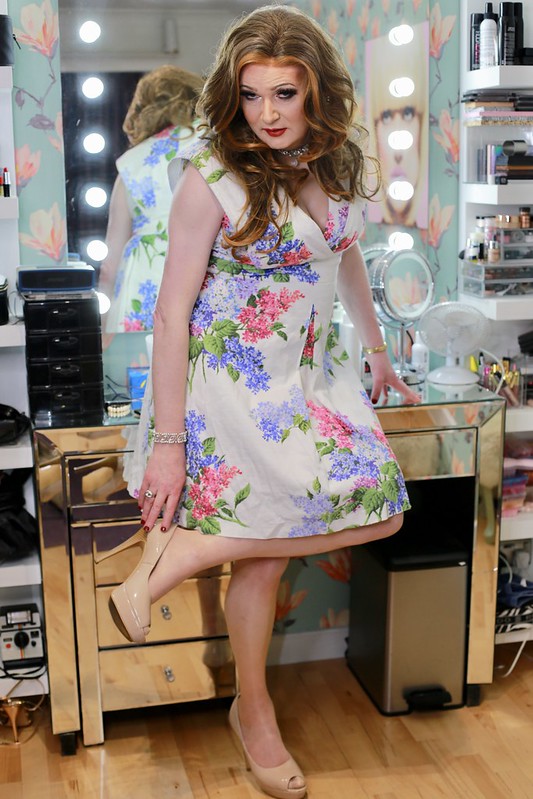 If you like looking at Lucy, as I do, go here and see all her photos:



Lucy on Flickr



---

Letter 10 - Is the Wendyhouse for me?

Dear Aunt Frocks,

Cute name!

I'm writing because I am torn about subscribing to The Wendy House.

On the one hand, I (embarrassingly) find many of the snippets of stories I've gleaned to be fascinating, surreal, intoxicating, and even charming.

On the other hand, I am strictly heterosexual, so find myself glossing over those stories in which sissies pleasure fellow sissies.

So I guess it comes down to percentages. I mean, dear Aunt Frocks, would you say that a majority of the stories are of one sort or the other, if you know what I mean?

By the way, I've attached a picture of yours truly as Suzette la Soubrette.

Also by the way, I've written my first story to be published on the internet. It's under my other pseudonym, Mr E Edward Grey. Here is a link, just in case you ever get bored controlling feminized, subservient male playthings.



Preparations for Afternoon Tea


Warmly yours,

Suzette la Soubrette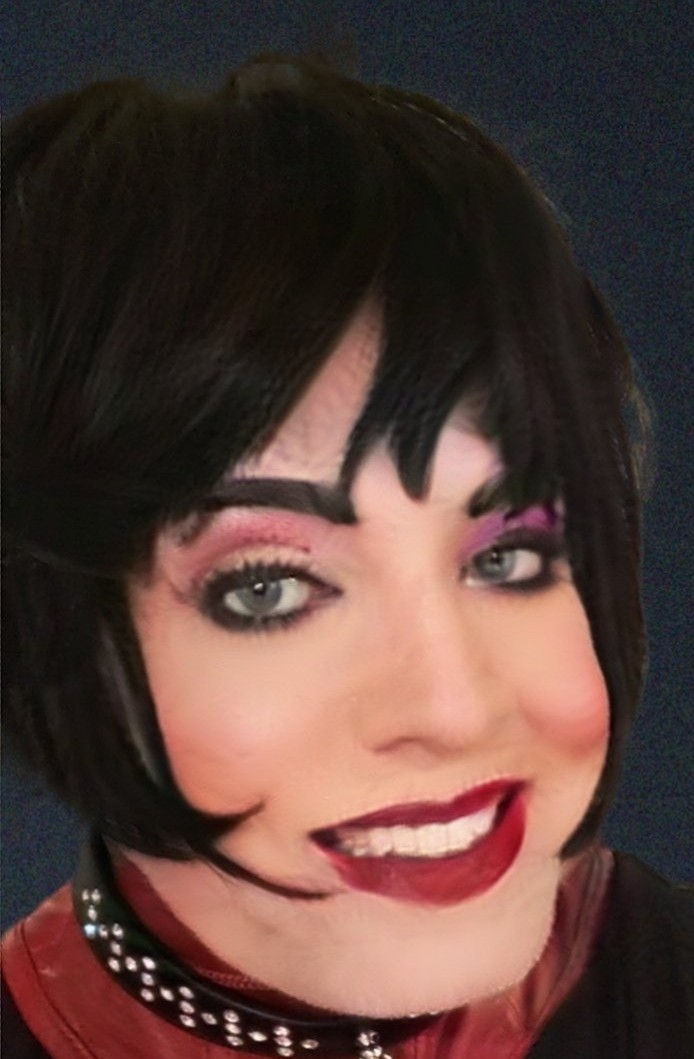 Dear Suzette,

I liked your letter - thank you for writing to me - and I was intrigued by your story. Your writing technique is very good. There's plenty to show you read a lot of sissy-sex stories, you are evidently educated, as in Pavlovian dogs, and you know how to appeal to our erotic pressure points. Yes, your hetero preferences come through and that's fine. My only criticism is it's a bit long. But then a lot of our own stories are too long too, so who's complaining?

But what about your question to me about the Wendyhouse. I took time out after your letter to whizz through the last ten issues of Prim's Petticoat Pansies, #28 - #37 to form a picture of whether Prim stories are mostly sissy-mistress based or sissy-sissy or even sissy-master based. I didn't need to go through all 10: after 4 issues I knew that 9 out of 10 Prim stories are hetero, with additional bi-sexual but very girly desires. It's only in the Feminized In Frillies series, exploring the Prim-Prissy world of sissyfication, that the proportion changes to more like 50-50 because of the sissy-school settings tending to favour sissy-on-sissy humiliation or even sex.

But Suzette darling, these sissies are so effeminate and sweet they are more girl than boy. When sissy kisses a sissy in a Prim story, think of lesbian passion between those cute 20-year-old models in soft, skimpy pink dresses. It's the reader who creates the story alongside Prim (and Prissy too in the Feminized In Frillies stories) so the reader can have these darling sissies however you want them to be. Not forgetting of course that you yourself are in the story. And you are very feminine, I know.

In any case, why ask your Aunt? For twelve dollars you can DIVE IN. I don't think you'll regret it. Most girls LIVE in the Wendyhouse, which is an adorably frilly place to be - if you like to be humiliated by women that is.

One last thing. You may not be familiar with me and the Petticoat Wendyhouse, but it's accepted that when you write to me or send me your photos, I could publish them in my Newsletter. So unless you write to ask me not to, I will. You need to hurry, because my next Newsletter will be out in a week or two.

Thank you my pet, for your story and your letter. I hope you can join me in the Wendyhouse.

Love from Aunt Frocks x

---

The Lacy Lingerie Room is a nice place for girls to browse, as you can imagine. Mandy is new here but I'm sure you'll agree she looks at home.



Mandy Thomson in the Lacy Lingerie Room


Would you feel at home here in your lingirie? You can find out more by writing to me. Thank you Mandy for looking so lovely. Letter 11 - Do you put Prim and Prissy in their lovely dresses, Aunt Frocks?

Dear Aunty Frocks,

thank you for your lovely, lovely letter. Please, please don't feel you need to say sorry to a Sweet, obedient little Sissy Girl like me. I can only perform Deep Curtseys before you, and be happy you have even taken up your valuable time and written such a wonderful letter to me.

Just reading your letter, Aunty Frocks, has me all excited in my 'Sissy Panties'. I am such a very naughty little Sissy Girl. I am sure if I were in your care, Aunty, you would indeed put me across your knee, and give me the good sound Spanking I DESERVE!

I just love to think of you being in charge of Prim and Prissy, Aunty Frocks. I do hope you are very strict with them, as well as being loving and caring also. I can just imagine you dressing them both in the sweetest little Sissy Dresses and little Girl Blouses, with those darling high stiff collars, and pretty pert Sissy Bow Neck Ties, and lovely Satin Hair Bows to match. OH!!!, Aunty Frocks I am getting all excited in my Pretty Satin Sissy Panties, again.

I can just imagine you, Aunty, calling to your Sweet Girly Sissy's to come down stairs, and into the Living Room so they can present themselves before you with deep dainty curtseys.

And then you primping and preening over them, and then instructing them to raise their taffeta full skirts, and fluffy bouffant petticoats, for Sissy Panty Inspection.

Thank you again Aunty Frocks, for writing to me. It makes me so happy that I can think of you as a loving, caring friend... and in my 'Sissy Dreams' you are my Aunty, and you are dressing me in the prettiest, sweetest Sissy Girly outfits... and taken care of me.

Lots of cuddles and sissy kisses, and Deep Sissy Curtsy's.

222Princess Sissy Pansy.

Yes, dear, I would dearly love to have you in front of me as I sit and prepare your petticoat to drop it over your head, followed by today's dress for my little Princess: it would be in candy pink satin, overlaid with silk chiffon. The sleeves would puff so high on either side of your earrings, and your dress would fasten with three very girly dress buttons down the back. Then I would complete your adorable dressing by folding your satin sash ribbons into a huge bow at the back: it would be shiny white, to match your deep dress collar which fits so sweetly right up under your ears and chin so that you are such a sweetly dressed little girl of 3 years old for your Auntie today.

Curtsey sweetly, my darling. That's a good girl.

Hugs from your Aunt Frocks x

---

Let's enjoy the feminine sweetness of another of our new girls in the Rose Room, darling. This is Miss Tina Turtle from Germany.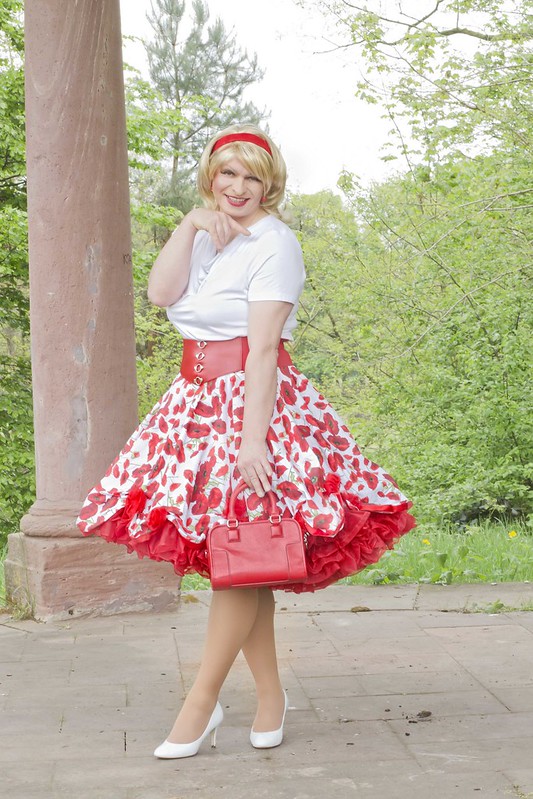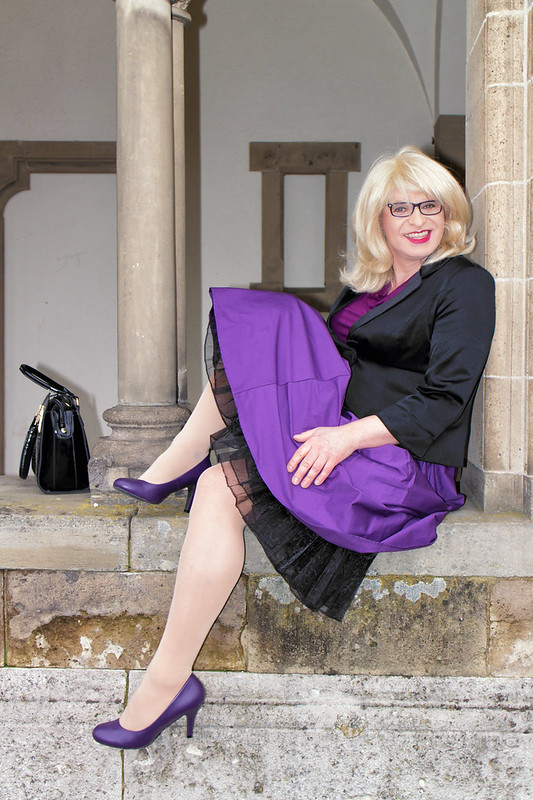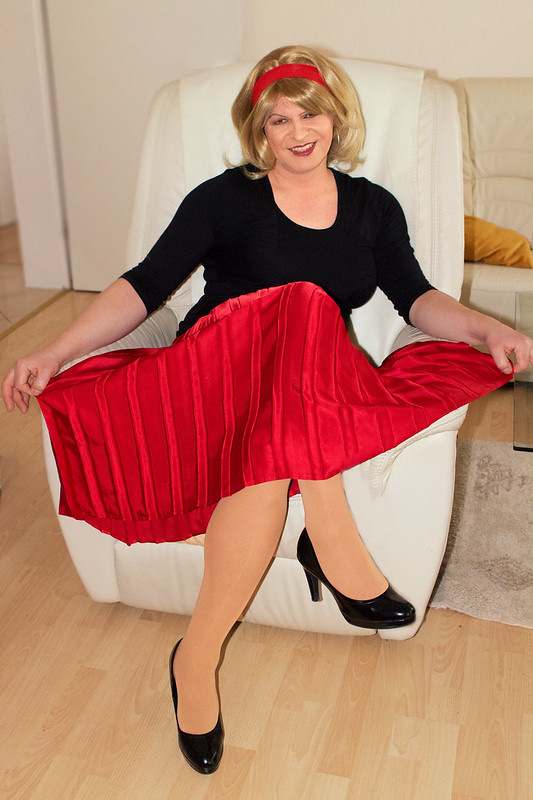 She chooses such lovely styles, they simply add to her bewitching attractiveness. We're glad she's here with us in the Wendyhouse.



Tina on Flickr



---

I want to finish my Newsletter with some Prim stories, as I always do. I'm sure you're happy with that, petal. Do you know there are still some sissies who haven't tasted the Feminized In Frillies series, the sweet world of Prim and Prissy combined, which you can visit on our Home Page. The story I've picked out is taken from Feminized In Frillies volume 3:



Their Weekly Appointment At the Pink And Frilly Girlification Clinic


My second story can be found on Aunt Helga's site at Petticoat Discipline Quarterly. There are lots of Prim stories and pictures in her archive, if you want to visit her here:



Petticoat Discipline Quarterly




The Cheating Husband


And finally this is a Prim story he sent to the wonderful cd/tg site at Fictionmania. He has dozens of stories there if you want to go and see them. Follow Search, Author Search, and PRIM:



Fictionmania.com




Mummy's Stepford Maid


I hope you liked those little fantasies, sweetheart. Don't forget you are the sissy in all the Prim stories you read. One last reminder from your Aunt: if YOU want to write and tell me things, you could choose from these:

-tell me which pic or story you liked in the Wendyhouse website. You could maybe tell me why,
-tell me how you like to dress, or even about your dress-up and play,
-tell me what you want Prim to put into his pics and stories
And lastly:
-tell me how it all began for you all those years ago. Girls love reading about that.

If you write to me about any one of those, I will be absolutely thrilled.

Finally I want you to meet Denise again, who graced my last Newsletter. Wouldn't you love to cuddle her? You can see more of Denise in the Rose Room and the Lingerie Room, or in her account on Flickr.


Denise on Flickr
---

You've been a good girl, my sweet - holding your Aunt's hand and reading my Newsletter with me. Are you going to pop into the Wendyhouse now, the members area? Or do you need a break from being a girl in a dress surrounded by so many other girly girls?

If that's the case, have a lie down, my precious, and you can come back to me in a short while to feel very feminine all over again.

Lots of love from your Aunt Frocks'.


Back to the Home Page