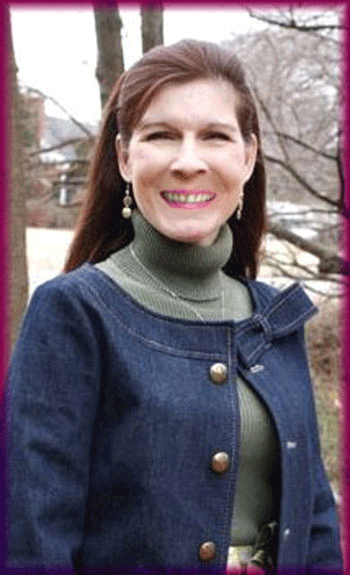 Welcome to my Newsletter for May, my darling. Are you feeling as sweet as ever? Are you nicely dressed for me? If you are, here's a special hug and a kiss from your Aunt Frocks.

There's lots to tell you, all of it good, so let's begin on a bright note, shall we:

1-----The cost of monthly membership of the Wendyhouse has gone down, from 10 USD to 9 USD, starting from today. If you are currently paying the former 10 USD, you can wait until your current month expires and join again. Changing from 'recurring payment' to 'non-recurring payment, or other alterations, are explained in Verotel FAQs, to be found in the Join page after you click the round red JOIN button. By the way, clicking on that button does not commit you to joining, it simply opens the payment transaction page, with lots of Verotel information you might like to know lower down on the dark red part of the page. One thing is for sure with Verotel - they are extremely secure.

Yes, moving the membership fee from 8 USD to 10 USD was a marketing error, so the price henceforward is 9.00 USD.

2-----If you are a visitor, darling, and have never stepped inside the Wendyhouse, do you know what you get with Wendyhouse membership?

Some girls don't know how much they will get in the Wendyhouse so they never try - but when they get in there they are astonished: visit the full index and open any icon, then imagine that each of those is a full programme of stories and exciting images - one thrill after another - so many that you would be hard pushed to ever cover them all. The Petticoat Wendyhouse is a new concept in sissy-thrill websites. Instead of paying for this story, for example, and paying again for that video, you simply get EVERYTHING - ALL OF THE TIME!

Try it and see, then tell me you're not swept away with girly feelings.

3-----Coming later this month will be the opening of the Rose Room. The pictures of these belles are adorable. YOU WILL RECEIVE A FREE MONTH'S MEMBERHIP OF THE WENDYHOUSE when you send me your own photos for your gallery in the Rose Room since you will be a contributor, helping all our sissies to feel nice. What to send is 6 of your favourite photos, choosing one of them as your cover photo, and if you want to, you can write a short profile - up to ten lines - about the girly you. If you'd like to know more, mail me at auntfrocks@mail.com which is the address you send your photos to.

Now, let's dip into what our frilly sisters have been sending us here at the Wendyhouse.

Cuddles, darling.

Aunt Frocks xxx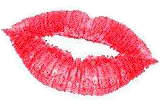 ---
Letter 1 - photos from Shellyanatine
Dear Prim,
I've taken a few more photos tonight. Maybe you would like to add those to your magazine ? I'd love you to use some of my dress & shoes pics as well. I'm flattered that you like them too. When will the pics be published ? I'm naturally curious.
Shellyanatine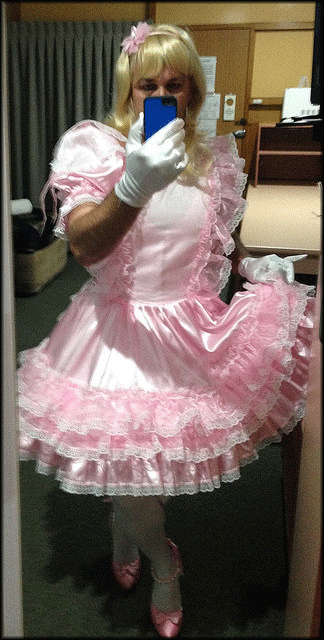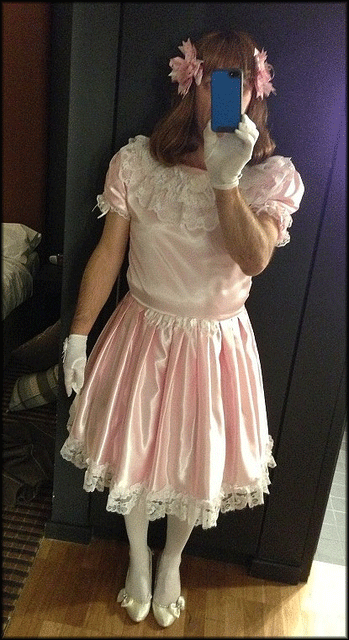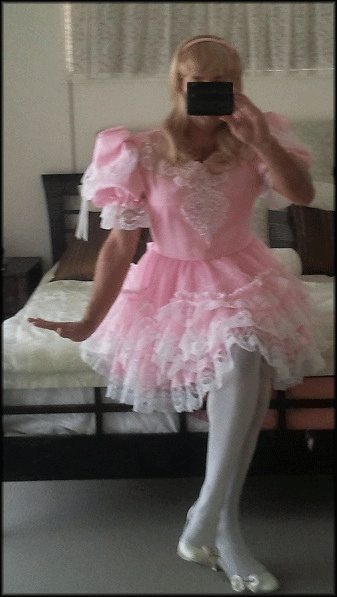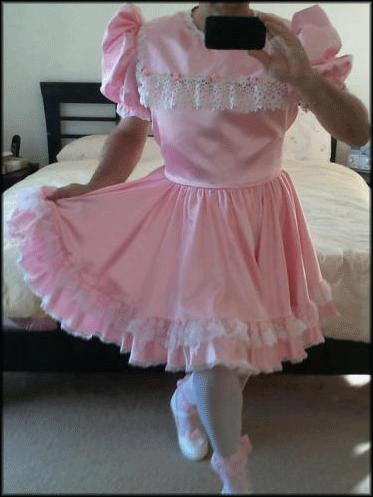 Hello Shelly dear. Thank you for saying yes OK to my pick of your photos.

Pages of nice shoes - or boots! Sounds good, and so do hair decorations. I'll start collecting.

I won't have time to include you in this issue of Prim's Petticoat Pansies, but I should be able to show everyone some of your photos in my mid-May Newsletter. That's like my on-going blog to go on the website.

You're a sweet thing, darling.

Hugs, Aunt Frocks x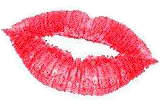 Here are some more photos Shellyanatine sent me to share with you, darling: Isn't she girly!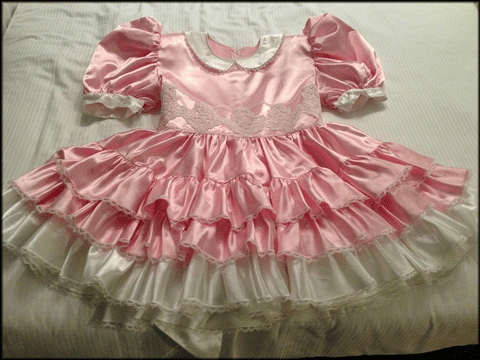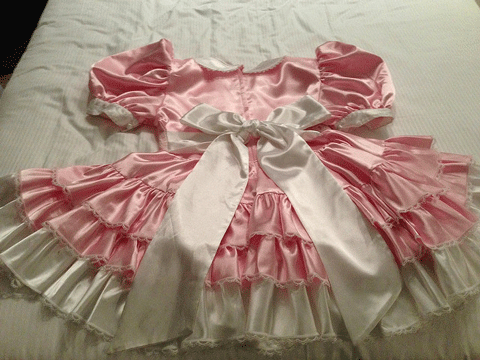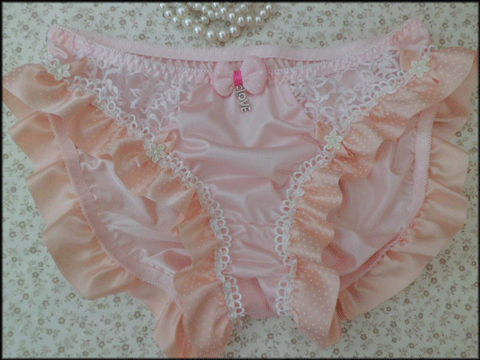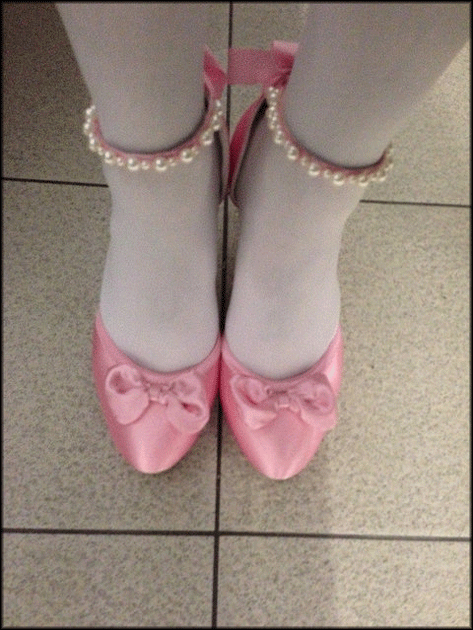 ---
Letter 2 - May Need help to select Annie the best dress
Darling Susan:
I need your help. Which of these 3 baby dresses do you think would be best for Annie and why?
I have a hard time choosing.
Love xoxo
Audrey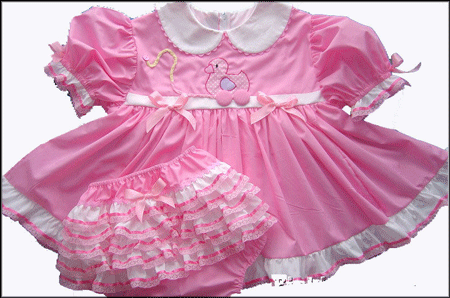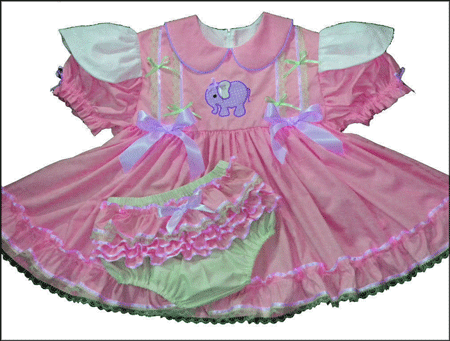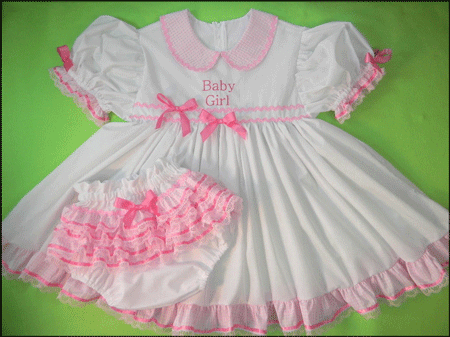 Hello Audrey.

I would rule out the elephant dress, because of the green panty and I've never been a fan of capped sleeves.

Which sees me choosing between the two pretty pink styles: both of them have attractively babyish features: puffed sleeves, a Peter Pan collar which is a sweet little girl detail, and wide skirts to fill with petticoats. Both of them have lovely frilled panties. The baby girl dress has an advantage in having Baby Girl on the bodice - nice - but overall I go for duckie baby because it's shorter and has a better chance of leaving Annie's bloomer on show between her legs.

I hope you and she are enjoying the latest Prim's Petticoat Pansies. Have you found a story to suit her and make her feel sweet as Mommy's little girl? There is a story outstanding, but I fear it will perhaps go over her head a bit.

You will have seen her photo on the Sissy Dress Special magazine cover - perfect!

My Newsletter will be online in a week or two's time.

Keep well,

Susan x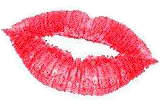 Susan, darling:
Thanks for your thoughts and advice. The "pull toy Duckie dress set" in Pink is truly adorable for all the reasons you mention. I recently bought her a few baby play sets for her. I adore her as my sweet baby girl in baby dresses, nappies and her dummy.
Prims #29 is brilliant! Especially the insights from Annie's nanny. Glad you decided to use that. It is very timely now that Annie is truly my child. Dr Dotson, her therapist, says that there is more of a calmness in Annie now. It has only been a week since the big day but I can sense that also. Her need for my approval is even deeper if that is even possible. The sissy magazine cover looks lovely! I hope you get many comments.
I read "Party Panties with Party Dresses" to my little one. My fingers were gently caressing her clitty through her satin panties as I read to her. Annie shares the sissies love and delight when a gorgeous and frilly dress is slipped over her head and fitted around her body. She liked that they were crying because they felt so wonderful and girly. Just like she feels.
We also looked at "sissy dresses for special occasions". Annie was so excited. We talked about each dress. Annie was in 7th heaven dreaming that she would be put in each one.
Looking forward to your newsletter.
Love xoxo
Audrey
---
Letter 3 - Dame Selena comments on Wendyhouse issues
Dear Prim,
Pardon the delay, I've been rather busy maintaining my manor. I've had to get rid of a few sissies stealing some of my articles of clothing and therefore had to punish them into an eternity of sissification. I'm sure by now they're learning the error of their ways. Lol
But back to Walt's story, I have to extend my congratulations on another beautiful piece of art of Walt's journey into sissydom. That is exactly how I punish my naughty sissies. Frau Doktor Strapz is quite the knowlegeable matron. She would be a welcomed guest at my château. I wholeheartedly agree that Walt will never be the same again. Frau Doktor Strapz and the other nurses have seen to that. Lol
I am most pleased with the outfits you've added onto the newsletter. They're indeed an impressive style. Do you know the designer? I would love to wear something like that for the sheer enjoyment of watching my sissy maids tremble before me.
Yes, there is that feeling of empowerment ladies like myself experience in dominating potential male sissy's. I've recently added a new Sissy Maid to my manor. But her identity will remain anonymous for now. I may decide to showcase her when I desire.
I am looking forward to the 30th issue for the Prim's Petticoat Pansies edition. Are you planning on anything special for this issue? While I do miss more of your Dame Selena pieces, I'm interested to see what you will create.
I'm not sure if you're familiar with the fetish artwork of forniphilia. But I think it would be an intriguing concept to add to the Wendyhouse. It would be nice to see a sissy or two bound as human furniture for a Dame like myself to sit on or to simply hang my coat. I will send you a few pics so you know what I mean.
regards,
DS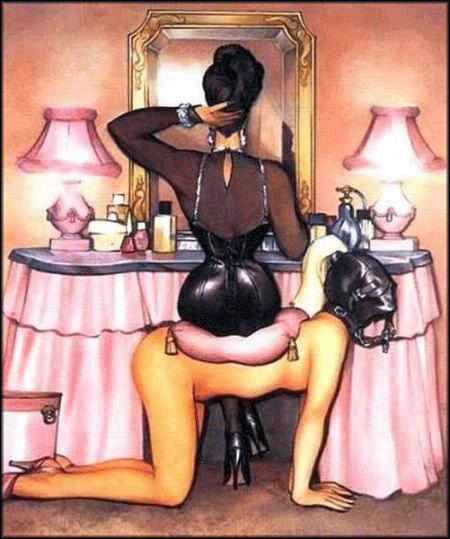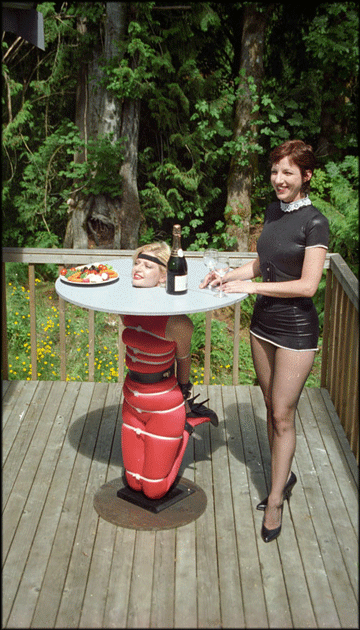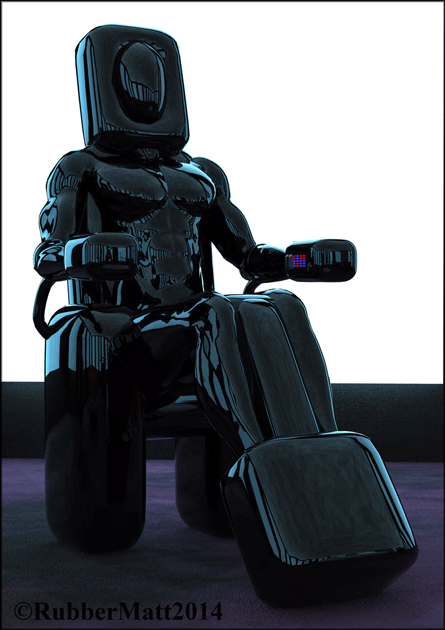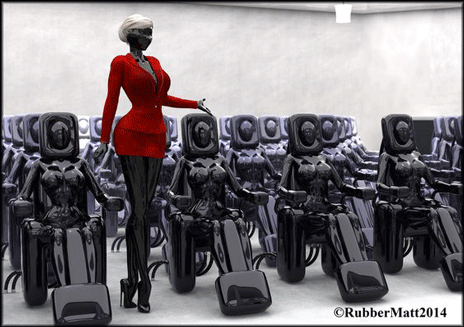 Dear Dame Selena,

How nice to hear your thoughts and advice on the Wendyhouse productions, and I am pleased that you are enjoying them. There is no doubt that Frau Doktor Strapz and the other nurses of Fem Ultima have changed Walt for good - and I can tell you for sure that he is going to find even more shattering changes ahead of him when Cousin Delma arrives to monitor his progress. When women get their claws into a sissy, they can be merciless, I'm sorry to say.

Issue #30 of Prim's Petticoat Pansies will be a special, for sure, but unfortunately you have to wait until after Walt Wisconsin for that to appear in the Wendyhouse. By that time, of course, the Rose Room should be opened, with some lovely girls, yourself included, Madame, presenting themselves for our admiration.

I had to look up 'forniphilia' when you referred me to it, Madame. Human furniture has been around before but not under that name, and of course practitioners will be adding new figures and pieces constantly, I am sure. Thank you for sending me these photos for my Aunt's Newsletter.

If I can provide you with stories and images that amuse you, Madame, my work is well worth it.

With every respect,

Prim
---
Letter 4 - The fabulous dresses of Mistress Lady Penelope
Dear Prim,
You do, of course, recall that I am already a subscriber to Prims Petticoat Wendyhouse! I must say that I do enjoy reading Prim's Petticoat Wendyhouse, especially the longer stories about forced feminisation. In order not to finish each issue too quickly and then have a long time to wait until the next issue, I try to limit myself to just one or two articles a time, but I'm not always successful!!!
Please find attached a file with a number of photographs that might be considered for publication. Some are in sissy dresses whilst others show Mistress Lady Penelope's interpretation of the type of clothes that sissies in your artwork would wear. All the photographs were taken by Mistress Lady Penelope, albeit on my camera, and all the clothes and accessories belong to her. I appreciate that you have a link on your web site's front page and I can confirm that is me standing in front of the fireplace!
I look forward to reading the next issue on the web site and, of course, Aunt Frock's newsletter later this month.
King regards
susie-ann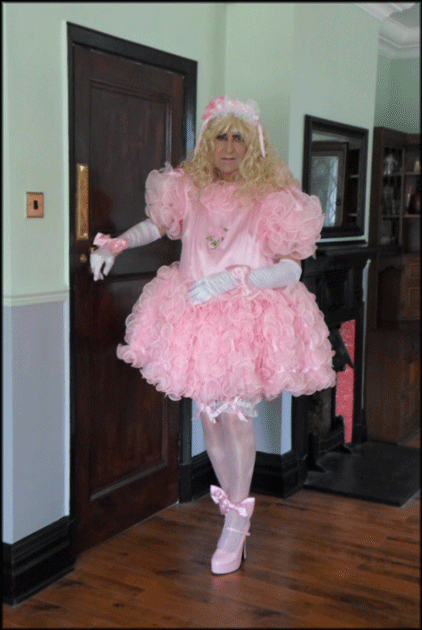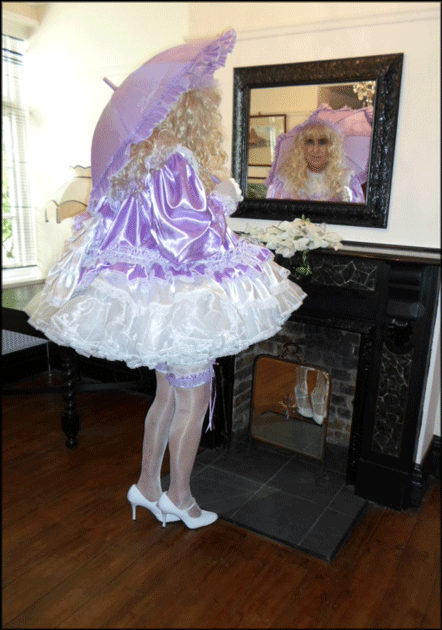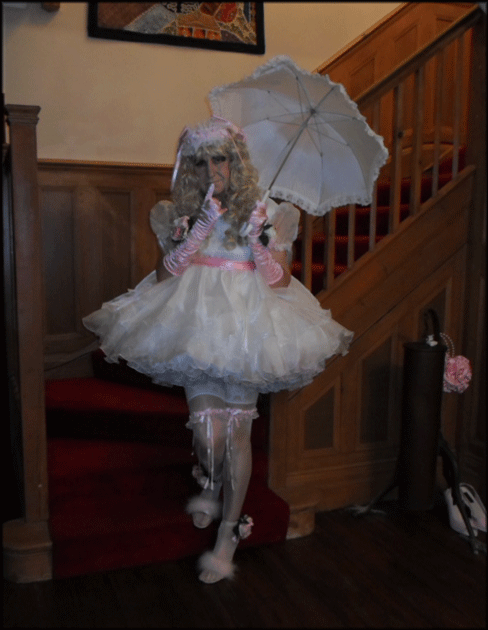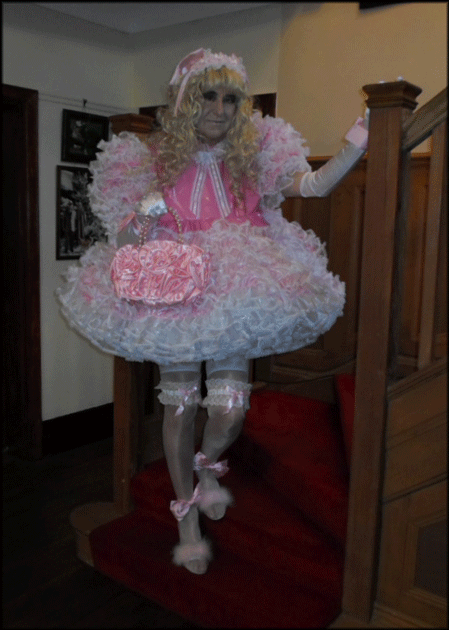 Hello Susie-Ann and thanks for your lovely mail and photos. You sent me so many, my Aunt can feature you twice, all the better to window-case Mistress's fabulous dresses.

The dress I like most is the lilac one: a sissy-shortie shape to perfection, with those girly lashings of petticoat frills. Pic 10 where you look into the mirror with your parasol is the best (imho). Pic 1 at the foot of the stairs is another favourite of mine. We'll include mention of Mistress Lady Penelope, as you suggest, in my Aunt's Newsletter each time. As a member you'll know that her Tell Aunt Frocks page is seen by members only, because it forms part of Prim's Petticoat Pansies issues, but her Newsletter goes public, with a lot of viewers.

Warm hugs, darling, and thank you again for allowing us to include your pictures in the Wendyhouse.

Prim
---
Dear Susie-Ann,

I whole-heartedly agree that the dresses designed and created by Mistress Lady Penelope will take the girls who wear them into feminine heaven. Her website can be reached from her panel on our home page, with lots of her styles available for visitors to call in and see. Here's a quick link: http://ladyp.homestead.com/

It's lovely to see you in such exquisitely feminine frills, darling.

Aunt Frocks xxx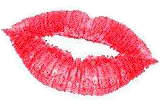 ---

Letter 5 - We like the Wendyhouse

A-A message to Prim from Dyane :
"I see you are an extremely productive person. That is rare these days ! "
Dear Dyane,

Thank you, I do my best. If I could turn out twice as much art and more stories, I would put them all here in the Wendyhouse for you and all the girls.

Warm wishes,

Prim x
---
My nephew does get through a lot each month, as I'm sure you all know from looking at the Updates on the Home Page (also called the feminization page). Compare these with the Full Index page where you can click each icon to see its list of contents. Then imagine that each of these lists opens out (inside the Wendyhouse) into a full issue of art and stories.

Then he does all the HTML, uploading and maintenance of the Wendyhouse website, bless him. So Dyane was right in what she said.


---

B-Feminine photos to brighten the Wendyhouse
Hello Aunt Frocks.
Me too, I agree that more photos of the cool femmy looks we like would brighten up the Wendyhouse. So I'm sending you some photos of my own favourite look. I'm at my happiest in a teen party dress and here are some photos to show you the sort of look I'm on about. Lucky for me I'm young enough to get away with wearing all of these, and if they were in my wardrobe I'm sure they'd make me feel dreamy.
Thanks for your Newsletter. It persuaded me to join the Wendyhouse and I'm glad I did.
Love,
Nadine xxx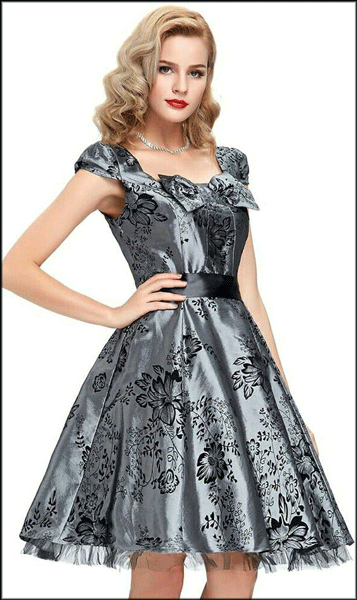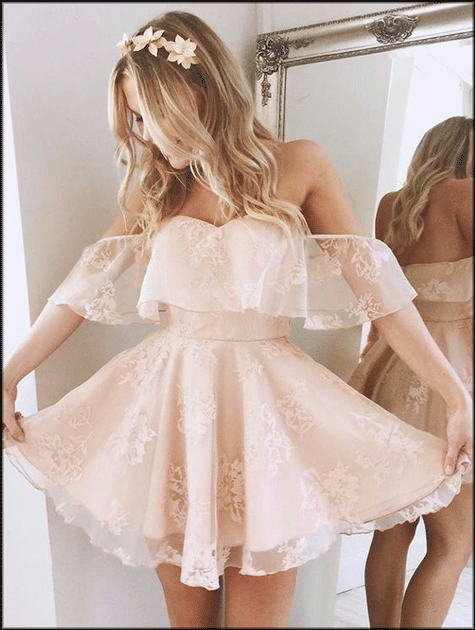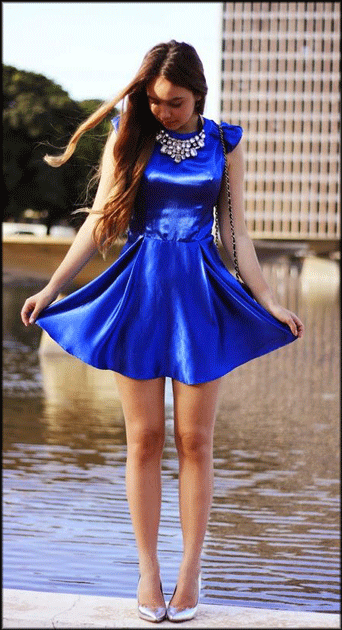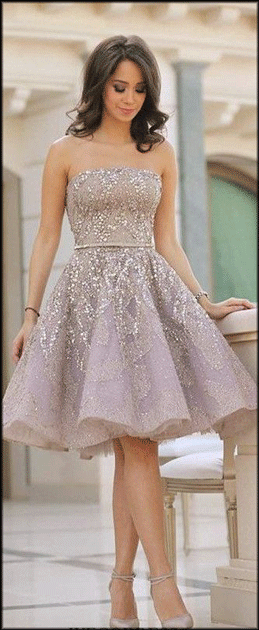 Hello Nadine.

Your mail is brilliant - just what I want in my Newsletter, but darling, are you saying you're as pretty as the girls in your fashion photos, lol? Well send me some pics of you wearing your dresses. No pressure, hon. Anytime you're ready.

Seriously though, and this is a message for all my readers, you don't have to be a beautiful model to send me your photos and share them with everyone in the Wendyhouse. For one thing I'll hide your face if you want privacy, and for another, we know how beautiful you are and how beautiful you feel in your dresses and make-up. Just be as girly as you can.

Thank you again, Nadine darling, for your delicious photos.

Aunt Frocks x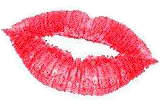 ---

Letter 6 - More fabulous photos of Jane
Hi Prim
Thank you for the password. very much appreciated. I look forward to exploring the wondrous world of Wendyhouse.
The 6 pics I sent, I cannot choose a cover, so I will leave that up to you. Looking forward to seeing other delicious girls in the rose room.
I do have a few pics of me dressed in maids outfits, one of my favourite looks, and seen some lovely dressed maids on your site.
If you would like to post some in the future, please let me know.
Have a lovely weekend
Jane xx
Hi Jane.

You in maid costume? Wow, that would be dee-licious. Any time you're ready to send some along to me, that'll be perfect.

Enjoy the Wendyhouse. Hugs.

Prim x


---

I'm keeping Jane's Rose Room photos until the Rose Room opens, but in the meantime, here are some more photos of that special Rose: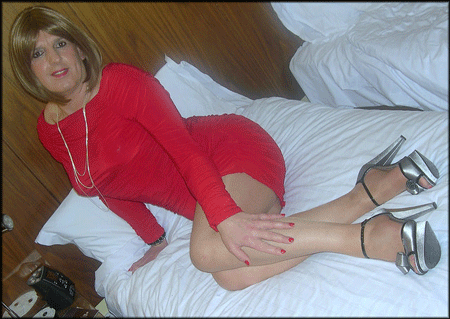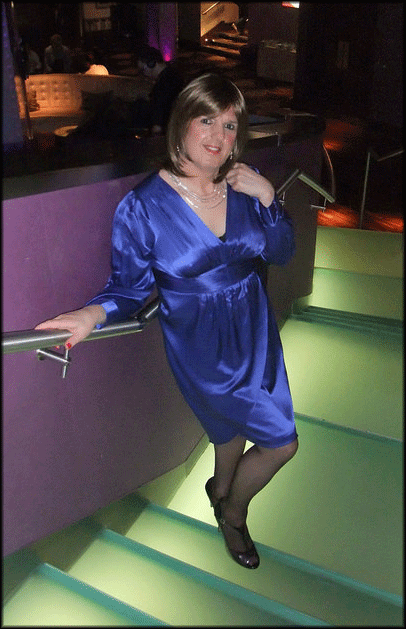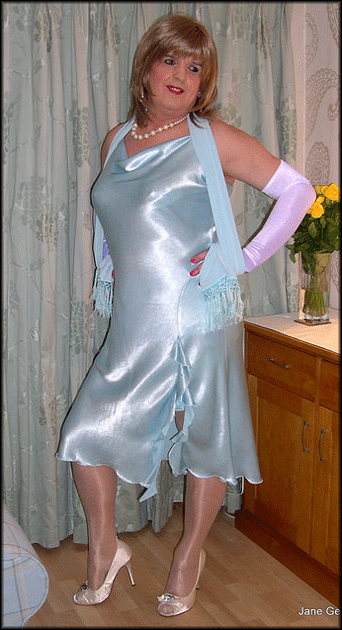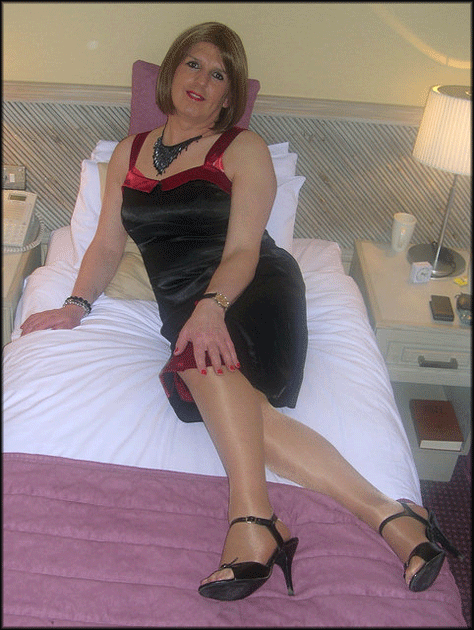 It's nearly the end of my Newsletter, darling, but I can't let you go without including a story and new pic from my nephew. Here it is, hon: enjoy!
Girls In Dresses
---
A secret page on this website

Darling, did you know that there's a secret page in the Wendyhouse which you can only reach from PRIM's page in Pinterest? Want to see it? - follow this link https://uk.pinterest.com/benp0407/ (you may need to create a Pinterest account for yourself, which takes all of twenty seconds) and click around on a few of PRIM's images, because some of them lead you to a page called: Into the Wendyhouse. You can't reach it any other way.


---

Now let's talk about two lovely things we're waiting for: Walt Wisconsin Part 4 and the new Rose Room, both coming to the Wendyhouse before the end of May.

Walt is having a torrid time at the Fem-Ultima Clinic, as you will know if you're following his hurricane journey of feminization. But darling, when his stone hearted cousin joins Frau Doktor Strapz and his nurses to monitor his gender transformation, the full depths of his sexual traumas begin to come home to him. And it doesn't stop there. This is Part Four, but there will be Eight parts in the story, as you will soon see, and all chapters are illustrated with new Prim pictures. To put you into the picture, here is one of the chapters from Part 3, which leads into the new issue available later this month.


Walt Wisconsin chapter 21
You've been waiting for the Rose Room - I know you have, and it has taken a long time to get ready. So many photos, you see, darling. The way it works is like this: each of our darlings has a gallery, with six pictures and a short text profile. The girls have sent me such gorgeous things. Before long we'll see one of them appearing on my home page to give everyone a tasty taster, and I'll rotate those pin-ups for visitors to see.
Here's another lovely photo of Suziecd. Yes, she's in the Rose Room, so you can see more of her later.
Last Photo of Suziecd
Suzie darling, that petticoat must be making you feel so feminine. AND your tights, AND your heels!


---

So make a date to come by again from time to time and see our gallery girls, darling. Meanwhile I hope you've enjoyed reading my Newsletter with me.

Close hugs, my pet, until next month.

Aunt Frocks xxx