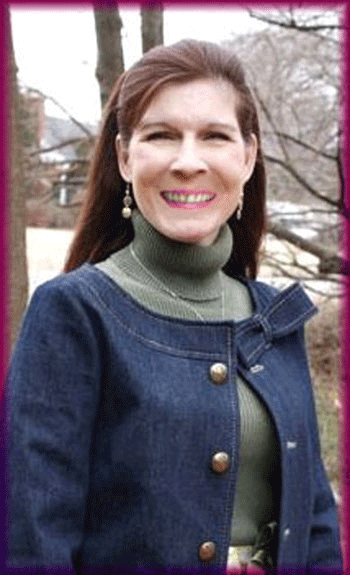 &nbsp&nbsp

Hello my darling. Thank you for joining me in Prim's Petticoat Wendyhouse to read my Newsletter number 21 for February, 2018. Did you realise that we started back in January 2016 so the Wendyhouse is now two years old, and we have been visited and supported by thousands of girls in that time, many of them leaving us their unforgettable footprints in the shape of glamorous and deeply personal photos. I know you love looking at them, and I know you read the letters and opinions that so many darling girls have shared with us in my Newsletters since my blog began back in May 2016. I want to kiss every one of them and squeeze them in a very Auntiful hug, because they have made a lot of girls very happy through sending me their stuff for our cosy feminine togetherness.

But darling, in my inbox I am constantly reminded of an awful thing: one girl after another tells me they are thrilled to have found the Petticoat Wendyhouse. But Aunt Frocks, you will say, isn't that great? A really good thing? Well yes it is, my dear, but it means that we've been here for two years and there are still many, many girls who would love to live in the Wendyhouse but who don't even know it exists!!!!!

So that's where you come in, my pet. You've got girlfriends: maybe girls who read your facebook page every day, or follow you in Tumblr or Twitter or --- all sorts of social media. What we need you to do is to tell them where to find us. Tell them what girly fun you can have with Prim, Aunt Frocks and the girls and show them one or two of Prim's piccies on Instagram. Here are a couple of links that you can include, to make it easy for your friends to get here in one click:



Here's the way into the Wendyhouse




http://www.primspetticoatwendyhouse.com/




Here's Prim's Flickr-Yahoo account: ID-silkblousey




https://www.flickr.com/photos/65611689@N02



If you can pass either of these on, darling, you will be giving great support to us here in the Petticoat Wendyhouse.

Then there's the other side of the coin: if you know any reasons that might put new girls off joining, please tell us. There's no-one so blind when writing an online website than the web-master and web-mistress themselves. So we need your eyes. Yes, darling, we're asking you to criticise us. Go on, give us a slap.

But now for something completely different: a new first in my Newsletter. I love getting letters from the girls, as you know: they give me a great deal of pleasure, and I pass on as many as I have room for to all the girls to read. But sometimes I am struck by a letter which shows special merit and I stop and read it again and again because of what it's sender tells me. It may be written with deep feeling, it may describe a crossdressing situation so beautifully and effectively that we feel we were there at the time, or it may strike a chord with sissies who so want to be a girl. My wish is to share that star letter with you, darling, and reward its sender with a month of free membership in the Wendyhouse.

So here is our first star letter, written to me --- to us, darling, by Bunny, who took a lot of care to write such a cool account of his fetish love for his Mistress's bras and pantyhose that we can almost smell her in her lingerie. Good girl, Bunny - please let me give you a free month's membership in the Wendyhouse.

Aunt Frocks xxx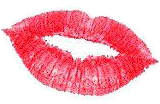 ---

Let's see some lovely pics of one of our sissy little girls. This is Little Girl Daisy May. You can see how much she loves being dressed up.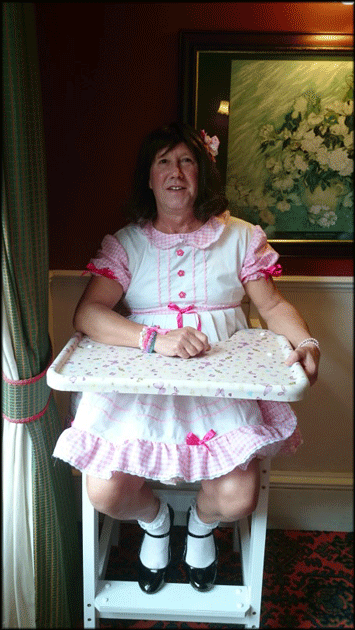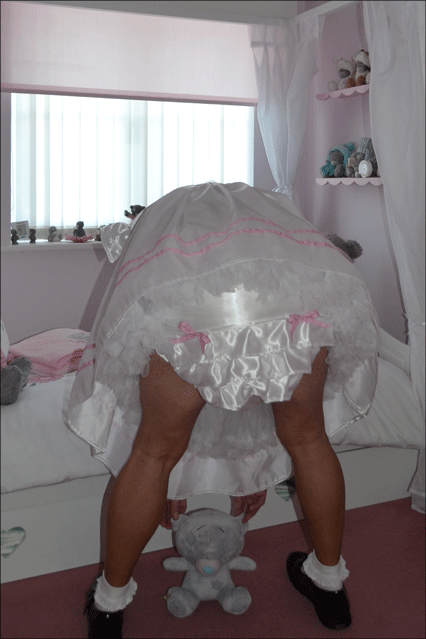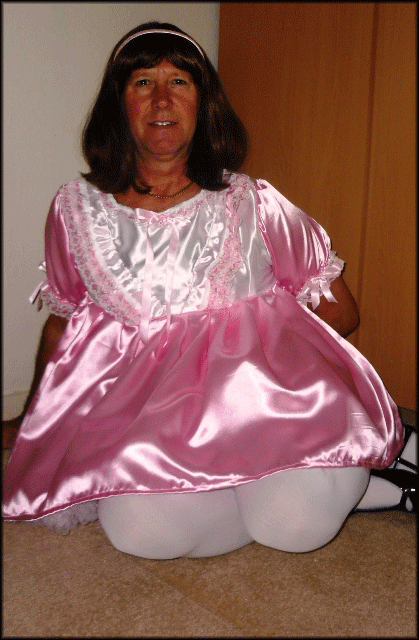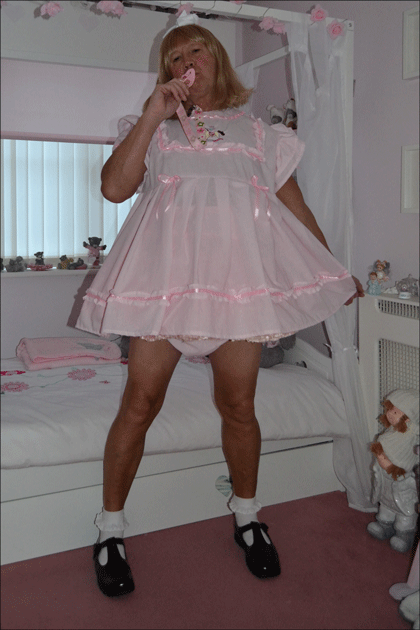 Isn't she sweet? Daisy May tells me her Mummy-wife designed her nursery bedroom just for her Sissy Little Girl.


---

Now here is our new feature:



***** STAR LETTER *****




My Girlfriend Torments Me In Her Well-Worn Bra, Panties and Pantyhose --- from Bunny


Dear Aunt Frocks,

I've spent so many years enjoying Prim's work and Prissy's before that, that I felt it was time to formally introduce myself and confess how I've been lucky enough to make some of my dreams come true. All with the help of my wonderful girlfriend/Miss.

From what I can tell, I'm a bit younger than most of your readers, myself not even 30 years old yet. So I grew up with a different source of feminine excitement. Nylons have drawn my attention since I was young, and seeing girls dressed up, with their shiny pantyhose and heels, has forever left me breathing heavily and in need of release (the 'Baby in Pantyhose' mini-series, 'Uniform Inspection' in PPP#9 and Chapter 36 of 'The Helpless Adventures of Johnny' are all some of my absolute favorite stories and images).

Sneaking into my mother's pantyhose and pulling them all the way up to my neck is a memory I hold to this day. In college, I managed to buy a bulk 10 pounds of used pantyhose from a woman online. She had them listed as "stuffing for quilts!" Little did she know they'd be strewn over my bed, being worn and rolled in by a squeaky-voiced sissy boy.

Fast forward a few years, and I meet my amazing girlfriend. We're very open with each other and she enjoys being my Miss, while I'm her Bunny. But there's one thing we do that leaves me just a little pile of sissy bunny pleasure on the floor.

My girlfriend regularly has to fly to conferences for a few days at a time. When she gets back, she keeps all the dirty clothes from her trip in a bag, waiting for me. Once we're together again, she'll put me into her heavily worn panties, her Queen-size pantyhose, her 40DD bra, her tight pencil skirt, and her heels. My Miss has about 75 pounds on me, and so I can feel myself swimming in her panties, her pantyhose pulled all the way up and under her bra to hold them on me. She stuffs her bra full to bursting and straps a tight belt around me to keep her skirt on me.

With each step she teases me. She calls me her naughty "Panty Bunny", making sure to rub my stiffy through her dirty panties and pantyhose. She calls me her busty "Bra Bunny", making me shake my fake breasts to and fro. I love the feeling of being so top heavy, with huge breasts and her tight pantyhose around my legs. I love being her little "Model Bunny", trying to be just like my Miss.

The smell of my Miss in all of her clothes makes me moan for her, how she's been wearing them all day, sometimes even multiple days. She teases me about how "her bunny loves to smell like his Miss. That he wants to smell like a little Lady Bun."

Lastly, she'll say it's time for "Kissy Bunny." She'll get out her make-up and lipstick and layer it on me as thick as she can, listening to her sissy bunny moan and whine with excitement. She'll put extra thick and sticky lipstick, almost to where I can't even move my lips at all, besides making little sissy squeaks.

She'll have me prance about, all dressed-up in her dirty lingerie and make-up, all the while her little Bunny couldn't possibly be happier.

Such time is absolutely treasured by both of us and I love her more than anything. She's made me happier than I thought possible. I just wanted to share that experience with you, Aunt Frocks, and other sissies.

Love,

Bunny

Well! What can I say? Dear Bunny, your letter is so 'what I want to get' from our darling readers that I have decided to start a new feature in my Newsletters: A Star Letter - and yours will be the first one. You may wonder why I'm so over the moon about what you wrote to me. Here's why:

The letter you wrote covers two of the key 'content topics' that I love girls to send to me: What you love in the Wendyhouse (because this guides Prim and me), what turns you on in your cross-dressing (we all like to read about that), and how it all started for you (because all cross-dressers can relate to that information). And your letter is about all three.

Not only that, I'm thrilled because you tell us so well. I can picture your yummy bunny pantie and hose play with Mistress so vividly; I can smell those panties and bras, and I would imagine our girls will be able to ache with not a little pleasure at 'seeing' you in your Bunny play together. I know that thick lipstick is a turn on for lots of girls, and so is having an enormous bust. How blessed you are that Miss is such a large and curvy girl.

So there we are, sweetie: not only are you a long-time fan of Prim's art and stories, but you have sent me the sort of letter you know I like: I think you deserve a free month's membership in the Wendyhouse, don't you? I'll send you your authorization codes which can start whenever your current membership runs out at the end of a month.

Congratulations, Bunny my pet, and enjoy the Wendyhouse.

Love from Aunt Frocks xxx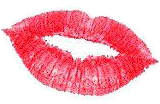 ---

Another darling girl has sent me photos for her gallery in the Rose Room. Isn't Michelle a peach? So pretty, so feminine.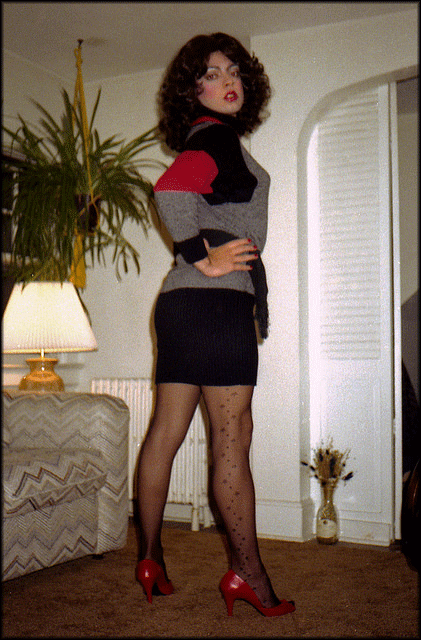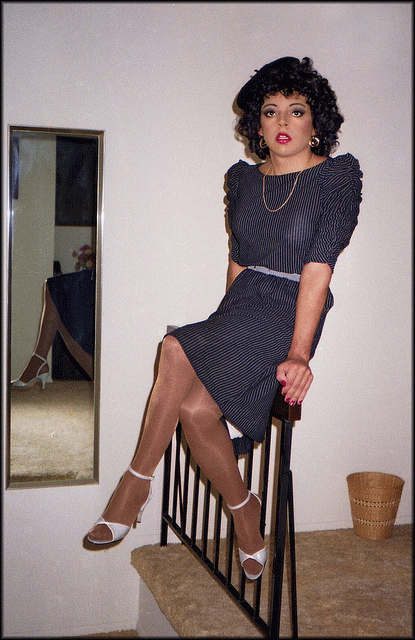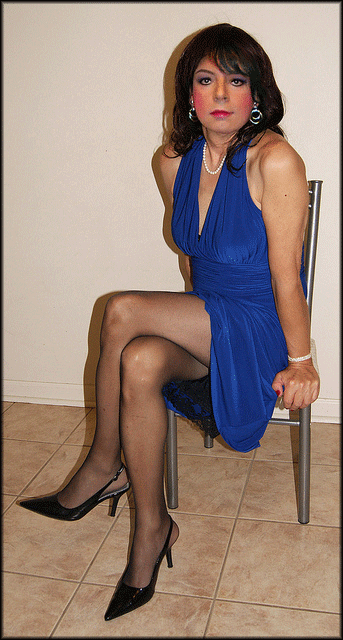 Thank you, Michelle, for joining us in the Wendyhouse and sharing your super photos.


---

Letter 2 - A sissy maid must be super neat for his Mistress

Dear Prim, I hope you are well.

It is so lovely to hear from you again. I so look forward to receiving your emails, it makes me feel like a little girl waiting patiently to see her very special friend,,so we can talk about lots of girly things.

Thankyou for telling me all about your feminine finery Prim, I hope you didn't think I was being nosey? I didn't realize you were such a LADY of DISTINCTION, please forgive me Prim. I know exactly the type of fashions you are referring to, because Madam FiFi favours those fashions as well. She has a very extensive collection of corsets and vintage underwear herself, which I admire very, very much.

I have always loved vintage fashion myself, the wonderful tailored skirt suits from the 40's, to the beautiful fashions of the 50's and early 60's. I must say my favourite style has always been the 50's. I just love the silhouette created by the nipped in waist and the very full skirts and petticoats. I am sure this is what made me want to be a Sissy Girl, because it's so ultra feminine and girly.

Prim, you are so right in what you say, it is very important to feel like a woman when wearing such beautiful clothes. I love to be truly effeminate and submissive when dressed in my Sissy Maid Uniforms. I am always looking at myself in the mirror to check my appearance, to make sure my skirt sits perfectly over my petticoats, and my apron is straight. To see my Satin Sissy Peter Pan collar and neck-tie are perfectly fitted at my neck, and my maid's cap sits daintily on my blond shoulder length Page Boy wig. A Sissy Maid MUST!!! be perfect when she performs her dainty curtsies for her Mistress. Don't you agree Miss Prim?

Pretty curtsies,

Sissy Maid Pansy.xxx

Hello Sissy Maid Pansy and thank you for writing to me.

You are right when you say how important it is for a sissy maid to keep herself immaculately neat in her maid's uniform, and therefore presentable to her Mistress and other ladies. You describe your prim and proper maid self-inspection in front of the mirror very well. Here's another Prim secret, my dear: I never really took to sissy maid uniforms because it seemed to me, many years ago, that that was all there was: it was be a maid or don't be a sissy at all, and I didn't think maid dresses, no matter how short and cute, were enough to satisfy my wild sissy-dressing imagination. In any case, Mistresses might want a sissy but not having him as a sissy maid, just an amusting effeminate sissy-girl.

But since then the range of sissy dresses available on the internet has blossomed deliciously. So many retail outlets offer dresses which are not maid uniforms: confections of outlandish ruffles and lace, super-layered petticoats, back buttoning or even locking dresses, wide collars, puffed sleeves, bloomers to go with your dresses and big girly bows at the back of your waist. Mistress Lady Penelope herself, I'm glad to say, offers a huge range of gorgeous dresses like these on her website. I think this tide of exciting dresses owed a lot to the art of Prissy when they first began to appear, and now the market feeds off itself, with one store after another trying to out-sissy the others. The result is that sissies can now dress themselves in outrageously effeminate and girly costumes, outdoing even the Lolita fashions, so that it is 'de riueur' for sissies to wear female clothes that no real females would ever be seen in.

That's as it should be. A Prim sissy is not a sissy unless he has been dressed in ultra shaming costumes that show everybody who sees him how submissive and obedient he is being. he is a shameful, impotent, pathetic sissy-girl. I'll talk to you more about these Prim style fashions next time if you like.

Feel feminine, dear Pansy,

Prim x


---

Another lovely girl has joined us in the Wendyhouse and makes a delicious addition to the Rose Room: introducing Tina!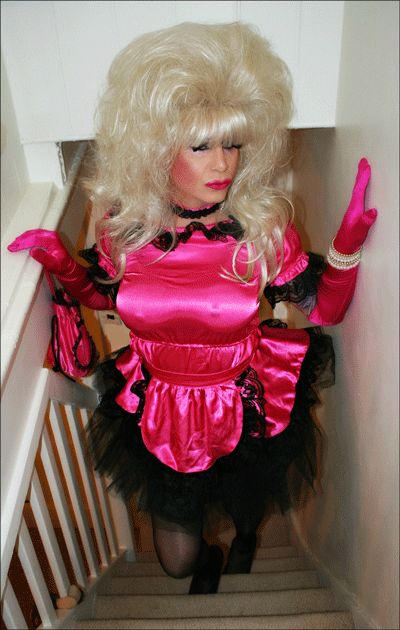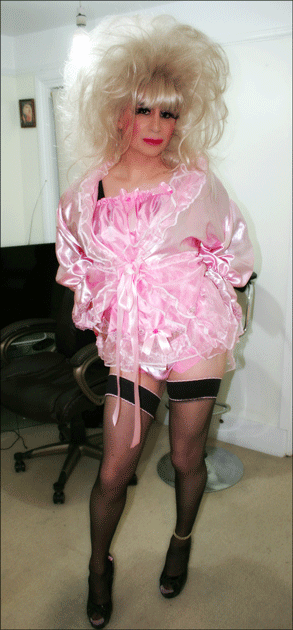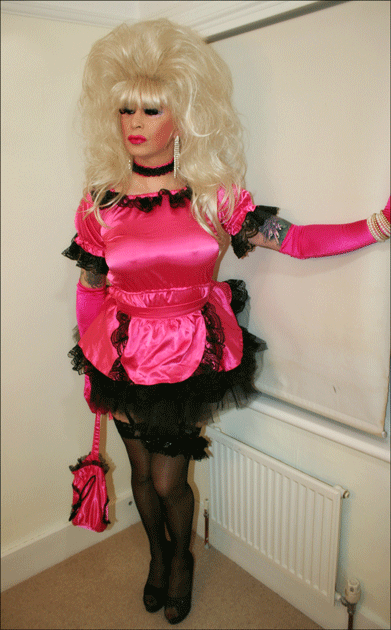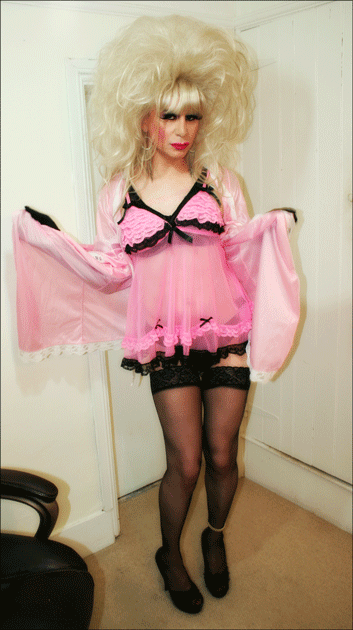 Like so many of our girls, Tina likes pink and she likes satin - and they suit her so well. Isn't she gorgeous?


---

Letter 3 - I love those stories about Mother-In-Law's panties

Hello Aunty,

Having been an avid reader for many years of both prissys and prims work I have been conditioned into being a lover of ladies panties.

I'd like nothing better than to be one of the gentleman in your stories who's taken in hand by his wife and mother inlaw and suitably dressed as a sissy.

My favourite fantasies are where the once arrogant husband is reduced to worshipping his mother in-laws panties whilst his wife goes out to cuckold him.

It would be great if you could bring that to life for me.

Keep up the good work.

Regards

Gary

Hello Gary.

I can understand you liking such a sweet but humiliating fantasy. There's a kind of agony involved in shameful embarrassment in front of women: they can be so judgemental, so unforgiving of any weaknesses in men, and if your weakness is your Mother-In-Law's panties, I'm afraid you will be a prime target for the scorn and mockery of a lot of women. I'll pass your mail on to my nephew and tell him it's time for another panty-submissive sissy story, with poor little Gary in the humiliation chair.

Have a happy and successful New Year won't you, hon.

Love from

Aunt Frocks x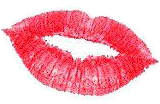 We all love panties, don't we, so I thought we'd have some nice pairs here in my Newsletter. And remember, darling, as a submissive sissy you have to wear them when you are told.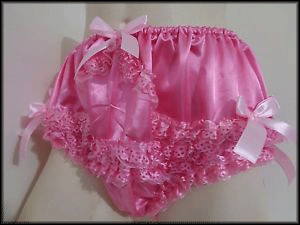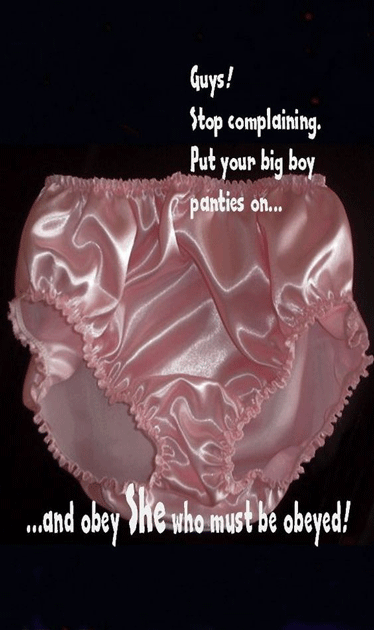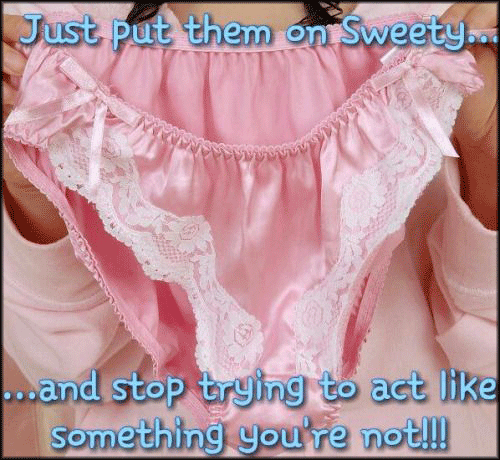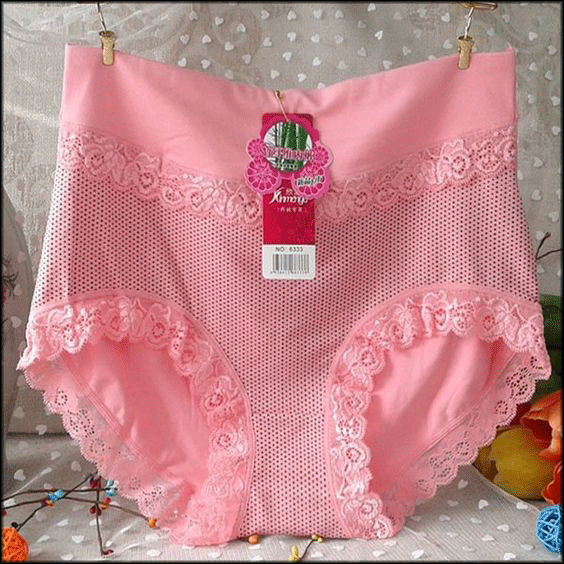 ---

Letter 4 - I enjoy being a girl

Hi Susan I enjoyed pansies number 20 of the Wendyhouse. There was an article Arnold into panty. When the ladies of the house took him upstairs to the bedroom to show them their dresses slips and panties they discovered his weakness and dressed him up like a girl I wish that would happen to me. I am weak and very feminine. And I love wearing ladies clothes. I do not have much of a manhood and therefore I have become a girl 7 days a week. I was a pitiful excuse for a man. I do all women's work cleaning cooking etc. I enjoy being a girl. I am glad I have you Susan telling me that I am a girl.

Happy New Year Love Paula

Dear Paula,

I apologise for the rude delay in replying to your nice mail in which you tell me how you like being a girl - just the sort of girly 'confession' I simply love to read. I think you speak for many girls, darling, and the good thing about you and your desires is that it is becoming more and more possible to live your girl-life 7 days a week, like you say. Don't worry at all about being a pitiful excuse for a man, dear: you have found your rightful role and you are enjoying it to the full. That makes me happy.

Girly cuddles from Aunt Frocks x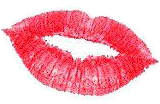 ---

Here is a girl you may have seen before on the internet. It's thanks to Suzee that we can visit (and join) one of the nicest girl-groups on Flickr. Here she is modeling some of her exquisite dresses, like the little girl she is.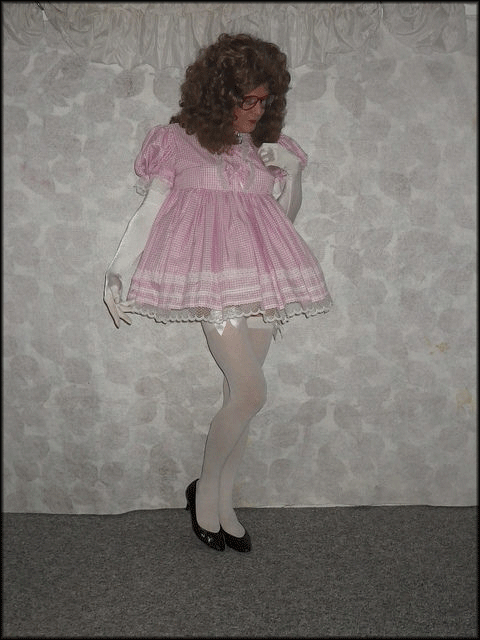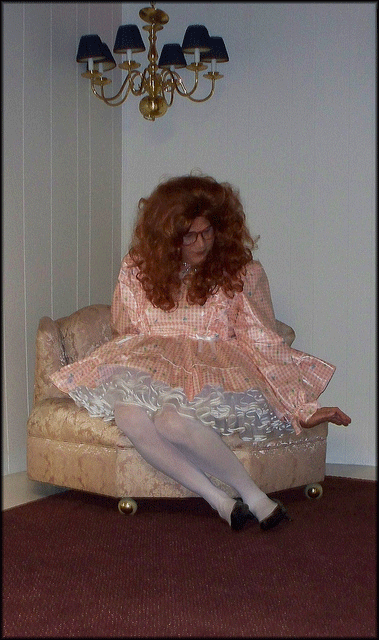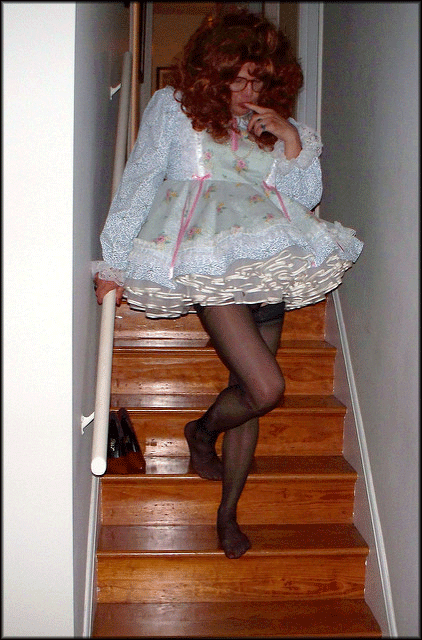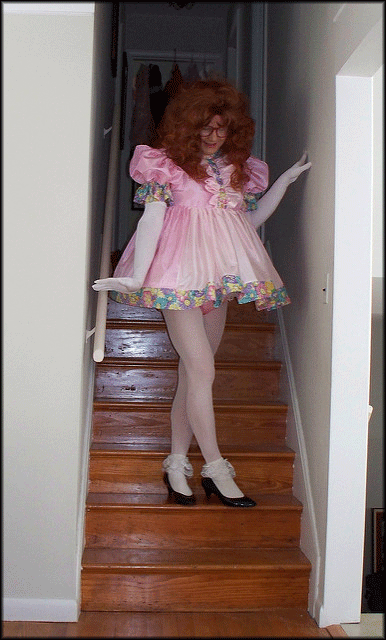 You can see more of Suzee in the Rose Room, and you can visit her group here:



Suzee's Flickr group Pretty Sissygirls



---

Letter 5 - What if I'm caught in panties and bra?

Dear Aunt Frocks,

I like all things sissy, especially if it includes Aunty or Mommy catching me wearing her silky nylon pink panties and bras.It makes me humiliated and embarrassed. I hope I don't have to suck on a binky and wear her granny panties and a Training brassiere or get a baby spanking. Any suggestions Aunty?

Sincerely,

Sissy Tommy

Tommy darling,

I think you just might secretly want Aunt or Mommy, or both ot them together, to come upon you wearing their panties and bras. Oh my goodness, what would they say? They would not treat you as the girl you want to be, I don't think; you are more likely to get cross words of scorn. Not so much because their dear boy is showing his true sexual side, but because the little scamp had been into their lingerie drawers and was helping himself. I think the only way to impress upon you how naughty this is would be for them to put a little punishing experience into play - like making you wear their most feminine panties and bras under your clothes when their friend or friends are visiting, and you know that at a certain point, they will tell all, and make you remove your shirt and pants to reveal the pantie-bra evidence.

So bear in mind how that might follow, darling, if you happen to 'borrow' their smalls and foolishly get caught!

Don't say you weren't warned.

Aunt Frocks xxx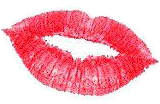 ---

Eight lovely girls joined us in the Rose Room in January, adding their bewitchng charms to the Aladdin's cave of femininity which was already there.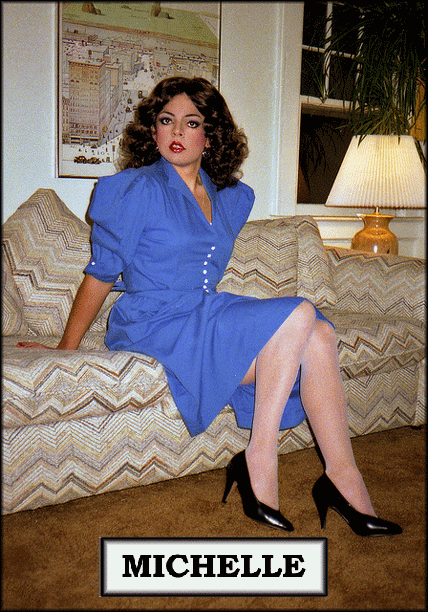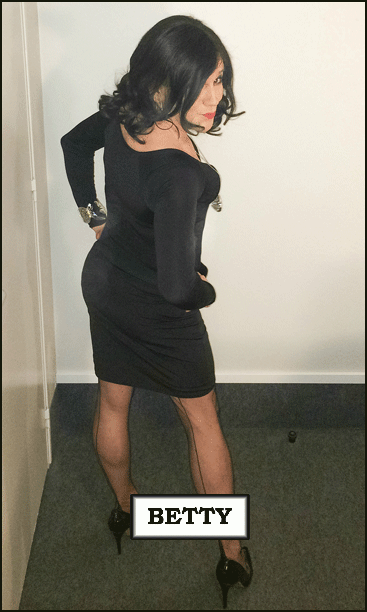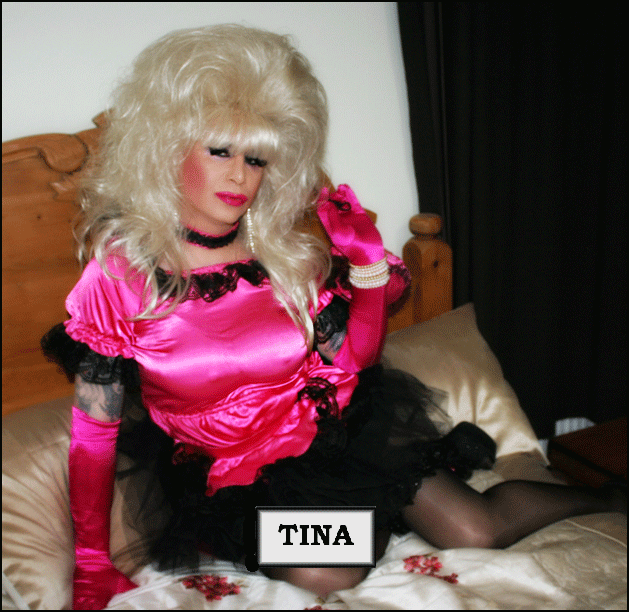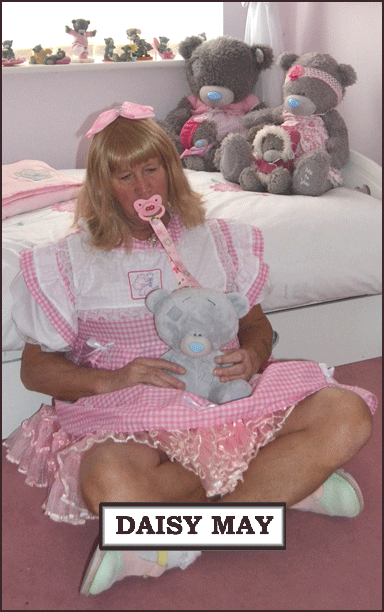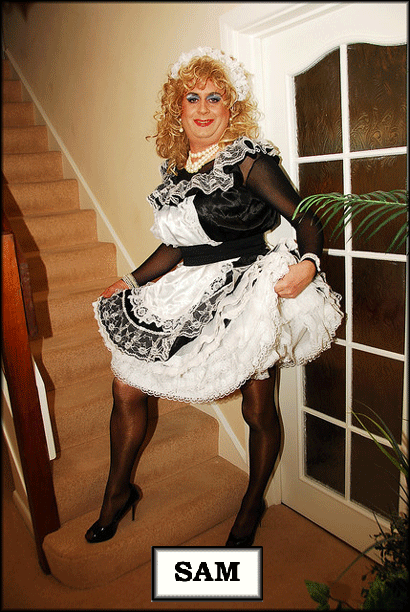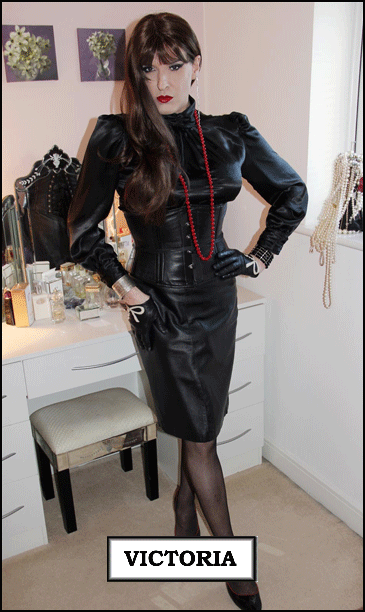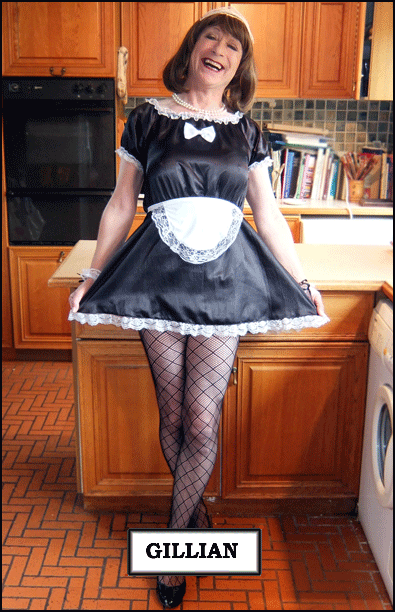 It's always a exciting to visit the Rose Room in the Wendyhouse, but to my mind, darling, it is a pleasure to see how all the girls are sisters and at the same time they have such different feminine qualities and such adorable taste in costume. Let's blow a kiss to each of our 'new girls' before we read the rest of my Newsletter.
---

Letter 6 - Progress report to Miss Blouse from Mistress Vikki

Dear Miss Frocks and Miss Blouse

You were kind enough to publish my correspondence to you in your first newsletter May 2016 and I thought it about time I updated you on my continued success (with the support of my mother-in-law) in de-sexing my sissy husband whom you will recall is named sissy sophie.

(We were married when I was only 19 and he was 22 and I discovered his sissy nature within the first six months after a rather disappointing honeymoon night; my mother is still only 37)

There is no doubt now that my husband has lost all interest in being regarded as a man. Between us we have permanently removed all of his body hair and made him a slave to our large collection of panties and other sissy items. He visits a very girly salon for manicures and pedicures every other Friday and the girls who work there know who he is and what he has become. I have spoken with the manageress and told her to instruct her girls to continually remind him that they know he is a sissy. Saturdays are reserved for shopping either sent on his own with a list or accompanied by his mother-in-law or by myself.

His many household duties included washing, ironing and keeping panties in my special panty drawer which I keep a key to and grant him permission to look at and tidy if he has behaved properly during the week. I banished him from the marital bed before the end of our first year of marriage and we have converted the very small guest room into his special sissy room decorated in pink pastel colours with his name sissy sophie on the pink door. My mother often spends the weekends with us in the other much larger second bedroom and she just loves having sophie service her needs and she always brings her used panties with her and allows him to hand wash them and put them on her when she is satisfied they are clean and fresh.

As he is the only member of the family who has a well-paid job we allow him to go to work each day wearing his male clothing but obviously with bra and panties underneath. His salary is paid into my account and he is given a meagre monthly allowance all of which he has to spend on more sissy clothes. There have rarely been any times when he has had the courage to object to these arrangements and knows that the least of his punishments would be exposure of his sissy side to his work colleagues.

As our fifth wedding anniversary was approaching it was decided that we would give sissy sophie some special sissy assignments on top of the usual visits to the beauty salon and shopping trips. My mother suggested that it was time for sissy sophie to undergo the humiliation of having a bra fitting carried out by a young girly sales assistant which I thought a splendid idea. My suggestion was that I would arrange a special girls' night-in on a Friday.

Lots of love and laughs Mistress Vikki

Dear Mistress Vikki,

It's lovely to hear from you again, especially since you have made such progress in sissifying your weak and sexless husband. I was wondering about separating the two accounts of how you and the girls humiliate Sissy Sophie, with one in Newsletter 21 and I'll include the second one in Newsletter 22 in February, but on second thoughts I think your story goes better as you sent it to me, one after the other. How humiliating, your and your friends forcing panty worship on him in his own house. You describe the events so vividly it's easy for me and our readers to see it happening as if we'd been there.

Then his bra fitting in Debenham's store. It was a stroke of genius to arrange in advance for Chloe to deal with him personally. I'd say the result was that his experience had just the right balance between humiliation and pleasure to make him long for more bra fittings so that she can do the same to him again. I can see that he will long for Saturday's in town, so that you or your mother can take him to his bra appointment in Debenham's, where he knows what is going to happen. I dare say in time Chloe will spill the beans to one or two of her colleagues, and Sissy Sophie will suffer the shock of finding that she is not alone when she is stripped and fitted for new bras. It'll be fun if you ever want her to fit him for a pantie-girdle or corset too.

I'd love to be there myself, only the cubicle would more resemble a girls' party than a lingerie fitting for a sissy maid.

Thank you for telling us all about it, Mistress Vikki.

Hugs and a kiss,

Aunt Frocks x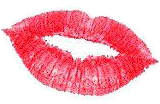 Here is Mistress Vikki's double story of sissy humiliation:



Girls' Night In and His First Bra Fitting



---

Baby Charlotte sent me a really nice story and this lovely photo of herself feeling sissy and helpless in her crib. Isn't she a doll!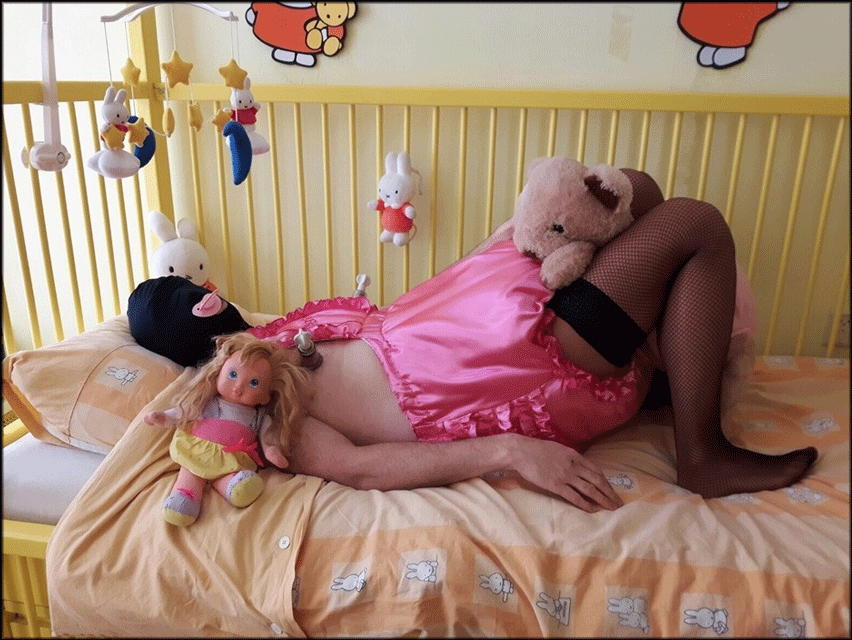 Here is Charlotte's baby story. Enjoy!



Taught a Lesson by the Mistress



---

Letter 7 - My Suggestions for Pictures by Prim

Dear Prim,

I am sorry but I probably wasn't much help to you regarding my thoughts on PPP#32, but I really do love the way you write and your artwork is always a perfect fit for your stories. I think you are so good at what you do sweetie, because you have such a wicked imagination and you have the ability to take your readers into your very own Sissy World.

The way you dress your sissies in their elaborate outfits, and put them through total humiliation, shame and embarrassment, is the best I have ever seen, and any True Sissy would always get terribly excited in his Sissy Panties when reading your stories. As well as having all the lovely Sissy Clittie action, I wondered if we could have some Sissy Botty worship. I would love to see one of your drawings depicting one Sissy kissing and licking the others Sissy Botty, whilst under the instruction of two very dominant Mummies.

Another scenario could be two Sissy School Girls, one bent over his school desk, with his school skirt lifted up above his waist and his school panties pulled down to his knees. While the other Sissy is bending down on his knees with his face and tongue buried in his Sissy Playmate's sissy botty, all the while under the strict instructions of the School Head Mistress and her School Cane.

I would love to know what you think of my ideas darling, and if you would like me to suggest any more scenarios I might think of.

Hugs and Kisses.

Sissy Princess Pansy.xxx

Both these scenarios are perfect, Pansy dear. I don't know how popular sissy botty attentions might be, but there's no reason why not. In a way, as long as sissies are strictly dominated by schoolmistresses, I could have them doing anything (with their panties down, lol) and it would work. But the reason I'm pleased with this second mail of yours, Princess, is that you are making suggestions, giving me ideas. You may think my imagination has no bounds, but you would be wrong. I tend to go round in circles, redoing the same old, same old. That's why it''s so refreshing to hear from readers who push new ideas in front of my nose. If everyone did that, we'd have a brilliant mix of endless novelty and excitement, so well done and a big huggy for you darling. There's no hurry, but yes I would love you to sit down and write me more ideas that you would get excited about if they turned up in a Prim story or picture.

Sometimes I feed ideas to myself by looking back through earlier stories from the past and work out how to give them a make-over so that they become a completely different story and pic. Or I look at Prissy pics ot pics of other artists and modify them with my style. This can lead to good results. You might like to do me a favour - as a cherished fan, darling - and look back through the Wendyhouse and find pics of mine (or of Prissy's or Penelope's or BJ's and the others) that you really liked and which you'd like to see new versions of, or that story but with a twist to suit your tastes.

That would be helping so much.

And you would be enjoying yourself too, lol.

Hugs, darling.

Prim x

My Newsletter this month is filled with photos of such fabulous girls in their exciting costumes. Once again I'm thrilled to share more photos of one of our Rose Room blossoms: SissyDoll SexySam, who shows us a gorgeous flourish of fashion, humour and feminine sweetness.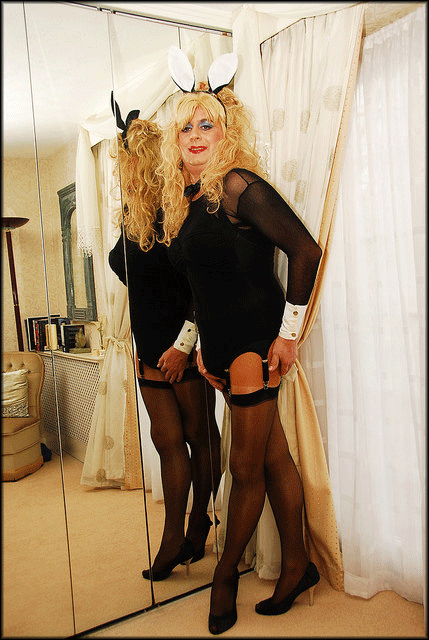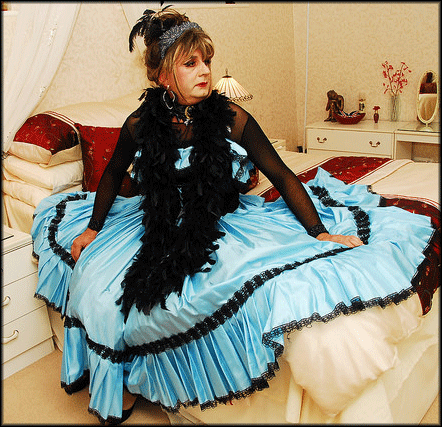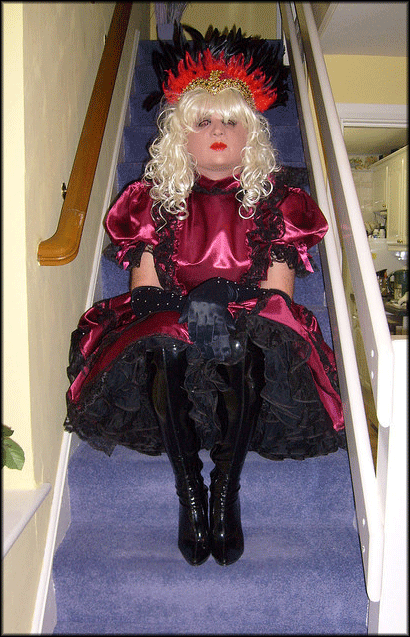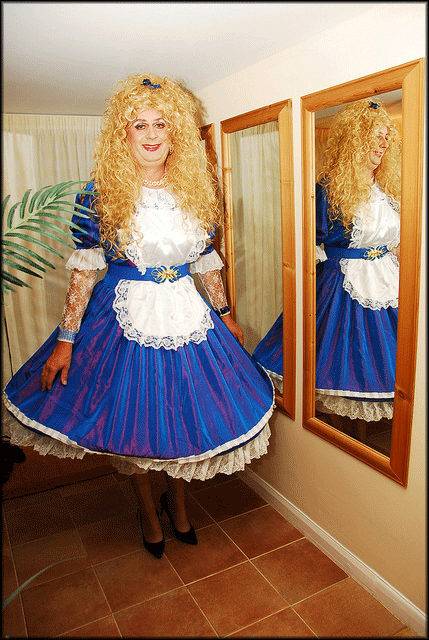 Sam, sweetheart you sure live up to your beautiful name.


---

Now darling, it's time for me to bring my Newsletter to a close, so as usual let me say a few words about what to expect in the Wendyhouse over the next month or two. You will have noticed first of all that my Newsletter didn't come out in mid-January as expected. From now on I want it to be at the start of the month or just before, so hopefully I'll have No.22 March 2018 ready at the end of February.

Also in February, Prim is aiming to finish off his work on Walt Wisconsin Part 6, in which that un-cool fetishist Michael Shoemaker gets to find out a lot more about what life is going to be like for him at the hands of Frau Doktor Strapz and her nurses in the Fem Ultima Clinic, Block C. Following that, we can look forward to Prim's Petticoat Pansies #33 in March, which will be a special 'Adult Sissy Baby' issue. That will be your chance, darling, to dress in your sweetest most babyish little dress and pretty baby bloomers to enjoy what Prim is getting ready for you.

But we can't end my letter without another couple of nice stories, sweetie. Let's start with a lovely femdom sissy piccie sent to Prim by his dear friend Prissy, which appeared in PPP#27 in the Molly Room.



Helpless Husbands


Finally one of Prim's stories which appeared last October in Aunt Helga's website at Petticoat Discipline Quarterly, see here:



Petticoat Discipline Quarterly, February 2018




Prim story: Sissy Son-In-Law



Last of all, here's a triple photo of another of our new girls in the Rose Room: Betty lives in Paris and loves clubbing with the girls. Isn't she yummy?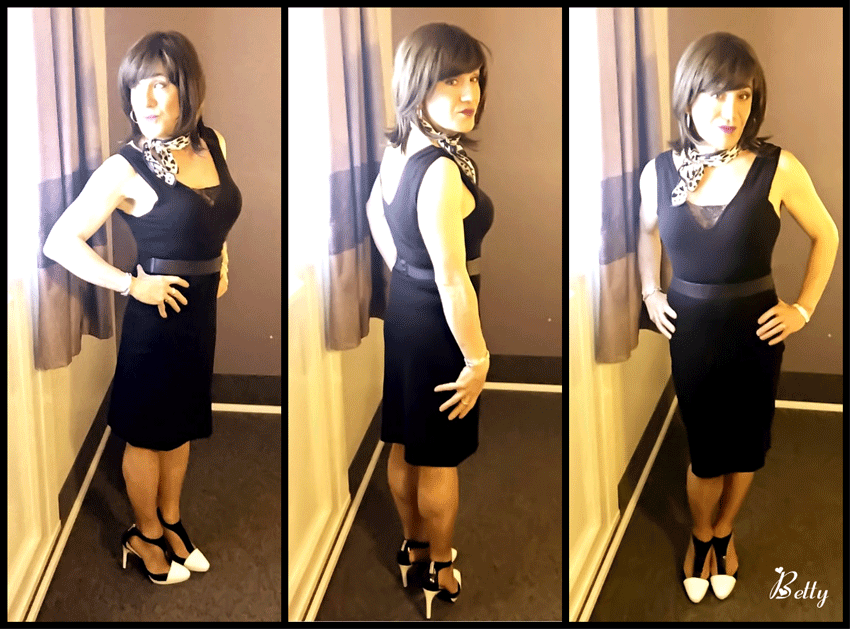 ---

I've loved having you with me to read my Newsletter, darling. I hope you've loved reading what our sisters had to tell us and looking at their lovely photos. If you want to send me a letter or some of your own photos, I would so like to share them with all the girls who visit Prim's Petticoat Wendyhouse. But as Aunt Frocks kisses you goodbye, remember to pass on one or two of our links from the start of my Newsletter, so that your girlfriends know where to find us.

Love and very warm hugs, sweetheart.

Aunt Frocks xxx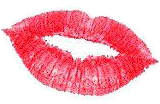 BACK