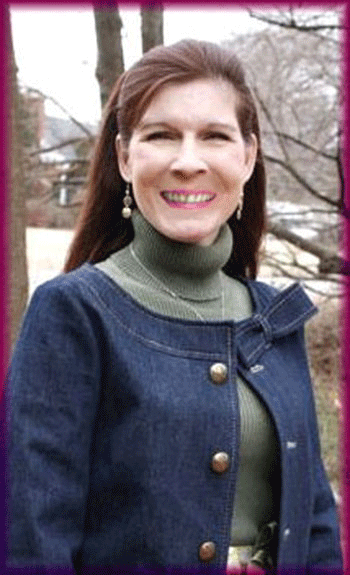 &nbsp&nbsp
My sweetheart, welcome to the Petticoat Wendyhouse and more especially to my new Newsletter. Let me hold your hand while we enjoy another awesome chance to share the beautiful femininity of our sisters and sweethearts. Those girls who have written to me are helping us to peep inside their very personal feelings as girls or women. We see this especially in the eight lovely new faces in the Rose Room, although to visit their galleries you have to be a member. I am so grateful to all the girls who have allowed us to share their photos for you to enjoy, and if you want to see more of these feminine lovelies I've added a link to their Flickr photostreams where I can.

Prim has been working on our two new rooms. The Rose Room with girls showing how feminine they are in their fashions will soon have its natural partner, the Lacy Lingerie Room, where girls can look sexy in their lacy frillies. He says it will be open in November: I can't wait.

Meanwhile if you are a member you will have visited the new Nancy Nursery Room, where all 117 of Prim's adult baby stories are gathered together for easy and very pleasurable browsing. He had to divide it into four pages from the four Wendyhouse rooms that contain all the issues of Prim's Petticoat Pansies. CLICK HERE to see the contents on pages one and two.

I'll tell you a bit more about what is coming soon in the Wendyhouse at the end of my Newsletter, darling. But what we want to do now is read what the girls have told me in their mails. Sit in my lap and feel very femmy as we dip into the feminine world of one precious girl after another.

We start with Little Fanny Mattie, who is one of my favourite little pets because he writes to me time and again and that means I have really got to know him well. Guess what? He is happiest when he is a cutesy, femmy and helpless baby girl, as you can see. I chose his letter as my STAR LETTER this time because he sent me so much for us all to enjoy.

A deep hug, my darling.
Aunt Frocks x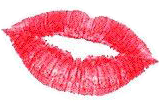 ---



*** STAR LETTER ***

Fanny-Mattie's laughable clitoris.


Dear Auntie Frocks,

I so love being featured in your column, especially with pictures of myself prominently displayed for the amusement of your readers, although up until this point my 'baby bits' have been fully covered by either diapers or panties. That said, I've noticed that you've allowed some more revealing images to be included in your more recent newsletters. This gives me hope that perhaps I too might be able to show off my rather infantile peenie, something which has played a pivotal role in my regression and ultimate acceptance into sissybabyhood. Having such a small 'clittie', one that is prone to premature ejaculations without the slightest touch, has only served to reinforce my failure as a man. (In the end it was the key 'irreconcilable difference' that led my previous wife to seek fulfillment outside of our marriage before our eventual divorce).

I recently went through my entire photo archive to present you with my "Best In Show" peenie pics. By and large they are all of an innocent / non-sexual in nature, not unlike when a real baby runs around without his nappies on. Please do consider them for your next newsletter.



Little Fanny Mattie's Flickr photostream


Warm hugs and baby kisses,

Mattie

PS - I have come to be known by 2 names over the years; 'Little Fanny Mattie' and 'Little Mattie Fanny'. As not to confuse anyone, I would like to go by 'Little Fanny Mattie' going forward (ie you will see some pictures where I included a L.F.M. logo / frame).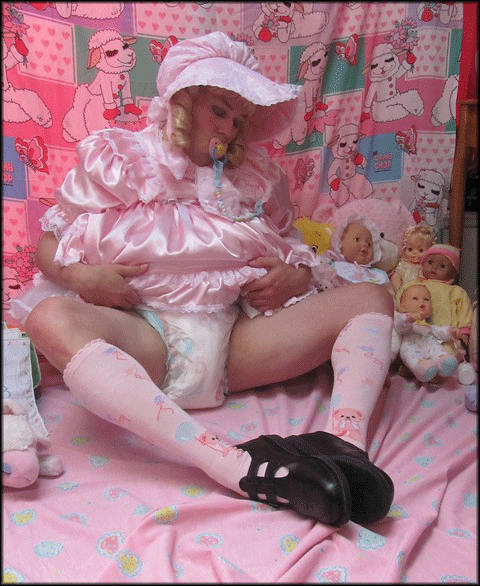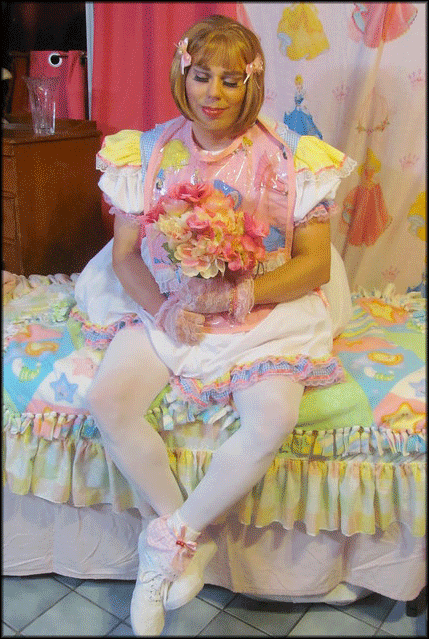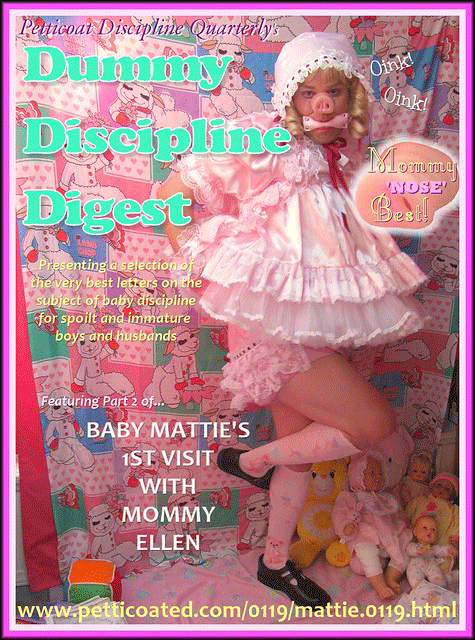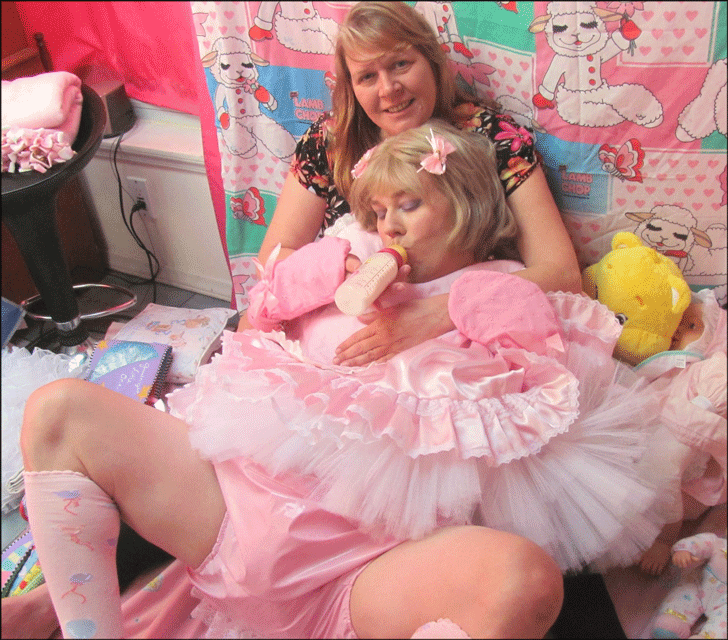 Dear Little Fanny Mattie,

You are such a sweetie, sending me your album of 'cutie little clittie' pics, all of them so adorable. What a girly little poppet you are, and so is your 'popsicorn'. it suits its lovely lace surrounds so deliciously. I always enjoy seeing sissies showing their poppets surrounded in purpose made peenie surround of lace and satin with darling ribbons, and you are such a self-humiliating artist on this topic. To touch on the very point, with my index fingertip, darling, your popsie itself is so very very unmasculine and so very very infantile and effeminate. Your former wife definitely had a point, did she not?

I will be proud to display photos of your infantile 'bits' in my Newsletter. Your pathetic equipment is what the Petticoat Wendyhouse is all about, darling. I know our readers will enjoy seeing you in your lovely frocks and pretty clittie-petties. By the way, be sure to see the final part of Prim's Walt Wisconsin story, due out in the next coupld of weeks: it features our two 'heroes' Walt and Michael falling passionately in lust with each other's rather oversized sissy clitties.

Can I say, finally, darling, that you have a clever knack of creating photos that are particularly embarrassing in every detail, a skill which can only arise from being a sissy who justifies deep embarrassment in yourself because of being exceptionally sissy. If I may pick up on one or two of your jewels: IMG_3283b-bd, in which you stand over your potty shows the divinely babyish nursery bedroom arrangement in your house, complete with line of frilly panties from corner to corner, the detail of your Embarrassment Files Dolly show-and-tell postcard which is so humiliating, the lovely pink, girly diapers on the garden changing mat, and I really love your Disney Princess plastic feeding bib. All your magazine title pages too: so delightfully amusing for us Ladies.

Darling you are such a helpless and pathetic sweetie. There is no hope for you I am afraid: you are fated to be a failed male and a swishy sissy. To make sure everybody can see what a sexless popsy you are I am letting them access your social media platform here:



Little Fanny Mattie's blogspot


That's why I hug you so closely into my blouse.

Love from Aunt Frocks xxx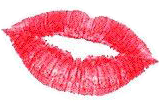 ---

Letter 1a - Fanny Mattie on Flickr PRO

Dearest Auntie,

I imagine your next newsletter is imminent so I apologize for the last second request, but in addition to reference the previous social media link I send, can you also empathize my Flickr account? I recently upgraded it to a 'PRO' account and have already begin to post a number of new images / captions of myself. I would like to gain as many followers as possible there in particular. The link is:



Little Fanny Mattie's Flickr PRO photostream


Thank you so much!

A tight squeeze,

Little Fanny Mattie

My goodness, Fanny Mattie, what an ultra cute baby bundle you are, the sort of helpless little clutch ladies love to cuddle into their cleavage to impress on you how essential tit-submission is for sexless sweeties like you. I will be glad to pop your request into my newsletter, which as you say is now being prepared.

Prim especially loves your "Any Given Sunday" pic: All sissies should spend their Sunday's at Grandma's house dressed like this as they dress their dolls and have their own sissy dollies dressed up in little doll's dresses.

Love and hugs, sweetheart,

Aunt Frocks xxx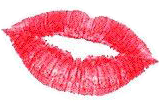 ---

Here's another little baby girl who has just joined the Rose Room. Her name is Princess PissPanties.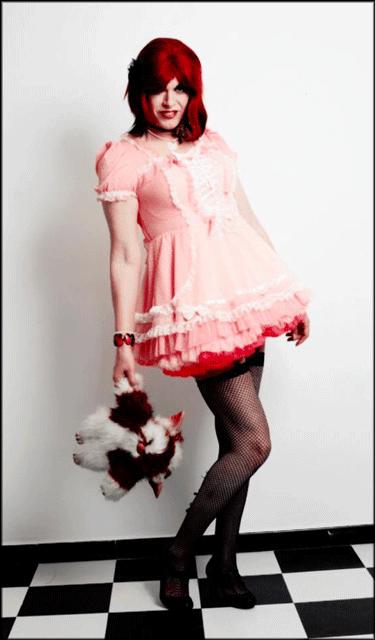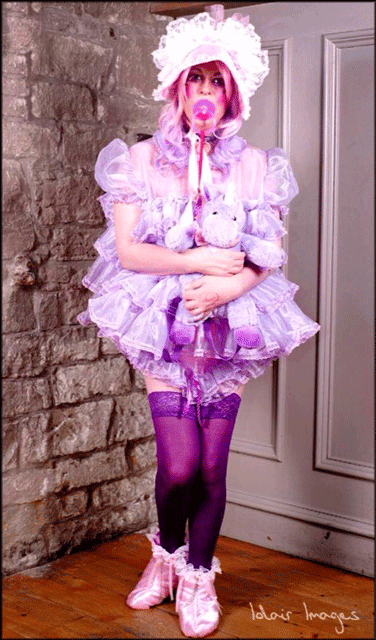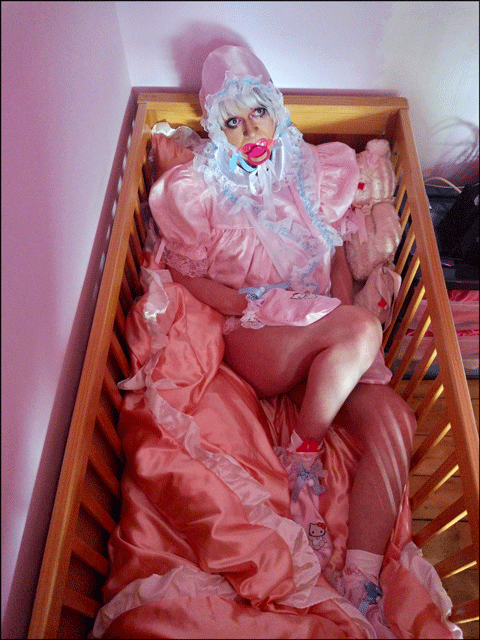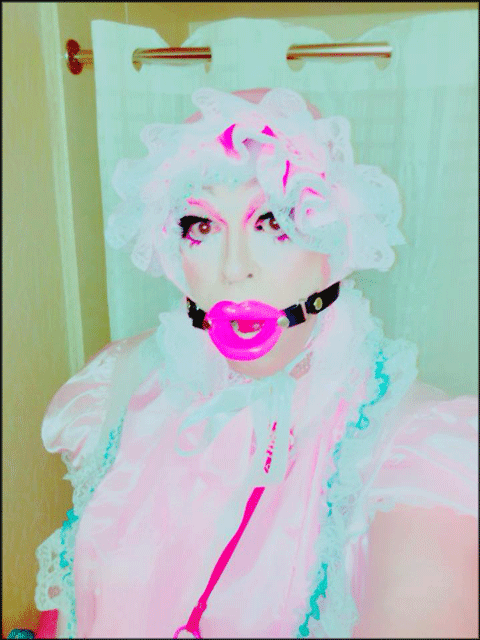 Isn't she a little sweetie, curled up in her infant girl cot? I just have to cuddle sissy-baby-girls, they're so helpless.


---

Letter 2 - Please can you help me cross-dress and sissify me?

Hi, i have crossdressed for years now. I love being a crossdresser. What appeals to me more is wanting to be a real sissy. I love being in the feminine role. I live in Ireland and it is so difficult to get any woman to help me to crossdress and to be sissified. Can you help me in this?

Matthew. Femme name(Sharon)


Hello Sharon. How nice to hear from a girly sissy like you - I suspect that that is what you would like to be.

You ask me if I can help you, either to cross-dress and be sissified, or to find a woman who would help you to do this. You are not alone in this heartfelt sissy-boy search. I am not in a position to help sissify you myself. If you are a member of the Petticoat Wendyhouse you could find useful guidance in each issue of Prim's Petticoat Pansies in the Miss Blouse column: she knows how to reduce weak males into simpering girlies. There are also many stories of fem-dom sissification and I believe that boys who read those stories are very likely to increase their effeminate tendencies.

As for finding a woman who would gladly dress you and feminize you? Hmm. Not easy: so many guys want, and so few women would be prepared to share a relationship where it all seems to be for you but not for her, do you see the problem? There are professional ladies who cater for such desires, on the basis of an hour's pleasure for lots of cash. To be honest, darling, finding a girlfriend is perhaps the best bet, and if you open the subject carefully with her, once you and she are firmly in love, she might well enjoy playing sissification games and bedroom dressing. Lots of girlfriends are happy to do that because they see how horny it makes their sweetheart.

I'm sorry I can't help more, pet. You will find lots and lots of real sissies in Pinterest. Are you a member? Go take a look, with my love.

Warm hugs, darling.

Aunt Frocks x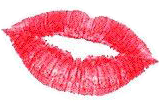 Primonline at Pinterest
---

We've seen this sexy little bombshell in my Newsletter before, haven't we? It's Sissy Bimbo Jenny.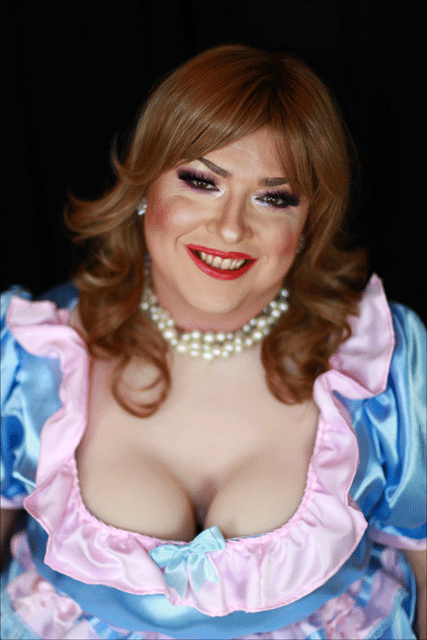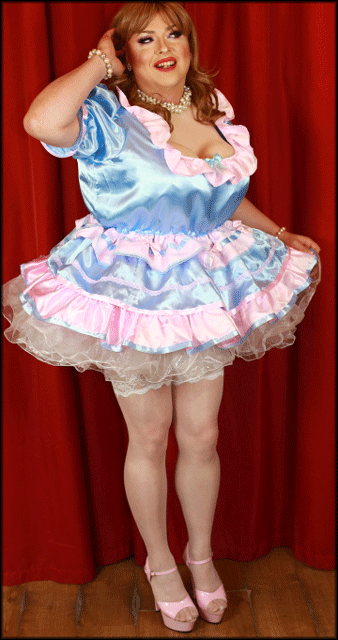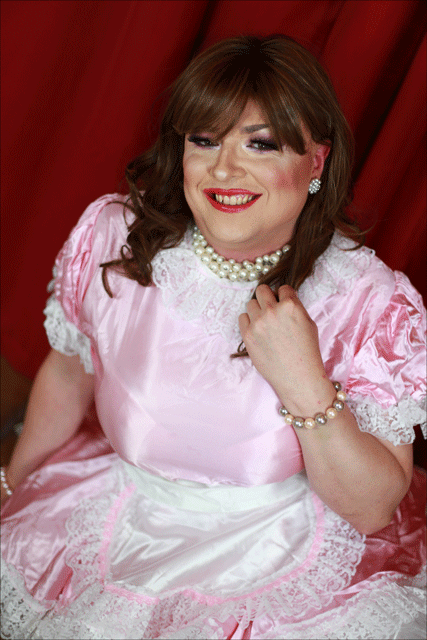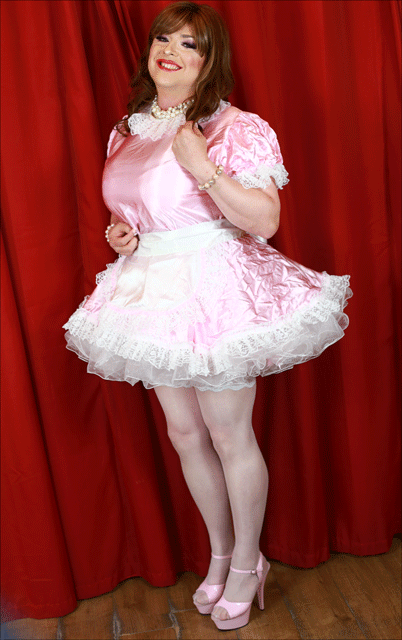 Mmm, Jenny is so feminine and so girly, darling? She is another Rose in the Rose Room.


---

Letter 3 - What about ballet girls?

Dear Aunt frocks,

Do you have any pictures or videos of sissy ballet dancers. I would also like to see a dominant ballet teacher with submissive sissy ballerinas.

Sincerely, Bobbi the ballerina.

Darling, this is an area of femininity which is seriously underplayed, you probably agree. I don't recall seeing many photos of sissies in tights, leotard or tutu. I'll have to look harder for you.

Feel sweet darling,

Aunt Frocks x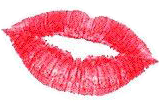 ---

Some sissy-girls make you do a second take straight away with the gorgeous clothes they choose to wear. Just look at SexySam.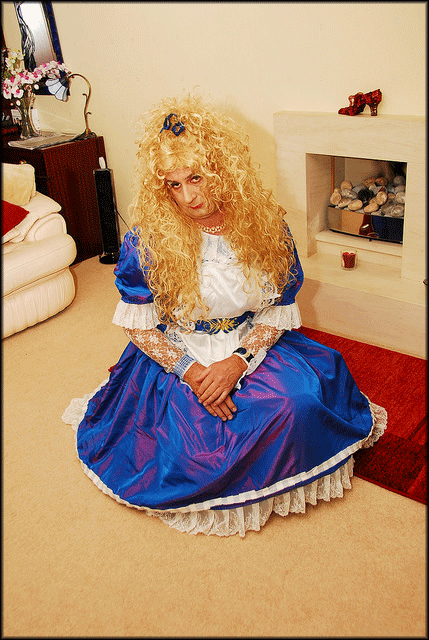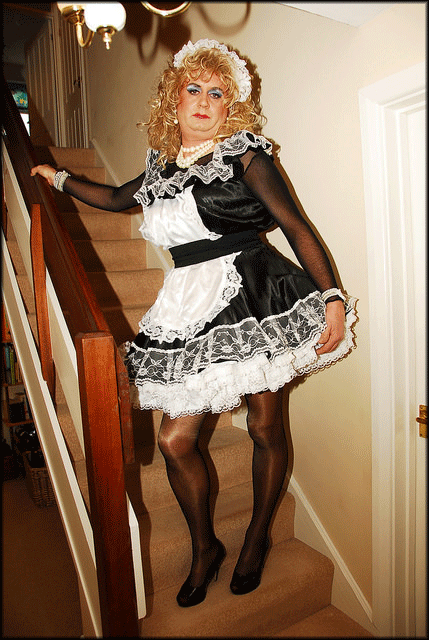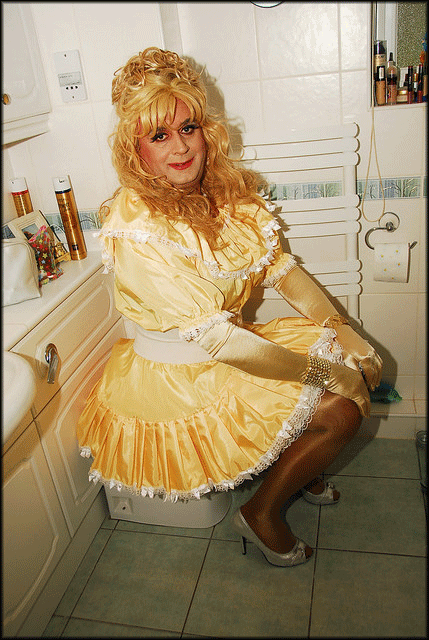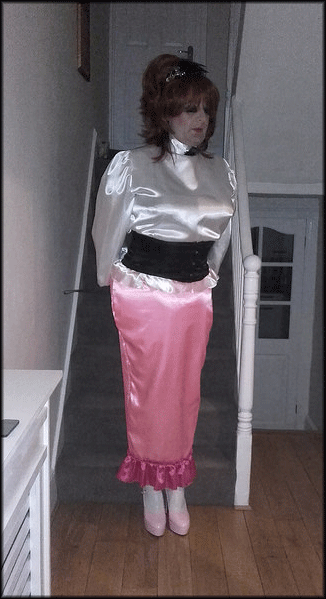 Sexysam's Flickr photostream


It's no wonder you gaze at Sam's clothes: unless I am mistaken, she has been outfitted by Mistress Lady Penelope. There is a link to the Mistress's manorhouse on our Home Page, or you can visit her here through our Links Page:



Mistress Lady Penelope's Manorhouse



---

Letter 4 - How can you buy this lovely jacket from the Morpheus Boutique?

Hi , I am sorry to say the link you sent me for the cardigan has not worked it still does not show me how much price it is for, and how to order it, it only appears on the printest when I click lots of other coats ad cardigans. please could u help me again with this trouble I am having?

naheed

Hello Naheed.

I can't find how to buy it either.

The only thing I can do is use my Newsletter to ask any cross-dresser readers if they know the website needed to buy this item. It could be that the jacket is no longer available, which would be a real pity.

My newsletter should be on the Home Page of the Petticoat Wendyhouse in about 10 days' time, around 22nd October.

Good luck, my darling.

Aunt Frocks x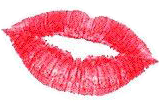 The Morpheus Boutique on Pinterest
---

Another feminine jewel from the Rose Room who has also featured in an earlier Newsletter is Ms Victoria Lenoir. She likes chic blouse and skirt costumes. Remind you of anyone we know, like a certain nephew of mine?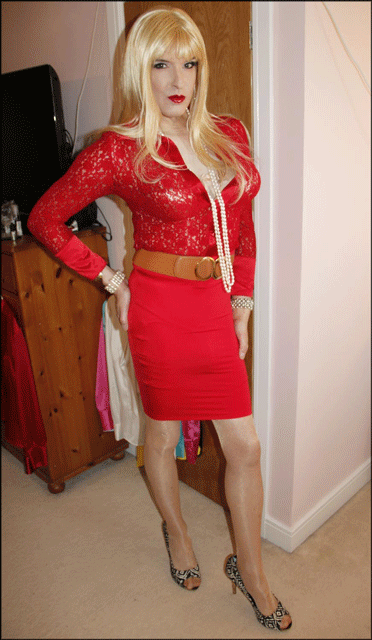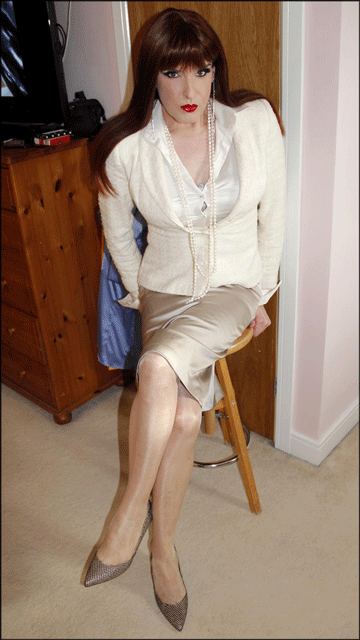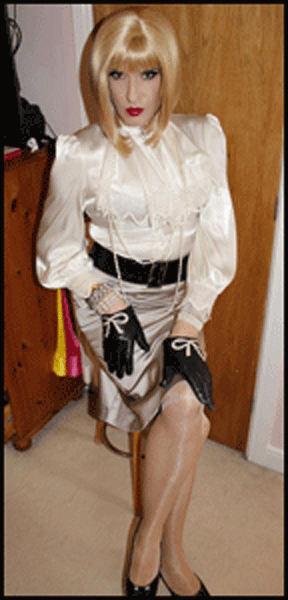 It's no wonder Victoria has a large following on Flickr: you can see her photostream here:



Victoria Lenoir on Flickr



---

Letter 5 - I feel like a girly girl in my pants

Hi Susan I am wearing bras panties and girdles daily along with ladies pants. I feel so girly.

Love Paul to Paula

How nice to hear from you Paula.

Yes, I am sure you do. I am always fully aware, as is my nephew, how girly a girl's trousers are. He says it's an amazing feeling that first time you wear female trousers: the female shaping of the under-leg panel - that all important gusset area - pulls sweetly and tightly on a boy's precious places, reminding him that women's clothes hold him in their power.

And if you're also wearing panties and a girdle, with a bra too, yes, my sweet, you are nicely effeminate for me. Well done, darling.

Love from Aunt Frocks x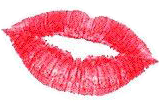 ---

Some girls who share their photos are very serious in their photoshoot, because let's face it, it's a serious business being a woman. That doesn't seem to count for Gillian, as you can see.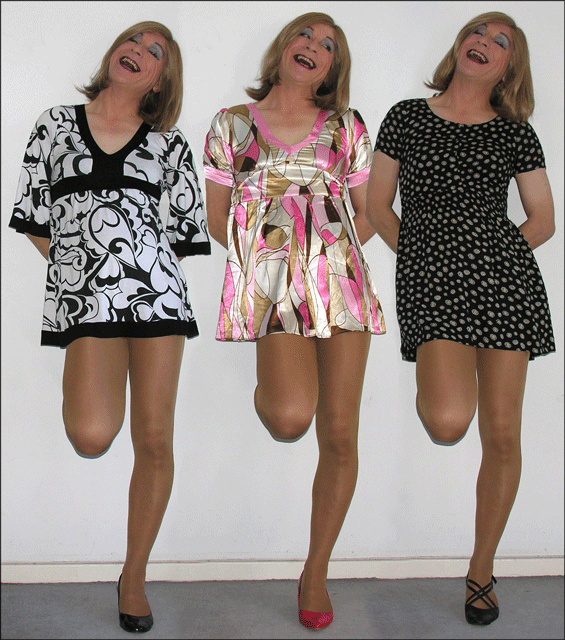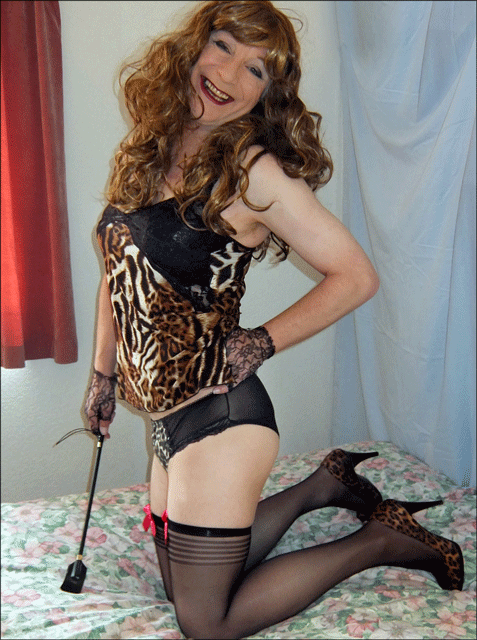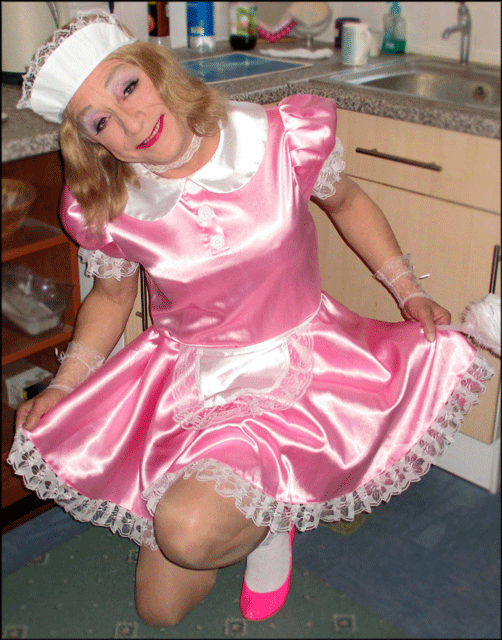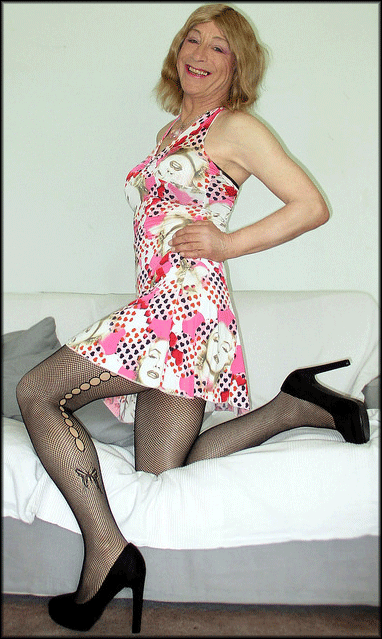 She describes herself as a p/t tgurl. I think we'll have to agree that she just LOVES to put on her tights and dresses.



See Gillian on Flickr here:



---

Letter 6 - My gf knows I'm a skirt lover

Dear Aunt Frocks,

I love everything in Prim's Petticoat Wendhouse but I've got a list of faves I reserve for special times when I need big relief. One of these is the story about the skirt salesman in the Stephanie Room. Another top story is Summer Sissies at Sweetwell Park: the two boys are such sissies. Then there's the Prissy picture about Have you ever been so hard boys? Just what I like. But best of all I think is the mother-in-law's panties story where she ties him into a chair in front of her panties and torments his cock with them.

My gf knows how to use her panties to get me up. She knows I'm a cd at heart but straight, so we can bring cross-dressing into the bedroom. A while ago we were in a store and I saw a skirt to die for, mostly pink with little bows at the waist. When I told her how sexy it was she bought it for me. Well, for her really, but me too. We took it to the fitting room and she put it on me. I was horny and we had a few wild kisses. When we got home it was straight into the bedroom for sex with one or other of us in our new skirt. She's the best.

Thanks for all the great stories,

Oxy-Jen

Dear Oxy-Jen - that's a wild name, darling,

What a nice mail you sent me. I've pin-pointed which stories you mean. The skirt salesman is "Seduced in Skirts" in PPP#1, where two worldly-wise women can easily twist Armand round their little finger. They soon get him into skirts with, as you describe it, wild consequences. Summer Sissies is in five parts from PPP#6 to PPP#10, and Prim's story with Prissy's pic about "Have you ever been so hard boys?" is in PPP#15 in the Jessica Room. That is lovely art and a lovely story, so I've included it at the end of this Newsletter, darling. Thank you for bringing it to my attention for our girly visitors.

But Jen, what an adorable sweetheart you have if she welcomes your cross-dressing needs so completely. That is how life should be, is it not? You must have been so excited in the clothes store, and then when you got home with that lovely skirt to play with. Bliss! Rapture! Love! Your letter would turn a rainy day into a heat-wave.

Enjoy the Wendyhouse, darling.

Aunt Frocks xxx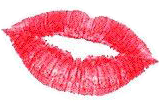 ---

Here's another girl who loves her skirts: Say Hello to Amber.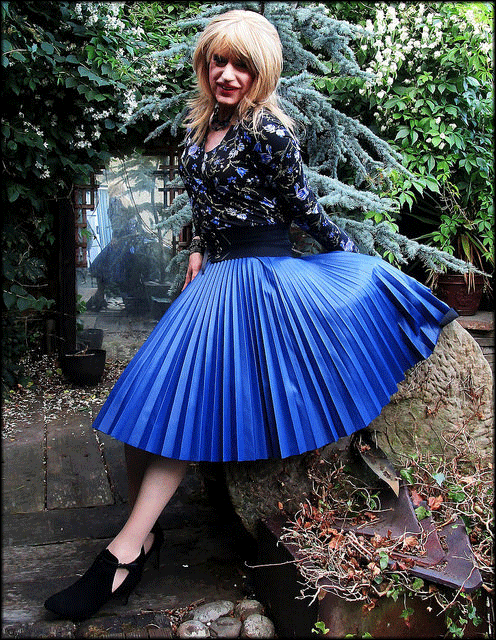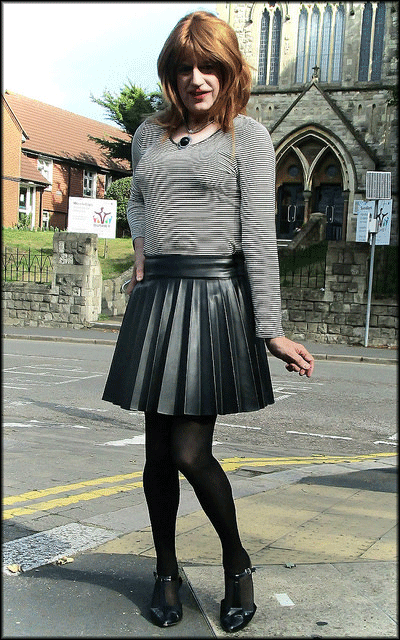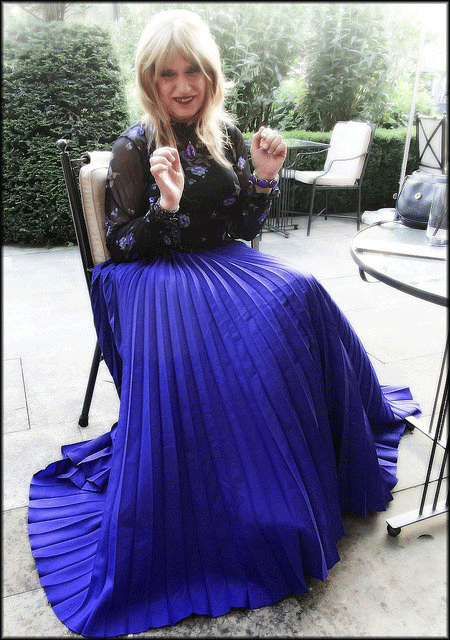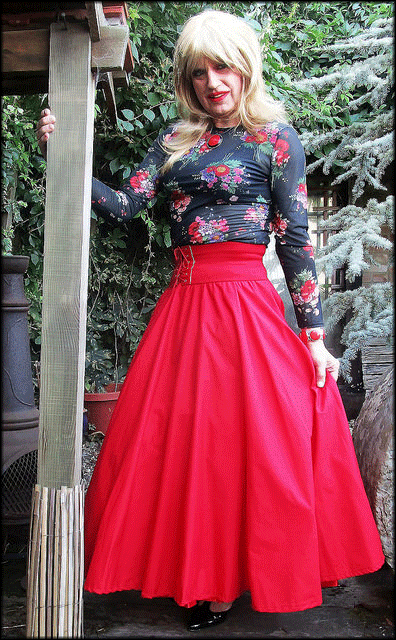 Oh she is so feminine. To see more of Amber and her hundreds of awesome skirts, go here:



Amber's Flickr photostream



---

Letter 7 - "What Cuckold Husbands Are For"

Hello Aunt Frocks,

I've been an avid reader of yours and prissies work now for many years and I must congratulate you on your recent short story "What cuckold husbands are for".

Having been made a cuckold by a former girlfriend this story really did strike a nerve with me and had my little clitty very excited to say the least.

The thought of being totally sissified and dressed up in a pair of my mistresses panties so I can be her little "prep boy" is a very exciting thought indeed. I wish I'd been "sissy" enough to have begged my ex girlfriend to make me her sissy at the time.

I hope you could continue this theme In a future serialization or longer story, with the sissy eventually getting into the high chair in the bedroom. The communication with her friend who also has a sissy in a similar "arrangement" is excellent and I'm sure there's plenty of mileage in this to bring all the parties together. The little sissies can be properly and thoroughly put in their place.

Keep up the good work.

Pantyboy x

My dear Pantyboy - what a lovely name you have,

I was very pleased to read your email offering this morning. Partly because you felt Primmy's "Cuckold Husbands" story was particularly applicable to you. Are you as weak and sissy as that, my dear? Do you want a beefy hunk like Brad Renshaw to cuckold you by taking your lovely wife or partner off you to give her all the love of a REAL man since you are too sissy and frilly to take care of her needs yourself? Oh dear, oh dear.

But never mind hon, that means you are in the right place here in the Wendyhouse. If you feel you are happier in little dresses, with ruffles and lace on your panties, I will hold you by your hand and draw you into the cleavage of my satin blouse which is where you belong. Let those beastly real men have their heart's and bulky bodies' content: what you need is soft slippery cuddles in silky linings and pretty dresses. And if you like wearing a sucking bonnet for those awfully shameful occasions you are being cuckolded, you will be glad to know that you can skip straight back here into the Petticoat Wendyhouse to join all your sissy sisters for lots of sissiful or babyish sweetness.

Now, about your suggestion that Prim could take this story and run with it, to make it longer, or as the basis for a cuckolding series. You've got a good point, darling. Lots of girls would like that. In fact I'm going to add this story to my Newsletter so that other girls can read it to see if they like it. I'll show your letter to my nephew of course, so that he can decide. I'll just say as a different way of looking at it: remember that not all sissy girls like to be dominated by real males. It can even be a turn-off, would you believe. We must respect their feelings, and that is why the Queen's share of Prim's stories see heartless women and girls taking their weakling sissies in hand to dress them up for shaming and humiliation. I'll see what he says.

Thankyou, my dear Pantyboy, for writing to me with your lovely suggestion.

Cuddles from Aunt Frocks xxx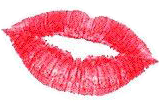 ---

The Wendyhouse Rose Room is growing, darling, as you will know if you are a member. I am thrilled to welcome these new Roses from August: aren't they beautiful in their fashion choices?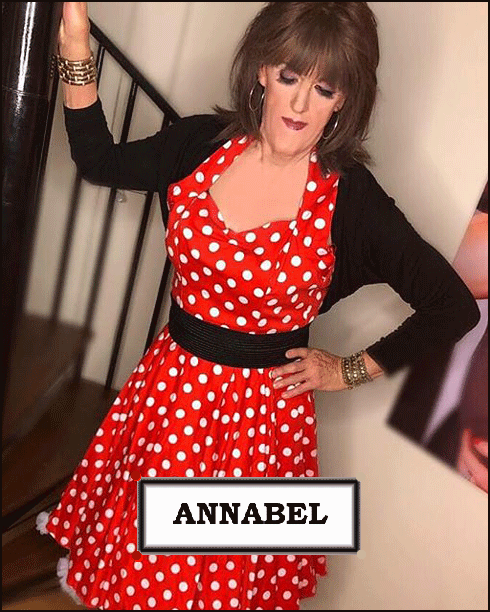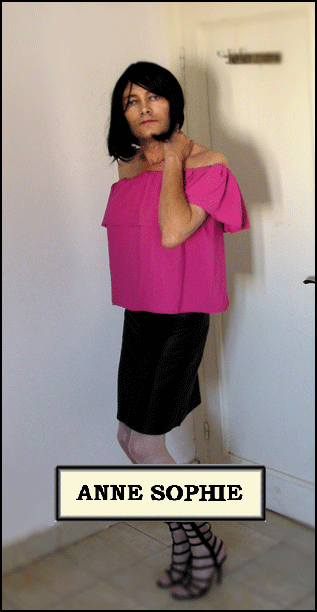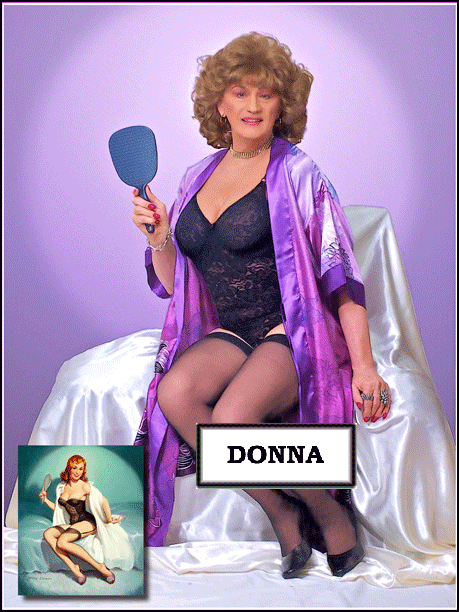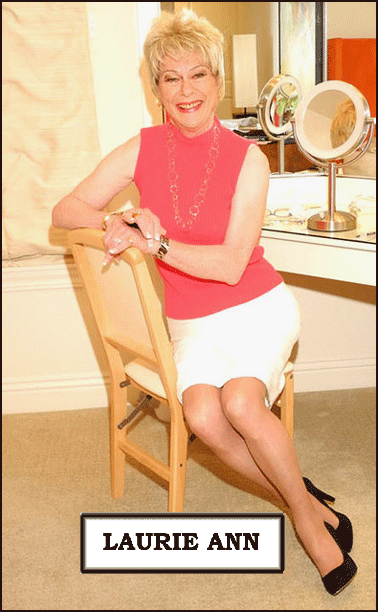 And here are the new September Roses: they all have their own gallery in the Rose Room: You can pop in and see them now, darling, as soon as we have finished reading my October Newsletter.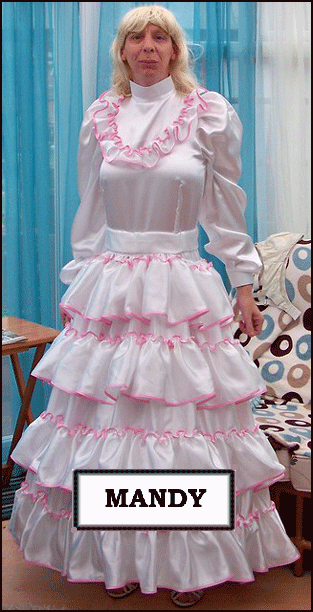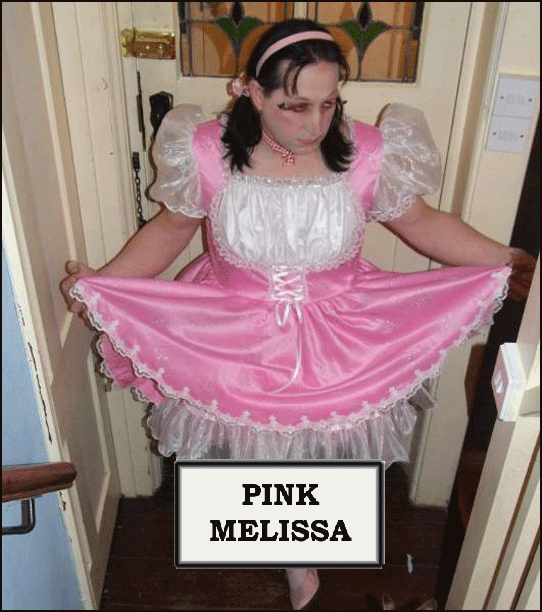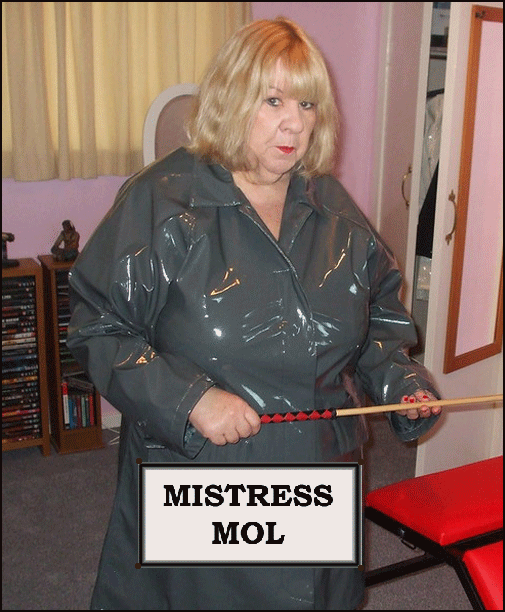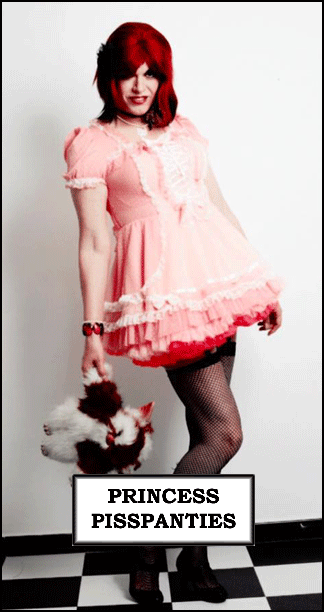 Now we've reached the ending of my Newsletter, darling, it's the place for story-time from Primmy, starting with the one my friend Oxy-Jen recommended. Shall we read this one together, darling, and see what you think?



Prissy-art / Prim-story: Have you ever been so hard?



If you like that divine sissy combination of art by Prissy and stories by Prim, you should enjoy the issues of team work they both do on our Home Page: Feminized-In-Frillies, volumes 1 & 2, and they have a third issue due out in November.
I also want you to get to enjoy the Sissy Cuckold story our sweet friend Pantyboy wrote to me about after he had read Prim's Petticoat Pansies #34, the Sissy Cock Suck Special. Here it is.



Prim-story: What Cuckold Husbands Are For



Oh my, some sissies can be so weak, can't they? But don't let me finish my letter before showing you the other story Jen told me about, from PPP#18



Prim-story: Worshipping Mother-In-Law's Panties



These stories all go to show how sissies are happiest, or at least at their delicious weakest, when they are under the control of dominant men and women. And that is what the Petticoat Wendyhouse is all about.
Don't forget though, darling, as it says in the panel on the left of the Home Page: you aren't in the Wendyhouse yet. That comes with joining our membership: then you get to open every one of Prim's stories and everything else that is included in all 34 issues of Prim's Petticoat Pansies, with all his other stories besides. You can see the full list here on the Full Index page.

Before the end of my Newsletter I can tell you a bit about what's coming soon: Prim has started work on Prim's Petticoat Pansies #35, which will be a Petticoat Punishment special. He hopes to have that ready around the beginning of December. As usual it will go on sale at 17.50 USD, and won't be added to the Wendyhouse until six months later. I intend to share my next Newsletter with you by Christmas time. That will be a time when I want to hug and cuddle every sissy I can throw my arms around, especially you, my sweetheart. Have you enjoyed reading our sisters' letters with me, and looking at their adorable photos? Are you going to write to me yourself, my little blossom, to tell me what you like in the Wendyhouse, or what you like to wear, or how you make yourself more and more girly every day? I'd love to read what you have to say. I am all ears, my precious. You can mail me at auntfrocks@mail.com

I can't leave you without admiring one of our most sissiest sissies in one of those lovely satin dresses she makes herself: our darling Katrin the Sissy.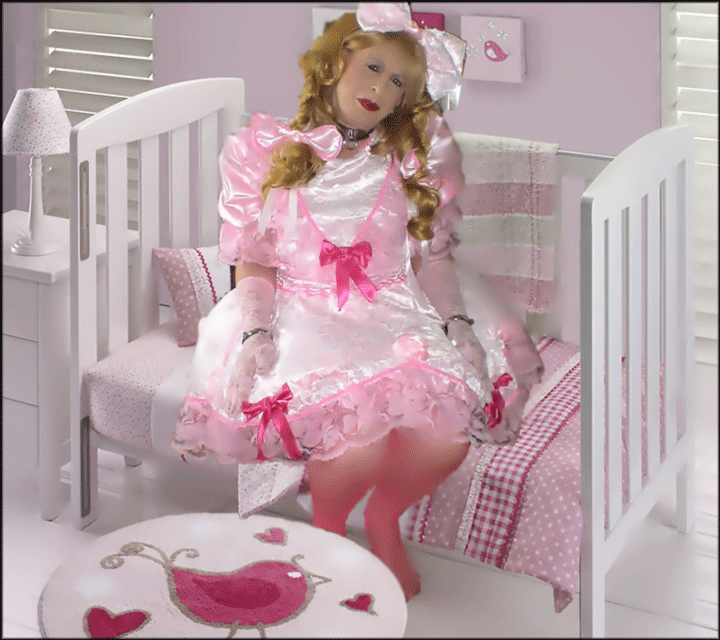 You can see how effeminate and frilly she is. What a lovely little-girl sissy.

And that is how I see you too, my darling. Let me hug you very closely into my blousey bosom.

Mmmmwaaaa! kiss, kiss,

from your Aunt Frocks xxx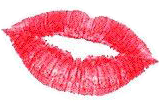 BACK
Back to the Home Page